Separated families struggle to cope with prolonged border closure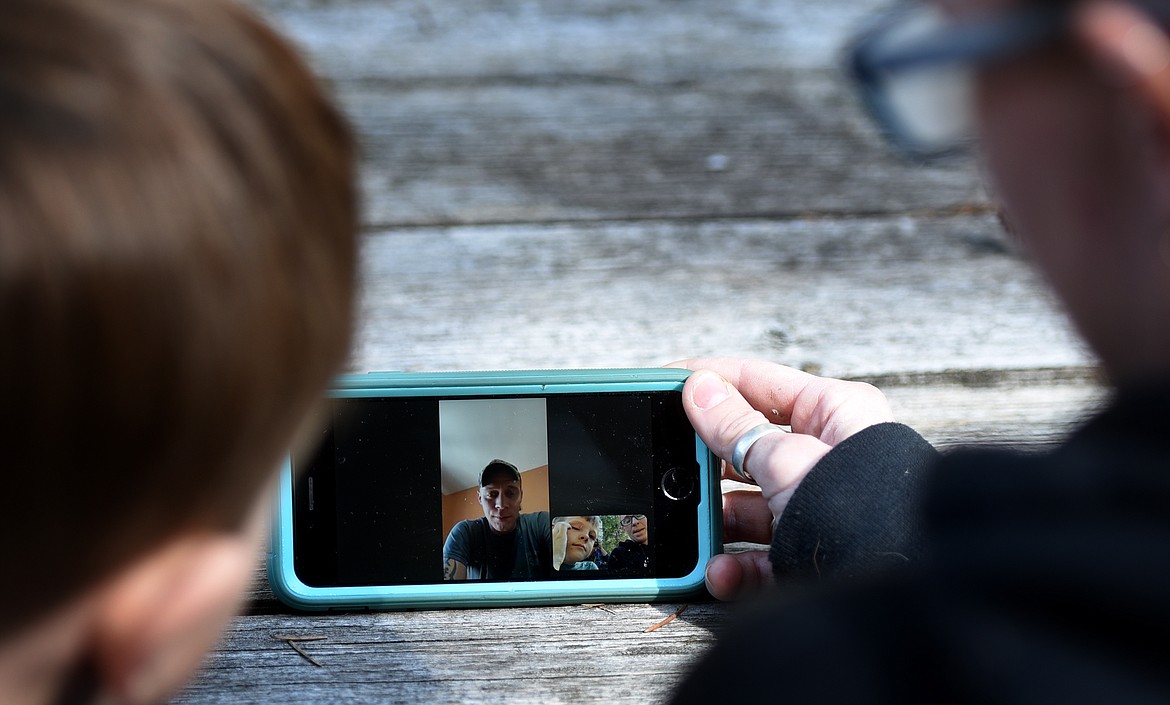 Shannon (right) and Trystin Sellers of Eureka video chat with Shannon's fiancé Daniel Hutchinson of Sparwood, British Columbia, Canada Tuesday. With the border closure, it is the only way the family can currently see each other. (Jeremy Weber/Daily Inter Lake)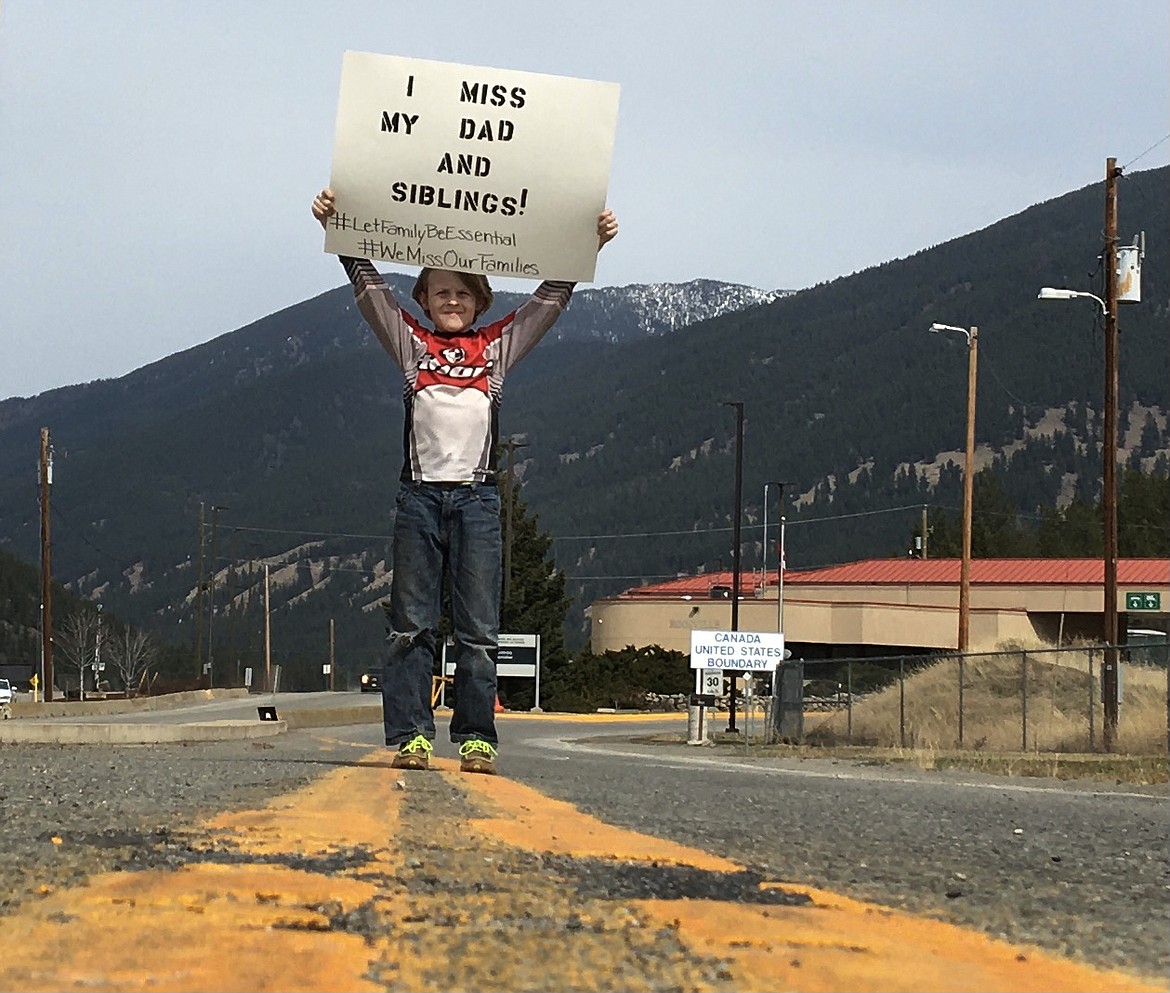 Eureka's Trystin Sellers joins the peaceful demonstration at the Port of Roosville Saturday to protest the current border closure separating him from his father for more than a year. (Shannon Sellers photo)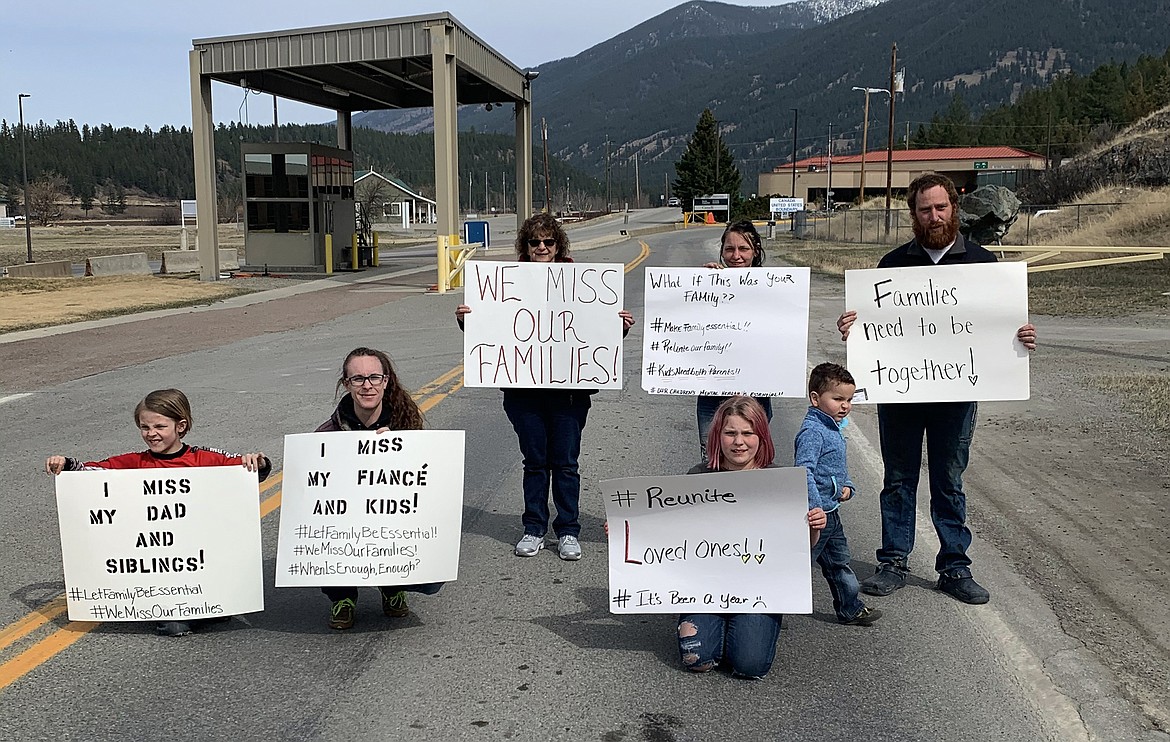 Members of families separated by the border between the U.S. and Canada due to COVID-19 restrictions gather to protest at the Port of Roosville in Montana on Saturday, April 3, 2021. (Brandy Carvey)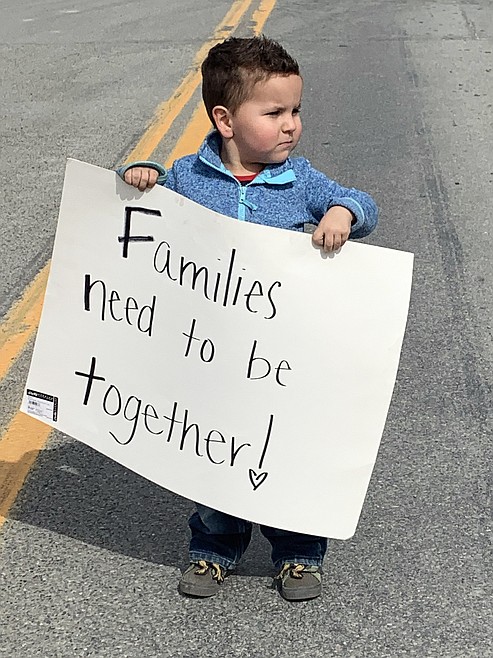 Four-year-old Colt Lynch of Eureka joins the peaceful demonstration at the Port of Roosville Saturday. Lynch's father, Charlie, lives in Canada. (Brandy Carvey photo)
Previous
Next
by
JEREMY WEBER
Daily Inter Lake
|
April 11, 2021 12:00 AM
Brandy Carvey and her 4-year-old son Colt stare across the fence at the group gathered less than 150 yards away. In that group just on the other side of the United States and Canadian border in the Port of Roosville stands Colt's grandfather, Bud Lynch, a man he has not seen in more than two years.
The story is an all too familiar one for many families in Eureka and the Tobacco Valley. Fathers and sons, mothers and daughters, grandparents and others separated by the once all-but-invisible line that has become an impenetrable barrier amid the COVID-19 pandemic.
"Families are suffering. Children are suffering. It's just not right," Carvey said. "Colt keeps asking to see his dad and to go visit him. How are you supposed to explain what is going on to a 4-year-old? He just doesn't understand."
Colt's father, Charlie Lynch, who lives just 7 miles across the border in Grasmere has been able to visit since the border closed down March 21, 2020, but it was a long and expensive journey. Instead of the short car ride it used to be, Charlie's trip to visit his family in Eureka included a $225 COVID test, a three-hour drive north to Calgary, a flight to Denver and then Missoula, a three-hour drive to Eureka and a two-week quarantine away from work after he walked across the border at Roosville to return home.
Brandy said the situation only became more frustrating when the Canadian government announced in late March that National Hockey League players being traded from the U.S. to Canada would only have to undergo seven days of quarantine before being allowed to join their new teams.
"They get deemed essential because they make lots of money and they play games in Canada, but families are not essential," she asked. "Something is not right about that."
To make matters worse, Charlie found out just how little concern there was for his family's situation when he inquired with a border agent at Roosville about the situation. He was simply told "I'm sorry, but your child's needs are just not deemed essential."
THE STORY is much the same for many others with family members split by the closed border. Separated by just 45 miles, Shannon Sellers of Eureka and Daniel Hutchinson of Sparwood, British Columbia, are engaged, but have been forced to put their wedding plans on hold until the border reopens. For Hutchinson's three children, Jackson, 11, Kacey, 8, and Bailay, 6, as well as Sellers's 9-year-old son Trystin, the separation has been especially difficult for a group that already considers themselves family. Six-year-old Bailay now refuses to go to sleep each night unless she is holding the phone with Shannon video-chatting with her on the other side.
"It's tough when you are on the phone with your kids and they are crying because you are not with them. As a mom, your first instinct is to wrap them up in a giant hug and that just is not possible right now," Sellers said. "They are too little to really understand what is going on. They just know that they want to see their friends and family and they can't."
For Hutchinson, the separation has been all but unbearable.
"I have to admit, the last few years were pretty rough in both of our lives. We both finally find the person that makes everything easier and then we have that ripped away from us by a border closure. It's just not right," he said during a tearful video call last week. "It is hard to plan a wedding when you can't sit down together to work on the details. How are two people supposed to plan their lives together over a phone? The politicians tell us that this is for the greater good and we just have to deal with it, but it simply isn't fair. There are families around here who are being torn in half. If families are not considered essential, then what is?"
An apprentice welder at the Teck Coal mine, Hutchinson has been able to travel to Eureka to visit his family just once since the border closure, but had to go through the same rigorous ordeal as others to get to the U.S., with long flights and expensive tests. He doubts he will be able to visit again anytime soon.
"The hoops that I had to jump through back in November were already ridiculous and now it is even worse. Now it's three tests before I could come down there, not that I could afford it now anyway," he said. "They keep saying that this is all about protecting our health. What about mental health? That's important, too. Anxiety and depression, those can really take a toll on a person and a family. What's best for my kids is being able to spend time with their family and being able to go home. To me, home is not a place, it is a family and this border closure has taken our home from us."
For Sellers and Hutchinson, the reopening of the border cannot come soon enough.
"We are not asking them to fully open the borders, but what is more essential than family?" Sellers asked. "I guess if you have enough money, then you can come down and see your family every weekend. We just aren't that fortunate."
GENAYA MOCKO finds herself in a similar situation, separated from her mother, sisters and nephew for more than a year.
"We are not asking them to open the border completely, but people who have spouses and kids and immediate family need to be able to see each other," she said. "How hard would that be? It's like we are being punished for something we have no control over. I am tired of living in fear."
Mocko's mother, Laura Abrahamsen, said she would give anything to be able to visit her daughter.
"I don't think these politicians understand what it is like to not be able to see and hug your family," she said. "Life's too short to have that taken away from you."
Mocko's sister, Demeeka Abrahamsen, who lives just 20 miles across the border in Elko, said she is tired of hearing her friends talk about how much they want to get back into the U.S. to be able to shop. She just wants to be able to see her sister, nephew and niece again.
"We don't care about getting to the U.S. to shop. We just want to be able to see our families," she said. "We would give anything to just get a little time together right now. Forget the shopping. I just want my family back."
WHILE CARVEY has organized peaceful demonstrations that have drawn close to 30 people to the Roosville crossing the past two Saturdays, she said she has heard nothing to get her hopes up about the border reopening anytime soon.
While her demonstrations have gone smoothly, she said her father-in-law, Bud Lynch, has not been so fortunate with his demonstrations on the Canadian side of the border.
"After the first one, I received several calls telling me that the Canadian Customs did not appreciate what I was doing and that I am no longer welcome on land owned by the duty free shop there at the border," he said. "I don't think a lot of people are really aware of what is going on here and that is frustrating."
As the semi trucks crossing the border continue to roll by, Carvey can only hope that young Colt gets to see the rest of his family soon.
"The family is missing out on bonding time with a 4-year-old that they are never going to get back," she said. "He's only going to be four once. That is time they are missing that is now gone forever."
Reporter Jeremy Weber may be reached at 758-4446 or jweber@dailyinterlake.com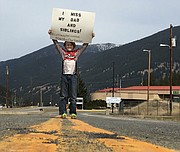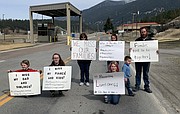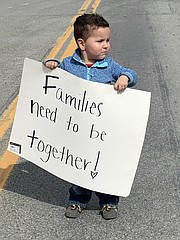 ---