Retreat brings songwriters to Whitefish for inspiration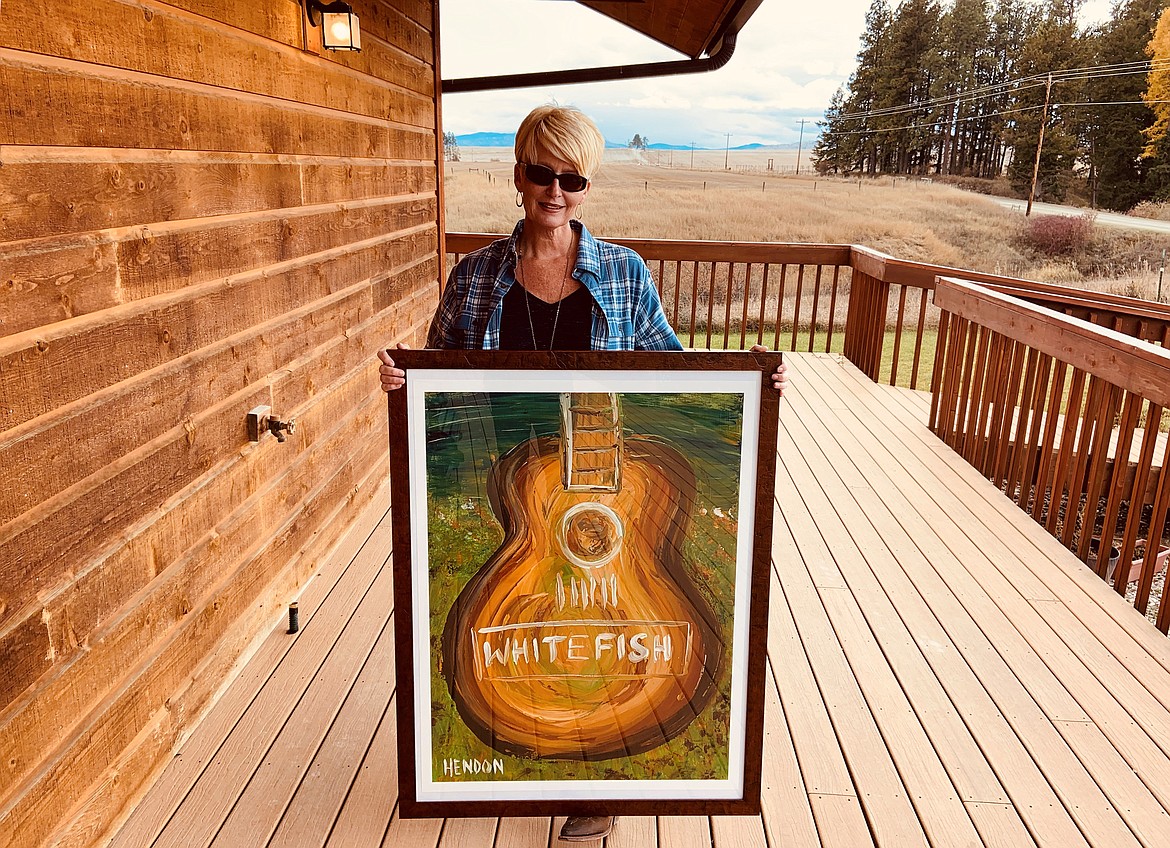 Christie D'Amour stands at River Meadow Ranch in Whitefish with a painting she had custom made by Nashville guitar artist Rob Hendon. The painting is featured on the poster for the Nashville Heads West Songwriter Showcase 2021 that starts Monday and culminates with concerts April 15-16 at Casey's in Whitefish. (Courtesy photo)
by
WHITNEY ENGLAND
Whitefish Pilot
|
April 11, 2021 12:00 AM
Striking mountains, open sky overlooking the scenic beauty, a quiet serenity — these characteristics of Montana have served as an inspiration for people from many different walks of life.
It's the same dose of inspiration that Whitefish awarded Christie D'Amour when she visited the town for the first time in the spring of 2019. Upon immediately falling in love with Whitefish and making some important connections during her visit, she couldn't help but think the beauty had much to offer songwriters in search of their own inspiration.
"I went out there and just fell in love with it — fell in love with the beauty and the quiet," she said, expressing that she grew up in New York and now resides in Atlanta where the pace of everyday living never slows down. "It's pretty powerful if you haven't experienced that, the first day when you're just there with your own thoughts, I mean it's just incredible."
D'Amour's initial visit to Montana left a lasting impression on her and soon she began organizing a songwriter retreat and showcase titled Nashville Heads West. This retreat brings Nashville-based songwriters to Whitefish, where they stay at River Meadow Ranch for one week writing songs with the added inspiration of being under Montana's big sky.
Nashville Heads West's initial retreat took place in October 2019 and D'Amour is hoping to make it an annual experience. The group was planning to come in 2020 as well, but it was canceled due to the pandemic.
This year the Whitefish-based retreat will bring out 11 songwriters from Nashville and will get them out of their daily norm to source some fresh ideas for their music.
"I think why it fits well, having the songwriters out there, is because it takes them out of their normal routine and puts them in one of the most awe-inspiring parts of the country," D'Amour said.
THE ARTISTS are scheduled to arrive on Monday and will stay the week at River Meadow Ranch. During that week, they will often break into small groups for songwriting sessions and play the new songs among each other in the evenings over family-style dinner and a campfire.
There are two shows scheduled at Casey's on April 15-16 where the songwriters will perform some of the new songs they created during their stay as well as some popular radio hits.
D'Amour said one thing that's important to her is to give back to the community of Whitefish as much as possible while the songwriters are in town.
"Community engagement is a big part of who I am as a person, and so it's extremely important to me that our presence in Whitefish is a positive one," she expressed.
During the 2019 retreat, the group of artists worked with the North Valley Music School to begin building a songwriting program. This year the Nashville artists have invited two of Whitefish's own songwriters, Andrew Sweeney and Hannah King, to participate in a number of events and songwriting sessions with them.
In addition, musicians with Nashville Heads West will spend time playing music and creating smiles with the kids in the program at Two Bear Therapeutic Riding Center.
SOME OF her inspiration for creating Nashville Heads West stems from D'Amour's appreciation for songwriters and the emotional connections they are able to form through music. For her career, she is a chief operator at an investment firm. But over the years attending songwriter performances at quaint venues in Atlanta, she's met many songwriters and formed a passion around what they do.
"I love music," she said. "I have a huge passion for songwriters and believe that they're so important, the way that their words can connect people and emotions."
So when she first visited Montana, she saw an opportunity to facilitate and encourage songwriters' creativity. And after one conversation, which also led to many more, with River Meadow Ranch's owner Fred Goldsmith, she was able to form Nashville Heads West with the help of Goldsmith, Casey's manager Jayson Peters, and a network of contacts in Whitefish.
There is an abundance of new creative exploration just waiting for the songwriters to tap into next week, she said.
Nashville Heads West's line up this year includes Dan Smalley, Kristen Kelley, Chad Wilson, Charlie Argo, Anthony Smith, Trent Tomlinson, Terri Jo Box, Blue Foley, Trick Savage, Eric Erdman, Cameron Havens, and Whitefish songwriters Andrew Sweeney and Hannah King. The concerts will be Thursday and Friday, April 15-16, at Casey's in downtown Whitefish, beginning at 6:30 p.m.
For more information or to buy tickets visit Nashville Heads West Facebook page https://www.facebook.com/nashvilleheadswest/
Recent Headlines
---