Health officer: Pause on J&J won't dampen vaccination efforts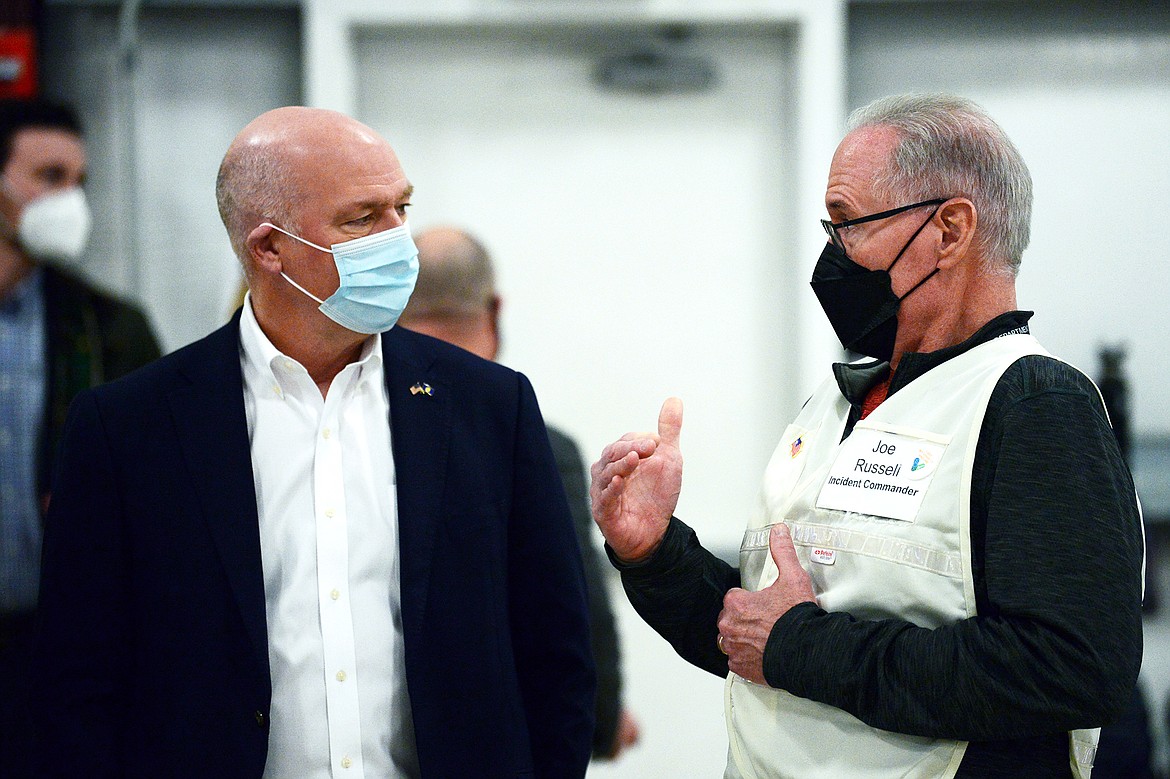 Gov. Greg Gianforte speaks with Flathead County Health Officer Joe Russell during the governor's tour of a COVID-19 vaccine clinic at the Flathead County Fairgrounds in Kalispell on Friday, Feb. 12. (Casey Kreider/Daily Inter Lake)
by
KIANNA GARDNER
Daily Inter Lake
|
April 15, 2021 2:00 PM
Flathead City-County Health Department officials say a recent decision by federal health officials to pause the distribution of the Johnson & Johnson Janssen COVID-19 vaccine won't have much of an impact on local vaccination efforts moving forward.
The Centers for Disease Control and Prevention and the Food and Drug Administration recommended halting the J&J vaccine on Tuesday after health experts noted that, of the nearly 7 million J&J vaccine recipients in the U.S., six experienced a severe type of blood clot.
The CDC says the cases are extremely rare and have yet to be reported among the more than 180 million people who have received the Pfizer-BioNTech or Moderna vaccines. Experts have yet to determine if the clotting is directly related to the J&J vaccine, but the agency says the pause will allow an advisory committee the chance to meet, review the cases, and "assess their potential significance."
The Montana Department of Public Health and Human Services joined countless other state health departments in recommending providers stop administering the single-dose vaccine until further notice.
According to a recent report by the Montana Free Press, approximately 20,000 Montanans have been immunized with the J&J vaccine. That figure includes several hundred doses that have been given in Flathead County.
Public Health Officer Joe Russell said Wednesday that the Flathead City-County Health Department, in partnership with Kalispell Regional Healthcare, has administered about 350 J&J shots since vaccine efforts began. He estimated an additional 300 or so doses have been given to residents through local pharmacies and other providers.
By those estimates, the J&J vaccine accounts for less than 2% of the total doses that have been administered in Flathead County. State data shows more than 43,000 shots have made it into local arms — a figure that reflects a mix of first and second doses.
Russell said because the county has relied on steady shipments of the Pfizer-BioNTech and Moderna vaccines, distribution efforts most likely won't be hindered by the sudden halting of the J&J doses.
"Since the start of our clinics, the state has mostly sent us Pfizer and Moderna, which we still have plenty of and are continuing to administer," Russell said. "Right now we don't foresee this setback affecting us locally."
Approximately 600 individuals were slated to receive the J&J shot on Thursday at the health department's Flathead County Fairgrounds clinic, but those individuals will now receive the Pfizer vaccine instead considering the health department has a healthy supply on hand. Russell said for the most part, people have been on board with the switch, even though it means they will now be getting two shots instead of one.
"In truth, all three of these are good, highly effective vaccines," Russell said. "Even though some people maybe wanted the Johnson because it's single-dose, they certainly shouldn't feel like they are now getting a lower quality vaccine with Pfizer. All of them have been tested and are quality vaccines."
The health department and partners will continue to administer primarily Pfizer vaccines at appointment-only clinics at the Flathead County Fairgrounds on Tuesdays, Wednesdays and Thursdays. Any Montanan 16 years of age or older can add their name to the COVID-19 vaccine list via the health department's online vaccination form that can be found at www.flatheadhealth.org
Russell, who recently said he hopes to have at least 40% of Flathead County's population fully immunized in the coming months, emphasized that the time to sign up to get vaccinated is now. And in the meantime, he and others are encouraging people to practice COVID-19 safety measures.
"We are making moves in the right direction," Russell said. "Our case rates are trending downwards, and the vaccines, along with social distancing and wearing masks, are helping our community stay health and safe."
Reporter Kianna Gardner may be reached at 758-4407 or kgardner@dailyinterlake.com
---