Real estate inventory plummets in March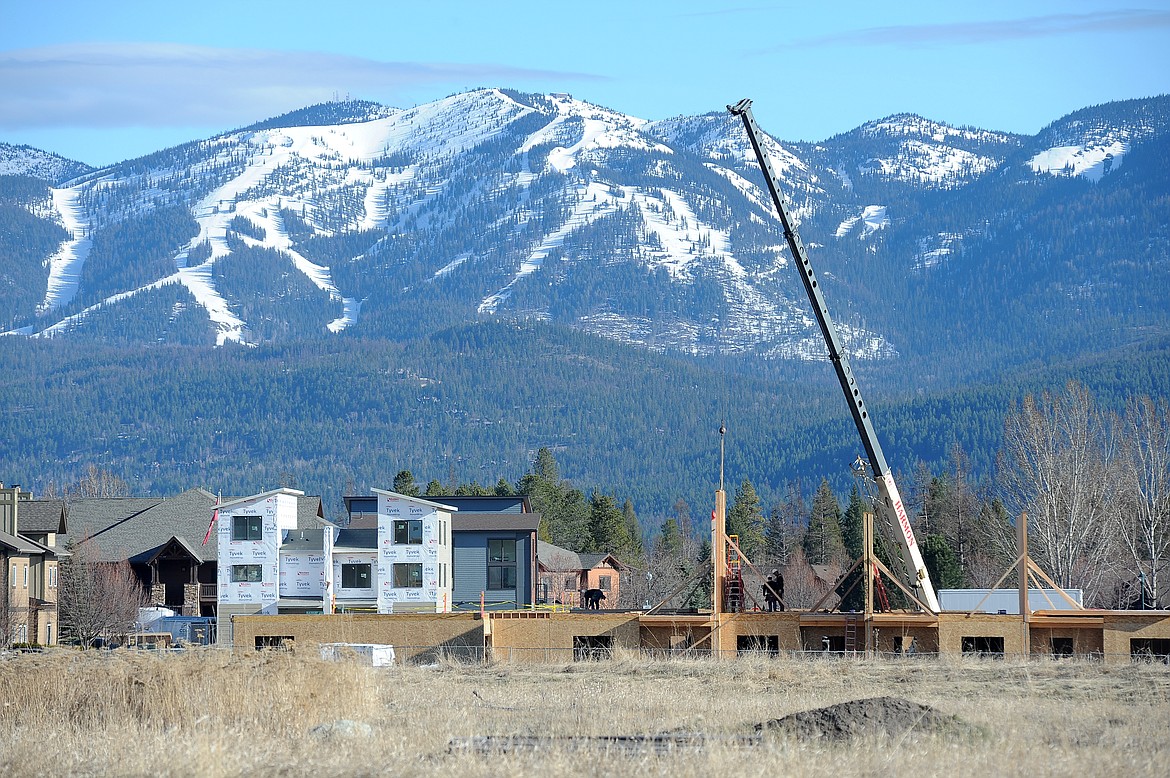 Construction crews work on a new development in Whitefish in this April 14, 2021, file photo. (Matt Baldwin/Daily Inter Lake)
by
BRET ANNE SERBIN
Daily Inter Lake
|
April 15, 2021 12:00 AM
The Flathead Valley real estate market has experienced astronomical demand throughout the past year, and the most recent monthly data continue to show staggering results.
According to the Northwest Montana Association of Realtors, buyer demand in March surged ahead unabated, despite rising home prices and mortgage rates.
That demand is only tipping the scales ever farther in the direction of a seller's market. Local inventory, already severely depleted, has been further reduced by typical springtime activity in the market and relaxed COVID-19 policies.
"Existing home sellers and new construction activity continue to remain below levels necessary to bring the market back into balance, pointing to a busy and competitive buyer market in the coming months," stated NMAR's March market report.
Inventory of single-family homes decreased nearly 67% from March 2020 to March 2021. Townhomes and condos saw an even sharper decline year-over-year, down 79.4% from last March's inventory.
From 2019 to 2020, single-family home inventory only went down 7.3%.
Estimates suggest there is only about a month's supply of inventory left in the valley for single-family homes, and about half a month's supply of townhomes and condos.
That's down from 4.7 months for single-family homes and 4.2 months for townhomes and condos in March 2020.
New listings of single-family homes decreased 27.3% from last March, but townhomes and condos actually increased 16.7%.
THE AVAILABILITY of homes is just one factor in the booming local real estate business.
Median sales prices for single family homes increased 39.3% from March 2020 to March 2021, up to $485,000.
The median sales price for a townhome or condo hit $330,000, up 24.5%.
The average number of days on market took a 52.2% nosedive in the single-family home category this year. Townhomes and condos saw an average decrease of 22.4% in the days spent on the market.
There's still no end in sight for the valley's real estate surge.
Homebuilders are feeling the constraints of limited labor, high material costs — particularly lumber — and a backlogged supply chain.
New construction methods like 3D printed homes hold promise for the industry, but according to NMAR, those developments "realistically are several years away from making a measurable impact in the market."
Reporter Bret Anne Serbin can be reached at 758-4459 or bserbin@dailyinterlake.com
---