Business transforming unappealing produce into fermented foods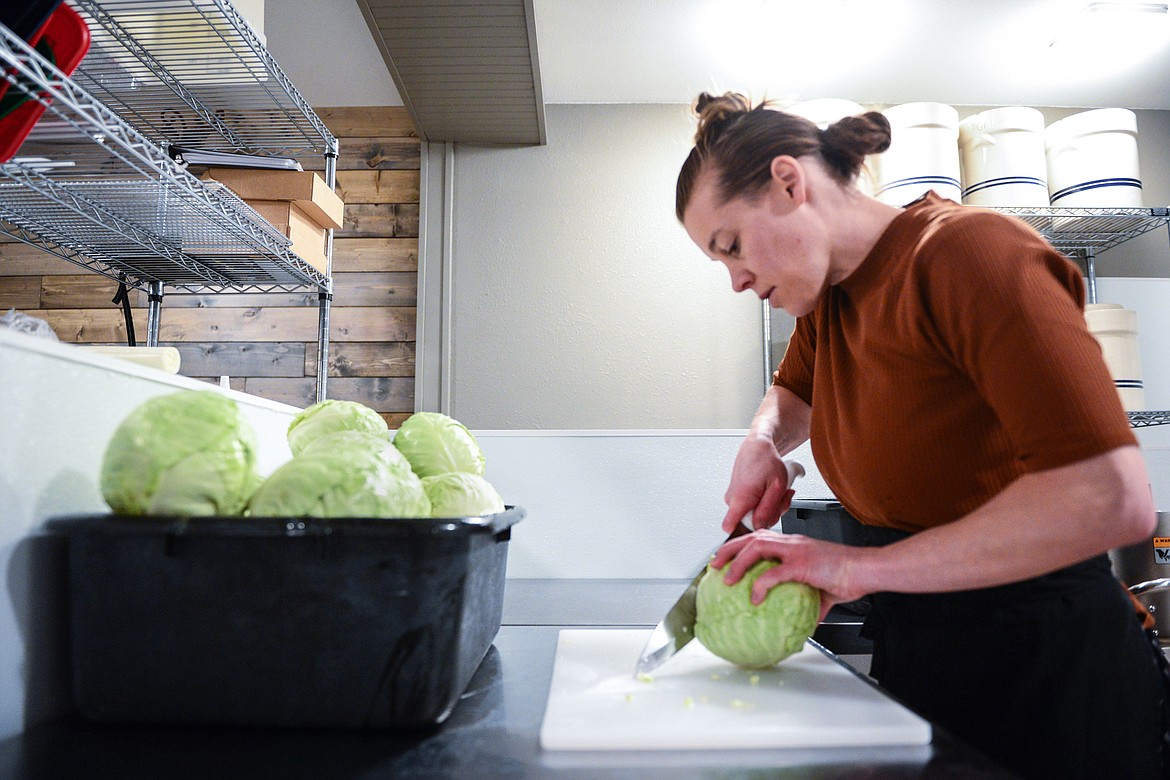 Vanessa Walsten chops cabbage at Farmented at Gateway Community Center in Kalispell on Friday, April 9. (Casey Kreider/Daily Inter Lake)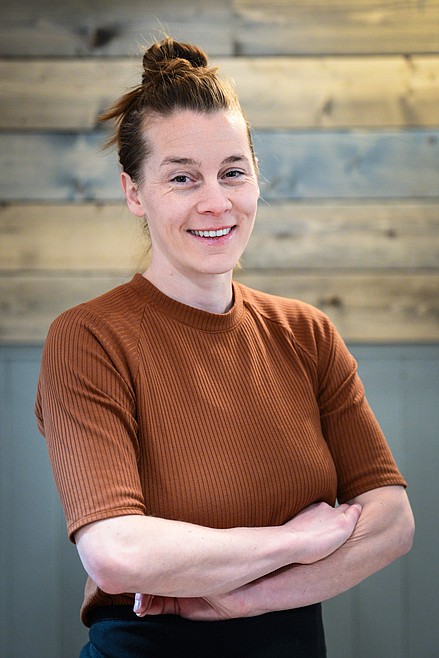 Vanessa Walsten at Farmented in the Gateway Community Center in Kalispell on Friday, April 9. (Casey Kreider/Daily Inter Lake)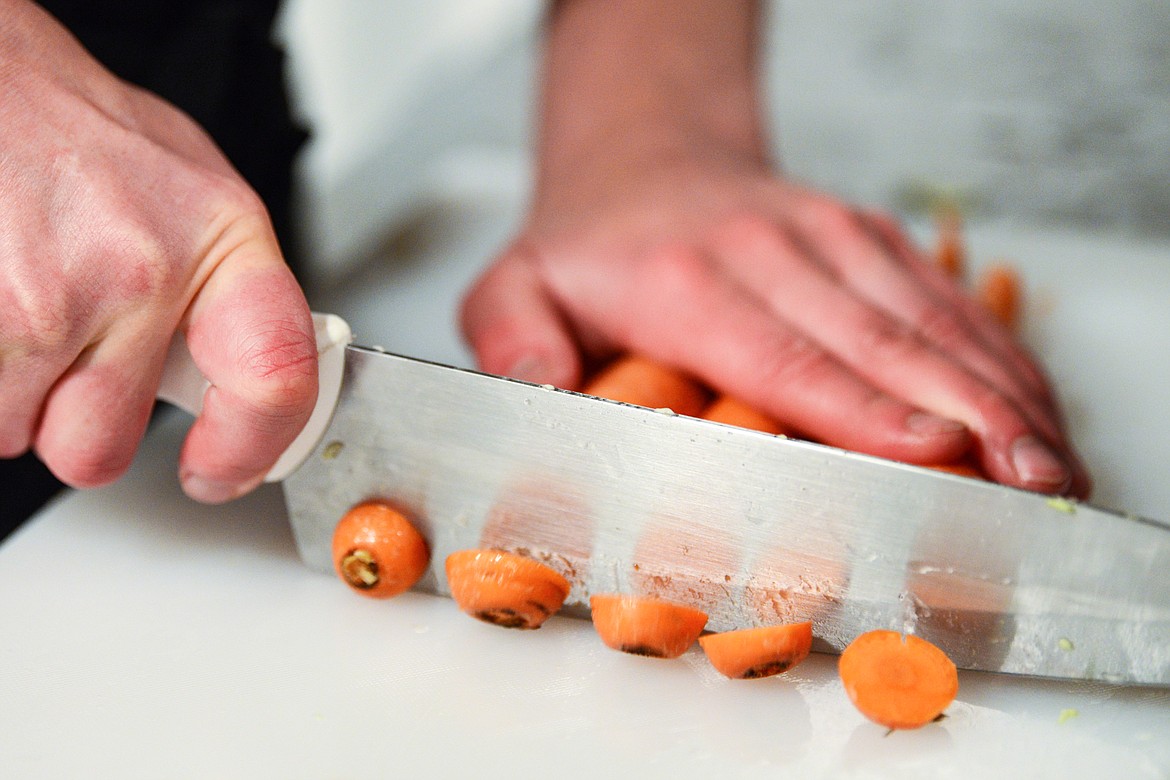 Vanessa Walsten chops carrots for her Spicy Carrots blend of Farmented on Friday, April 9. (Casey Kreider/Daily Inter Lake)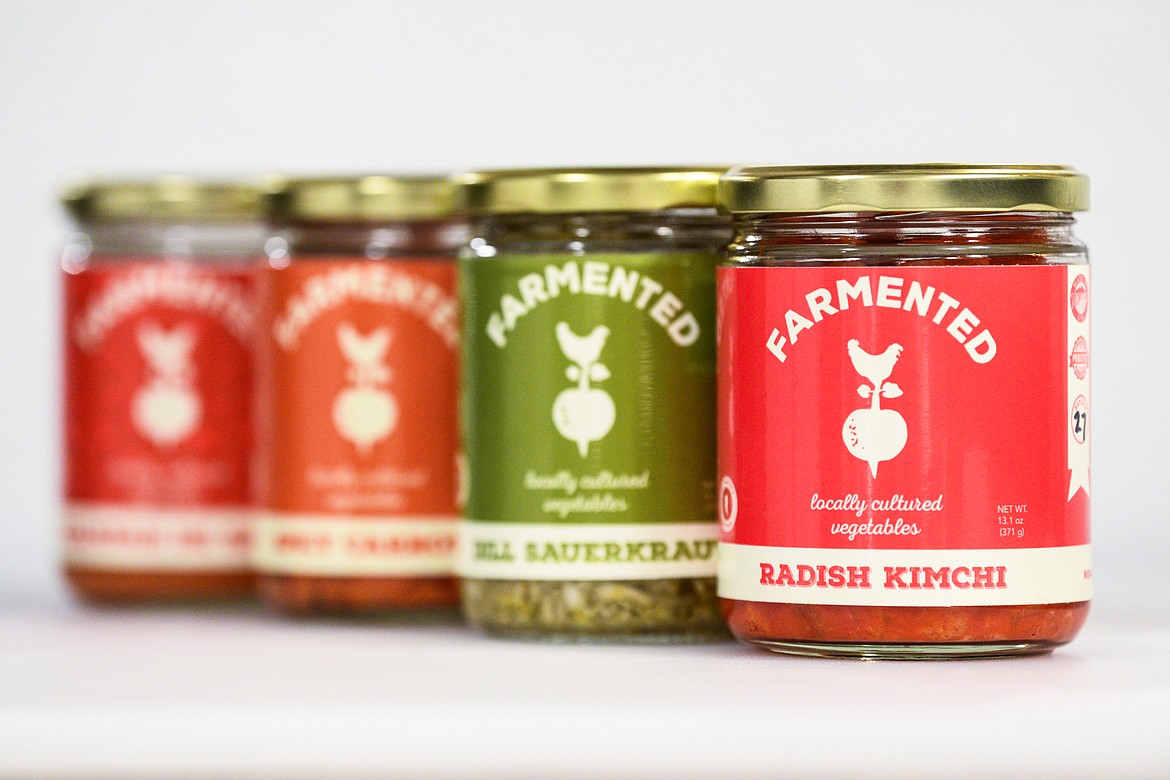 From left, Champan de Salsa, Spicy Carrots, Dill Sauerkraut and Radish Kimchi flavors of Farmented on Friday, April 9. (Casey Kreider/Daily Inter Lake)
Previous
Next
by
BRET ANNE SERBIN
Daily Inter Lake
|
April 18, 2021 12:00 AM
At Farmented Foods, the goal is progress, not perfection.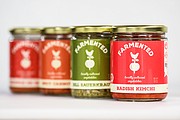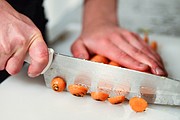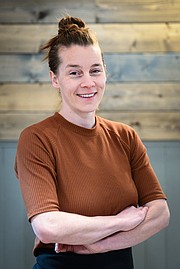 In their new Kalispell kitchen, owners Vanessa Walsten and Vanessa Williamson take imperfect produce that might otherwise be wasted and ferment it into tasty concoctions such as sauerkraut and kimchi.
"Every year, so much produce is wasted because we don't deem it perfect enough," said Williamson.
And in that waste, Walsten and Williamson saw opportunity. They started fermenting excess produce from growers around the Bozeman area in 2017, shortly after graduating from Montana State University.
Fermentation generally refers to the process of allowing microorganisms such as yeast and bacteria to break down foods. It's commonly used to create popular items like beer, yogurt and bread.
Now, Farmented Foods is moving its operations up to the Gateway Community Center in Kalispell.
In March, the company received a grant from the Montana Agriculture Development Council to renovate a former café into a fermentation kitchen inside the mall-turned-nonprofit hub.
The new space also brings the business closer to home for Walsten, who lives in Kalispell but has spent time traveling to and from Bozeman to help get the business started.
DEMAND FOR their unique product is only growing, and the Kalispell kitchen will allow Farmented Foods to increase production and branch out into creating new products.
"It'll help immensely," said Walsten, adding that she and Williamson have tag-teamed all the production since they first launched Farmented Foods about three years ago.
They're looking forward to getting into a new market, hiring some help and taking advantage of technology that fits in the new space, like a food processor that can shred 300 pounds of cabbage at once.
Strangers to fermentation might not relish the sound of all those veggies, but the end product has proven popular thanks to its health benefits and small environmental footprint.
That sustainability factor is actually what first drew the Vanessas to the idea. Williamson said the company "was founded initially to help farmers eliminate unnecessary food loss on their farms in the form of ugly and excess crops."
Fermented foods aren't necessarily heralded for their appearance, so fermentation can be a way to put crops that lack aesthetic appeal to good use.
"When you dice it all up…no one cares," Williamson pointed out.
THE RESULTING reduction in food loss is a boon both for local farmers and the environment. And the benefits of fermentation extend to the consumer, too.
"It's good for the environment. It's also good for your health," Walsten said.
Eating more vegetables is a well-documented strategy for improving most diets, and the fermentation process can add nutrients to the products that might not be available otherwise.
"We're not claiming fermentation is a cure-all by any means," Walsten emphasized. But she said, "Integrating fermented foods, especially vegetables, in daily life can lead to overall better health."
Perhaps most importantly, their food tastes good.
"We gave a lot of thought to the flavor profile and use when we first developed the recipes," said Williamson.
They wanted to make their products "more approachable" than existing fermented options, "so people can really integrate it into their daily lives," she said.
Their kimchi, for instance, uses tiny cubes of daikon radishes rather than "big awkward chunks" of Napa cabbage. Likewise, their sauerkraut is made from cabbage that's shredded to the consistency of relish, which makes it easier to spoon than the traditional stringy variety.
"Our recipe is a little different," Walsten noted. "…I think people are very responsive to how ours taste."
Farmented Foods' products are already on shelves at health food stores like Withey's Health Foods, Mountain Valley Foods, Max's Market and Glacier Juice Wellness, but the Vanessas are excited for an even broader swath of the Flathead Valley to soon get a taste of their products.
To find out more about Farmented Foods, visit https://www.farmented.com/our-roots.
Reporter Bret Anne Serbin may be reached at 758-4459 or bserbin@dailyinterlake.com
---