Whitefish farm launches retail partnership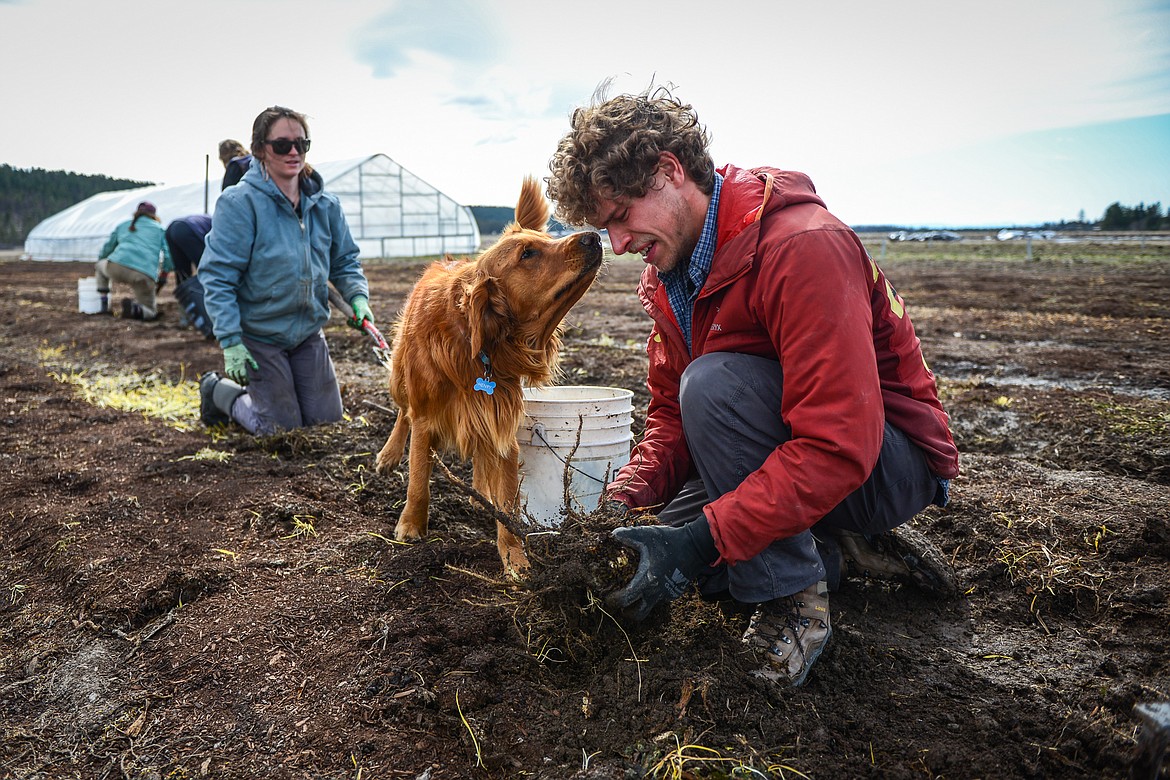 Henry the golden retriever moves in for a closer look as Alex Libenson pulls a root out of the soil at Two Bear Farm on Tuesday, April 13. (Casey Kreider/Daily Inter Lake)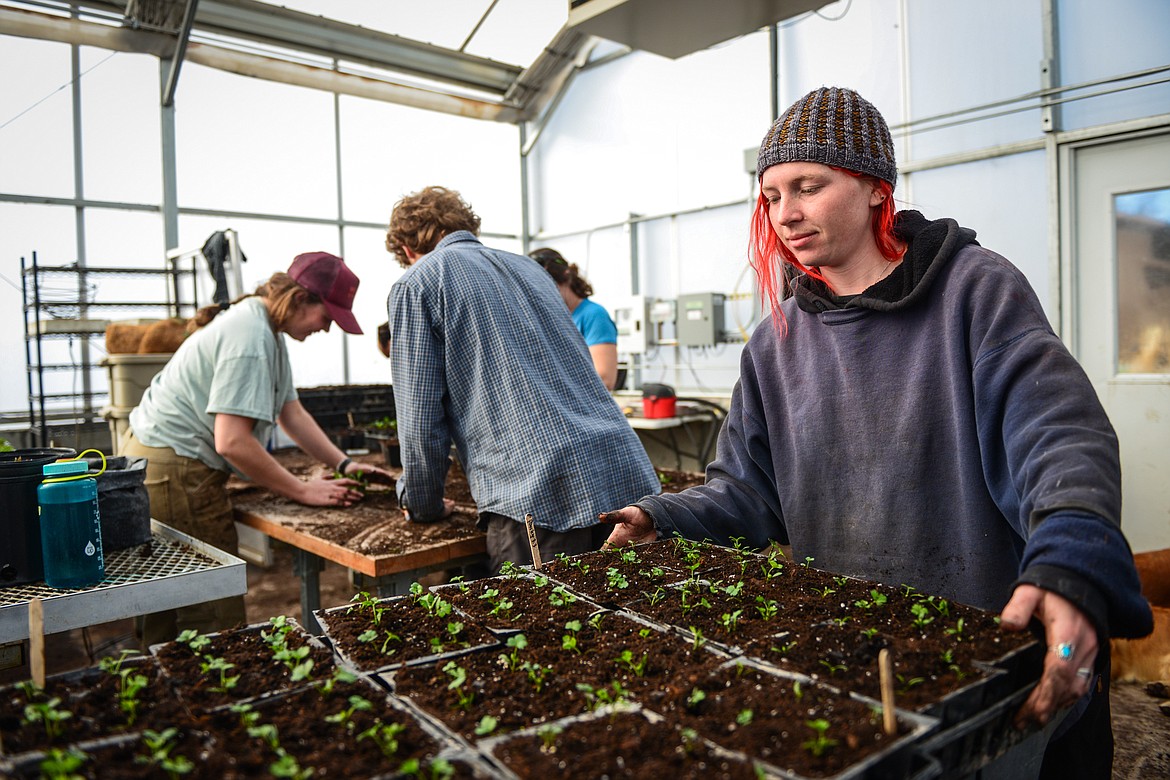 Caley Nicholson, right, moves a finished tray of parsely seedlings at Two Bear Farm on Tuesday, April 13. (Casey Kreider/Daily Inter Lake)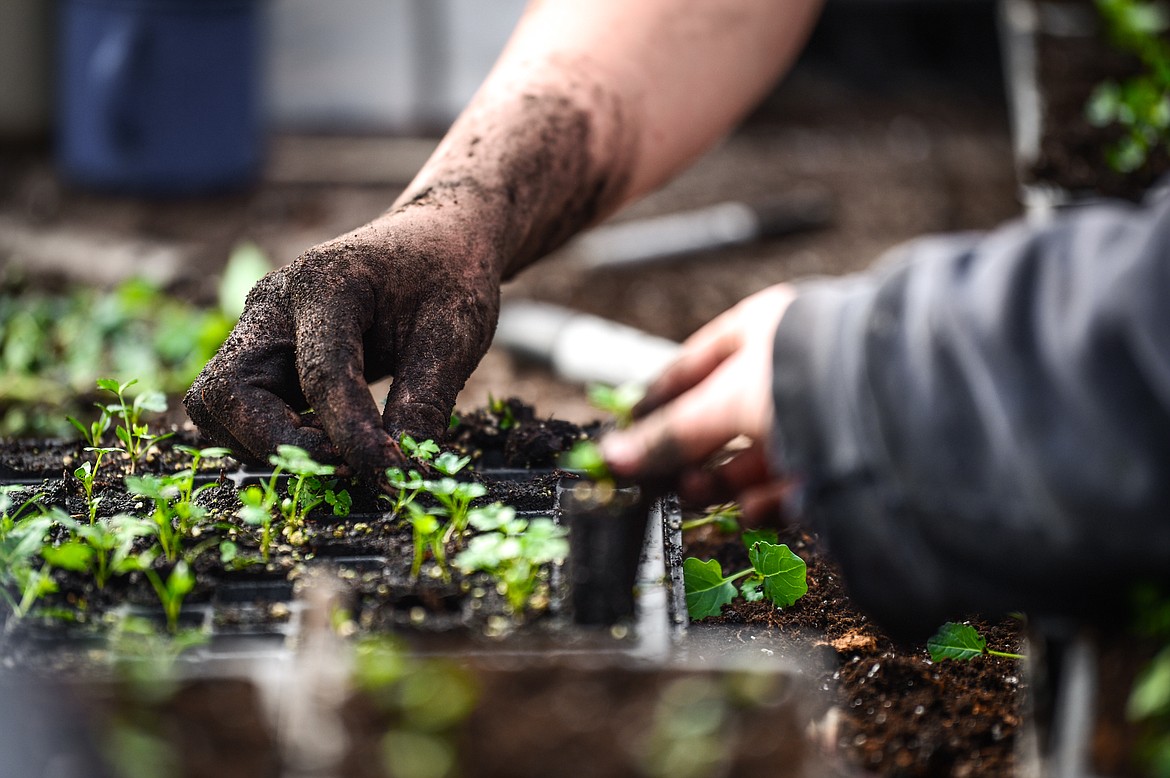 Workers place parsely seedlings into trays at Two Bear Farm on Tuesday, April 13. (Casey Kreider/Daily Inter Lake)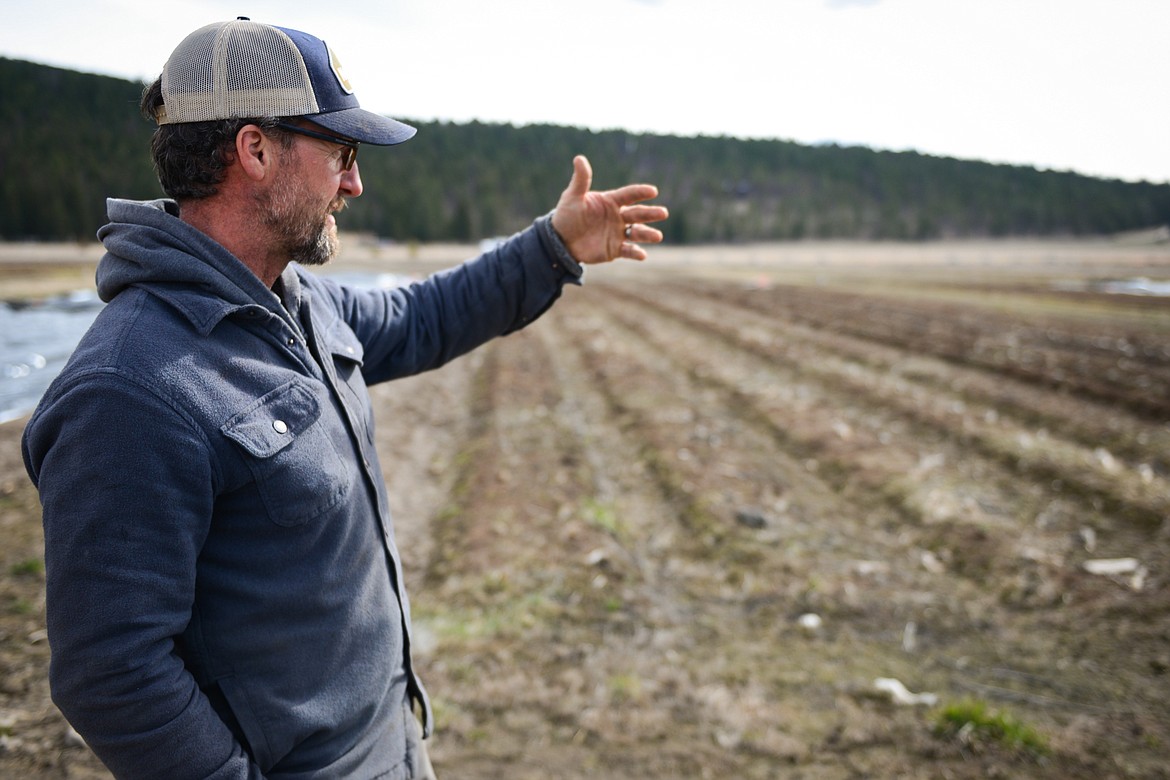 Todd Ulizio at Two Bear Farm on Tuesday, April 13. (Casey Kreider/Daily Inter Lake)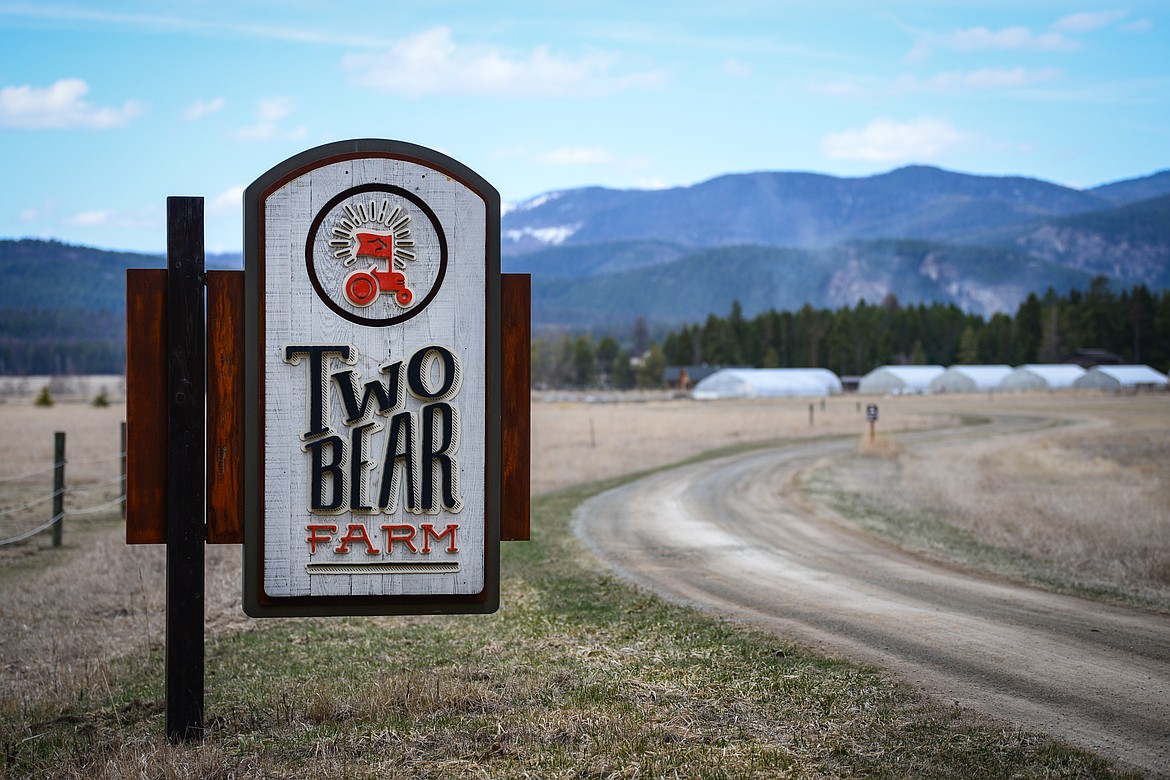 Two Bear Farm near Whitefish on Tuesday, April 13. (Casey Kreider/Daily Inter Lake)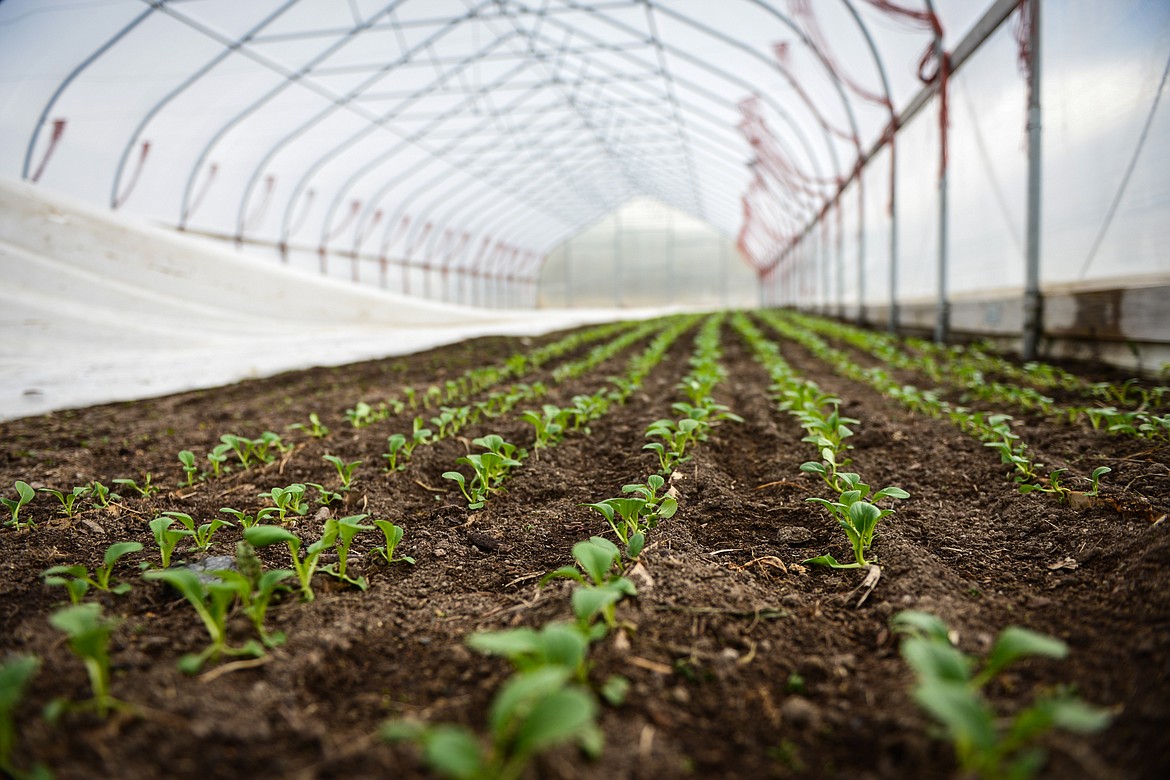 Bok choy seedlings sprout in one of the greenhouses at Two Bear Farm on Tuesday, April 13. (Casey Kreider/Daily Inter Lake)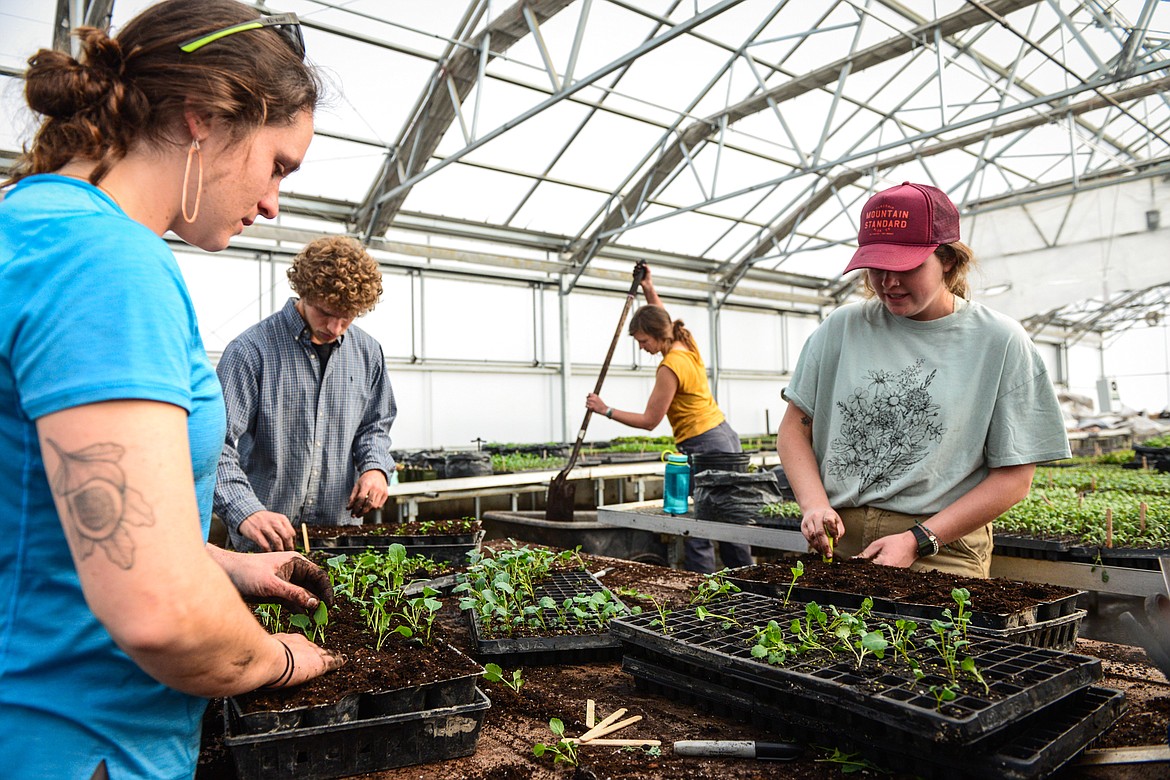 From left, Rhianna Zadravec, Alex Libenson, Jessie Knapp and Makenna Whitaker work inside one of the greenhouses at Two Bear Farm on Tuesday, April 13. (Casey Kreider/Daily Inter Lake)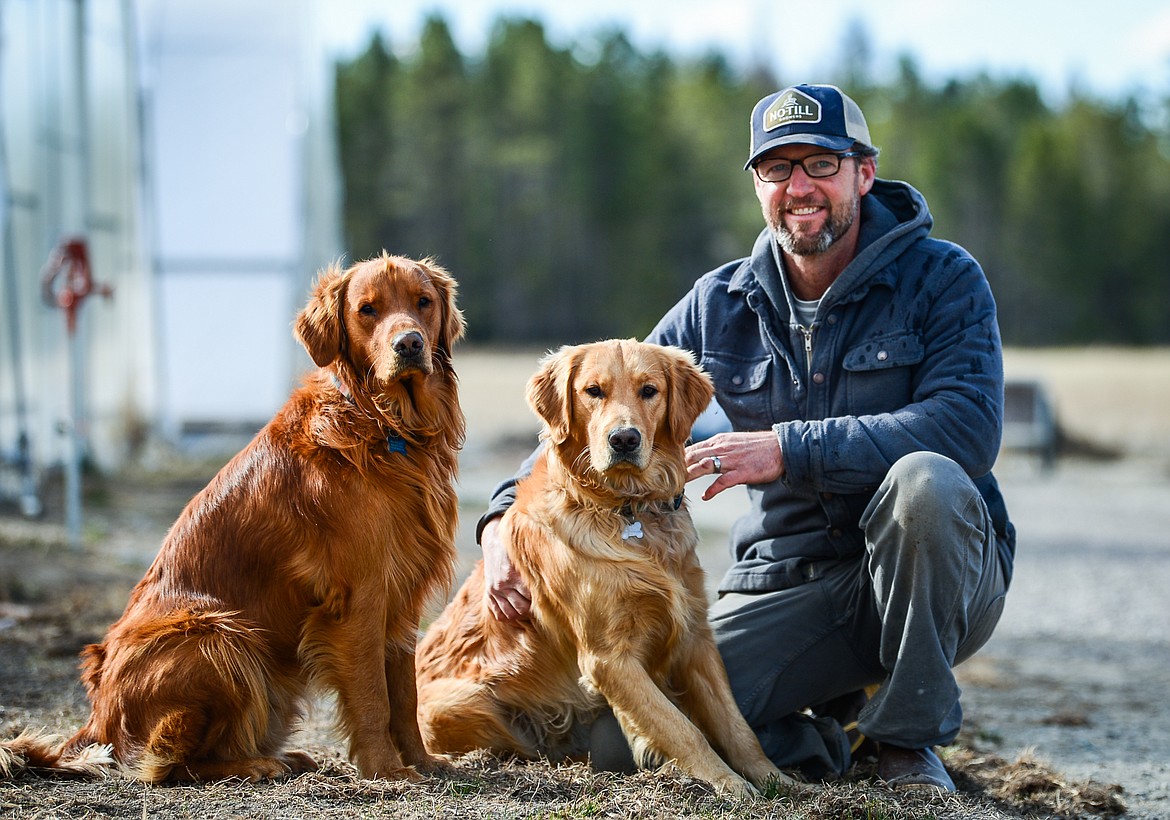 Todd Ulizio with golden retrievers Henry, left, and Willie at Two Bear Farm on Tuesday, April 13. (Casey Kreider/Daily Inter Lake)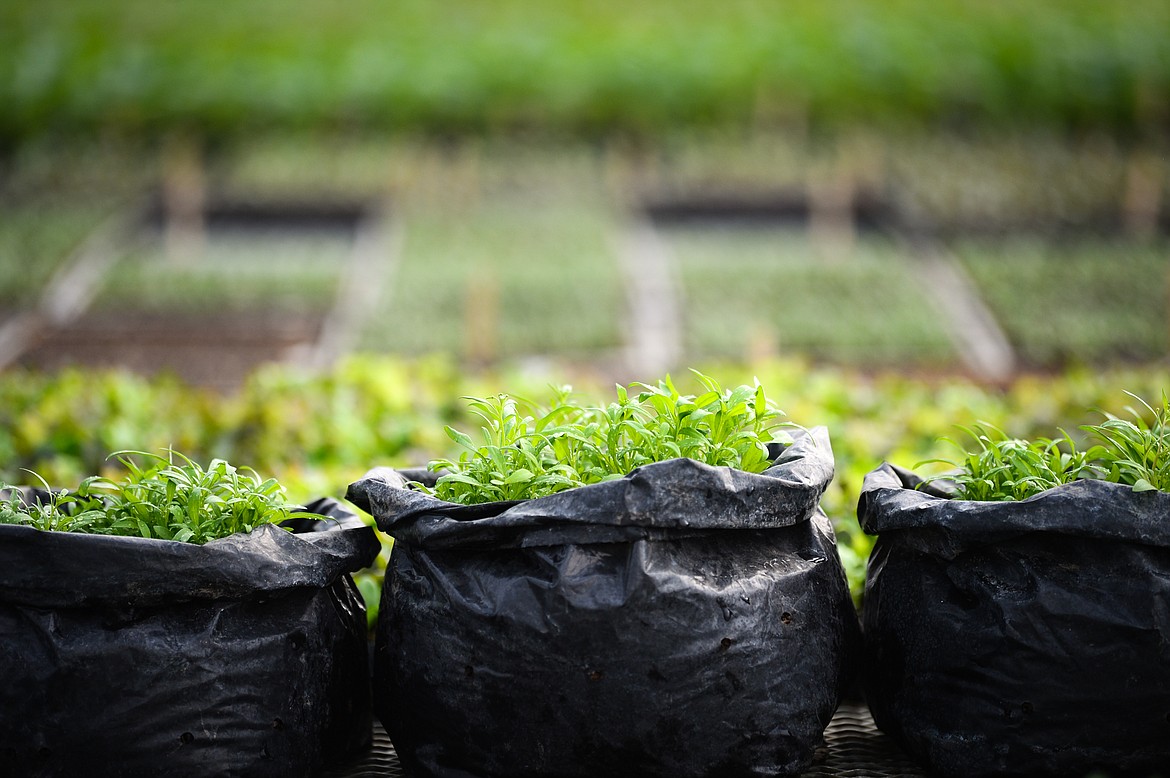 Allysum, a low-growing, flowering plant, sprouts inside bags among a variety of other plants inside a greenhouse at Two Bear Farm on Tuesday, April 13. (Casey Kreider/Daily Inter Lake)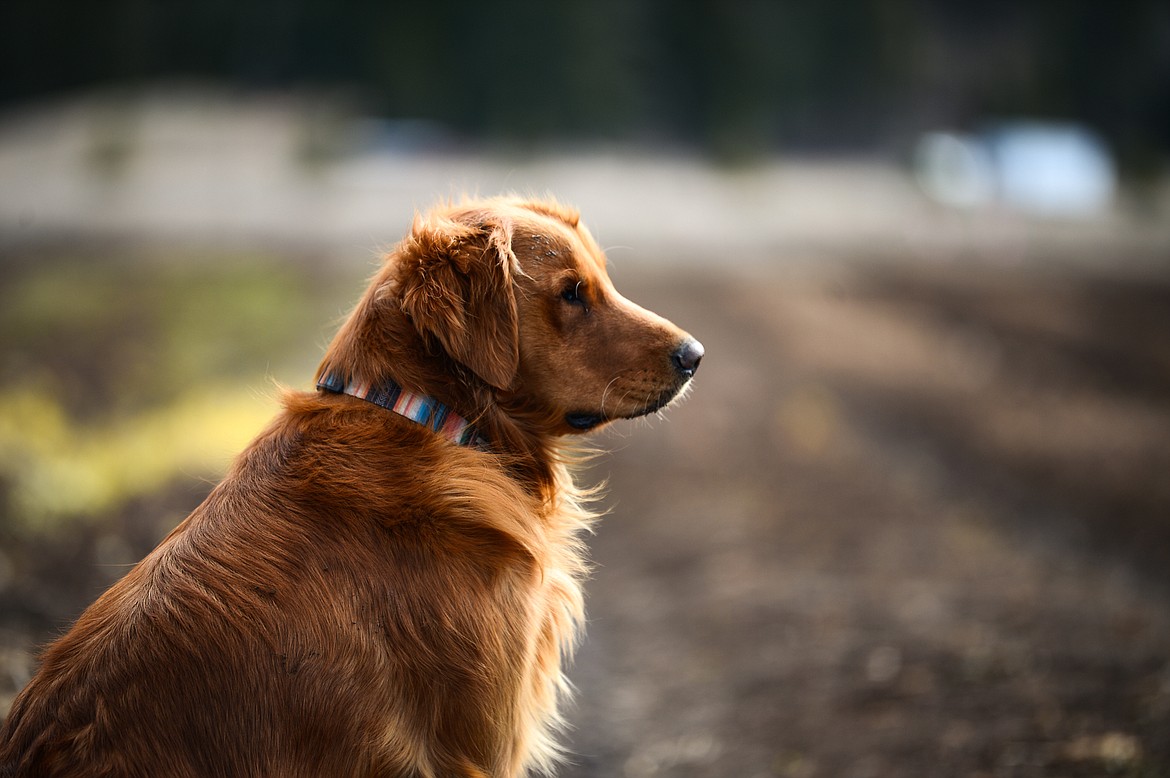 Henry the golden retriever watches over Two Bear Farm on Tuesday, April 13. (Casey Kreider/Daily Inter Lake)
Previous
Next
by
BRET ANNE SERBIN
Daily Inter Lake
|
April 19, 2021 12:00 AM
Todd Ulizio is hoping Two Bear Farm's new Whitefish storefront, The Farmers' Stand, won't be a hard sell.
On June 1, he and his local agriculture partners will open the new retail space at The Mountain Mall south of town. There, Two Bear Farm, Wicked Good Produce and other regional farmers will sell the fruits of their labor — plus vegetables, meat and dairy products.
"It's a small space with a huge vision," Ulizio said.
That grand vision, according to Ulizio, is to help build an agricultural movement that's healthy for farmers, consumers and their environment.
The Farmers' Stand will be a central retail location for an assortment of farmers. It's designed to combine the convenience of a traditional grocery store, the quality of a farmer's market and the sustainability of a community supported agriculture program.
Farmers like Ulizio will have the opportunity to sell their products directly to customers at The Farmers' Stand, thereby avoiding the costs of a middle man, while also facilitating a direct connection between food and the people eating it.
"It's a unique approach in that the farm store is going to be farmer-owned, so we are the supply chain," Ulizio said.
THE FARMERS' Stand is the latest effort by Ulizio — a farmer of 14 years — to improve the Flathead Valley's food scene.
Ulizio got into the field because he and his wife, Rebecca, are passionate about growing food that's healthy for the land and the people living on it.
They partnered with local venture capitalist Michael Goguen to create Two Bear Farm. On their Whitefish property, they maintain 13 acres of no-till crops and six high tunnels for planting seeds during the harsh, cold off-season. This summer, the organic farm, which has been certified by the United States Department of Agriculture, will have ten workers and two enthusiastic canine helpers, Henry and Willie.
Their produce — particularly their carrots — has already proven popular at farmer's markets and through Community Supported Agriculture (CSA) shares around the valley. And according to Ulizio, the demand for high quality produce has grown during COVID-19 pandemic, as people pay closer attention to their food, its sources and its impact on their bodies.
"Your food has a story," Ulizio said, referencing the new store's slogan. "If we can get people thinking about the story of the food we're selling, maybe they start to think about the story of the food they find elsewhere."
With The Farmers' Stand, Ulizio aims to grow that mindset while also growing spinach and bok choy. He's hopeful the store will help educate consumers about the people and places their food comes from.
ULIZIO ALSO intends to have The Farmers' Stand serve as a gateway to raising the next generation of socially-conscious growers.
Two Bear Farm once offered an apprenticeship program to give fledgling farmers the tools to start from scratch on an agriculture career, but its recent growth made it too difficult to sustain the educational side of the business.
Ulizio would like to see The Farmers' Stand take up that mantle once again by getting more people interested in agriculture.
But the pool from which to draw new farmers seems to be shrinking, and Ulizio worries whether it will be possible to fill those gaps - one of a handful of challenges in the agriculture industry he hopes to confront with The Farmers' Stand.
Building a local food network, for example, is inherently difficult when your community is situated along latitude 48. The Two Bear Farm crew has devised plenty of solutions, such as covering crops, to deal with the difficult climate, but those measures require extra work.
"That's the thing about farming in Montana that makes it so hard is you do all these extra steps to pull off the vegetable crops," Ulizio said.
Some of the issues Two Bear Farm faces aren't as natural as the weather.
For example, Ulizio has experienced resistance to innovative enterprises like The Farmer's Stand from both ends of the traditional food system.
On the one hand, he explained, there's the existing supply chain, which tends to operate around large industrial farms and chain grocery stores, rather than local growers and farmer-owned stores. And on the other hand, there's reluctance from a population of consumers that prefer convenience and/or lower prices over Two Bear Farm's nutritional and environmentally-friendly products that often come with a slightly higher price tag.
Those conditions make it hard for Ulizio to think too big when it comes to the impact The Farmers' Stand could ultimately achieve.
"We're only one farm," Ulizio pointed out. "…but you've got to start somewhere."
Ulizio, naturally, is starting from the ground up.
Reporter Bret Anne Serbin may be reached at (406)-758-4459 or bserbin@dailyinterlake.com
---