Catching on with the Griz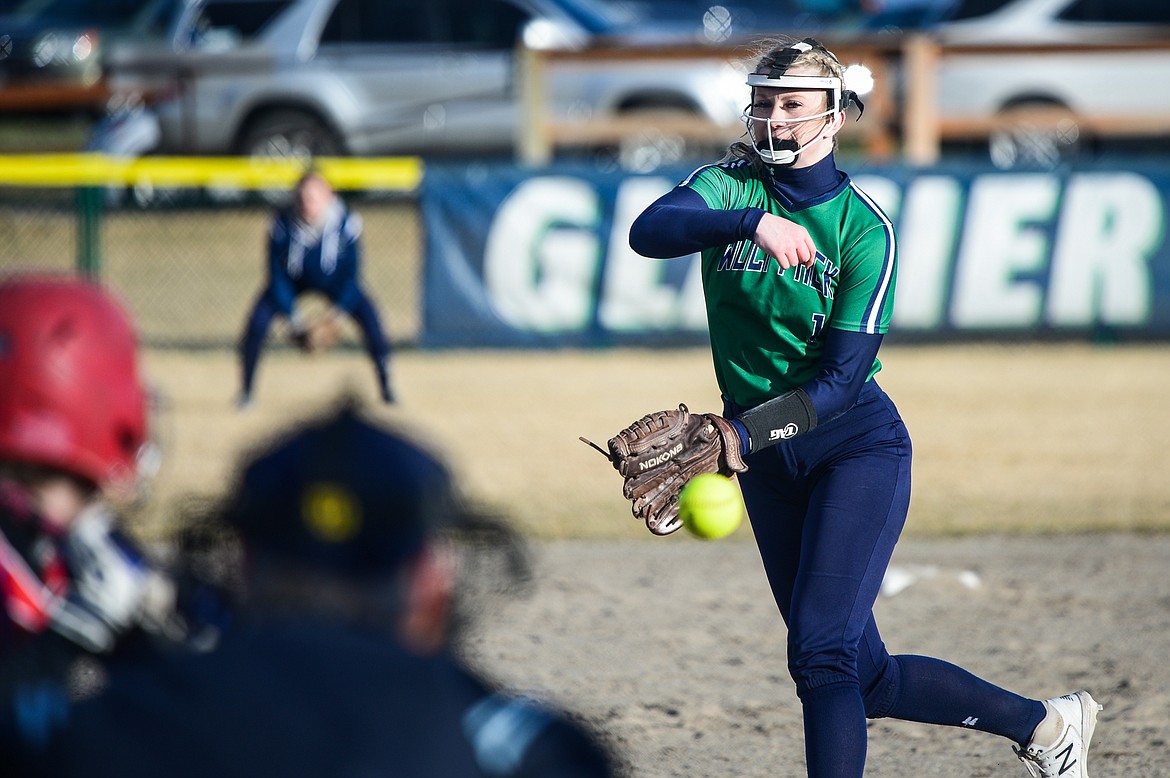 Glacier pitcher Kynzie Mohl (1) fires a pitch against Columbia Falls at Glacier High School on Thursday. (Casey Kreider/Daily Inter Lake)
by
FRITZ NEIGHBOR
Daily Inter Lake
|
April 20, 2021 6:13 PM
Kynzie Mohl became a catcher out of necessity and it's the same with pitching, which is why she's doing a lot of both this spring for the 6-1 Glacier Wolfpack softball squad.
She doesn't mind, and a week ago pitched a complete game in the Pack's 11-7 win over Missoula Sentinel before catching a 13-3 win over Big Sky.
Which one did she enjoy more?
"Probably the second game," said Mohl, whose club will play crosstown rival Flathead (1-5) at Kidsport today. "Because I love to catch. I'm more confident back there. But pitching is still fun. Catching is just my main thing."
She's good enough behind the plate — and at it — that she has a scholarship to play for the University of Montana. Oddly enough the Grizzlies began playing their first games about the same time Mohl started putting on the catcher's equipment: 2014.
At the time, Mohl's family was making the move to Kalispell and she was playing on a 10U travel team coached by her dad, Dave.
"She didn't mind putting the gear on and she was the only girl who could catch the other girls," he said. "She's never been afraid of getting hit by the ball. She calls it the mark of honor. When she was a freshman at the state tournament, she got hit by Madi Moore from CMR. I still have a picture of it: It actually looks like the Chicago Cubs emblem."
Travel ball being what it is, it wasn't long before the younger Mohl was pitching as well. Yet the most eye-catching thing about Mohl, who is 11-5 in her high school pitching career, is the hitting.
After a three-homer, eight-RBI game in Helena Saturday, she owns a .640 batting average, with five homers and 21 runs driven in this season.

That bat has always been there: Mohl hit .451 with seven homers as a freshman, then .397 with four bombs and 29 RBIs in 2019. That team went 17-5, including an 0-2 performance at state.
Then came 2020, and a squad that had seven seniors back — plus Mohl and then-sophomore Sammie Labrum — did not play a game.
"It was really heartbreaking," Mohl said of the pandemic-canceled season. "I played with those girls for as long as I've lived here. They are like sisters to me and we were all really sad we didn't get to play, because they were all seniors."
The group included All-State pitcher Sage Vanterpool and Ally McMillan, but the core of players back this year is pretty solid.
Labrum, who hit .494 as a freshman, is at .682 this year. Halle Schroeder, who catches when Mohl pitches, is at .381. Senior Kenna Varnorny is at .412; junior Alli Kernan is hitting .381. Freshmen Kenadie Goudette (.429) and Emma Cooke (.357) have hit well and freshman Ella Farrell (3.33 earned-run average) has excelled in the circle.
Mohl, though, is the big thumper — and as it has turned out the main pitcher.
She's not out there for strikeouts.
"No," she said, smiling. "I'm trying to get ground balls. Not hard hits; just ground balls so my teammates can back me up."
"Kenzie's doing a great job," Glacier coach Abby Connolly said. "She is always going to do what we need her to do. She's super competitive. (She'll do) Anything for the team.
"She did a tiny bit of pitching her freshman year, and then about halfway through her sophomore year we realized that we needed kind of a combo pitching approach. It worked out really for us to have her start games and have Sage close."
Then, like now, it was a contrast in pitching styles, which Connolly likes.
"I think any hitters, the third or fourth time through the lineup they're going to be able to hit even the best pitcher," she said. "To shake up them and keep them off balance a little bit... can be an effective strategy."
It figures Mohl will find herself in two place in today's doubleheader (first game is conference, second game is not), which starts at 3 p.m. She played a game at third base in Helena, after all. But the catching and hitting are taking her back to the Garden City.
"It was really neat," Dave Mohl said. "It was something that she's put a lot of time and effort into. She's my only kid that really never once scoffed at practice. She'll go out in any type of weather. If I say, let's go, she's like. OK. Let's do it."
"Ever since they got their softball program, I thought it'd be cool to play there, since I'm from Missoula," she said of UM. "I love Missoula. I love the atmosphere and love how it's a big college town. I went to a few of their camps. And I started really talking to all three for their coaches this past summer and all through the fall. That's how it happened."
---