School board elections: Smith Valley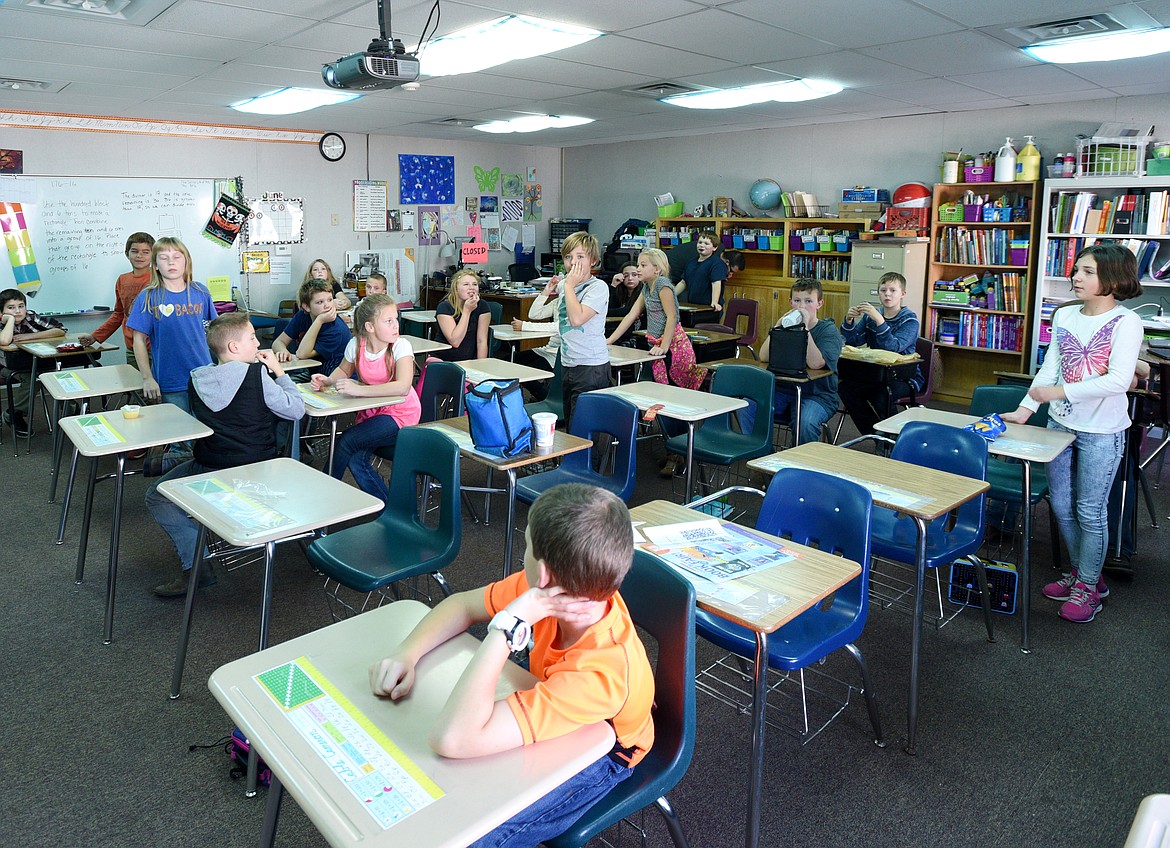 A fifth-grade class at Smith Valley School has 32 students. (Aaric Bryan/Daily Inter Lake)
by
HILARY MATHESON
Daily Inter Lake
|
April 20, 2021 12:00 AM
School elections are May 4 with contested trustee races in several school districts.
Information on candidates will be published throughout the week. Candidates were invited to respond to questions emailed by the Daily Inter Lake to provide voters with more information such as a candidate's background, experience and reason for running.
The following information is for Smith Valley School District candidates.
Seven candidates are vying for two three-year terms including: Heidi Burkhalter, Matt Fehlman, Joshua Hunt, Jessica Micklewright, Jim Riley, Andy Scrima and incumbent Richard Sutton.
Ballots go out to registered voters on Friday. Ballots may be returned by mail or in-person to the district office, 2901 U.S. 2 W., Kalispell. The district must receive ballots by 8 p.m. May 4.
Name: Heidi Burkhalter
Occupation: Special education teacher
Background/experience: I have been a special education teacher for six years, four of those at Smith Valley Elementary. I have a bachelor's degree in business and human resources, a master's degree in special education. This fall I will have completed my educational leadership principal certification through the University of Montana.
My experience ranges from a corporate steering committee member, Tribal Gaming Commission investigator to human resource management. I have over 15 years of budgeting experience in the private and government sectors.
I am actively involved in my church, supporting my grandchildren as a Junior Bible quiz facilitator. I volunteer with my grandchildren's 4H club — volunteering at local retirement homes, playing games, reading, and talking with residents.
Why are you running? I am running for the Smith Valley School Board to bridge the gap between the community, parents, staff, and board members. As an educator, I believe in providing our children with the best educational resources to support their academic, social, and emotional growth. I believe in the importance of community support and involvement. I will advocate for transparency, fiscal responsibility, and communication between the community and the school board. A good community makes a good school, and the Smith Valley District is a good community. I want the community involved with the school to ensure we are working together on all issues affecting the community while ensuring our children receive the best educational support for a rewarding future.
If elected, is there anything you want to see accomplished? As a board member, I will encourage collaboration with the community, staff, and board trustees. I will encourage community members to participate in the communication process with the board of trustees and encourage community input. I will ensure that the community is aware of and included in the decision-making process that directly impacts the community. I will work hard to make sure the parents and community are involved as much as possible with the growth, development, and future directions of Smith Valley School District.
Name: Matt Fehlman
Occupation: IT Administrator for Sonju Industrial
Background/experience: Eagle Scout of the Boy Scouts of America; a founding board member of the Flathead Celtic Festival; IT administrator for Summit Preparatory Therapeutic Boarding School; volunteer at the Montana Veterans Home.
Why are you running? I'm hopeful for the opportunity to join the Smith Valley school board and work towards providing the children an education they can be proud of in a school that can accommodate growth of their minds and bodies. Having three children attend Smith Valley School (two that have already passed through and one currently attending), I'm familiar with the teachers and administrators, as well as the facilities of the school itself. I want to give back to the school and the children much of what they have done for my kids. My wife is coaching cross country for the younger Smith Valley kids. She and I have joined the committee for planning and developing a new school building. My hope is to serve on the school board and help find a way to grow the school in a way that the community can come to an agreement with investing in, so we can develop the children's education into something we can all be proud of, including facility size, technology, and class programs.
If elected, is there anything I want to see accomplished? We need to have an investment in the children here, to focus on what is important for them, and parental involvement is very important at every level of their education. A school board is only as good as the input it receives from the people it represents. I plan to work with the community to grow the school in a way that Smith Valley as a whole can agree with investing in, so we can develop the children's education into something we can all be proud of, including facility size, technology, and class programs.
Name: Joshua Hunt
Why are you running? I'm running for this position because my wife and I will have 4 kids attending the school this fall. We love the school, teachers and staff. I've been approached in the past by teachers about becoming a member but the timing wasn't right. Now is my chance to give back, with my focus being the voice for the teachers and students. I have a heart for special needs children because we have a son that requires special services. The staff has gone above and beyond to provide the care he needs as well as every student and for that I'm extremely grateful. I'm ready to step in and help however I can for the future of our amazing school.
Name: Jim Riley
Occupation: Business consultant, podcast host, life coach
Background/experience: I have worked for three major corporations having as many as 300 employees under my management. I currently own two businesses and consult for three others on a part-time basis. I have had the privilege to sit on several boards and committees over the course of the last 20 years. I have spent a lifetime donating to local charities and orphanages in Baja Mexico. Helping others is a lifelong pursuit.
Why are you running for the school board? It is my belief that a child learns the best when the parents are involved. In the 2021-2022 school year I will have two children at the Smith Valley School. It is my desire to be involved and to make a difference for my kids and the others attending, while utilizing my 35 years in business. I have had the privilege to sit on many boards in my career and have a keen understanding that a well-rounded board can achieve success in the right directions. I moved to Kalispell for the values and integrity of the community, it would be my goal to maintain them as we grow together. I would also like to be the voice of my local community by having an open communication policy. It has become clear through my "door-knocking" that people want to be heard all the way down to the school boards.
Name: Andy Scrima
Occupation: Electrical contractor
Background/experience: I chose to run for the school board for a few reasons. The most important one being I have four kids that attend Smith Valley School. I would like to help build the best district possible for them to grow and learn. I am aware of the current challenges our school is facing and would like to be involved in overcoming them.
---