Flathead High student-athlete honored for many achievements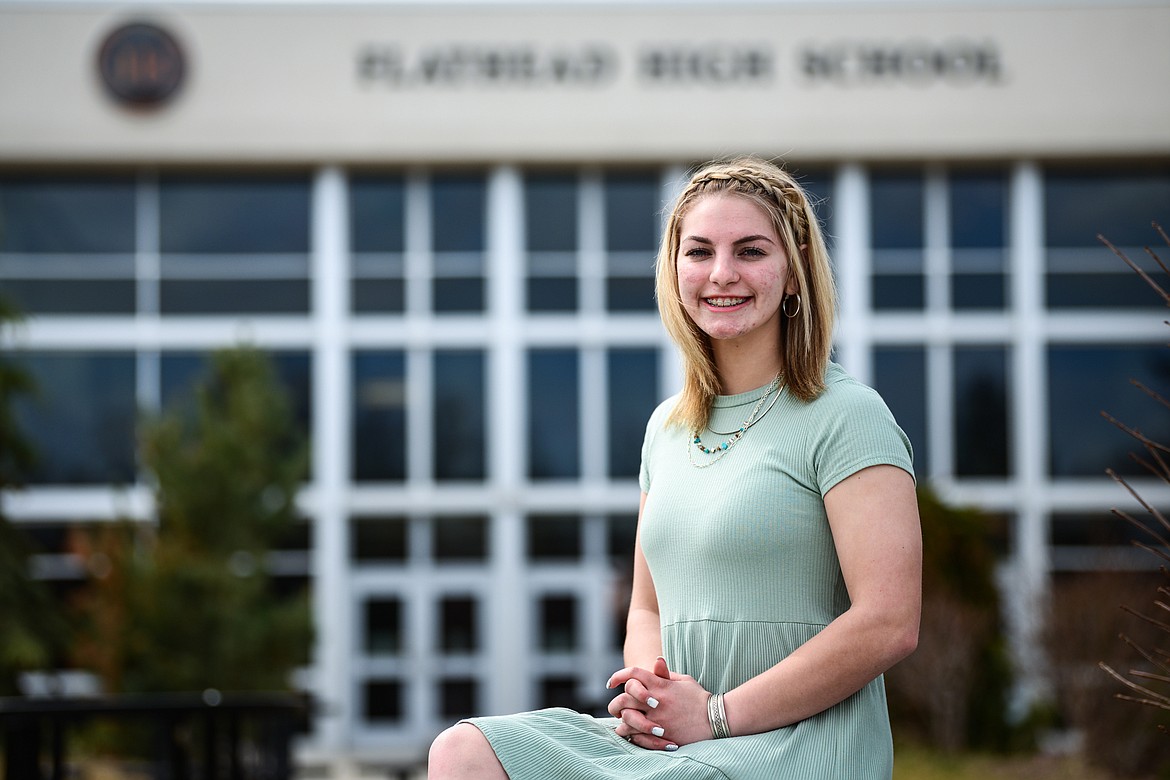 Alyssa Cadwalader outside Flathead High School on Wednesday, April 7. (Casey Kreider/Daily Inter Lake)
by
HILARY MATHESON
Daily Inter Lake
|
April 21, 2021 12:00 AM
Achievement and leadership go hand-in-hand for Flathead High School student-athlete Alyssa Cadwalader.
"Alyssa is an extremely talented, dedicated, driven and gifted young lady," Flathead career center Director Mike Kelly wrote in his letter nominating Cadwalader, who was selected as a Today's Achievers, Tomorrow's Leader honoree. "She works hard to balance her academic life with her extracurricular activities, and she does so with grace. Alyssa understands the value of time management, prioritization and organization."
The Today's Achievers, Tomorrow's Leaders program recognizes the academic achievement and community involvement of high school students who contribute to improving the lives of others. The award is sponsored by Kalispell Regional Healthcare, in collaboration with the Daily Inter Lake.
As part of the Today's Achievers, Tomorrow's Leaders recognition, honorees choose a school club or activity to receive a $250 donation. Cadwalader plans to donate the money to Brave Mentoring, a program that involves upperclassmen helping freshmen navigate their first year of high school, get involved in different activities and learn about different topics by creating and teaching lessons.
Whether in the classroom, on the court, or at work, Cadwalader gravitates toward leadership roles.
The Flathead senior serves as an executive mentor for Brave Mentoring; a cheerleading and softball team captain and a wrestling team manager. She is also involved in the National Honor Society, DECA, a business-oriented club and HOSA, a health occupations club. She has logged volunteer hours with Little Guy Wrestling, Kalispell Youth Softball, Special Olympics, Flathead Valley Food Bank, Rocky Mountain Elk Foundation and Flathead Valley Archers.
A 3.7 GPA combined with her athletic achievements has earned her Academic All-State recognition 11 times with number 12 anticipated at the end of the softball season, which Kelly said, "... is a testimony to her ability to manage and prioritize academics, extracurricular activities and community involvement."
HER HIGH school achievements have landed her college scholarships and a spot on the Dickinson State University Blue Hawks softball and cheerleading teams.
In college, Cadwalader plans to study to become a business education teacher and coach.
"With education, my goal in life is to be able to help people and leave a positive impact," Cadwalader said.
Initially, she wanted to go into medicine, but realized the classroom is ultimately where she wants to be.
"Brave Mentoring actually had a huge impact on it," she said. "I spent most of my time teaching and helping others and could do so with teaching and I love it too."
She joined Brave Mentoring as a sophomore when it was newly implemented and said the connections and friendships built between freshmen and their mentors is probably the most beneficial aspect of the program. Cadwalader said mentors often share personal experiences about adjusting from middle to high school so freshmen don't feel alone in what they might be going through.
"It didn't really matter what the lesson was — you just knew you had the upperclassmen — that if you ever needed help or anything — they were there," she said.
In her junior year, she became an executive mentor, which meant working one-on-one with other leaders and training them. This year, executive mentors participated in a class called Foundations of Leadership where students developed lessons on topics freshmen were interested in as well as learning about and working with different leadership styles.
"In my opinion, I think a good leader is someone that's willing to listen and be open with you and gauge their understanding of you and ideas off of what you say with no judgment, honestly," Cadwalader said.
LEADERSHIP IS something Cadwalader has been working on since well before high school. At 14, she started working at McDonald's and rose through the ranks to her current management position. At 16, she became an opening shift manager following additional training. This year, at 18, she became a department manager.
"I'm the 'people person' essentially is what it's called," Cadwalader said, and comes with scheduling and training responsibilities.
Being a manager when the people you oversee are often friends, classmates or older adults is not without its challenges, but she has found success when approaching situations with confidence she'll manage with fairness, firmness, accountability and a positive attitude.
She often seeks guidance from her mother, Nicole Salois, whom she looks up to.
"I got my work ethic from her …" Cadwalader said, later noting that with five children, "She's always go, go, go and she does what she can for us kids."
"She knows how to devote her time to her kids and she also worked her way up the chain in the McDonald's Restaurant and she loves it there."
How does she balance school, sports, clubs, and work?
"It was pretty hard. Really hard. I did a lot. People always say your sophomore year is the hardest, but for me, it was my junior year. Just like a lot of people, COVID really put a damper on that junior year and obviously affected my senior year," she said, such as sports being canceled or whether competitions would be held was up in the air.
"Even just there was a time they weren't going to have cheerleaders on the sidelines at football and that was really hard for me because I love football. I love football," she said smiling.
But through her mother's encouragement, she was reminded of what she was able to do.
"I learned to push through it," Cadwalader said, using the crowd size limitations at football games as an example.
"With football, it was like, 'Oh we don't have a student section but that just pushed me more to be a better cheerleader for the football team and like, hey, I have to be louder. They're not used to this small of a section ..."
"It was definitely hard," she said, but her mother continued to encourage her to look at the positives such as having a season this year, and saying, "You can come back from this."
"My mom was definitely a huge motivation in pushing me to overcome COVID, but it's better now that it's a little more relaxed than it was in the beginning obviously it's still a thing, and we have to follow protocols but it's definitely gotten better."
Although she will be attending college out of state, her goal is to return to Kalispell.
"I'll be going to North Dakota but Kalispell is my home and I really want to come back and teach business here at Flathead High School and coach and have fun," she said. "That's what I hope to do."
Hilary Matheson is a reporter for the Daily Inter Lake. She may be reached at 758-4431 or by email at hmatheson@dailyinterlake.com.
---