Gianforte signs bill stripping Whitefish affordable-housing program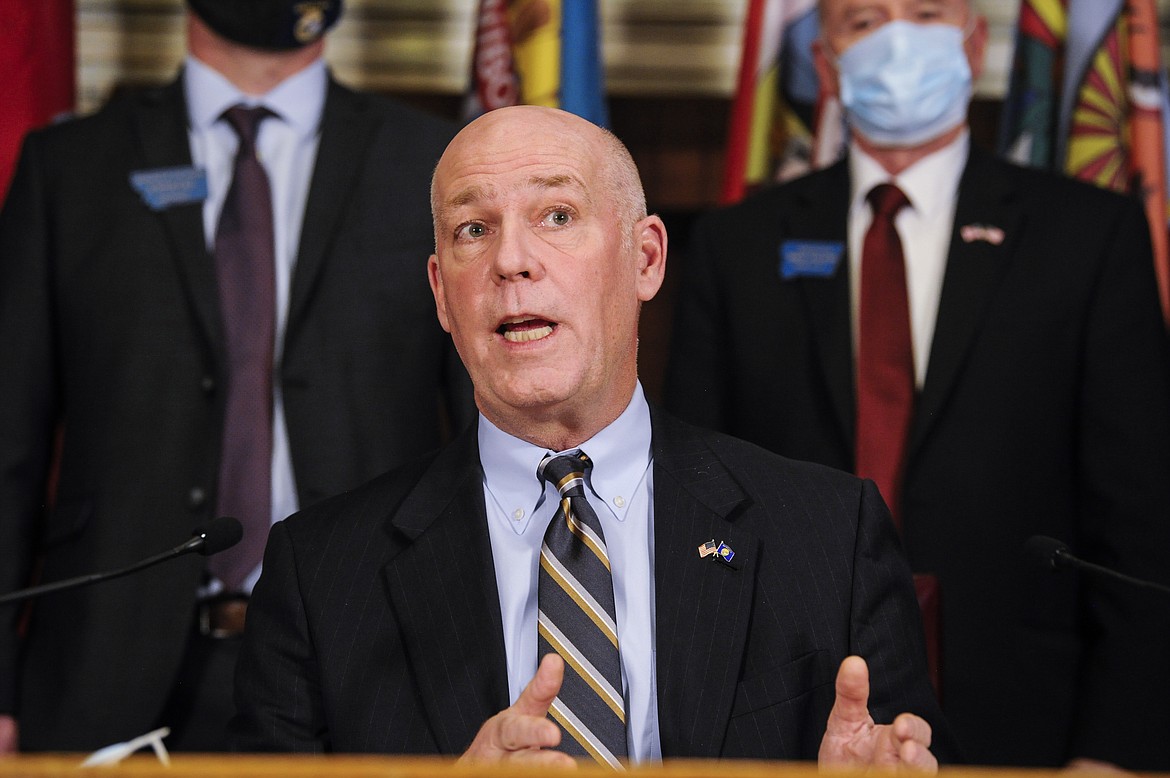 Montana Gov. Greg Gianforte speaks to reporters in the state Capitol in Helena in this Feb. 10, 2021, file photo. (Thom Bridge/Independent Record via AP)
by
CHAD SOKOL
Daily Inter Lake
|
April 22, 2021 4:00 PM
Montana Gov. Greg Gianforte has signed a bill that eliminates a major component of Whitefish's affordable-housing program and will force the city to make adjustments amid a historic population boom in the Flathead Valley.
Gianforte on Monday signed House Bill 259, which prohibits cities from requiring developers to dedicate land or pay fees in order to keep homes priced for people with specified income levels — a system known as inclusionary zoning, which has been deployed in various forms to address affordable-housing shortages across the country.
"Too many Montanans are getting priced out of homeownership, but government mandates aren't the solution," Gianforte spokeswoman Brooke Stroyke said in an email Thursday. "The governor believes a market-based approach that responsibly increases supply and simultaneously cuts unnecessary red tape is the best path forward to put homeownership into greater reach for more Montanans."
The bill, which passed both chambers of the Republican-controlled Legislature on near-party-line votes, was backed by powerful building and real estate industry groups who say inclusionary zoning doesn't work and unfairly shifts the financial burden of providing affordable housing onto developers. It was sponsored by Rep. Sue Vinton, R-Billings, who owns a construction company with her husband and claimed inclusionary zoning "has failed time and again across the country."
Opponents argued there's ample evidence it does work, and they noted inclusionary zoning programs vary significantly from one city to the next, with various incentives built in to entice builders to participate. They argued the new law would usurp local governments' authority to address their specific housing needs at a time when Montana cities are seeing rapid growth.
THE NEW law has immediate effects for Whitefish and Bozeman, both of which have implemented inclusionary zoning programs. Leaders and lobbyists representing both cities testified against the bill during legislative hearings.
The Whitefish City Council launched the Legacy Homes Program nearly two years ago. It works by using deed restrictions to link home prices to the county's median income, and requiring developers to pitch in when they build certain multifamily projects with discretionary permits, such as conditional-use permits.
Council member Ben Davis, a home builder who chairs the city's Strategic Housing Plan Steering Committee, said the new law upends the Legacy Homes Program in its current form, but he anticipates the city will find ways to revise it.
"The Legislature and governor made clear that developer profits and special interests are a priority to them over the needs of the businesses and community members who are finding themselves unable to afford to live in their hometown any longer," Davis said in an email. "This was a significant setback, but it's by no means the end of affordable housing efforts, and I don't think it's the end of the Legacy Homes Program, either."
In an email, Whitefish City Manager Dana Smith said the city "will continue to process new and current applications, but will not enforce our Legacy Homes Program requirements."
"Projects that were subject to the city's Legacy Homes Program at the time of approval are still required to provide the affordable units or cash in lieu," she wrote. "We currently have approximately $1.3 million in cash in lieu and three affordable units approved."
In addition to modifying the Legacy Homes Program, Smith said the city will pursue other potential solutions identified in the city's Strategic Housing Plan.
"Affordability of housing is a growing issue locally and nationwide that needs to be addressed at all levels of government," she wrote.
STROYKE, GIANFORTE'S spokeswoman, noted the governor also signed Senate Bill 161, sponsored by Sen. John Esp, R-Big Timber, which passed the Senate with unanimous support and the House on a 93-5 vote. That new law creates an expedited review process for subdivisions and "removes time-consuming procedural hurdles that have driven up the cost of homes," Stroyke said.
Meanwhile, despite bipartisan support, the Senate Finance and Claims Committee on Tuesday tabled House Bill 21, which would have doubled the amount of funding available for the Multifamily Coal Trust Homes Program, allowing the state housing authority to use up to $15 million to provide low-interest loans to developers for affordable housing projects.
HB 21 was sponsored by Rep. Geraldine Custer, R- Forsyth, and Rep. Dave Fern, D-Whitefish, whose legislation established the coal trust housing program in 2019.
Reporter Chad Sokol can be reached at 758-4439 or csokol@dailyinterlake.com
Recent Headlines
---