Teachers learn to incorporate art in the classroom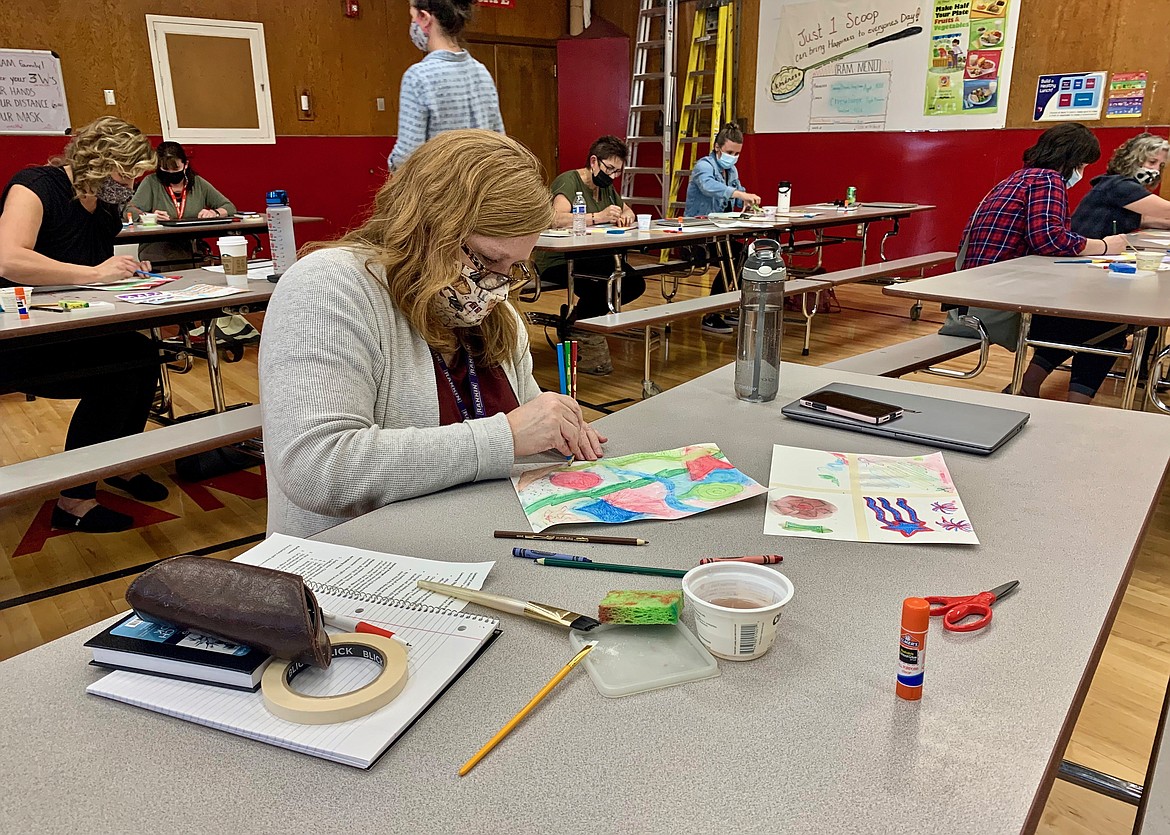 Marla Nelson, a third-grade teacher at Rankin Elementary, experiments with watercolor pencils during a workshop on teaching art in the classroom on April 1 at Russell Elementary. (Hilary Matheson/Daily Inter Lake)
by
HILARY MATHESON
Daily Inter Lake
|
April 23, 2021 12:00 AM
In a series of workshops on teaching art in the classroom, instructors Jenny Bevill and Jemina Watstein sought to break down preconceived notions that you have to be artistically inclined to teach it.
By working through sample lesson plans designed by Bevill, an educator and outreach specialist with the Missoula Art Museum, and Watstein, executive director of KALICO Art Center in Kalispell, a group of primarily elementary teachers were becoming more comfortable with teaching the subject in schools that don't have art as a special class like music, for example.
During an April 1 workshop at Russell Elementary, Bevill and Watstein presented a lesson plan designed around the work of Missoula and Flathead Reservation-based artist Monica Gilles-Brings Yellow.
With Gilles-Brings Yellow's mixed media painting titled "Qlispe'l" displayed on an overhead projector for inspiration, Bevill asked the teachers to create backgrounds on the sheets of white paper before them using watercolor pencils and exploring techniques they previously learned. Later, they would add the image of a person they considered to be a personal hero or heroine.
Spread out among tables the teachers, a school board trustee and two parents began drawing. At one table, Rankin Elementary third-grade teacher Marla Nelson was experimenting by holding three watercolor pencils at once to draw. At the table behind her, Peterson Elementary fourth-grade teacher Karissa Prewitt dragged a damp sponge across sketchy blue lines, which started to blur into each other after coming into contact with the water. Sitting beside her, Russell Elementary third-grade teacher Kaila Forster dipped a paintbrush into a cup of water then traced green wavy lines she had drawn, the edges softening under the wet bristles.
Prewitt said she took the workshop looking for inspiration.
"I like to incorporate art into subject areas, but I usually don't know where to begin," Prewitt said. "We do artist studies, like art history studies, and I try to teach the art element that goes with that time, but not knowing a lot about art, or being artsy myself, it makes it very difficult."
Like Prewitt, Nelson said she tries to incorporate art in the classroom.
"Each teacher does it differently," Nelson said in schools, depending on their comfort level with teaching the subject. "I try to incorporate paints, some watercolors and oil pastels."
Like other workshop participants, Forster said art is a step outside her comfort zone but was hopeful the workshops would serve as a starting point to implementing art lessons with intention.
"How to make it useful and beneficial where they get to learn some content curriculum while enjoying art," Forster said.
BEVILL SAID it is not uncommon for elementary teachers to feel nervous about teaching subject matter they aren't well versed in.
"In Montana, you graduate with one semester of art education to teach elementary school, so how would anybody feel comfortable teaching a subject with that small amount of preparation?" she said. "So what happens is it's very uneven across the board. Teachers who feel comfortable teach art, and teachers who don't, don't. And so then what our kids are getting is very uneven and that's not really right because art skills develop just like reading and math do. They are developmental."
Walking between the tables, Bevill offered advice and feedback to teachers.
"If you were to give your kids 20 whole minutes, or 30 whole minutes to work on art how does that feel in your body? Do you feel like this is a pleasurable time? Do you feel free doing it? Just notice what's going on in your body. If you do feel tense for whatever reason just ask yourself what is the expectation that is making me feel anxious and maybe I can let that go," she said. "Be in this moment."
The mantra of the day was "process over product," with the intent to give students the freedom to experiment and explore with the goal that no two pieces will look alike. Nelson said the watercolor pencils are a great idea for students to have options such as drawing or drawing and using water to create the watercolor effect.
"I've really learned to let them explore," Nelson said. "A lot of times I think I tend to do crafts — but this lets them actually create their own art."
With young students, sometimes there is a tendency to copy classmates and Nelson asked how to encourage students to think of their own idea.
"The way I usually approach copying in the classroom is to make a very intentional approach and ask them questions about themselves that's going to help them pull from their own ideas," Watstein said. Bevill added, "It's a learning curve."
"If ask a question and kids are repeating the same answer over and over again, or if they're drawing the same thing again, don't be worried, just realize that's a starting place of insecurity where it's like I'm not sure what the answer is but she said that so I'm going to say that too. We all know that, right?" Bevill said. "So really revering the different answer [helps]. Who's got a different answer? Who's got three more ideas? The more you say that the more they'll take it in and be like it's OK to take a risk and that's back to that social-emotional part."
Bevill then asked teachers to grab their sketchbooks to do a five-minute free-writing session with the writing prompt, "I want to be a person who …" another avenue to send students in different directions with their ideas.
As the final component of the lesson, the teachers were asked to add a line drawing or silhouette of their chosen hero or heroine.
"Look at your hero or heroine on your paper and go back to your piece of writing that you did and underline some traits you wrote down that actually are matching with your hero or heroine," Bevill said.
AT THE conclusion of the workshop, she asked teachers to condense their writing down to a paragraph to serve as an artist's statement. In the final workshop this week, participants will learn how to prepare student artwork for display.
The workshop series will culminate in a student art exhibit at KALICO, 149 South Main Street. The public is invited to attend from 1 to 7 p.m. on May 1.
"We really wanted to give you the whole experience of the learning, the making, the doing and then the follow-up, which is you can see it up on the wall," Watstein said.
Another workshop series is planned in August and is an opportunity for professional development credits. Teachers K-12 in any school district are invited to register to attend.
The workshops were possible through a Montana Arts Council grant submitted by Russell parent and art advocate Shannan Reichenberg.
"I identified the need and I wanted to help build that support into the school," Reichenberg said after she started volunteering in her son's kindergarten class.
"Art has just been a positive outlet for him and I just wanted to share that and provide that opportunity for all students," Reichenberg said, adding that she wanted to build a support system for teachers
Grant money also funded an artist-in-residence program for the 2019-20 school year at Russell. The matching grant totaled roughly $14,000 over the past couple of years with contributions from Parkside Credit Union, the Russell Elementary Parent Teacher Organization and private donations.
"Art is where we get to express our full humanity," Bevill said.
"There's the reason all the making exploded during COVID when we were forced to be on screens so much. What did everyone want to do? They wanted to make bread, they wanted to do knitting, they wanted to do things with their hands," she said, noting the joy and satisfaction that comes from creating.
Teachers interested in participating in the August workshops may email shannanmiller78@gmail.com for more information.
Reporter Hilary Matheson may be reached at 758-4431 or by email at hmatheson@dailyinterlake.com.
---