Flathead gets 'F' in air quality report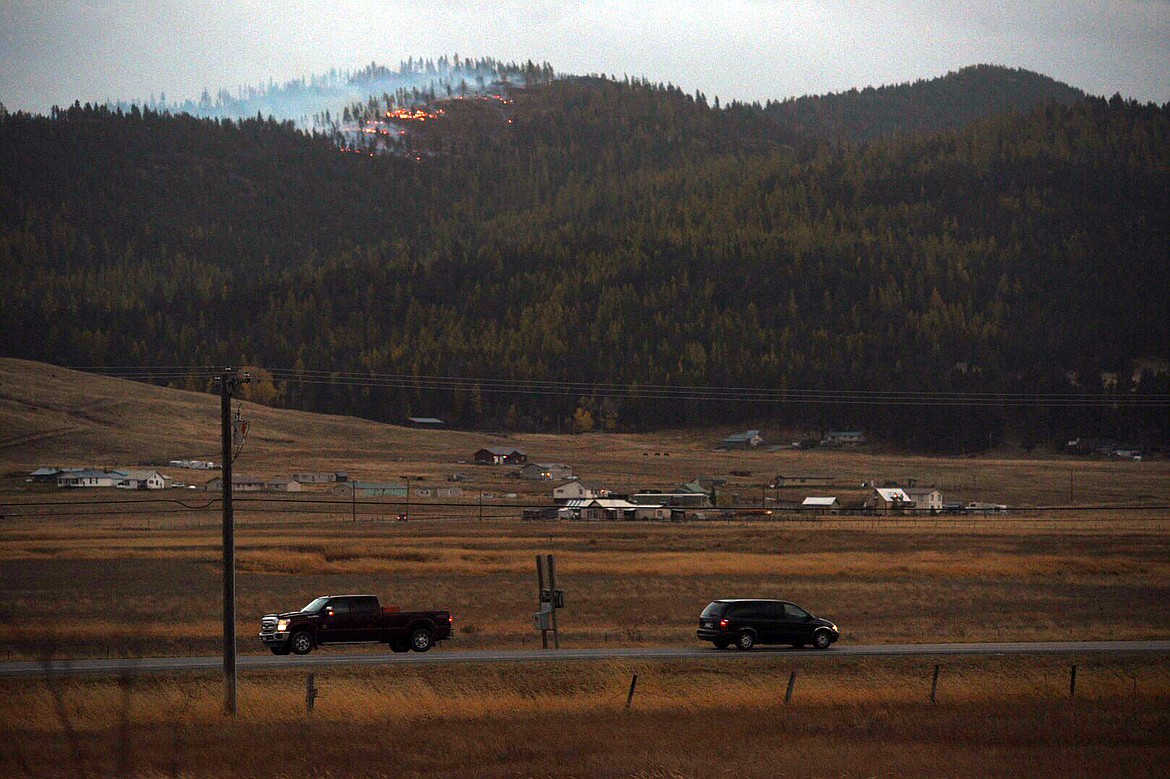 A wildfire burns near Foys Lake west of Kalispell on Tuesday evening. The fire was estimated at 40 acres. (Aaric Bryan/Daily Inter Lake)
by
KIANNA GARDNER
Daily Inter Lake
|
April 23, 2021 5:00 AM
A new report from the American Lung Association shows that Western Montana continues to suffer from particle pollution — a finding that aligns with air quality trends nationwide, and is something that experts largely attribute to wildfires and climate change.
The "State of the Air 2021" report is part of the association's efforts to provide the public with easy-to-understand information about the quality of the air in their communities.
The most recent report was released Wednesday and is based on EPA data from 2017 to 2019. Within that time frame, the report states that 54.4 million people in the U.S. lived in counties that received F grades for spikes in harmful particle pollution.
A total of 13 counties in Montana received grades in the report for overall particle pollution. Ten of those counties - Flathead, Fergus, Powder River, Rosebud, Lewis and Clark, Lincoln, Ravalli, Silver Bow, Missoula and Yellowstone - received F grades for particle pollution. Phillips County received a D, while Richland and Gallatin counties got C grades.
The report offers insight into how the grades were determined and what an F means.
It states, "The system used in this report recognizes when a community's air quality repeatedly results in unhealthy air throughout the three years (2017 to 2019). Consequently, some counties will receive grades of 'F' in this report, showing repeated instances of unhealthy air, while still meeting EPA's 2015 ozone standard."
However, the document then notes that the American Lung Association believes EPA's 2015 standard, although stronger than previous ones, "still fails to adequately protect public health."
TO DETERMINE the grades, the Lung Association looked at data that the EPA uses from areas where air quality data is gathered. That means some places, including many counties in Montana, are omitted from the report either because those areas lack equipment, or because the data gathered was incomplete.
Nationwide, the report found that more than four in 10 people, or roughly 135 million individuals, lived with polluted air from 2017 to 2019. And in Montana, particle pollution placed the health of more than 50% of Montana residents at risk, including those who are considered more vulnerable to the effects of air pollution, such as older adults, children and people with lung disease.
"The report's findings for Montana are consistent with a broader trend of worsening short-term particle pollution throughout the western U.S. due to climate change," said Ronni Flannery, director of advocacy for American Lung Association's Healthy Air Campaign in Montana. "Climate change-induced heat and drought is increasing the number and size of wildfires, meaning we're all breathing more wildfire smoke."
Particle pollution, which is considered by researchers to be one of the most dangerous pollutants, refers to a mix of tiny solid and liquid particles that are suspended in the air. Many of the particles are so small they cannot be seen, but when levels are high, the air can become opaque, as can often be witnessed in the form of smog.
"Overwhelming evidence shows that particle pollution - like that coming from the exhaust smoke - can kill. Particle pollution can increase the risk of heart disease, lung cancer and asthma attacks and can interfere with the growth and work of the lungs."
THE REPORT ranks particle pollution by two categories: one for "short-term," or daily pollution spikes that can often be attributed to wildfires and human activities such as wood burning, and one for the annual average, or a "year-round" level that represents the concentration of particles day-in and day-out in each location. It analyzed this data for both counties and cities where comprehensive air quality monitoring information was available.
As part of its report, the association concluded that Missoula ranks among the 25 most polluted cities in the nation for both short-term and year-round particle pollution, though the city's ranking on both of those lists improved slightly from last year's report.
The city is ranked No. 9 overall for short-term particle pollution and is tied with three other cities for No. 20 overall for year-round pollutants. Cities that top Missoula on those lists include Fairbanks, Alaska, Bakersfield and Los Angeles, California, Yakima, Washington and Phoenix, Arizona.
Aside from Missoula, three counties in Montana also ranked among the nation's 25 counties most polluted by either short-term or year-round particle pollution, though some have shown improvements over the years.
For example, Lewis and Clark County improved to No. 10 on the list of most polluted counties in the nation for year-round particle pollution, up from its No. 9 position in last year's report. Ravalli County's ranking on the short-term particle pollution list also improved from No. 7 overall to No. 11. Lincoln County slid in at No. 12 for annual particle pollution and tied for No. 13 for short-term list.
Reporter Kianna Gardner may be reached at 758-4407 or kgardner@dailyinterlake.com
Recent Headlines
---