Evergreen sidewalk project awaits green light from county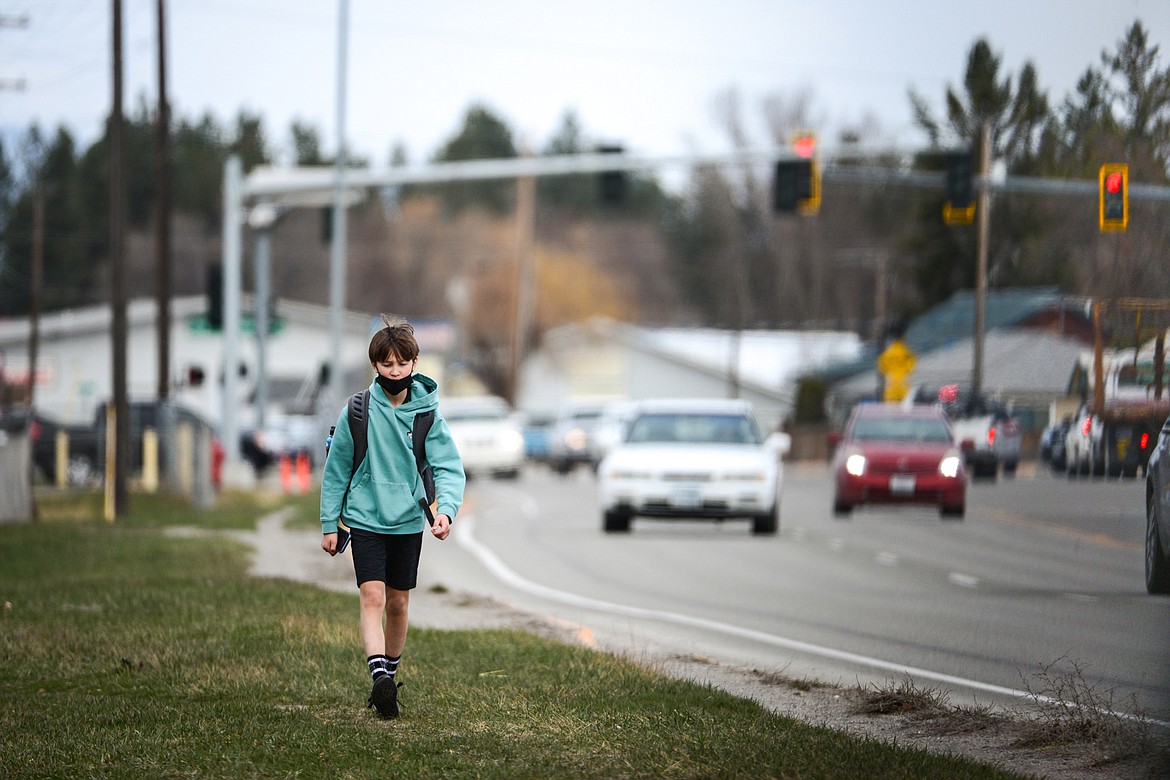 A student walks along U.S. 2 outside Evergreen Junior High School in this April 7, 2021, file photo. (Casey Kreider/Daily Inter Lake)
by
CHAD SOKOL
Daily Inter Lake
|
April 25, 2021 12:00 AM
It's harder than you might think to get a sidewalk built in Evergreen.
For years, community leaders have searched for ways to create paved pedestrian paths along the U.S. 2 corridor, which is lined for much of the year with muddy or dusty foot paths, or nearly impassable mounds of snow and ice.
It's a problem not only for business owners who would benefit from easier access to their storefronts, but also for students of Evergreen's elementary and junior high schools, many of whom walk or bike along the four-lane highway on weekday mornings and afternoons. The Evergreen School District is too small, geographically, to qualify for state funding for bus service.
"Many students have to use the actual highway to walk or bike to school, because the shoulder or the grassy areas next to the highway are often snow-covered in the winter," said Laurie Barron, the district's superintendent. "It's just a really unsafe situation for students using that route to school."
But neither the state nor Flathead County has stepped up to build sidewalks along the highway, citing a lack of funding and equipment for maintenance. And private investment alone isn't enough to start laying concrete; the Montana Department of Transportation won't give up its right-of-way for a sidewalk unless a local government assumes responsibility for its upkeep. Evergreen is an unincorporated community and can't levy its own taxes.
Charles Lapp, an Evergreen real estate broker who has helped spearhead the sidewalk project, called the conundrum a "chicken and the egg situation."
Now, he and other community leaders have devised a complex yet promising plan that involves a roughly $1 million grant from the Department of Transportation and the creation of two special taxing districts, which would cover the construction and maintenance of the sidewalks in perpetuity.
The plan, dubbed "Safe Routes to Schools," calls for paved paths along U.S. 2 between Montana 35 and Sunset Drive, and along portions of Montana 35 and West Evergreen Drive.
The deadline to apply for the grant is June 4. And while the Evergreen Chamber of Commerce, Evergreen Community Partners and other groups have already done much of the legwork — including financing a preliminary engineering study — the Flathead County commissioners will have the final say on whether to submit the application.
With the clock ticking, backers of the project say all the pieces are ready to fall into place. But the commissioners have expressed a litany of concerns about funding, maintenance, snow removal and the timing of the application.
They are expected to decide the fate of the project soon.
THE EVERGREEN Chamber of Commerce, the Rotary Club of Evergreen, and Evergreen Community Partners — a nonprofit that raises money for pedestrian trails and recreational facilities in the area — have donated a total of $13,000 to launch the sidewalk project. They hired WGM Group, a planning and design firm with an office in Kalispell, to help draft a plan and come up with cost estimates.
The Montana Department of Transportation doesn't dismiss the need for better pedestrian routes in Evergreen but says state funding for such projects is limited.
"We work, play and have children attending school in our local communities, so we all have a very personal stake in safety projects like this," Megan Redmond, a department spokeswoman, said in an email. "MDT is working together with many agencies and partners to improve safety all over Montana. Right now, we have many more projects in need of attention [than] we currently have funding to complete."
The department does, however, have $5.5 million in federal grant funding available through the Transportation Alternatives Program. Evergreen community leaders want to apply for roughly $1 million from that program, which requires applicants to cover 13.42% of the total cost of each project.
To cover that percentage, Flathead County would have to create a rural service improvement district, which would levy property taxes to construct the sidewalks, as well as a rural maintenance district to maintain the paths in the future. The county likely would use that tax revenue to hire contractors to repair and remove snow from the sidewalks.
As proposed, the service improvement district would cover properties belonging to 61 landowners in the U.S. 2 corridor. The district would be established after offering those landowners the opportunity to vote in protest.
Backers of the project say they would still be able to raise private funds for sidewalk maintenance as well, reducing the amount of taxes that must be collected.
"The matching amount would be approximately in the $150,000 range," said Daren Engellant, an insurance salesman and car wash owner who serves as vice president of the Evergreen Chamber of Commerce. "We think we could come up with that."
DURING A public meeting on April 20, Barron, Engellant and others sought to persuade the commissioners to move forward with the grant application. But Commissioner Pam Holmquist, whose district includes Evergreen, raised concerns that the county may not be able to set up the service improvement district quickly enough, and that such a delay could jeopardize the application.
"We're down to crunch time now, and the logistics and the timing of getting that done may run out a little bit, and that's been kind of my concern all along," Holmquist said. "It's not that the project isn't worthy. It's something that could possibly work out there. But again, timing has always been kind of an issue."
TJ Wendt, an insurance agent who sits on the board of the Evergreen Chamber of Commerce, sought to assure the commissioners the Department of Transportation could work out details with local authorities before and after the grant is approved.
"We are aware that the deadline for the application of the grant is June 4," Wendt said. "That does not mean that these two issues have to be solved and locked in by June 4."
As for establishing the service improvement district, Wendt said it can be done "within 60 to 90 days." He said well over half of the 61 landowners who would be affected have signed a petition in favor of the taxing districts, and only three have indicated they are firmly against the proposal.
But County Administrator Mike Pence raised other concerns and conditions in a letter sent to Engellant the day before the meeting. Writing on the commissioners' behalf, Pence said they would not give "initial consideration" to forming a district unless 80% of the landowners express support.
"We are asking for a higher level of initial support based on the fact that this project is tied to a grant application that will require additional county management and staff time and involvement than is normally the case in a proposed [rural service improvement district]," the letter states.
COMMISSIONER RANDY Brodehl said he agreed with Holmquist's concerns during last week's meeting.
"I don't want us to submit an application for a grant that is incomplete or doesn't have sufficient information to get us ahead of the other projects out there," Brodehl said, "because there's a limited amount of money in this, and we don't want to do this halfway."
He added that if the Department of Transportation approves the grant, "then that project now belongs to the county forever. So we have a fiduciary responsibility and responsibility to the community to manage this very well. And if we don't do that, and it's because we didn't do everything upfront, then we've been remiss."
The commissioners' remarks didn't instill hope in those backing the project.
"We set the table on this grant opportunity very well, and it would be a shame if the county didn't apply," Engellant said in an email after the meeting.
Reporter Chad Sokol can be reached at 758-4439 or csokol@dailyinterlake.com
---