Voter rights bill will restore confidence in our elections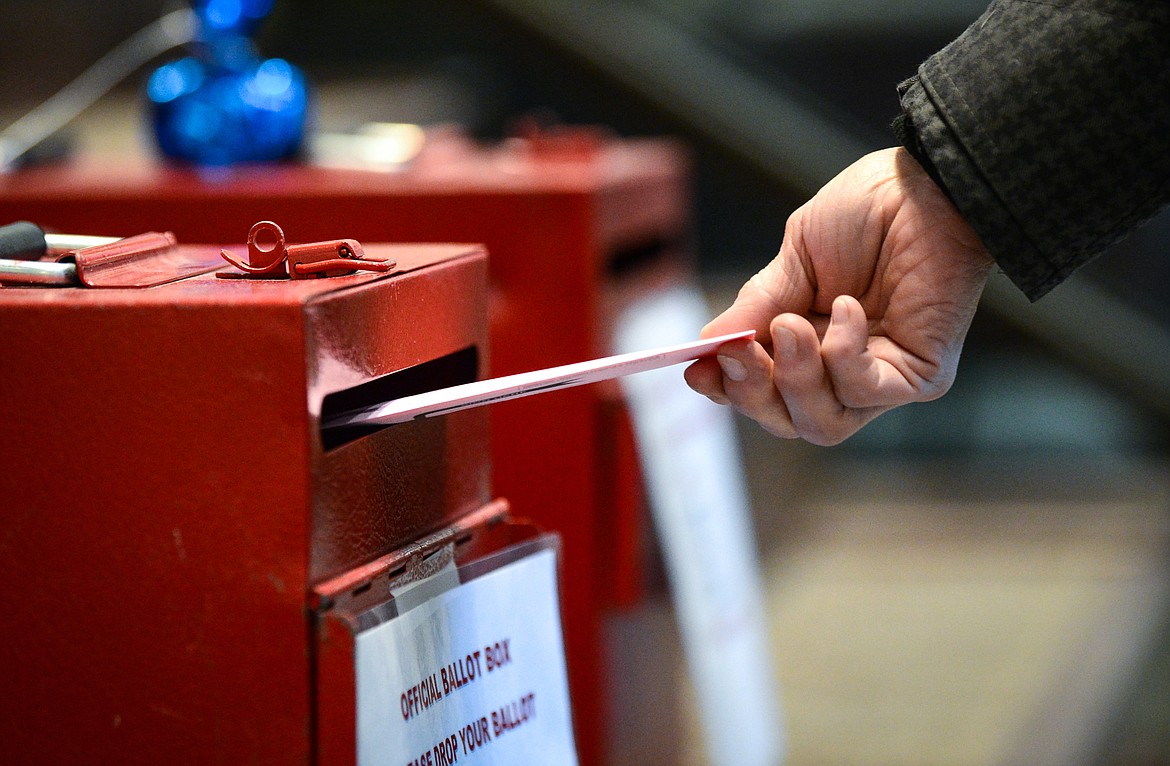 A voter casts their ballot at the Flathead County Election Department on Wednesday, Oct. 28. (Casey Kreider/Daily Inter Lake)
by
Max Baucus
|
April 25, 2021 12:00 AM
Like many Montanans, I watched in total dismay as an armed insurrection stormed our nation's Capitol on Jan. 6. My eyes were glued to the television in disbelief as the most sacred place of our democracy — a place where I spent more than half of my adult life serving the people of this state — was completely desecrated.
Watching the footage with horror and sadness on that day, it made me remember being in Washington on another dark day — Sept. 11, 2001. I still feel pain for the many Americans we lost that day, and I will never forget the visceral fear that gripped us all as we tried to untangle what had just happened. But the Capitol riot was different. That threat to our democracy was home-grown. Instead of foreign enemies, those attacking the halls of the people's house were our own fellow Americans, fueled by a massive misinformation campaign meant exclusively to seed distrust and violence. Instead of rallying together as we did following that horrific day in 2001, we instead were left to pick up the pieces of an attack on our own from the inside. I was left asking the same question that I'm sure many Americans were — how can we heal what's been broken?
I had the immense honor of representing America abroad, and having talked to foreign leaders of all kinds, I can state with confidence that America is the envy of the world. We truly are the land of the free and the home of the brave. And even in what may be one of our darkest hours, there is hope. Lawmakers, of all political leanings in Washington are debating a sweeping new voting rights bill that can redefine how so many disenchanted Americans think of their democracy.
The For the People Act is a transformative package of voting, anti-corruption and ethics reforms that will ensure every vote is counted and every voice is heard. It is long past due and is an essential step to continuing the American promise to make our union more perfect.
During my time in office, I used to say that I had 900,000 of the world's best bosses; I was just an employee of the voters of Montana. Without free and fair elections, and without protection against corruption and monied influence, that direct relationship between an elected official and their employers is disintegrating. This renewed commitment to the right to vote in our country will restore confidence in our elections and hold our lawmakers accountable to their real bosses — the people who elect them.
The fight to protect voting rights is more important now, than ever. We've seen state legislatures across the country proposing and enacting some of the worst bills for our democracy that we've ever seen, even right here in Montana. Making voting easier for every American — no matter their political leanings — is a good thing, and essential to the American promise. Attempts to hamper our sacred right to choose representation runs afoul of everything inscribed in our founding documents.
I, for one, am proud of my friend, U.S. Sen. Jon Tester, for co-sponsoring the For the People Act. As a champion during his entire career for fair and free elections, government accountability, and ending the influence of big money in politics, Sen. Tester is uniquely positioned to represent Big Sky values in this important debate taking place in America.
It's time for Congress to pass the For the People Act. It's the first step to restoring our democracy and protecting it for generations to come.
— Former U.S. Senator Max Baucus, D-Montana
---