Former Interior secretary Zinke eyes Montana's new US House seat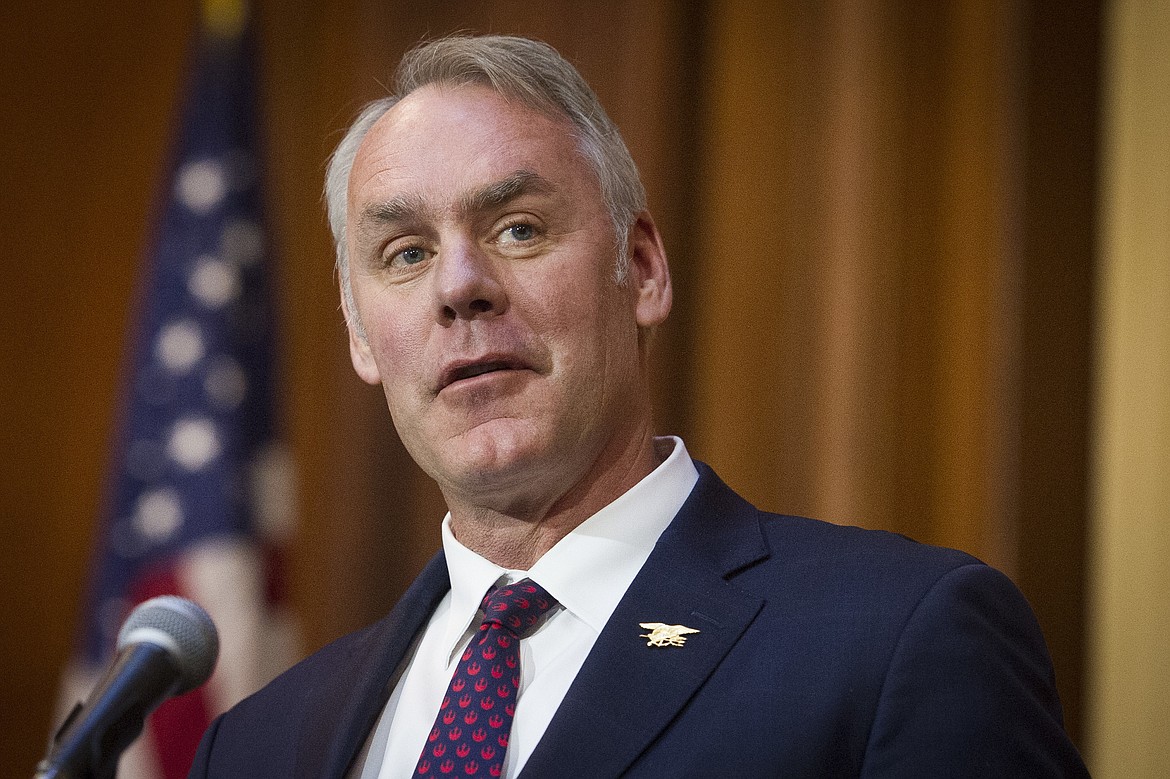 FILE - In this Dec. 11, 2018 file photo, Secretary of the Interior Ryan Zinke speaks after an order withdrawing federal protections for countless waterways and wetland was signed, at EPA headquarters in Washington. Trump says on Saturday, Dec. 15, Zinke leaving administration at end of year, successor to be announced next week.(AP Photo/Cliff Owen)
by
CHAD SOKOL
Daily Inter Lake
|
April 29, 2021 1:00 PM
Ryan Zinke, the former Montana congressman who served as Interior secretary during the Trump administration before stepping down under a cloud of ethics investigations, is poised to run for the second U.S. House seat awarded to the state this week.
Zinke, who hails from Whitefish, had not formally declared his candidacy as of Thursday, but a filing was submitted to the Federal Election Commission organizing a new campaign committee on his behalf. The filing lists the same treasurer and bank he used to mount previous congressional bids. Phone calls seeking comment were not immediately returned.
Montana regained its second House seat based on the latest U.S. Census results released Monday. The boundaries of the district have yet to be set by an independent commission. The election for the seat will be held in 2022.
A spokesman for Republican Rep. Matt Rosendale, who currently represents Montana's at-large congressional district, said in an email Thursday, "Rep. Rosendale is looking forward to continuing to represent Montanans, and while we wait for the lines to be drawn, he is happy that there is excitement for a second district in the state."
A GRADUATE of Whitefish High School and former Navy SEAL, Zinke served one term in the Montana Senate from 2009 to 2013, representing his hometown and chairing the chamber's Education Committee. Initially regarded as a moderate, he focused on advancing technology in classrooms, rural access to education and local control over schools.
In 2012, Zinke was the running mate to unsuccessful gubernatorial candidate Neil Livingstone.
Zinke won election to the U.S. House in 2014, replacing Republican Steve Daines when Daines moved over to the Senate. Zinke was Montana's lone congressman from 2015 until March 2017, when he was confirmed to lead the Department of the Interior. The congressional seat was filled by Republican Greg Gianforte, who is now Montana's governor, before Rosendale began his term this year.
As Interior secretary, Zinke helped spearhead the Trump administration's deregulation effort, weakening protections on migratory birds, opening up vast swaths of public land for oil and gas leases, and drastically shrinking the footprint of the Bears Ears and Grand Staircase-Escalante national monuments in Utah.
Meanwhile, in concert with environmental and tribal groups including the Blackfeet Nation, Zinke fought in federal court to uphold the cancelation of oil and gas leases in the Badger-Two Medicine area near Glacier National Park. And he prioritized a fast restoration of Glacier's Sperry Chalet after it was damaged in a wildfire in 2017.
ZINKE ATTRACTED scrutiny when he had the doors in his office replaced for more than $130,000 in taxpayer money, and when he commissioned $2,000 worth of commemorative coins, emblazoned with his name, to hand out to visitors and staff. He also required a special flag be flown whenever he or his deputy were in the Interior Department's headquarters.
In less than two years as secretary, Zinke was subject to more than a dozen investigations by the agency's inspector general, Congress and the U.S. Office of Special Counsel — all of which he said were politically motivated. The probes focused on chartered flights and other transactions that mixed official and political business.
Zinke stepped down at the start of 2019 — following a surprise presidential Twitter announcement — while the Department of Justice probed whether he had lied to his agency's inspector general investigators.
At the time, the inspector general had been investigating a Whitefish land deal that Zinke struck with the chairman of Halliburton, the massive oil services corporation, as well as Zinke's involvement in a dispute over a casino that two Native American tribes were seeking to operate in Connecticut.
Some of the investigations into Zinke cleared him of wrongdoing, while others stalled due to lack of cooperation, as well as alleged interference by other Trump administration officials.
The Montana Democratic Party's executive director, Sandi Luckey, responded to the prospect of Zinke's candidacy on Thursday, saying in a statement, "Ryan Zinke's clownish corruption was so bad that he got fired by Donald Trump. He embarrassed Montana by gutting public lands in order to reward his special-interest allies."
Zinke has consistently denied wrongdoing and said he resigned to avoid racking up legal costs.
SHORTLY AFTER leaving Trump's cabinet, Zinke moved to parlay his public service into a lucrative private career. He landed a more than $100,000-a-year position as consultant and board member at a Nevada mining company, U.S. Gold Corp., became managing director and consultant for a North Carolina-based private investment company, Artillery One, and joined Washington lobbying firm Turnberry Solutions.
He continues to serve on U.S. Gold's board of directors, according to the company's website and regulatory filings. His status with Turnberry and Artillery One could not be immediately determined.
Montana Republican Party Chairman Don "K" Kaltschmidt declined to comment on Zinke but said the GOP expects the open seat to be a battleground that could help decide the balance of power in the House, where Democrats have narrow control.
"The Montana Republican Party continues to focus on building on our momentum from last year's historic election in which we won every statewide race," Kaltschmidt said.
Reporter Chad Sokol can be reached at 758-4439 or csokol@dailyinterlake.com. The Associated Press contributed to this report.
---