Libby's Jay Beagle a three-sport standout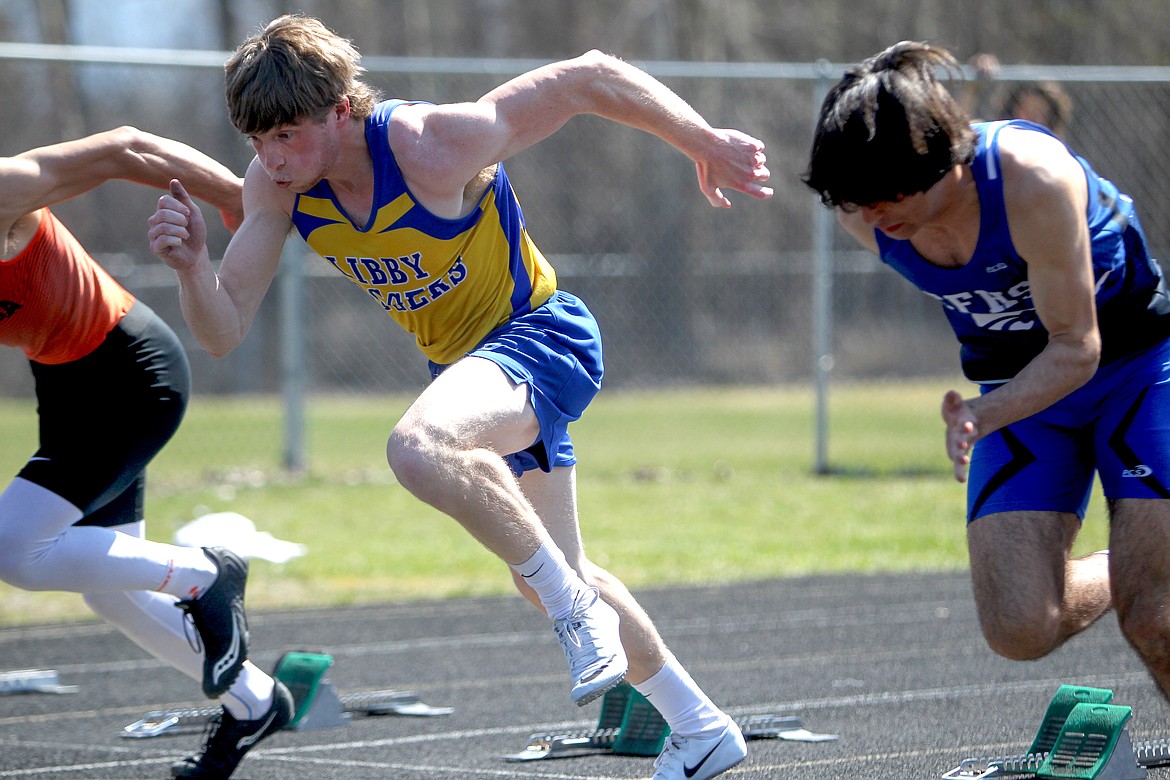 Libby's Jay Beagle launches off the starting blocks in the 100-meter dash at the Libby Invite in Libby on April 17, 2021. (Will Langhorne/Western News)
by
KATIE BROWN
Daily Inter Lake
|
April 29, 2021 9:55 PM
Jay Beagle is chasing a mark.
His career best time in the 100 meter dash is 11.15 seconds, set at the 2019 State A track championships, and good enough for seventh place. His best this season, set April 3 at the Bigfork Invitational, is 11.21 and ranked No. 3 in Class A.
But Beagle, a senior from Libby, knows he will have to do better than his best to win a state title this year. He's had some time to think about it. And put in the work to do it.
Last spring when sports were in limbo, Beagle hit the gym and didn't stop.
"I don't think he's missed a workout in three years," Scott Beagle, Jay's father, said. "He is very dedicated to just wanting to be the best."
Beagle is 10th in the state in the 200 (his 22.89 is fourth in Class A), and second in the state in the 400 (50.65, set at the Libby County Meet Thursday).
"I feel very blessed and fortunate to have a season, especially when there's tons of other states not having seasons and they didn't even get football, basketball, or track," Beagle said. "So I feel very fortunate to be here."
But he's not just a sprinter.
He started throwing the javelin to fill some empty sessions in his practice schedule.
A starting point guard for the Loggers' basketball team three years running, Beagle was honorable mention all-conference in 2021. Also the starting quarterback and a defensive back for Libby's football team, he earned all-state honors his senior season.
Beagle worked hard for all of it, and his success doesn't come as a surprise to those closest to him.
"For basketball season, he spends hours in the gym," Libby track coach Josh Bean said. "For track, he runs, he works on his technique. He lifts religiously in the weight room — all the time."
To top it off, Beagle signed a letter of intent with the University of Montana last fall, where he'll run the 100, 200 and 400 under coach Clint May and his staff.
It's a big deal for Libby, which has had a handful of athletes end up at a Division I school.
Other schools like Colorado State (track) and Whitworth (football and track) were interested in Beagle, but the stars aligned for him to sign at UM.
"I'm glad it worked out the way it did," Beagle said.
Admittedly, basketball was Beagle's first love and becoming a track star wasn't on his mind when he started high school.
"I was in the gym all the time," he said. "Then freshman year, I put up some good times and I was like, 'I have some chances to probably go somewhere.'"
After that, Beagle set his sights on getting into a D1 school.
"He's a driven person and he kind of had that dream of being able to compete at a Division
I level," Bean said. "And when he got that opportunity, when the sprint coach (Paul Reneau) from the University of Montana got in contact with them, he kinda settled in."
It would be remiss not to mention Ryggs Johnston, a Libby alum that's now a sophomore at Arizona State, who tied for fourth place at the Pac-12 golf championships this week. Beagle grew up with Johnston, and the two are close friends.
"They played ball for a couple of years together and I think they kind of shared that same work ethic and mentality," Scott Beagle said. "So they became really good friends over the last couple of years. And they spend a lot of time in the summer when he comes home."
Beagle is an excellent student and is student body president. He's part of four generations born and raised in Libby and enjoys hiking and fishing when he's not training for something.
"He's a great athlete, but he is an even better person," Bean said. "He's just a big Libby Logger fan and a great kid to be around. We wish we had about 40 Jay Beagles."
Scott Beagle estimates he and his wife, Betty Jo, have driven somewhere between 15-20,000 miles over the years traveling to and from sporting events and camps for Jay and his younger brother Ryan. Scott and Betty Jo started a travelogue to document each trip but haven't added up the miles yet.
"It'll be interesting to see how many miles we've logged," Scott said.
An interesting twist is Jay Beagle sharing a name with NHL player Jay Beagle, formerly of the Washington Capitals and now with the Vancouver Canucks.
Beagle is a fan, and even has the other Jay Beagle's hockey card.
"We were big Washington Capitals fans for a while," Scott Beagle said. He's not sure if there is a family connection to the hockey player, but nonetheless finds it amusing.
Beagle's stiffest competition in Class A comes from Laurel sprinter Jakob Webinger. Webinger owns the best 100 time (10.96) in Class A and is ranked second in the state in the 100 and 200. The two won't face off until the state meet, but Beagle and his coaches are looking ahead to the big Western A-B-C meet in Hamilton on May 4 as a measuring stick for what to expect when that time comes.
"It's going to be a good challenge for him, but I think that Jay's up to the task here," Bean said. "He works hard in all of our conditioning that we do all week long."
---