Fire restrictions still in effect in Northwest Montana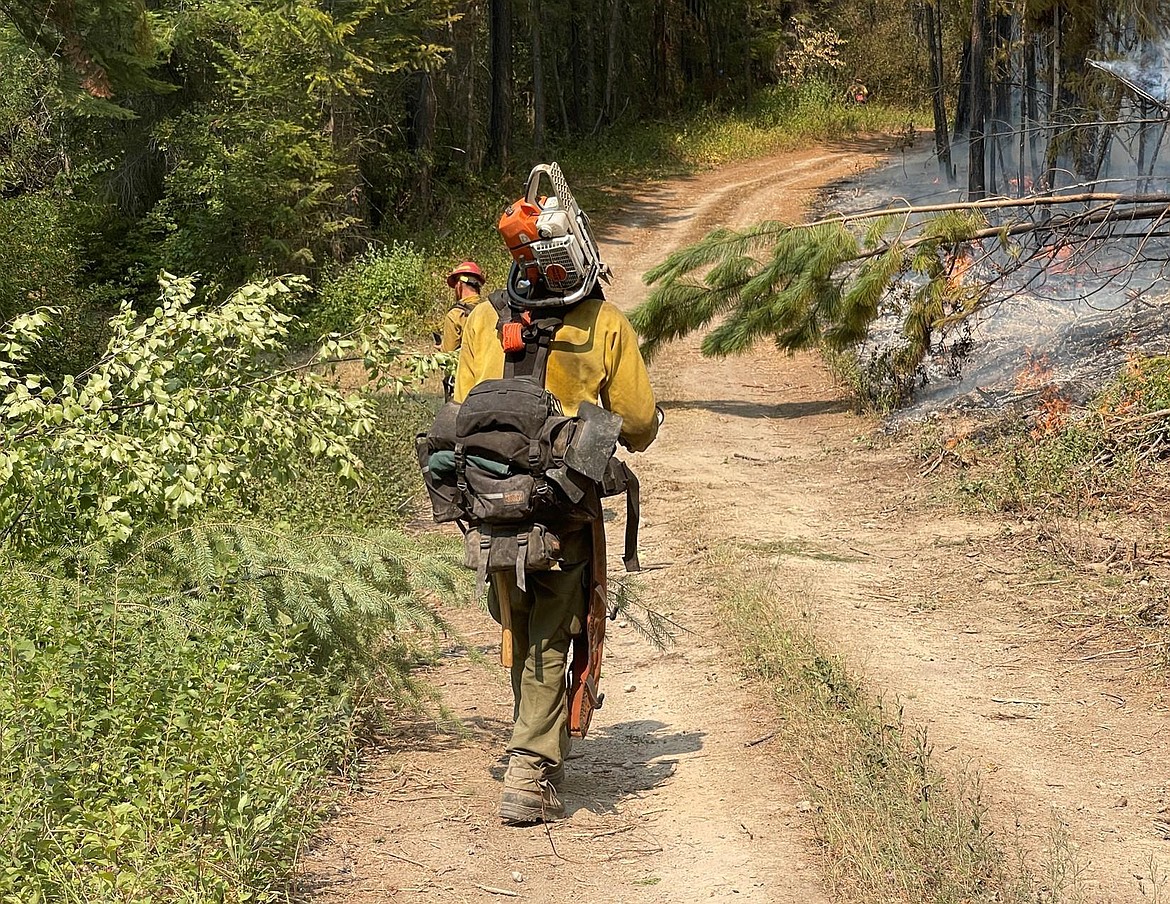 A firefighter carries a chainsaw while working the Boulder 2700 Fire near the east shore of Flathead Lake in August 2021. (InciWeb)
by
CHAD SOKOL
Daily Inter Lake
|
August 20, 2021 11:30 AM
Fire danger remains high across Northwest Montana despite a week of precipitation and cooler temperatures, and officials are urging residents to continue abiding by fire restrictions that remain in effect on government and privately owned lands.
Stage II restrictions — which prohibit campfires and place strict limits on smoking and other activities — are in place across most of western and central Montana, while the rest of the state is under Stage I restrictions.
While more cool weather is expected this weekend, a group of local, state and federal agencies warned Thursday that temperatures are forecast to rise again near the end of the month, drying out the landscape and potentially encouraging wildfire growth.
"There are 93 uncontained, large fires currently burning in the country, with most of those fires concentrated in the West," the agencies said in a joint statement. "Firefighting resources are stretched with over 25,000 personnel assigned to incidents."
Stage II restrictions strictly prohibit campfires. They also ban smoking, except in enclosed vehicles or buildings, developed recreation sites or while stopped in an area at least 3 feet in diameter that is barren and cleared of all flammable materials. It's also illegal to operate a motor vehicle off designated roads or trails.
Land clearing operations also are restricted. Between 1 p.m. and 1 a.m., it's illegal to operate any internal combustion engine, detonate explosives or use a welding torch or other device with an open flame. A one-hour foot patrol is required in the work area after any of those activities.
Stage II restrictions remain in effect throughout Glacier National Park and on all Kootenai and Flathead national forest lands, except the Great Bear and Bob Marshall wilderness areas, which are under Stage I restrictions.
Stage II restrictions also are in place on all county and state lands in Flathead, Lake, Lincoln and Sanders counties. Those include lands managed by Montana Fish, Wildlife and Parks and the state Department of Natural Resources and Conservation.
Cities including Kalispell, Whitefish, Columbia Falls, Libby and Troy also have enacted Stage II restrictions.
Additionally, lands owned by Flathead Ridge Ranch, Stimson Lumber, F.H. Stoltze Land and Lumber, Green Diamond Resource Co. and SPP Montana are all closed to the public.
A map and more details of the restrictions can be found at mtfireinfo.org.
PROGRESS HAS been mixed on several large fires in Northwest Montana.
Evacuation warnings were lifted for North Fork residents this week as firefighters mopped up hot spots on the Hay Creek Fire about 4 miles west of Polebridge. The fire, which was started by lightning on July 21, was listed at 2,894 acres Friday with 50% containment and 10 personnel on scene. Management of the fire has been returned to local firefighters from a Northern Rockies Incident Management team.
On the east side of Flathead Lake, near Finley Point and about 8 miles east of Polson, the Boulder 2700 Fire was listed at 2,230 acres with 46% containment with the latest InciWeb update on Tuesday. The fire, which is believed to be human-caused, started on July 31 and quickly jumped Montana 35, destroying at least eight homes in its path. It, too, has been turned over to local firefighters.
Thirty residents remained under evacuation orders Friday for the Thorne Creek Fire north of Thompson Falls. The Thorne Creek Fire was part of the West Lolo Complex of fires, which collectively have burned nearly 38,688 acres. It was started by lightning on July 7 and listed at 21% contained on Friday.
The ACM Road is open. Thompson River Road, the Deer Horn and Beatrice Road system, and the West Fork of Fishtrap Creek Road, including the campground, remain closed Friday.
According to an InciWeb update, a large force of 333 personnel remained at the scene Friday, along with one bulldozer, 18 engines, two skidgens (wildland fire engines with skids instead of wheels), four helicopters and 14 water tenders. The update also listed five injuries as a result of the fire.
Assistant editor Chad Sokol may be reached at 406-758-4439 or csokol@dailyinterlake.com.
---