West Valley students gain insight with play tweaked for modern audience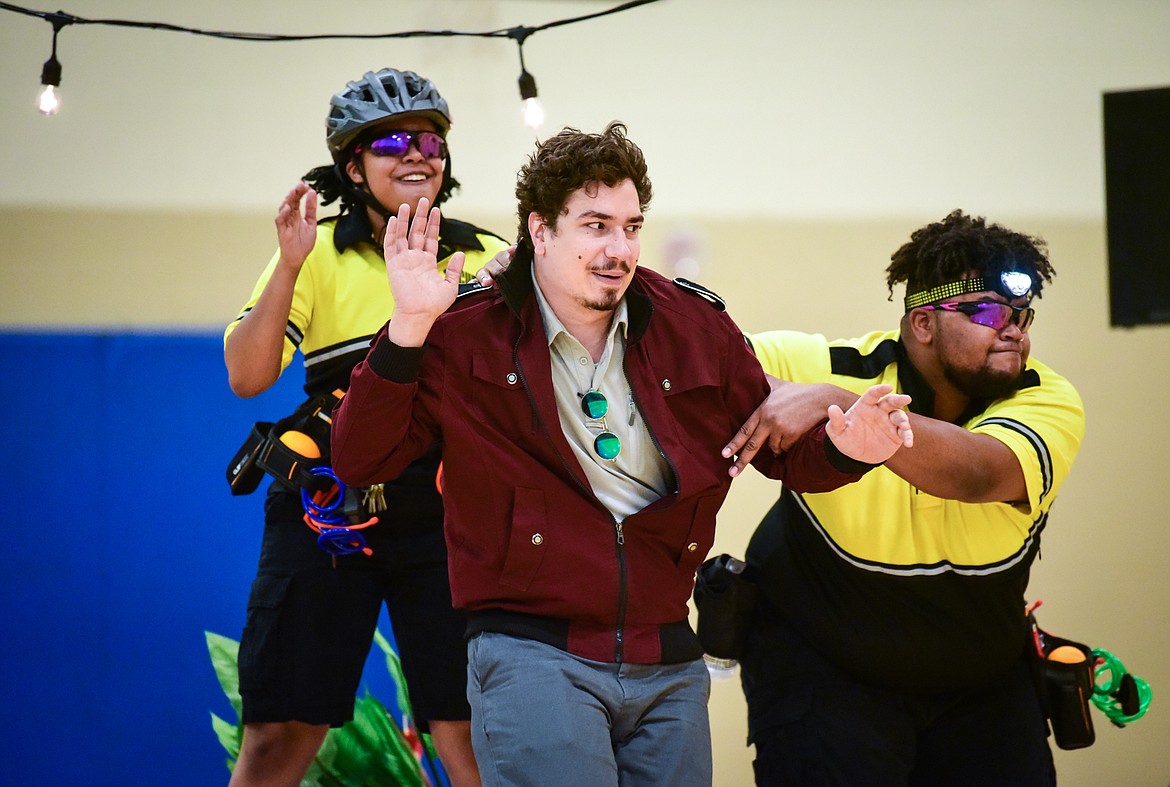 From left, Nadja Simmonds portrays Hero; Calvin Adams portrays Don John and Ethan Miles Perry portrays Leonato during a performance of William Shakespeare's "Much Ado About Nothing" by Shakespeare in the Schools at West Valley School on Wednesday, Dec. 1. (Casey Kreider/Daily Inter Lake)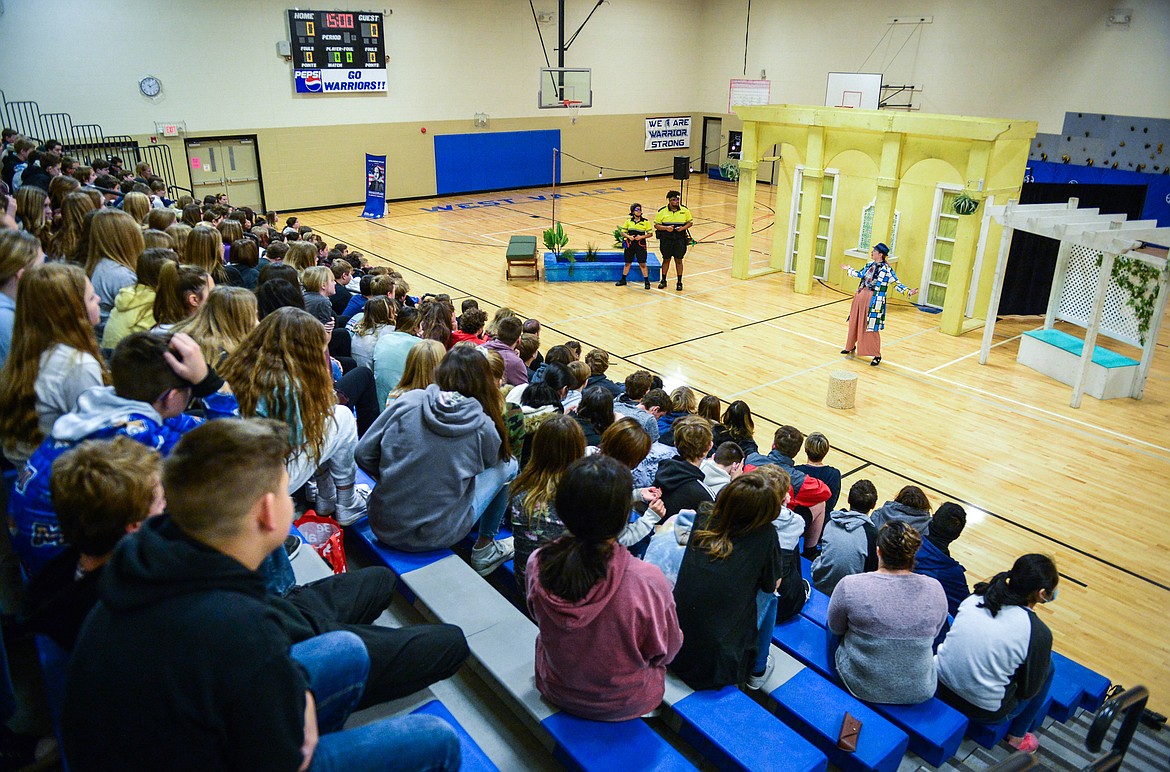 Students watch a performance of William Shakespeare's "Much Ado About Nothing" during a performance by Shakespeare in the Schools at West Valley School on Wednesday, Dec. 1. (Casey Kreider/Daily Inter Lake)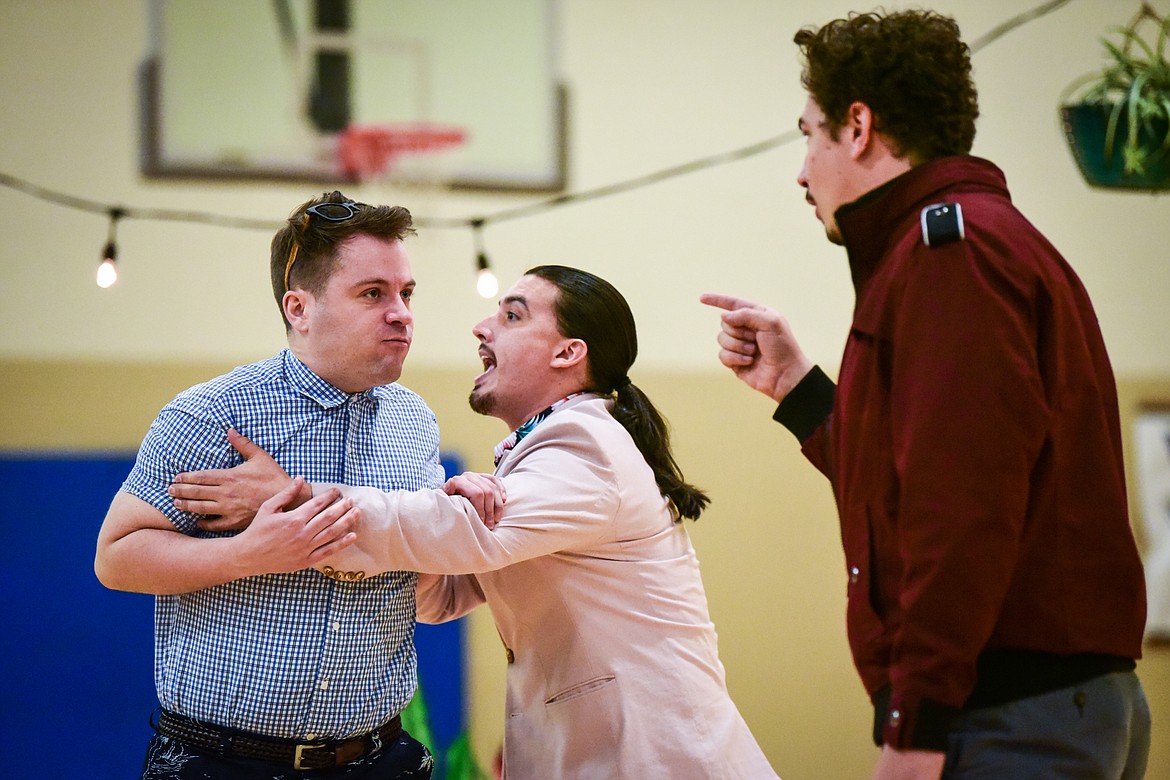 From left, Sam Cheeseman portrays Claudio; Andres Enriquez portrays Don Pedro; and Calvin Adams portrays Don John during a performance of William Shakespeare's "Much Ado About Nothing" by Shakespeare in the Schools at West Valley School on Wednesday, Dec. 1. (Casey Kreider/Daily Inter Lake)
Previous
Next
by
HILARY MATHESON
Daily Inter Lake
|
December 4, 2021 12:00 AM
Deception, love, honor, friendship, marriage and social media.
These were things West Valley School seventh- and eighth-graders reacted to in a Wednesday morning performance of Shakespeare's romantic comedy "Much Ado About Nothing."
There were smiles and laughs from the audience as the characters untangled what was true and what was false in the delightful confusion.
The centuries-old romantic comedy was tweaked a bit for the modern audience.
"We brought the play into a modern context. All the clothes are modern, cellphones are used, but we still have all of Shakespeare's language," said Chicago-based actor Stephanie Neuerberg.
Shakespeare in the Schools is an educational outreach program of Montana Shakespeare in the Parks. The program brings a cast of eight professional actors from around the country to perform in schools around the state, which this year included Kalispell, Polson and Ronan schools.
"I love the exposure kids get to Shakespeare," said West Valley seventh-grade English and language arts teacher Gretchen Wick.
Wick made sure West Valley became a stop on the tour after learning about the program from a Kalispell Middle School teacher several years ago. In the weeks preceding the performance, Wick taught her students about the particular play's plot, characters and language to give them a basic understanding.
Before the first line was recited in Wednesday's performance, Chicago-based actor Sam Cheesemen gave a short introduction on what to expect such as Shakespeare's heightened language.
"We like to think about that like walking into a dark room and you've got to give your eyes a minute to adjust. Just give your ears a minute to adjust and you will understand the whole story today," he said.
He also touched on the importance of audience feedback.
"Shakespeare is meant to be a back-and-forth. We want to hear you. If something's funny please laugh. If we ask you a question, go ahead and answer it," Cheeseman said.
When the performance was over, students had the opportunity to ask questions and then interact with the actors who led enrichment workshops.
"We teach some movement classes," Neuerberg said. "We also do a workshop about choices and consequences where we look to see how the play would be different if the characters had made different decisions."
DURING A language workshop, students focused on embodying Shakespeare's language through acting. In one example, participants performed a scene where two characters argue. Wick likened the expressive back-and-forth delivery to throwing rocks at one another, but using words.
She said the physicality and emotion is what draws audiences in. It also helps audiences get the gist of what's going on, whether or not they understand the language, according to Cheeseman and Neuerberg, because however much Shakespeare is read and studied, his plays were written to be performed.
"When they see us having fun. It invites them in to have fun with us and so I don't think you have to understand every single word that we say in order to be in the story or invested in the characters to have a good time. That's really our main goal, to bring Shakespeare to the kids and have fun."
Other workshops focused on themes of the play such as misinformation and gossip — who do we believe and why — viewed through the modern-day lens of cellphones, digital photos, videos and social media, Cheeseman said. In the play program, Shakespeare in the Parks Director Melanie Keller asks people to think how they might respond to rumors or evaluate what is true.
Keller points out, however, the theme at the heart of the comedy is love.
"But for all its playfulness, 'Much Ado's' power comes from the way it looks at love — romantic love, familial love, love between friends. Love in all its forms, is complicated, and requires communication, consent and trust. How will our characters rebuild trust? And will they all be able to go forward together with a new understanding of what it means to have respect and equity in love?" Keller stated.
These universal themes such as love and deception are what make Shakespeare timeless.
"... stories about love and jealousy and envy, betrayal, revenge — things that are very universal at any time, any place," Cheeseman said.
Because, in the end, it's all "Much Ado About Nothing."
Reporter Hilary Matheson may be reached at 406-758-4431 or emailed at hmatheson@dailyinterlake.com.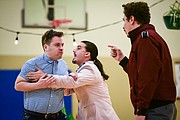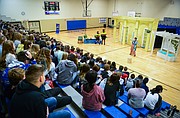 ---