FVCC names theater in honor of longtime faculty member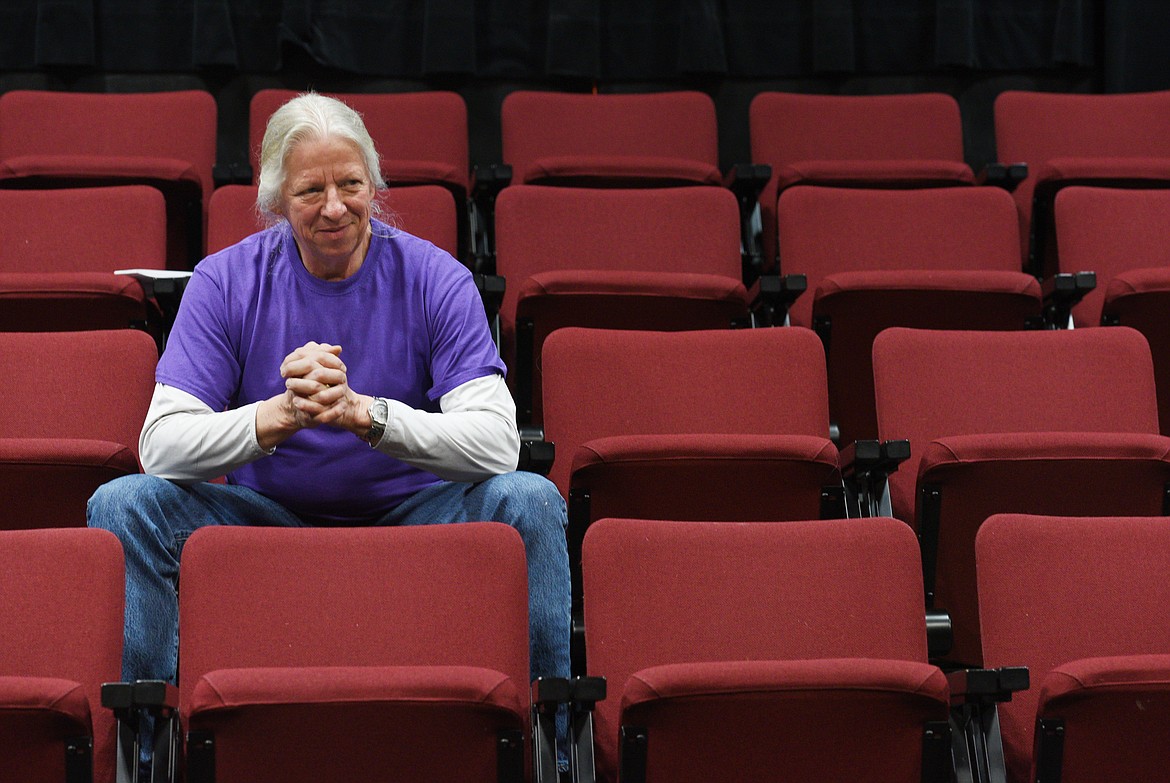 In this April 15, 2017 file photo Flathead Valley Community College Theater Arts Professor Joe Legate sits in the school's theater before a rehearsal. (Aaric Bryan/Daily Inter Lake)
by
Daily Inter Lake
|
December 14, 2021 1:37 PM
Flathead Valley Community College is renaming its campus theater in honor of retired Performing Arts Department Chairman Joe Legate.
The Joe Legate Black Box Theatre, located in the Arts and Technology building, recognizes his 30-year career at the community college where he played a leading role in building the performing arts program.
"Joe's enthusiasm for theater impacted thousands of students and community members and shaped the FVCC theater program into what it is today," FVCC President Jane Karas said in a press release. "Joe's creativity and focus on helping students succeed were instrumental in the many achievements of our theater students."
When Legate initially was hired as a speech and communications instructor in 1990, he was told there wasn't a theater or a theater budget, yet he saw the potential, according to an April 2017 Daily Inter Lake article.
Throughout his tenure, Legate went on to create the theater curriculum, form the Mask and Hammer Theatre Club and develop the FVCC summer theater program and FVCC Community Players. His continuous community outreach and promotion of theater led to scholarship opportunities for students.
"Joe was instrumental in establishing a number of student scholarships through his close ties with those who supported the FVCC theater," said Colleen Unterreiner, former executive director of the FVCC Foundation.
Through Legate's leadership, theater activities went from performances in temporary pop-up spaces with a few students to the now dedicated theater space and multifaceted support of the current program.
"For 16 years, Joe made theater happen by building the stage, the seating, the set, in classroom spaces around campus. We're talking sliding ceiling tiles around to hang lights, moving in platforms for the whole set, and then swiftly whisking everything away before class time Monday morning," said Rich Haptonstall, FVCC associate theater and music professor.
The program evolved immensely under Legate's watch, which he credits to the tremendous support from the college and community.
"The gracious support from everyone over the years has allowed the theater program to make a meaningful impact on our students and community. The beautiful theater space was a dream come true and will continue to provide a fun, vibrant place for anyone and everyone," Legate said.
"I'm forever fortunate to have spent the majority of my career at FVCC, and help create a welcoming, accepting and fun environment," Legate said. "It's been extraordinary."
---