Fyant, Gillin voted out of CSKT Tribal Council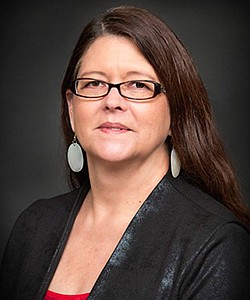 CSKT Tribal Council Chair Shelly Fyant.
by
SCOT HEISEL
Lake County Leader
|
December 23, 2021 10:00 AM
Shelly Fyant, chairwoman of the Tribal Council of the Confederated Salish and Kootenai Tribes, is one of two Tribal Council incumbents who was defeated in the Tribes' Dec. 18 election.
Members went to the polls with five seats on the ballot.
Fyant represents the Tribes' Arlee District and was voted as chairwoman in January 2020. She lost this week to former Council member and write-in candidate Jim Malatare, by a margin of 939 to 476.
Fyant joined the Council in 2013 by defeating Malatare. She gained 70% of the vote in 2013.
Polson District incumbent Charmel Gillin also lost her seat Saturday. Jennifer Finley received 1,010 votes to Gillin's 409 and is Polson's new representative.
Incumbents Lenoard Twoteeth, of the Elmo District, and Carole Lankford, of the Ronan District, retained their seats. Twoteeth received 1,153 — the most for any candidate on this year's ballot — to hold off a challenge by Art Caye.
Lankford defeated challenger Leonard Michel by a margin of 1,118 to 311.
The Tribes recently created two at-large positions on the Council. They are not confined by geography and are available to members living anywhere on the Flathead Indian Reservation.
The first of those two positions takes effect this year, while the second will be up for initial election in 2023.
The new at-large position is now represented by Tom McDonald, fish and wildlife division manager in the CSKT's Natural Resources Department. McDonald received 1,008 votes, while Dan Depoe received 403 in the at-large race.
A total of 1,434 votes were cast, and voter turnout increased approximately six percent from the last general election in 2019, according to a CSKT press release.
The newly elected officials will be sworn into office at the next Tribal Member Quarterly meeting on Jan. 7. Members also will select a new chairperson during that meeting.
The Tribes offered live-stream online viewing of Wednesday's final certification.
---