Authorities seek fourth man from illegal border crossing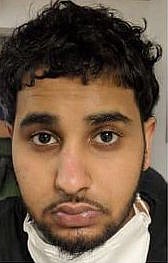 Naseem Ali Saleh Mohammed
|
February 1, 2021 8:30 AM
A little more than one week ago, U.S. Border Patrol agents took four men into custody near Whitefish after they allegedly made an illegal border crossing from Canada into the U.S.
Three remain in custody, including one accused of murder in Canada, but one walked away before agents fully realized who he was.
Now, law enforcement officers are looking for a man named Naseem Ali Saleh Mohammed, 22. Mohammed is also known as Ahmed Bati, according to charging documents filed in U.S. District Court in Missoula. Mohammed is charged with improper entry by an alien.
Charging documents indicate Mohammed is a Somalian national and a Canadian legal permanent resident.
Mohammed's fingerprints were submitted to IDENT, ABIS and NGI, but the searches revealed no criminal or immigration history for him.
IDENT is a system used by the U.S. Department of Homeland Security while ABIS (automated biometric identification system) and NGI (next generation identification) are used by law enforcement agencies to identify people.
But, according to the charging document, after Border Patrol agents spoke with law enforcement agencies in Canada, officers there said he is a known gang member and suspect in several homicides spanning two provinces.
Sheriff's Office Facebook pages in Montana have shared a wanted poster of Mohammed. He is described as 5-feet, 5-inches tall with medium build, black hair, brown eyes and was last seen wearing a camp jacket, black pants and high cut "Muck" boots.
Authorities are urging anyone who sees Mohammed to not approach him and call 911.
Information can also be provided to Crimestoppers at 406-752-8477.
Canadian media reports describe Mohammed as a gangster rapper.
The province.com published a story Jan. 29 which indicated Mohammed was a member of the Brothers Keepers gang.
The story reported Mohammed was arrested one year ago in West Vancouver and sent to Ontario on charges of unlawful confinement, assault, pointing a firearm, uttering death threats, theft and robbery. He bailed out of jail and was ordered to live with his parents. When a curfew check was performed on May 2 where Mohammed lived, he allegedly escaped.
A CTV news report indicated Royal Canadian Mounted Police said Brothers Keepers emerged in 2017 and were in conflict with rival gangs, including the Hells Angels.
Reporter Scott Shindledecker may be reached at 758-4441 or sshindledecker@dailyinterlake.com
Recent Headlines
---