Class A Speech and Debate: Whitefish wins state title, ending C-Falls dynasty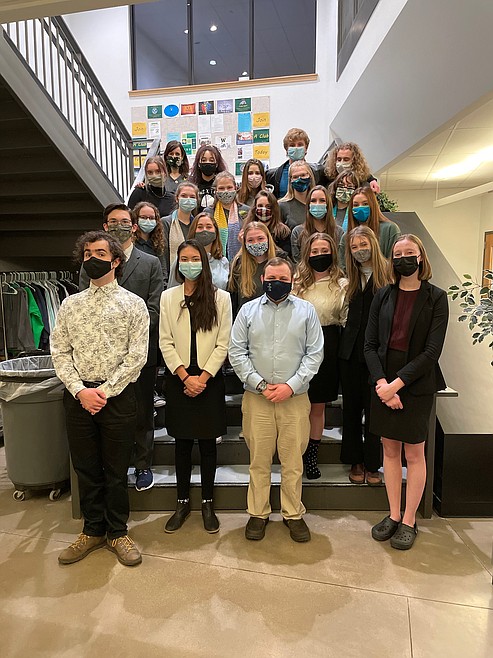 The Whitefish High School Speech and Debate team won the Class A state title during a virtual tournament held last Thursday, Friday and Saturday. (Photo provided by Sara Mueller)
by
HILARY MATHESON
Daily Inter Lake
|
February 1, 2021 11:05 AM
Whitefish High School Speech and Debate captured the Class A state title over a three-day tournament, ending Columbia Falls High School's championship dynasty.
It was another close tournament, with 33 points separating first and second place. Whitefish amassed 200 overall points for the win. Columbia Falls racked up 167 points, taking second place at the virtual tournament held last Thursday, Friday and Saturday. Laurel finished third, with 112 points.
"I could not have been more proud of the balanced effort we produced across the three days of competition," Whitefish Head Coach Sara Mueller said. "With every entry scoring points throughout the weekend, we were able to hold our own and keep ourselves in contention during the first two days, to give ourselves the chance we needed in the final rounds. Every state tournament comes down to mental toughness and bouncing back as there are just too many rounds for perfection, and this one seemed like an extreme example.The support this team gave to each other, even through personal disappointments, was inspiring."
Cementing the team's win was Abigail Bowden, who was the individual state champion in Extemporaneous Speaking and Impromptu Speaking. Paetra Cooke was the state champion in Memorized Public Address.
Mueller also gave a nod to Columbia Falls' history of 15 consecutive state titles.
"I am so proud of my fellow coaching staffs at Columbia Falls, who we will always acknowledge as the powerhouse they've built, and other schools around the state who've made this season happen for the competitors in the most challenging of circumstances," Mueller said, referring to the postponed season and virtual tournament format due to the coronavirus pandemic.
This was also a transitional season for the Columbia Falls team. Columbia Falls Head Coach Blake Ladenburg replaced Tara Norick, who retired after leading the team to 10 consecutive state titles as head coach.
Ladenburg said although the team had been preparing for the inevitable moment the dynasty would end, it was still difficult.
"This entire season was so close, and coming into this tournament we knew it could go any direction," Ladenburg said, noting that Whitefish had "an amazing tournament from start to finish.
"It is hard to compete against such a strong performance across the board," Ladenburg said. "Whitefish has been such a strong competitive force since I have been back coaching for three years. We push each other to be better, and it's been an honor to compete on their level with them this year."
Despite losing the state title, the Columbia Falls team had a lot to be proud of, Ladenburg said, with three individual state champions in two events — Griffin Conger in Dramatic Interpretation and Tre Finley and Emma Stephens in Policy Debate.
"I could not be more proud of my students. They each persevered through an altered and difficult season, and their resiliency was something to behold. I give them a huge amount of credit for showing up week after week and giving it their all," Ladenburg said.
Following are individual results.
Memorized Public Address
Paetra Cooke, Whitefish
Lucy Schindler, Whitefish
Julia Sowerwine, Columbia Falls
Taylor Stephens, Columbia Falls
Informative Speaking
Taylor Stephens, Columbia Falls
Adrienne Healy, Whitefish
Aiden Judge, Columbia Falls
Original Oratory
Griffin Conger, Columbia Falls
Paetra Cooke, Whitefish
Julia Sowerwine, Columbia Falls
Impromptu Speaking
Abigail Bowden, Whitefish
Chloe Coberley, Columbia Falls
Paige Moriarty, Columbia Falls
Adrienne Healy, Whitefish
Extemporaneous Speaking
Abigail Bowden, Whitefish
Grayson Butler, Whitefish
Aiden Judge, Columbia Falls
Dramatic Interpretation
Griffin Conger, Columbia Falls
Lucy Schindler, Whitefish
Chloe Coberley, Columbia Falls
Gabby Pickert, Whitefish
Humorous Interpretation
Ruby Davis, Columbia Falls
Zack Tillman, Columbia Falls
Policy Debate
Emma Stephens and Tre Finley, Columbia Falls
Danika Tintzman and Ali Hirsch, Whitefish
Gavin Carmichael and Liam Lynch, Whitefish
Bethany Barnes and Emma Trieweiler, Whitefish
Public Forum Debate
Callie Johnson and Raphe Salmon, Columbia Falls
Zoe Tremper and Addie Blackaby, Whitefish
Stacia Tremper and Sophie Tabor, Whitefish
Lincoln-Douglas Debate
Eddie Chisholm, Columbia Falls
Reporter Hilary Matheson may be reached at 748-4431 or by email at hmatheson@dailyinterlake.com.
---