Class AA Speech and Debate: Flathead takes 2nd, Glacier 3rd at state tourney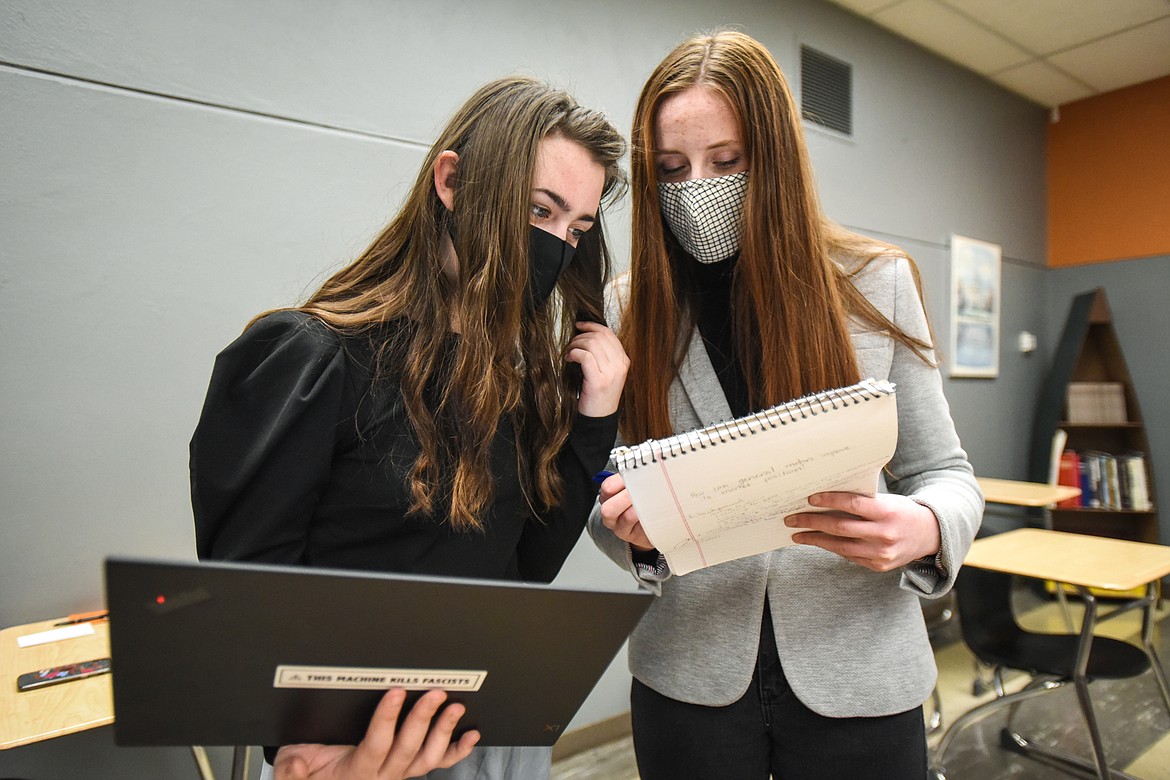 Flathead High School juniors Scout McMahon, left, and Leah Spangler review their extemporaneous speech structures during a break in the state Class AA Speech Tournament on Friday, Jan. 29. (Casey Kreider/Daily Inter Lake)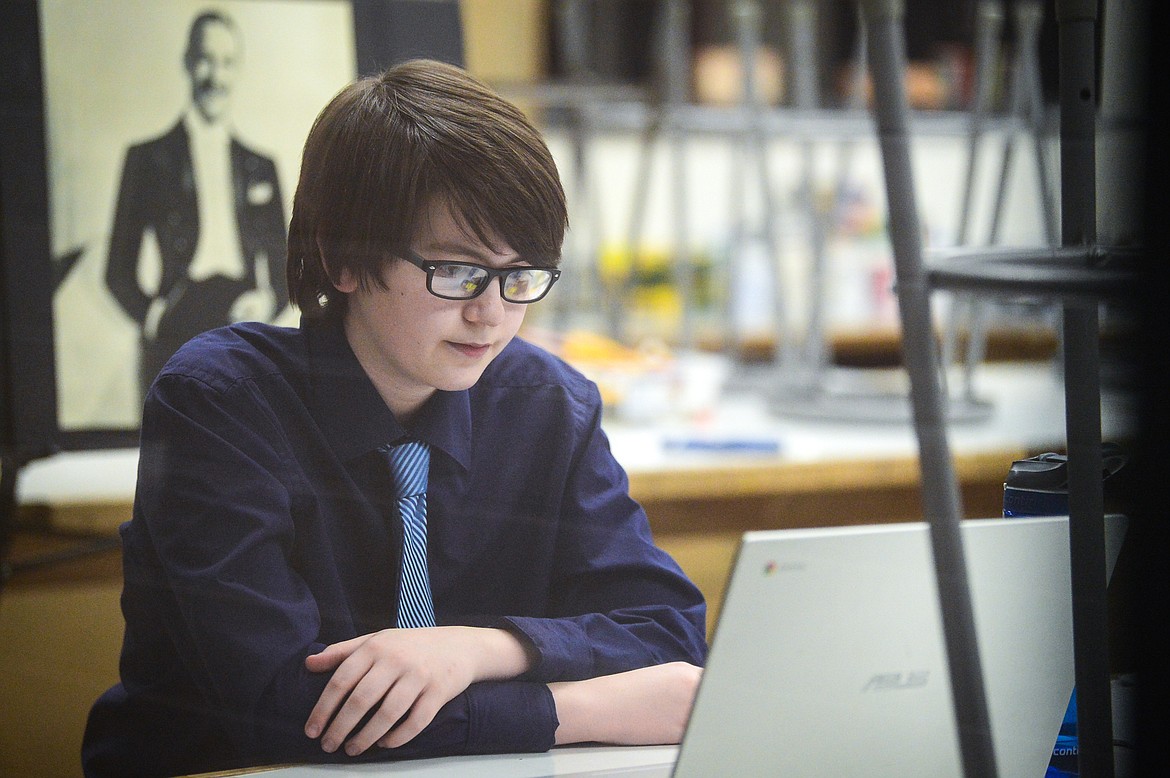 Flathead High School's Mason Hermann competes virtually in informative speaking in the state Class AA Speech Tournament on Friday, Jan. 29. Hermann's topic was British stage magician Jasper Maskelyne, who gained fame during World War II. (Casey Kreider/Daily Inter Lake)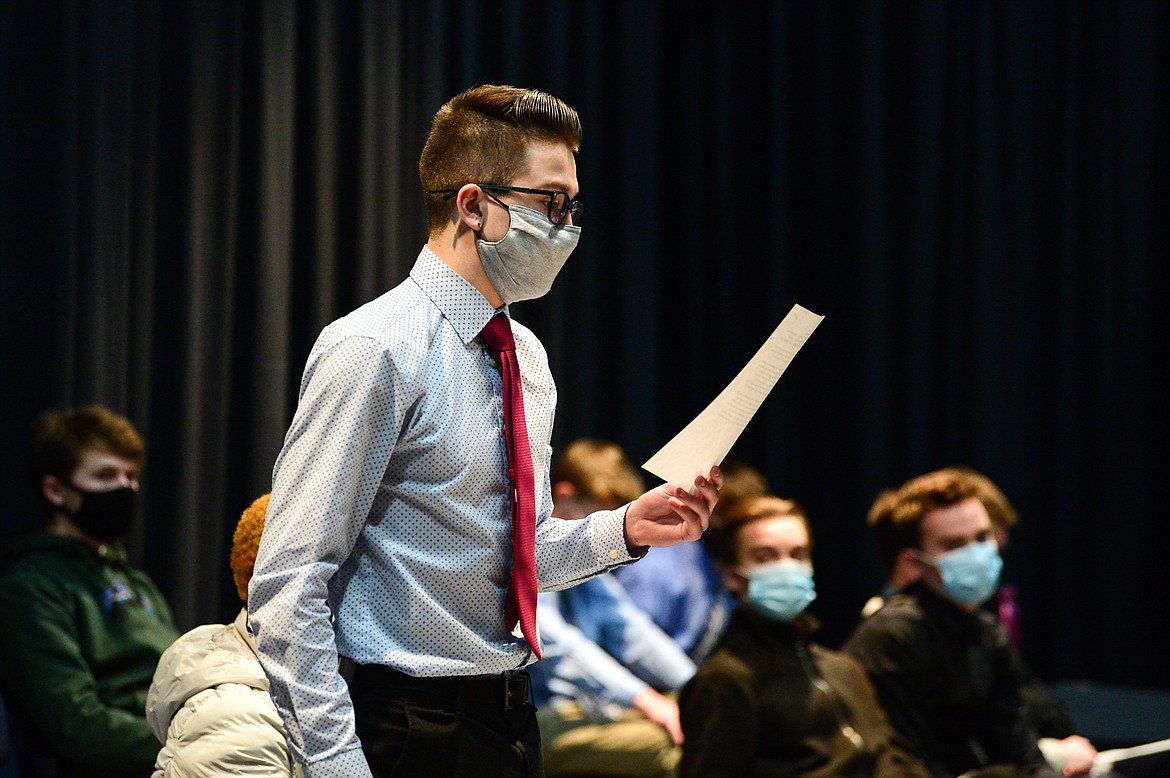 Senior Dresden Allred reads a note of encouragement from Kalispell Public Schools superintendant and former Glacier High School principal Micah Hill during a Glacier Wolfpack Speech & Debate team meeting on Friday, Jan. 29. The team read several notes from school staff members and alumni in advance of the state AA tournament. (Casey Kreider/Daily Inter Lake)
Previous
Next
by
HILARY MATHESON
Daily Inter Lake
|
February 2, 2021 12:00 AM
After putting up a good fight in the battle of words, Kalispell's Class AA high school speech and debate teams finished a consistent season in second and third place behind Bozeman — the season's undefeated champion.
State runner-up Flathead High School achieved 163.5 overall points in the virtual tournament hosted by Butte last Friday and Saturday. Glacier High School earned 139.5 points to finish in third. State champion Bozeman High School shot to the top of the competition with 206 overall points.
"It has been a remarkably consistent season," Flathead Head Coach Shannon O'Donnell said. "The Bozeman and Flathead rivalry has a long, 40-year history, and we can only tip our caps to their remarkable season. I'm proud of every one of our kids; they gave it their all in every round and fought to the last ballot."
"Despite our second-place finish, Flathead came away with the most event wins and the greatest number of individual champions," O'Donnell said, also noting the Flathead Braves closed out the top three slots in Duo Interpretation and the top two placements in Duo Interpretation.
Flathead's individual champions are: Annelise Mason in Legislative Debate; James Francis in Humorous Interpretation; Carson Robison and Ella McGuffiein Duo Interpretation and Neila Lyngholm, who placed first in two events — Informative Speaking and in Impromptu Speaking.
"All three teams were in the running late Saturday afternoon, but Bozeman's dominance in debate and Flathead's late surge in the final round of the speech events was just too much to overcome," Glacier Head Coach Greg Adkins said. "We scored nearly 20 points higher than we did last weekend, but it just wasn't enough."
Individual champions from Glacier include: Aryana Allred in Memorized Public Address; Dresden Allred in Original Oratory; Mason Fauth and Alexandra Houseworth in Policy Debate; and Jane Trina in Dramatic Interpretation.
"This team never gave up, and in the end, that grit is really what matters," Adkins said. "This was a tough, tough season, and I am so proud of this team and our coaches."
Finalists for Class AA debate and speech coaches of the year were announced during the awards ceremony on Saturday. Glacier's Seaghan Herron is up for the Steve Reardon AA Speech Coach of the Year award. Josh Munro, also of Glacier, is a finalist for the Anne Sullivan AA Debate Coach of the Year award. Winners will be announced later this month.
Flathead and Glacier now set their sights on nationals. Both teams will compete in the Montana West District Tournament on Feb. 12-13, which will decide who qualifies to compete at the national level in June.
Following are local individual results. To view the full awards ceremony visit https://bit.ly/36tZkvI.
Policy Debate
Mason Fauth and Alexandra Houseworth, Glacier
Braden Anderson and Evan Sevaly, Flathead
Lincoln-Douglas Debate
Eva Bruce, Flathead
Kait Giffin, Glacier
Public Forum Debate
Garrett Hinzman and Kyler Knutson, Glacier
Legislative Debate
Annelise Mason, Flathead
Jake Keller, Glacier
Simon Roston, Glacier
Kelvin Dixon, Flathead
Rylee Houser, Flathead
Memorized Public Address
Aryana Allred, Glacier
Alexa Wilton, Glacier
Avram Bingham, Glacier
Sayla McCulley, Flathead
Original Oratory
Dresden Allred, Glacier
Mac Adkins, Glacier
Carson Robison, Flathead
Isabella Shinn, Flathead
Isabella AuClaire, Glacier
Sydney Fletcher, Glacier
Informative Speaking
Neila Lyngholm, Flathead
Hailee Williams, Glacier
Mason Hermann, Flathead
Extemporaneous Speaking
Scout McMahon, Flathead
Leah Spangler, Flathead
Impromptu Speaking
Neila Lyngholm, Flathead
Leah Spangler, Flathead
Olivia Baker, Glacier
Scout McMahon, Flathead
Sydney Fletcher, Glacier
Maayana Satler, Flathead
Program Oral Interpretation
Isabella Shinn, Flathead
Alexa Wilton, Glacier
Jasmine Anderson, Flathead
Bethany Nairn, Flathead
Duo Interpretation
Carson Robison and Ella McGuffie, Flathead
James Francis and Kadence Johnson, Flathead
Avram Bingham and Kaelin Holt, Glacier
Dresden Allred and Yayne Myers, Glacier
Humorous Interpretation
James Francis, Flathead
Jasmine Anderson, Flathead
Bauer Hollman, Flathead
Dramatic Interpretation
Jane Trina, Glacier
Kadence Johnson, Flathead
Jarrod Wutke, Glacier
Sydney Barcus, Glacier
Brenna Ernst, Glacier
Reporter Hilary Matheson may be reached at 758-4431 or hmatheson@dailyinterlake.com.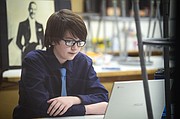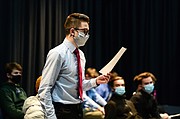 Recent Headlines
---