Health department overwhelmed with vaccine requests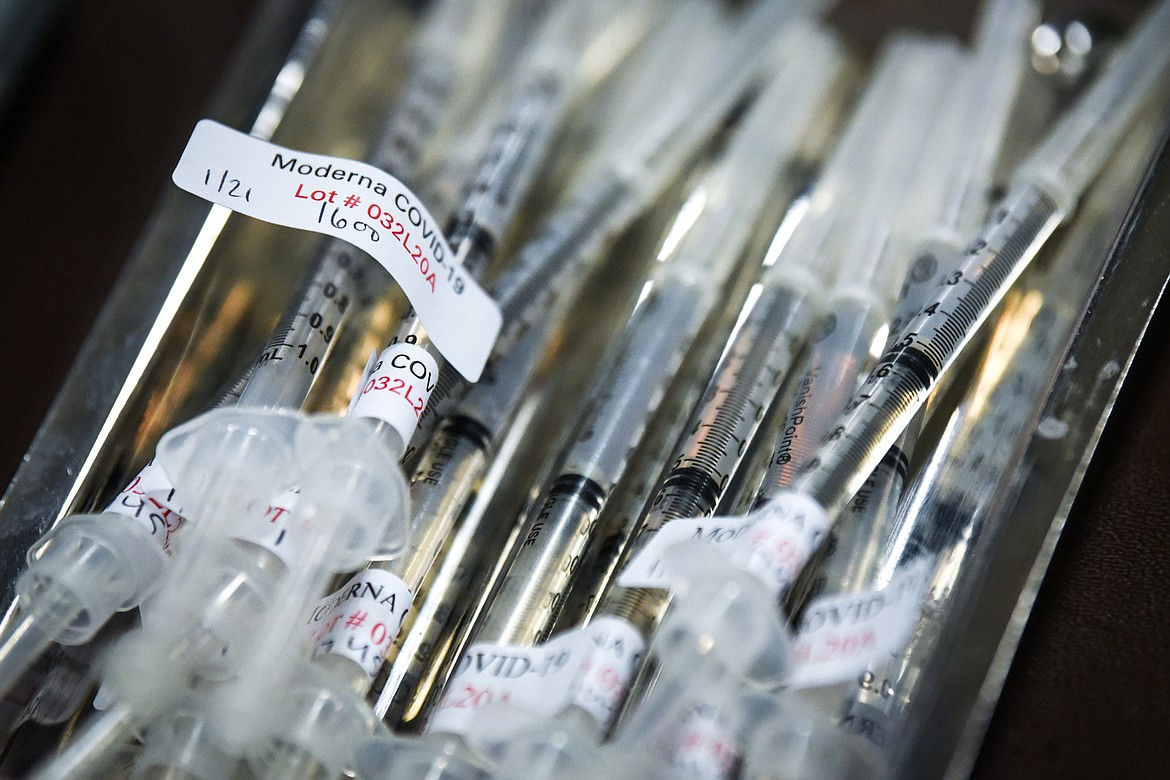 COVID-19 vaccines wait to be administered during a clinic at the Flathead County Fairgrounds on Thursday, Jan. 21. (Casey Kreider/Daily Inter Lake)
by
KIANNA GARDNER
Daily Inter Lake
|
February 3, 2021 10:12 AM
Flathead City-County Health Department officials said Tuesday the local COVID-19 Vaccine Call Line is inundated with voicemails, and that it may take several weeks for health department staff to contact individuals to schedule an appointment.
Vaccines are available on an appointment-only basis in Flathead County. The area is currently immunizing Tier 1B individuals, which includes those 70 years of age and older, American Indians and other vulnerable populations and residents with high-risk medical conditions.
According to a news release on Wednesday from the health department, Flathead County's call center is experiencing an "extremely high call volume," and to help the system run efficiently, individuals are asked to leave only one voicemail or submit only one request form.
Health Officer Joe Russell said in an interview Monday that the center is backed up with at least 8,000 voicemails. He emphasized that calls are being returned in the order they are received.
At this time, the number of appointments available is dependent on the number of COVID-19 vaccines that are shipped to Flathead County each week from the Montana Department of Public Health and Human Services.
Russell said based on supply, the county is currently immunizing about 800 new individuals per week, though he anticipates that number will increase to 1,200 in the near future. That figure does not include persons who are scheduled to receive their second dose.
IN AN effort to ramp up vaccination efforts, clinics will now be held every Thursday at the Grouse Mountain Lodge Conference Center in Whitefish, in addition to those being held every Tuesday, Wednesday and Thursday at the Flathead County Fairgrounds. The size and scope of the clinics will vary based on vaccine availability.
Those who qualify to be vaccinated can call the health department to schedule an appointment at 406-751-8119 and leave a voicemail detailing his or her name, date of birth and phone number.
An online vaccination request form is also now available and can be found at https://www.flatheadhealth.org/vaccine-request-form/
"Currently, the number of people who want the vaccine in our county is far greater than the doses we are getting from federal supplies," Russell said. "Our staff is working diligently to schedule and administer vaccine, and we are asking the public for their continued patience. Distributing vaccine through the entirety of Tier 1B is going to take several months, but rest assured that if you have been added to the waitlist, you will receive a call to schedule your COVID-19 vaccination."
As of Tuesday afternoon, nearly 7,400 doses have been administered in Flathead County and nearly 2,300 individuals are fully immunized, meaning they have received both doses. Data from the state health department shows statewide, 116,119 doses have been administered and more than 30,000 are fully immunized.
Information about vaccine distribution may change rapidly. For updated weekly information, visit the Flathead City-County Health Department COVID-19 Vaccine webpage at https://flatheadhealth.org/covid-19-vaccine/
Reporter Kianna Gardner may be reached at 758-4407 or kgardner@dailyinterlake.com.
---