New C-Falls coffee shop brings military family home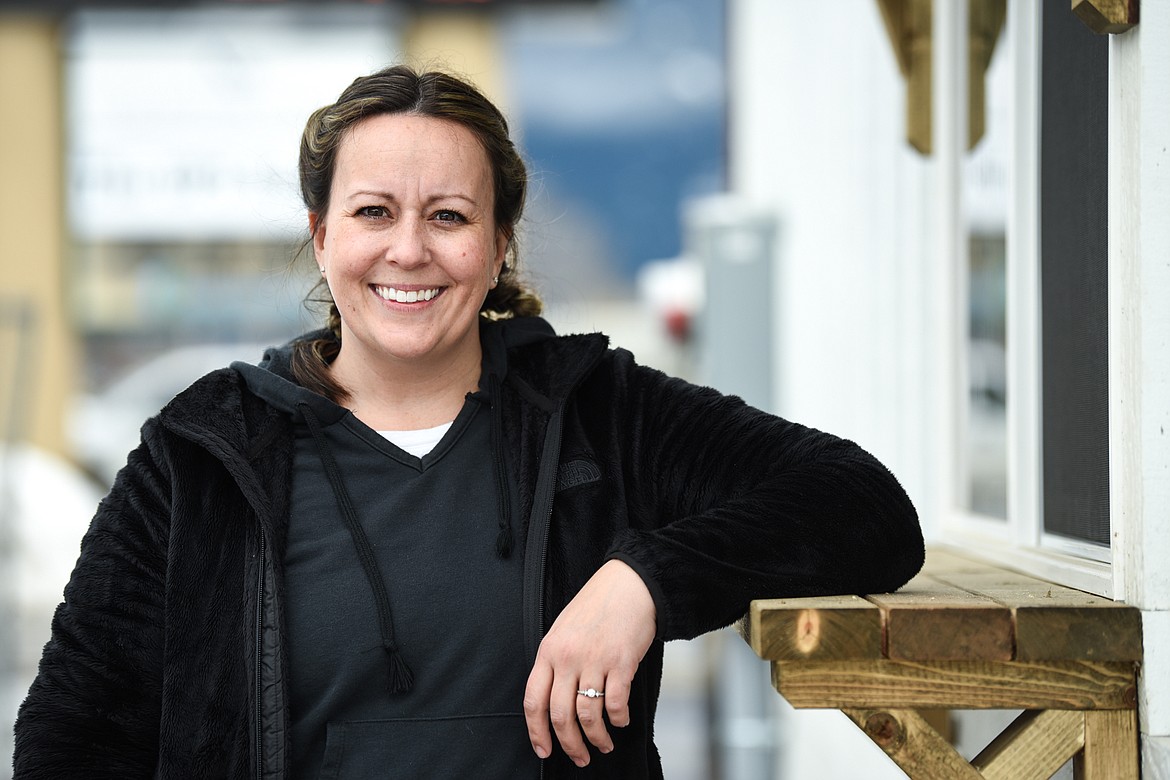 Judy Morse outside Flitter Bee Buzz Thru in Columbia Falls on Tuesday, Feb. 2. (Casey Kreider/Daily Inter Lake)
by
BRET ANNE SERBIN
Daily Inter Lake
|
February 7, 2021 12:00 AM
The new coffee shop and micro-bakery in the Columbia Falls' Super 1 Foods parking lot doesn't have a sizable footprint, but it's been a big undertaking for the Morse family.
Flathead Valley natives Judy and Dawson Morse gradually have been working toward opening the new drive-thru facility for about 15 years.
Growing up in Whitefish, Judy, a home baker, said she always had hoped to one day open her own bakery. But with her husband's career in the U.S. Army, not to mention four children at home, she had to be patient before she could finally make that dream a reality.
"It's been a really long time," she said. "We're just really, really excited."
The long wait is almost over. The Morses will hold the grand opening of Flitter Bee Buzz Thru from 7 a.m. to 6 p.m. on Saturday, Feb. 13. They plan to sell espresso and non-espresso beverages, along with sweet and savory pastries like breakfast croissants and cinnamon rolls.
The benefits of the "buzz-thru" are two-fold for the Morses: not only will the coffee shop fulfill Judy's professional goals, but it will also allow the family to move back home after about a decade of living more than 3,000 miles away from the rest of their relatives.
Judy and Dawson went to school together in Whitefish before Dawson joined the Army. During his service, the family moved to different bases every two years.
Along the way, Judy pursued a lifelong love of cooking in the various kitchens she called home. She said her passion for pastries started as a child under the tutelage of her mother, who grew up in a family of 10 children.
Judy continued that family tradition all across the country, baking massive amounts of goodies for Army functions, weddings and other large gatherings, relying on soldiers to serve as her all-too-willing taste-testers.
Even though she never received any formal culinary training, she nonetheless concocted a way to turn her pursuit into a profession. The self-taught baker developed a cake-baking business through which she sold elaborate edible creations, such as succulent cupcakes and intricate floral wedding cakes.
"It was a really fun adventure," Judy recalled.
JUDY NEVER gave up her dream of opening a standalone bakery, though.
"It was hard to set up a storefront moving every two years," she explained. Finally, last summer, the pieces started coming together to build the foundation of Flitter Bee Buzz Thru.
For his final two-year commitment, Dawson is stationed in Washington state, the closest location to the family's hometown out of any of their numerous temporary homes. Dawson encouraged his wife to take the opportunity to finally pursue her plans for a bakery.
She negotiated with the Super 1 management to secure the highly visible location along U.S. 2, and she's been commuting back and forth across state lines for months to get everything in order.
The preparation included carving out a foundation for the small space, bringing in a tiny building to house the bakery, hiring on about a dozen employees and honing the bakery menu. Figuring out the baking schedule might have been the hardest part of the whole endeavor for Judy, who had to forego her elaborate cakes in favor of fresh-baked grab-and-go items.
"It was surprisingly easier than a lot of other challenges we've had," she said. "It's hard being a military family."
In true military fashion, she stressed efficiency is the top priority for the drive-thru shop.
It's fitting, too, since the business bears the nickname "Flitter" that Judy's father has always used to describe his active, "busy bee" of a daughter.
In fact, Judy hinted that she's already thinking about the next step in her baking career. She said she'd like to get back into her creative tradition by opening a "cakery" in town, but for now, she's focused on building the business one ingredient at a time.

Flitter Bee Buzz Thru is located at 2120 Ninth St. W. in Columbia Falls. Hours will be 4:30 a.m. to 6 p.m., daily.
Reporter Bret Anne Serbin may be reached at 758-4459 or bserbin@dailyinterlake.com.
---