Districts continue to require masks in schools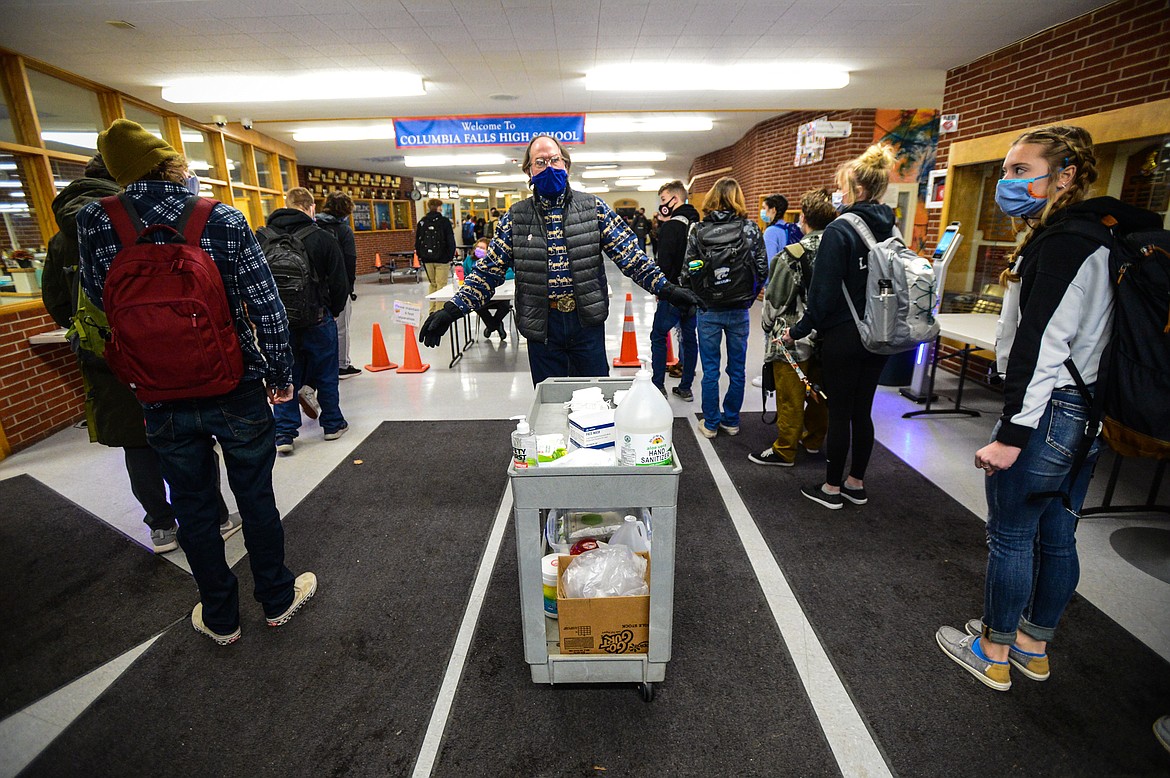 Michael Downey, a special education teacher, tells students to wear a mask and wear it properly while giving words of encouragement during the COVID-19 screening process at Columbia Falls High School on Wednesday, Jan. 20. (Casey Kreider/Daily Inter Lake FILE)
by
HILARY MATHESON
Daily Inter Lake
|
February 15, 2021 12:00 AM
School districts around Northwest Montana will continue requiring masks as part of COVID-19 mitigation measures, even though a statewide mandate was lifted by Gov. Greg Gianforte on Friday.
The statewide mask mandate had been in place since July 2020.
Area school district superintendents, including Micah Hill of Kalispell Public Schools, Dave Wick of Columbia Falls School District, Laurie Barron of Evergreen School District and Cal Ketchum of West Valley School District, sent out letters to staff and families Thursday night notifying them of the decision.
The decision was made in collaboration with their respective school boards, Flathead City-County Health Department Health Officer Joe Russell and other school leaders in the valley who, "unanimously support continued safety protocols within our schools to mitigate the spread of COVID-19."
These school leaders include members of the Northwest Montana Association of School Superintendents, which met Thursday. The association meets regularly to network and collaborate, and does not make decisions for individual school districts but often develops common messages for superintendents to share with their school districts, Barron said.
COVID-19 mitigation efforts in schools have been a topic of discussion since March 2020, when schools were suddenly closed under former Gov. Steve Bullock's orders in efforts to slow the spread of the virus.
COVID-19 is understood to be primarily transmitted through exposure to respiratory droplets when a person is in close contact with someone infected with the virus, according to the Centers for Disease Control and Prevention.
Once reopened, some schools in the valley required people to wear masks prior to the state extending the mask mandate to schools in August 2020. Schools also put into practice other mitigation measures such as frequent hand washing or sanitizing, disinfecting buildings regularly and physical distancing. Physical distancing has been a challenge in school buildings where "... students and staff have a prolonged exposure time, which separates schools from regular businesses," the letters noted.
"What we're finding is the mitigation efforts are working — not just in our district, but many districts throughout the valley," Barron said in a phone interview on Sunday. "So we're continuing what we already have in place."
A KEY factor in district decisions to continue enforcing masks is that teachers' access to vaccinations has been delayed by Gianforte from Phase 1B to 1C.
Currently, the state is in Phase 1B. Unless teachers meet the criteria of being age 70 or older, are 16 to 69 with severe underlying medical conditions, or are American Indian, they are currently ineligible to be vaccinated.

"Removing the mask mandate when our school essential workers have not had the opportunity to be vaccinated presents additional risk to staff and students," the letters stated.
The majority of Flathead County schools have remained open for on-site learning with intermittent closures of specific buildings, classrooms or grade-levels due to the number of people in quarantine.
"Our goal was to keep kids learning and hold school in-person," Barron said. "This is the safest route to keep schools open," she said.
"Of course we would like to be away from all the restrictions," Barron said. "Right now the data we have says mitigation efforts are working."
REQUIRING PEOPLE to wear masks has been a contentious issue around the country. While met with support from the school community, Kalispell Public Schools also has faced resistance, including one instance in September 2020, where a school board meeting was adjourned shortly after it began when a group of people showed up refusing to wear masks.
"We recognize and respect that there are varying viewpoints on this issue. As school leaders, we are in a very challenging and sensitive position when making decisions concerning the health and safety of our staff and students. We view requiring face coverings within our schools as an issue of public health and safety," the letters stated, noting that the safety of students and staff remains the top priority for administrators.
Reporter Hilary Matheson may be reached at 406-758-4431 or by email at hmatheson@dailyinterlake.com.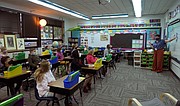 ---