Area speech and debate students qualify for nationals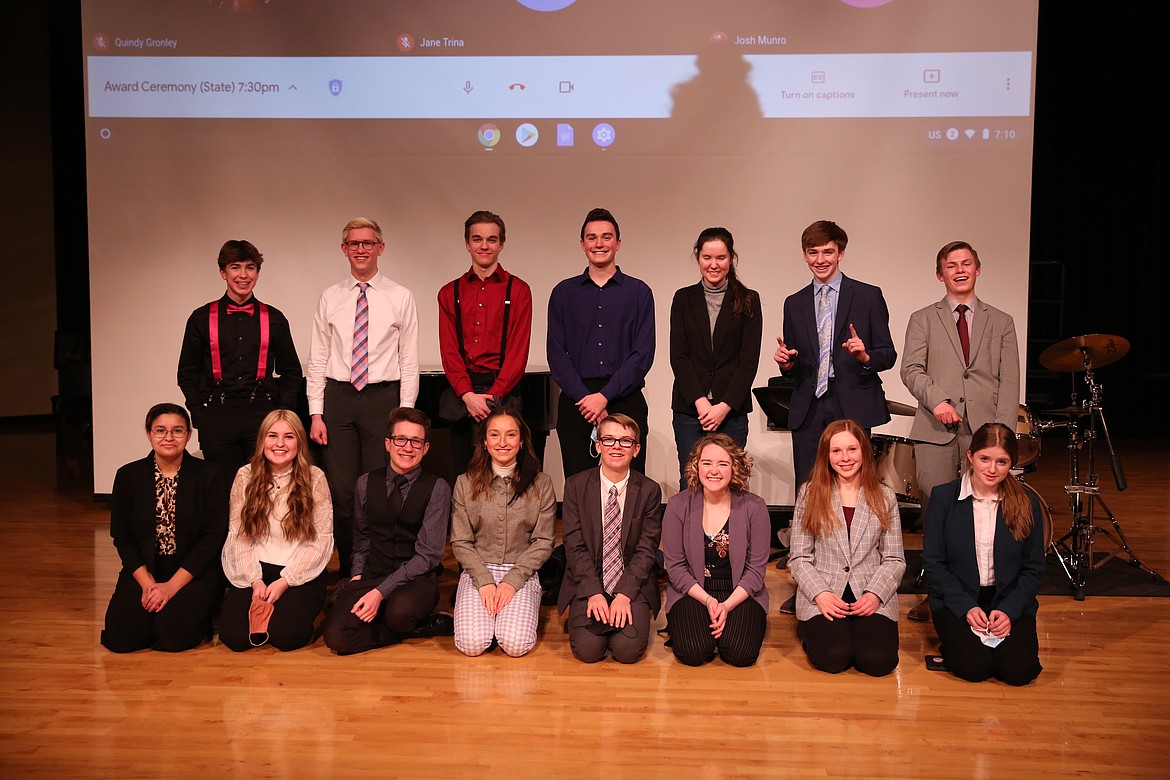 Glacier High School speech and debate national qualifiers are (front row, left to right) Alexa Wilton, Bella AuClaire, Dresden Allred, Jane Trina, Meyer Fauth, Sydney Fletcher, Alexandra Houseworth and Brenna Ernst (back row) Davis Rennie, Lane McKoy, Isaac Lorenc, Jarrod Wutke, Lizzie Sweeney, Mac Adkins and Mason Fauth.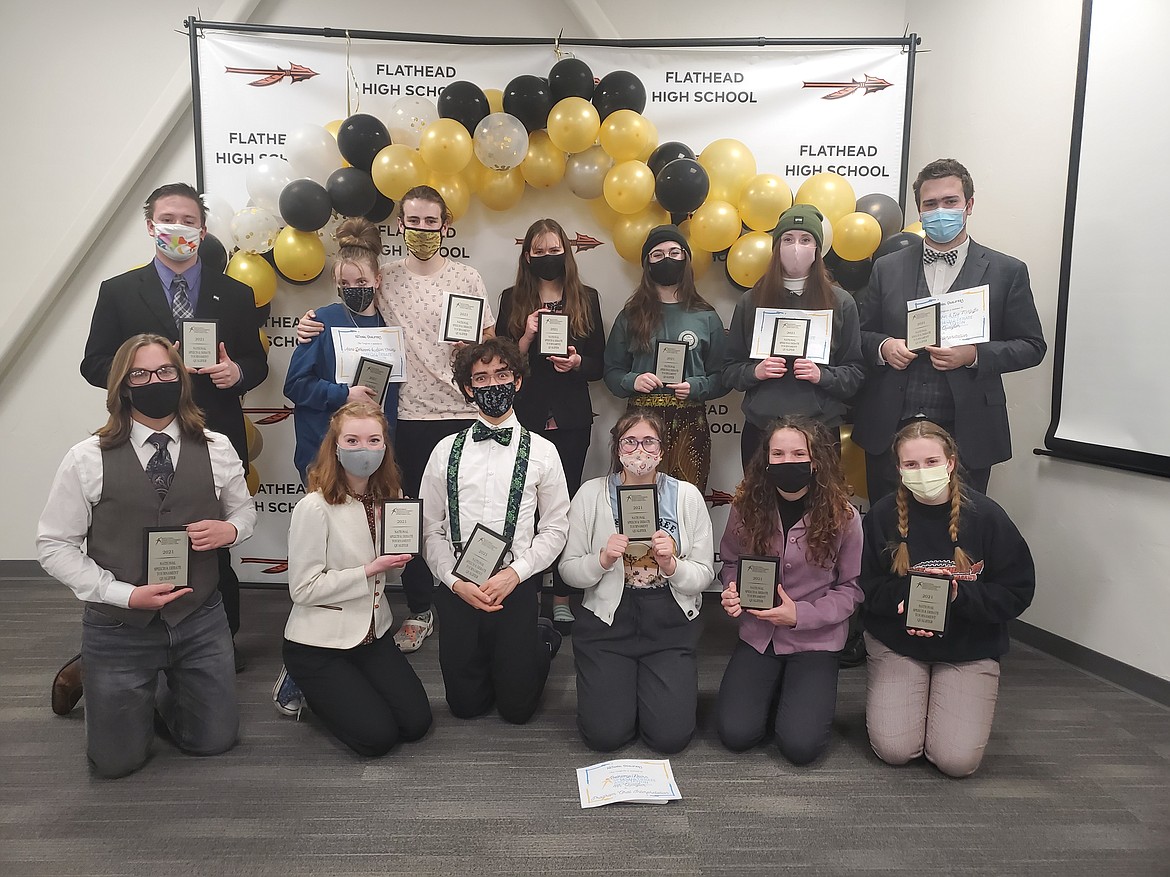 Flathead High School speech and debate national qualifiers include (front row, left to right) Rylin Wilde, Kadence Johnson, James Francis, Bethany Nairn, Neila Lyngholm and Ella McGuffie (back row) Alan Taylor, Adina Lockwood, Aiden Christy, Eva Bruce, Scout McMahon, Leah Spangler and Carson Robison. (Photo provided by Shannon O'Donnell)
Previous
Next
by
HILARY MATHESON
Daily Inter Lake
|
February 16, 2021 12:00 AM
Speech and debate competitors from Columbia Falls, Flathead, Glacier, Ronan and Whitefish high schools will represent Montana at nationals following a district qualifying tournament held virtually over the weekend.
The Montana West District Tournament is a chance for students from the AA, A, and B-C divisions to qualify for the 2021 National Speech and Debate Association National Tournament June 13-18. Nationals will be held virtually for the second year due to the coronavirus pandemic.
Glacier had 15 competitors qualify for nationals, Flathead had 13 and Columbia Falls, four. Whitefish and Ronan each had two students make the cut to compete at nationals.
Some of the competitors qualified for multiple events, but can only choose one to compete in at nationals. In terms of the number of events competitors qualified for, including double-qualifiers, Flathead Head Coach Shannon O'Donnell said the high school had the most at 17.
"I am proud of our team's performance. This is the highest number of qualifiers in the team's history, and will likely be added to when the World Schools team selections are made," O'Donnell said, noting that districts were allowed to have more qualifiers due to the virtual format, which was a change made by NSDA. "It was a great way to end a challenging virtual season.
In overall team scores, Glacier High School placed first, scoring 38 points — edging out Flathead and Missoula Sentinel, which tied for second place with 35 points. Columbia Falls High School came in fifth with 14 points.
"What a great way to finish the season. I couldn't be prouder of this team," Glacier Head Coach Greg Adkins said.
"Getting a chance to compete at nationals is an incredible experience, and I'm really excited for those that qualified. The kids need a bit of break, this season has been especially exhausting, but I'm betting they will be ready to start prepping soon," he said.
Following are individual placements denoted with whether a competitor is a qualifier or an alternate. The vacated designation means the student qualified for the event but chose to compete in a different one.
Duo Interpretation
Carson Robison and Ella McGuffie, Flathead (qualifier)
James Francis and Kadence Johnson, Flathead (qualifier)
Isaac Lorenc and Jarrod Wutke, Glacier (qualifier)
Aidan Christy and Adina Lockwood, Flathead (qualifier)
Avram Bingham and Kaelin Holt, Glacier (alternate)
Original oratory
Bella AuClaire, Glacier (qualifier)
Mac Adkins, Glacier (qualifier)
Sariel Sandoval, Ronan (qualifier)
Carson Robison, Flathead (vacated)
Dresden Allred, Glacier (qualifier)
Griffin Conger, Columbia Falls (vacated)
8 Sydney Fletcher, Glacier (alternate)
Program Oral Interpretation
Alexa Wilton, Glacier (qualifier)
Mac Adkins, Glacier (vacated)
Bethany Nairn, Flathead (qualifier)
Nelia Lyngholm, Flathead (vacated)
Informative Speaking
Nelia Lyngholm, Flathead (qualifier)
Lane McKoy, Glacier (qualifier)
Adrienne Healy, Whitefish (qualifier)
Olivia McRae, Flathead (alternate)
Dramatic Interpretation
Griffin Conger, Columbia Falls (qualifier)
Jane Trina, Glacier (qualifier)
Brenna Ernst, Glacier (qualifier)
Sydney Barcus, Glacier (alternate)
Kadence Johnson, Flathead (vacated)
Humorous Interpretation
Davis Rennie, Glacier (qualifier)
James Francis, Flathead (vacated)
Aiden Christy, Flathead (vacated)
Meyer Fauth, Glacier (qualifier)
Jasmine Anderson, Flathead (alternate)
Jaslyn Frost, Ronan (alternate)
Policy Debate
Emma Stephens and Trey Finley, Columbia Falls (qualifier)
Mason Fauthand Alexandra Houseworth, Glacier (qualifier)
Jake Keller and Simon Roston, Glacier (alternate)
Elenor Hollingsworth and Cali Jo Johnson, Columbia Falls (alternate)
Madison Johnson and Nicole Mitchell, Glacier (alternate)
Lincoln-Douglas Debate
Tie 2. Eva Bruce, Flathead (qualifier)
Dylan Schock, Ronan (qualifier)
Lizzie Sweeney, Glacier (qualifier)
Gabe Reddish, Flathead High School (alternate)
International Extemporaneous Speaking
Scout McMahon, Flathead (qualifier)
Abigail Bowden, Whitefish (qualifier)
Sydney Fletcher, Glacier (qualifier)
Leah Spangler, Flathead (alternate)
Bella Teggeman, Glacier (alternate)
Rachel Ottman, Flathead (alternate)
Domestic Extemporaneous Speaking
Leah Spangler, Flathead (qualifier)
Scout McMahon, Flathead (vacated)
Rylin Wilde, Flathead (qualifier)
Bella Teggeman, Glacier (alternate)
Maayana Sattler, Flathead (alternate)
Lane McKoy, Glacier (alternate)
Congressional Debate — House
Alan Taylor, Flathead (qualifier)
Kelvin Dixon, Flathead (alternate)
Harrison Sanders, Glacier (alternate)
Congressional Debate — Senate
Eddie Chisholm, Columbia Falls (qualifier)
Annelise Mason, Flathead (alternate)
Raphe Salmon, Columbia Falls (alternate)
Reporter Hilary Matheson may be reached at 758-4431 or hmatheson@dailyinterlake.com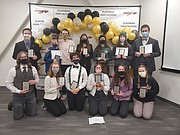 ---