Study puts numbers to hard winter for Whitefish lodging
by
BRET ANNE SERBIN
Daily Inter Lake
|
February 17, 2021 12:00 AM
Recent statistics compiled by the Whitefish Convention and Visitors Bureau give insight into lodging trends for the 2020-2021 ski season, and the numbers aren't pretty.
The bureau conducted a survey in early February to analyze the number of advanced reservations for lodging in Whitefish through January, February and March 2021. The study aimed to understand the lodging landscape for the winter season, compared to the winter before.
The results, in general, reflect a hard winter. And if current reservation numbers hold in the coming weeks, the worst may be yet to come.
Most survey respondents said reservations have been down across all three winter months this season, compared to the same months in 2020, according to the study released on Feb. 9.
March looks to be the hardest-hit month, with a full 75% of respondents reporting decreased reservations. In January and February, 62.5% of respondents indicated reservations went down.
The distribution of reservations showed considerable variability over the months, including a few signs of optimism.
There appeared to be more of an increase in advanced reservations for January 2021 than any other winter month; 37.5% of those surveyed said reservations in January increased from the same month last year.
For February, 25% of respondents reported the same result. And only 12.5% said reservations had increased for March.
Additional discrepancies between individual months are reflected in the bureau's recent data.
In January, for instance, there were no responses indicating reservations had stayed the same from a year ago. Meanwhile, 12.5% of respondents said reservations have stayed steady from February and March, 2020, to those months this year.
The widest variety of responses appeared in the results for January 2021; one respondent indicated a decrease of 0 to 5%, while one respondent each reported decreases of 5 to 10%, 15 to 20%, 20 to 25% and 50 to 75%. None of the survey participants reported decreases between 25 and 50% for January 2021, however.
For March, the survey results took the most dramatic downward turn. A full 50% of respondents said March reservations are down 25 to 50% this year, while 12.5% indicated decreases in the 20 to 25% range, and 12.5% also saw reservations go down only 0 to 5% for March.
It should be noted, however, that this study included eight respondents. Therefore, each participant individually accounts for 12.5% of the responses for each month.
The bureau also pointed out the data likely reflect short-term cancellations, which were not measured in this study of reservation bookings.
According to the Whitefish Convention and Visitors Bureau, one of the key conclusions of the research concerns the variability of March reservations. "March shows a wide distribution across the spectrum of advanced reservations," the study stated.
Reporter Bret Anne Serbin may be reached at 758-4459 or bserbin@dailyinterlake.com.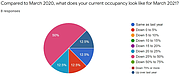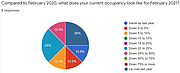 ---