State and local authorities push for more vaccine doses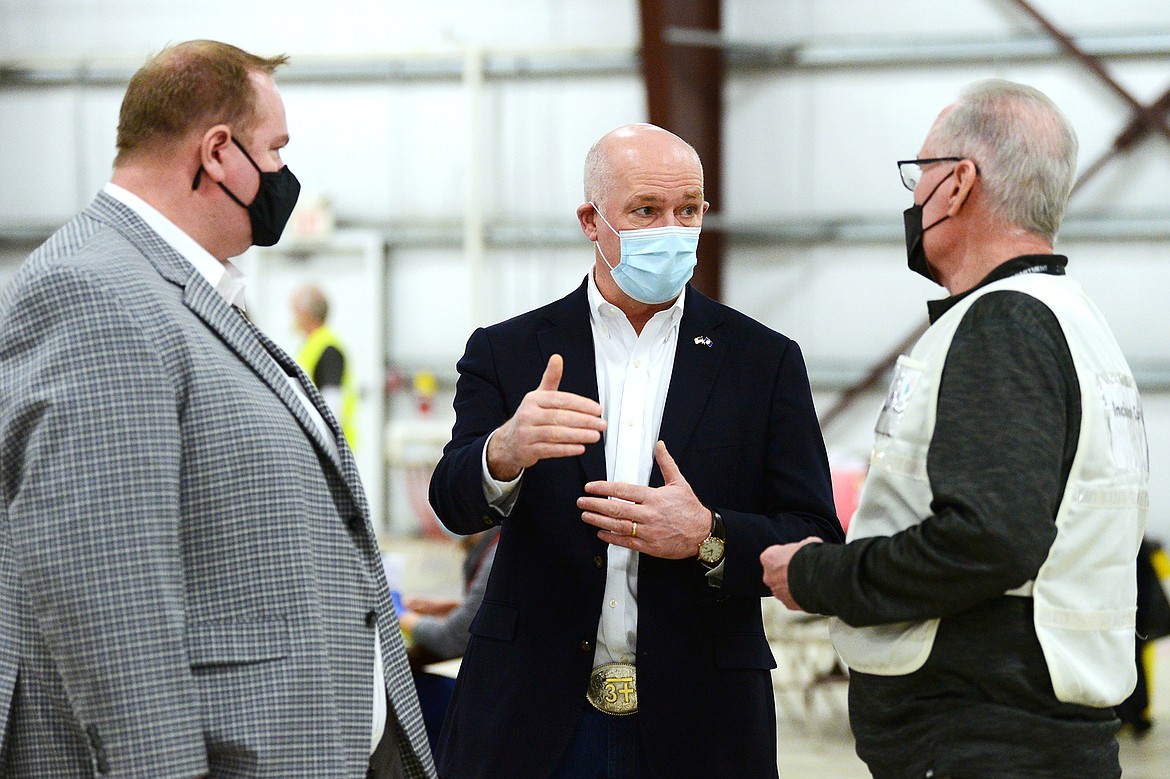 Gov. Greg Gianforte speaks with Joe Russell, right, Flathead County Health Officer, and Ryan Pitts, left, Chief Nursing Officer and Incident Commander of COVID-19 Response for Kalispell Regional Healthcare, during a tour of a COVID-19 vaccine clinic at the Flathead County Fairgrounds in Kalispell on Friday, Feb. 12. (Casey Kreider/Daily Inter Lake)
by
CHAD SOKOL & KIANNA GARDNER
Daily Inter Lake
|
February 18, 2021 4:21 PM
With more than 12,500 doses of COVID-19 vaccines administered to Flathead County residents, local health officials are aiming to have the vast majority of individuals in Tier 1B of the state's vaccination plan fully immunized by late April — an ambitious timeline that largely is dependent on how many doses are distributed at the federal and state levels.
The Flathead City-County Health Department, along with Kalispell Regional Healthcare, are administering approximately 2,400 doses per week. Half of those are going to waitlisted Tier 1B individuals who have yet to begin the vaccination process, and the other half are earmarked for those who have received their first dose but are awaiting their second.
County Health Officer Joe Russell told the Board of Health on Thursday he anticipates almost all of the valley's frontline health-care workers will be fully immunized within a matter of days. Hospital staff deemed high risk for contracting the virus were some of the first to be vaccinated beginning in mid-December under Gov. Greg Gianforte's vaccine distribution plan.
State officials reported nearly 59,000 Montanans were fully immunized as of Wednesday. That included more than 3,600 Flathead County residents — only about 4% of the county's population.
"We are really trying very hard to move forward and get those vaccines distributed as quickly as possible to second-tier people. We are still receiving a steady distribution from the state," Russell said. "The whole process is flowing really well for the most part. You see other counties running into issues, but our system is working."
Flathead Valley clinics are running three days per week, and according to Russell, staff and volunteers are comfortably administering 800 to 950 doses each day.
And while progress has been made in recent weeks, Russell has said in recent interviews with the Daily Inter Lake that Flathead County is home to at least 30,000 people who qualify for shots under Gianforte's Tier 1B criteria — an estimate hospital officials say might be conservative. Therefore, at least 26,000 more individuals must be fully vaccinated by the end of April if health officials are going to reach their tentative goal.
The health department continues to sort through a sizable backlog of callers interested in scheduling their vaccine appointments, in addition to maintaining online appointment request forms. Russell reiterated staff are doing their best to respond to calls in the order they were received, though he said it's likely callers are still waiting a few weeks to hear back from the health department.
Until recently, the health department has encouraged people to leave only one voicemail when attempting to set up an appointment. But according to a Thursday news release, if someone called or submitted a request form prior to Jan. 25 and has not heard from staff, officials now are asking those people to resubmit their information via the online platform.
"We are continuing to utilize all of our available resources to get vaccines in arms," Russell said. "Our staff remains dedicated to vaccinating the remainder of Tier 1B."
Russell has said the health department and the hospital are scheduling appointments based on the number of doses Flathead County receives from the state.
While distribution to the area has been steady, he said during January's Board of Health meeting that vaccination clinics have the capacity to administer more, should their allotment increase.
MEANWHILE, GIANFORTE and all three members of the state's congressional delegation — Republican Sen. Steve Daines, Democratic Sen. Jon Tester and Republican Rep. Matt Rosendale — have called on President Joe Biden's administration to send more vaccines to the state, which has received relatively few doses per capita.
During a news conference Wednesday, Gianforte said Montana health officials and providers have proved to be efficient by administering more than 90% of doses delivered to the state. Gianforte said he had spoken directly with White House officials and persuaded them to start sending vaccine shipments to a health-care center in Missoula through a new distribution program, but more doses are needed across the state.
"I appreciate the Biden administration's responsiveness to that request, and that of our bipartisan congressional delegation, to get Montana its fair share of the vaccines," Gianforte said.
Despite multiple discussions with the White House, Gianforte said, "We do not have clarity on how the allocations are being done, or why Montana lags most of the other states in the country on the per-capita allocation. We will continue to press them because we've proven we can get shots in arms, and this is really the light at the end of the tunnel that is going to make life brighter for all of us."
Gianforte last week rescinded a statewide mask mandate issued by former Gov. Steve Bullock, prompting criticism from public health experts who called the move premature. The city of Whitefish, along with Lake, Missoula, Gallatin, Lewis and Clark and Butte-Silver Bow counties, have kept local mask requirements in place.
BIDEN AND Jeff Zients, the White House's COVID-19 response coordinator, this week said the United States is on track to have enough vaccine for every American by the end of July.
According to the Centers for Disease Control and Prevention, about 73.4 million doses had been delivered to U.S. states and territories as of Wednesday, and about 57.7 million of those doses had been administered.
More than 208,000 of those doses were delivered to Montana — and that figure doesn't include vaccines provided through the Bureau of Prisons, the Department of Defense, the Veterans Health Administration and the Bureau of Indian Affairs.
Looking only at state allocations, Montana has received relatively little vaccine given the size of its population — 19,483 doses for every 100,000 residents as of Wednesday, according to the CDC. Only eight states had received smaller shares per capita, with Texas, South Carolina, Missouri and Idaho each receiving fewer than 19,000 doses per 100,000 residents. Most other states have received between 20,000 and 30,000 doses per 100,000 residents.
Gianforte and Montana's congressional leaders argued the state should receive more vaccines because it is effective at getting shots in arms and allows few doses to linger in storage. CDC data back that up: only Montana and three other states had administered more than 90% of doses received as of Wednesday.
"Despite Montana's highly effective COVID-19 vaccine distribution and administration, the state has not been granted appropriate dose allocations," Daines and Rosendale said in a recent letter to the Biden administration.
"Since receiving the first shipments in December, Montana has been one of the highest performing states as far as doses administered per 100,000 population," Tester wrote in another letter. "In fact, I am consistently told that if the state received more vaccines, there would be capacity to administer it successfully."
Reporter Kianna Gardner can be reached at 758-4407 or kgardner@dailyinterlake.com Reporter Chad Sokol can be reached at 758-4434 or csokol@dailyinterlake.com
---