Flathead girls in first at state wrestling, six in semis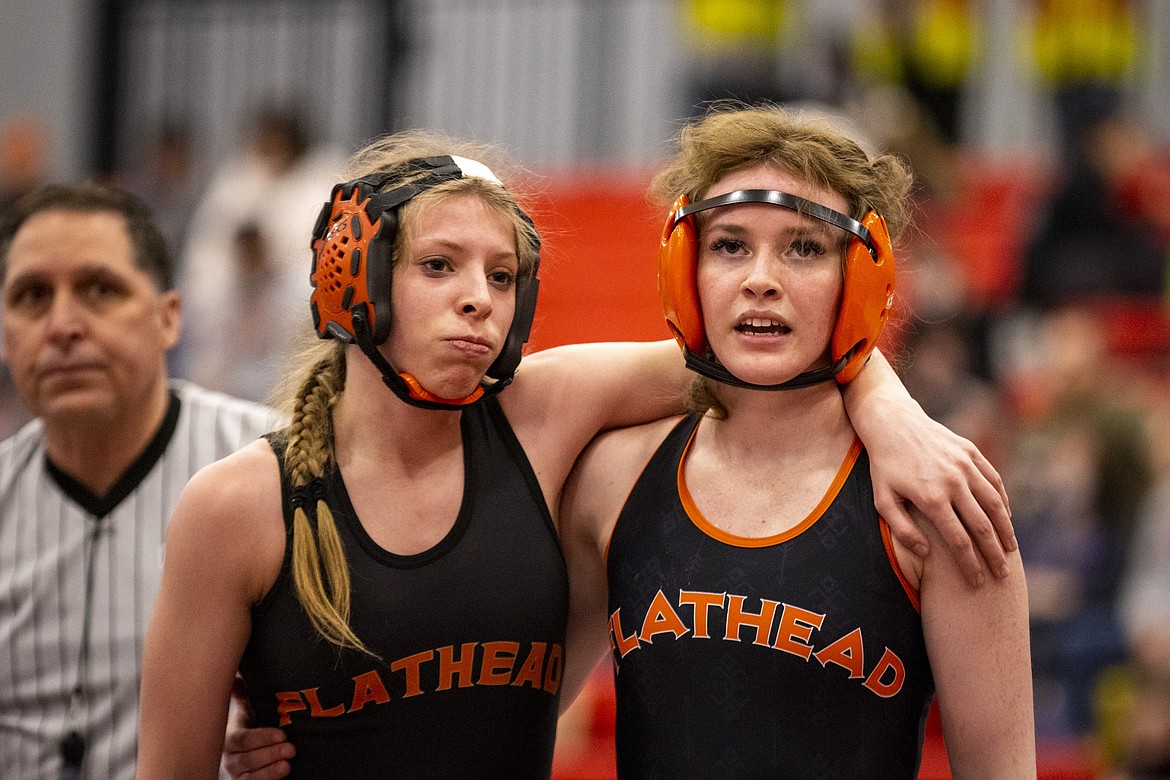 Flathead's Trinity Bolvin, left, and her teammate Hannah Greene leave the mat with their arms around each other after wrestling against each other during the first day of the MHSA girls' wrestling state tournament at Lockwood High School in Lockwood on Friday. (Mike Clark/Billings Gazette)
by
Daily Inter Lake
|
February 19, 2021 10:43 PM
LOCKWOOD — The first day of the All-Class girls' state wrestling tournament seemed to go off smoothly and with few surprises on Friday.
Flathead's girls, who were expected to make a run for a team state title, sit somewhat comfortably in first place with 112 points. Billings Senior trails by 28 points in second place. Glacier is in fifth, with 32.
"We've just got to take care of business," Flathead head wrestling coach Jeff Thompson said. "We're in the driver's seat right now. Overall we exceeded our expectations. So proud of each and every one of these girls."
Eleven Flathead wrestlers qualified for rounds today, including six in semifinals. Glacier has three wrestlers competing.
"It was a unique experience for many of the girls cause it was their first actual tournament," Glacier head wrestling coach Ross Dankers said. "They left their hearts out on the mat and battled through adversity."
At 103 pounds, Flathead's Alyssa Poe-Hatten pinned Kaylee LaPier of Butte to move into the semifinals, where she'll face Kaylin Taylor of Great Falls.
Also at 103, Anna Morrison fell to the consolation bracket after LeeAnn Hoch of Shepherd won by pin in a quarterfinal round.
Flathead had strong showings from Hania Halverson and Skye Shelmerdine at 113. Halverson advanced to semifinals after winning three matches, all by pin. She'll wrestle Jazmin Gorder of Poplar today.
Shelmerdine won her first match against East Helena's Shelby Davis, but fell in the quarterfinal and moved to the consolation bracket, where she pinned Jordyn Wolf of Columbus/Absarokee/Park City.
At 120 pounds, Flathead's Trinity Bolvin advanced to semifinals after pinning teammate Hannah Greene in quarterfinals. Cadence Denney, also from Flathead, was bumped to the consolation round after a quarterfinal loss, but won two matches there (one against Glacier's Emily Pedron, by forfeit).
Flathead's Bella Arriaga pinned Glacier's Maya Smith in the first round but fell to the consolation round at 126 pounds and pinned both of her opponents. Arriaga will face Evija Cagle of Big Sky today. Smith won one match in consolation.
The 132-pound bracket had two first round Flathead-Glacier matches: Flathead's Hannah Embry against Glacier's Temree Payne-Taylor and Glacier's Avery Anderson against Flathead's Lily Conover.
Payne-Taylor beat Embry before a quarterfinal loss, where she was pinned by Emma Gambino of Flathead in consolation. Conover beat Anderson and lost in quarters but will wrestle in consolation today.
Gambino pinned Anderson, then Payne-Taylor in consolation.
Glacier had three girls wrestling at 138: Jessalyn Hewitt, Kayla Peterson and Tori Gragg. All three were bumped to consolation where Hewitt beat Flathead's Isabella Shinn before her day ended.
Aleeya Derlatka of Flathead is in the semis today at 145 against Amilia Blackcrow of Harlem after pinning Billings Senior' Olivia Wilkinson in quarterfinals. Glacier's McKenna McCarthy is still alive in consolation after a win over Maddie Lippy of Florence-Carlton.
Glacier's two competitors at 152 pounds were Audrey Goodsell and Madisyn Frazier, who ended up wrestling each other in the consolation round. Frazier won, and is still in the hunt for a state placing.
In the semis at 170 is Flathead's Boston Howell, who will wrestle Hayla Hoffman of Butte for a spot in the chipper.
Delanie Schultz of Glacier fell to the consolation round before her day ended there.
At 205, Lucille Libby of Flathead pinned Glacier's Shannen Todd and advanced to the semifinals. Todd is still alive in consolation.
The second and final day of action kicks off with semifinals at 9 a.m. today at Lockwood High School.
---