Interest in concealed weapons 'skyrocketing' in Flathead County
by
CHAD SOKOL
Daily Inter Lake
|
February 21, 2021 1:00 AM
Surging sales of guns and ammunition across the Flathead Valley have been accompanied by a dramatic increase in applications for concealed weapons permits – trends that local gun sellers attribute to the COVID-19 pandemic, civil unrest around the country, feelings about the presidential election and the valley's booming population.
Flathead County Sheriff Brian Heino said his department processed a record 392 applications for concealed weapons permits in January, taxing his front-office staff. According to data Heino provided to the Daily Inter Lake, the department processed 2,605 applications in 2020, another record and a 39% increase over 2019. That's despite the fact the front office was closed due to COVID-19 in March and April, and applications were conducted by appointment only for four months afterward.
"We had something happen in November," Heino told the Flathead County commissioners during a meeting last week. "I'm not sure what, but concealed weapons permits started skyrocketing pretty high after the election. So we're processing them as fast as we can."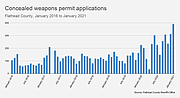 The sheriff's office has had to adjust to meet the demand. It began accepting applications online in September, and Heino told the commissioners he was considering changing the process so applicants could get their photos taken and receive their permits during the same 45-minute blocks. It takes 30 minutes to an hour to process each application, he said. That involves checking training certificates and running criminal background checks.
THE COUNTY figures mirror a national trend. The FBI says it processed a record 39.7 million gun-related background checks in 2020, topping the previous record in 2016 by more than 10 million. The agency conducted a record 4.3 million gun-related checks in January.
Those background checks don't directly correspond with gun sales; they also account for things like concealed-carry permit applications and suppressor sales. The National Shooting Sports Association, an industry group, estimates 21 million of the background checks conducted in 2020 were related to firearm sales.
It seems likely that fewer Montanans will apply for concealed weapons permits after Gov. Greg Gianforte signed a bill Thursday that allows concealed guns to be carried without a permit inside bars and banks. The new law, which took effect immediately, also allows for concealed carry in state and local government buildings, including the Montana Capitol, though permits are required in those spaces. It also allows guns on university campuses.
The bill was met with intense criticism by gun-control groups, and public health experts warned increased access to firearms could boost Montana's suicide rate, already one of the highest in the nation.
NEAR-EMPTY shelves have been a common sight at gun stores around the Flathead Valley for months. Representatives of two major retailers in the area, Sportsman & Ski Haus and Snappy Sport Senter, told the Daily Inter Lake last month they were scrambling to reorder bullets in all calibers and many types of firearms, including handguns, tactical rifles, hunting rifles and shotguns. Production lines have been disrupted due to COVID-19 as well, making it even harder to meet the demand.
Jacob Hutchens, national sales manager for Kalispell-based Falkor Defense, which manufactures high-end rifles, said Friday the company has seen at least a 60% increase in sales since March 2020. The heated political climate and fears of new government restrictions on firearms definitely have something to do that, he said.
"It's been a crazy year for us as a country, so I think now more and more people are interested in buying," Hutchens said. "No matter what kind of election it is, there's always an increase of sales. It doesn't matter who the candidates are. Every four years, traditionally, the gun industry sees a peak."
WILL PARKER, a firearms trainer and owner of Freddie Merc's Gun Wercs in Kila, said interest in his products and services has been unusually high since mid-March 2020, when then-Gov. Steve Bullock ordered many businesses to close their doors to curb the spread of COVID-19. Based on what he's heard from customers, Parker said the government's pandemic response has clearly motivated people to stock up on guns and ammo and seek professional training.
Parker, who offers instruction in concealed carry and defensive shooting, said he typically hosts two or three classes per month, but recently he hosted classes on eight days back-to-back. Gun and ammo sales from his store have been steady, too.
After crunching some gross revenue figures Thursday, Parker said he's seen "a 569% increase in business since last year."
MIKE KRACHUN, owner of Bigfork Guns and Ammo, said many of his customers have expressed concern that President Joe Biden's administration will seek to restrict access to guns.
Biden's campaign website describes gun violence as a public health epidemic, noting nearly 40,000 Americans are fatally shot each year and many more are wounded.
Among other goals, the president's platform includes closing various loopholes in the federal background check system; requiring background checks for all gun sales; banning the manufacture of military-style assault rifles and high-capacity magazines; launching a voluntary assault-weapons buyback program; limiting how many guns people can purchase to one per month; and reinstating an Obama-era rule that prohibited selling guns to people who could not manage their affairs for mental reasons.
"People don't want to lose their guns," Krachun said, adding some people are "stocking up on ammunition and buying guns that they may think there's going to be a problem with down the road."
Krachun said he's seen "a lot of new gun owners" but also "quite a few husbands and wives" and "a lot of new people that just moved into this area in the past year." Many customers have purchased three or four guns at a time, he said.
"They just want to exercise their rights, I guess," Krachun said. "They couldn't do that where they're coming from, in California and back East."
WHILE THE gun market has always fluctuated for a variety of reasons, Hutchens, with Falkor Defense, said this year's prolonged growth has been surprising. The company's sales just recently began to plateau, but it's still producing and shipping guns at a brisk pace to keep up with unusually high demand, he said.
"Things typically drop off around Christmas time, after hunting season, just because people are buying Christmas gifts for their family and stuff like that," Hutchens said. "And this last year, we didn't see any sort of lull or dropoff, anything like that."
Reporter Chad Sokol can be reached at 758-4434 or csokol@dailyinterlake.com
---