Kalispell's oldest living ex-cop recounts storied career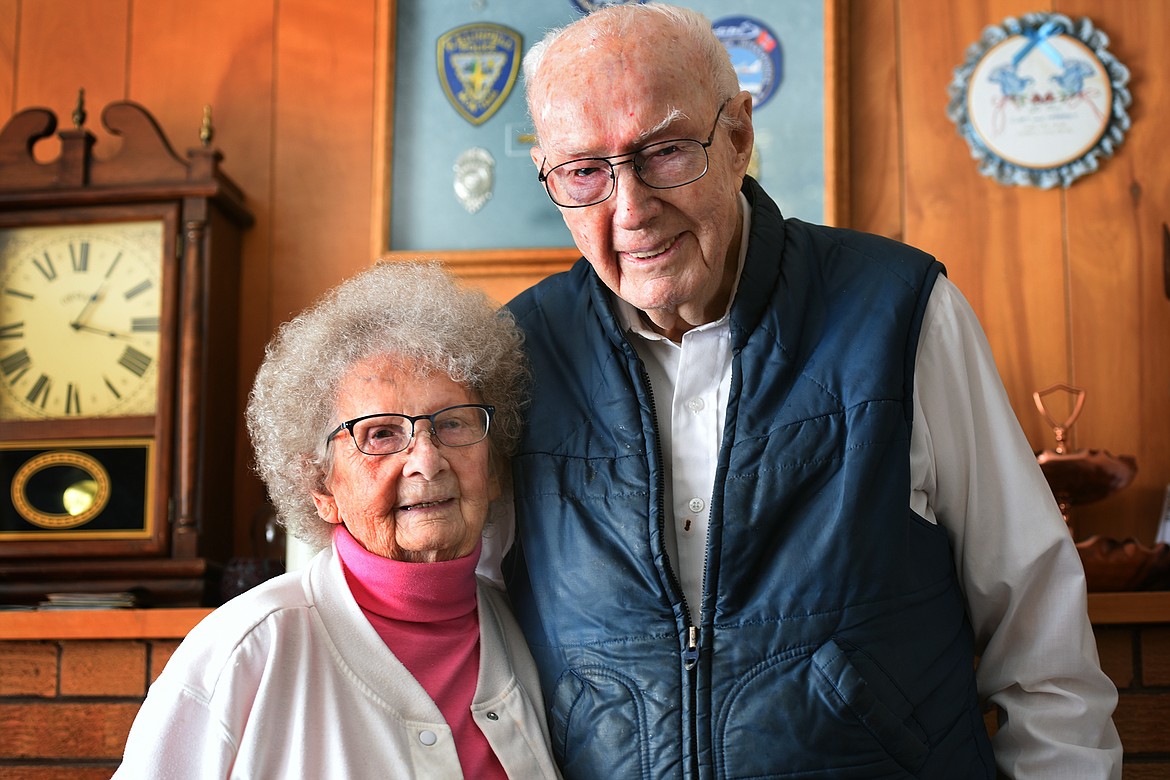 Curtis J. Snyder spent 41 years working in law enforcement in Kalispell, serving as a police officer, Flathead County Sheriff and as a founding member and the first Chief of Security at Glacier International Airport. Curtis and his wife Harriet will celebrate their 75th wedding anniversary later this month. (Jeremy Weber/Daily Inter Lake)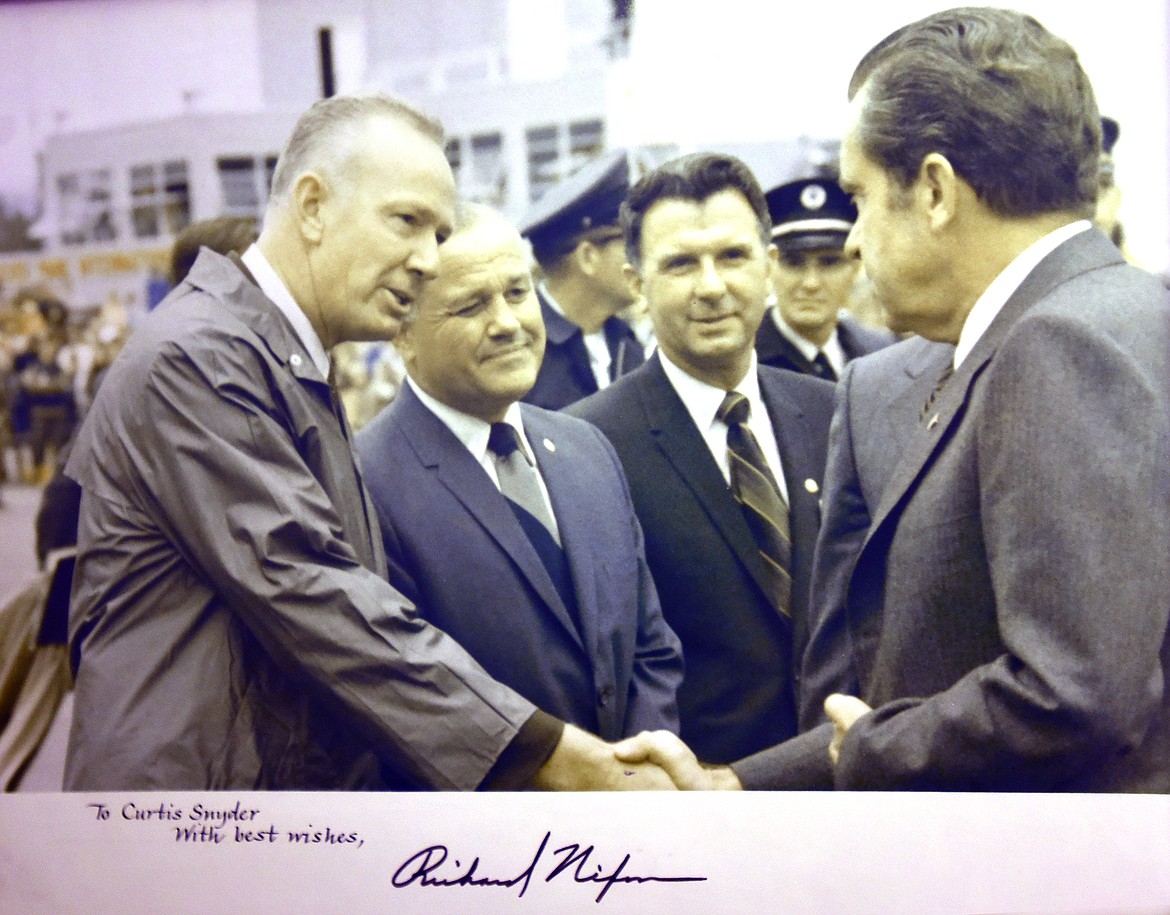 A signed photo of President Richard Nixon shaking hands with Curtis J. Snyder at Glacier International Airport in 1971 hangs on the wall of the former Flathead County Sheriff's home. (Jeremy Weber/Daily Inter Lake)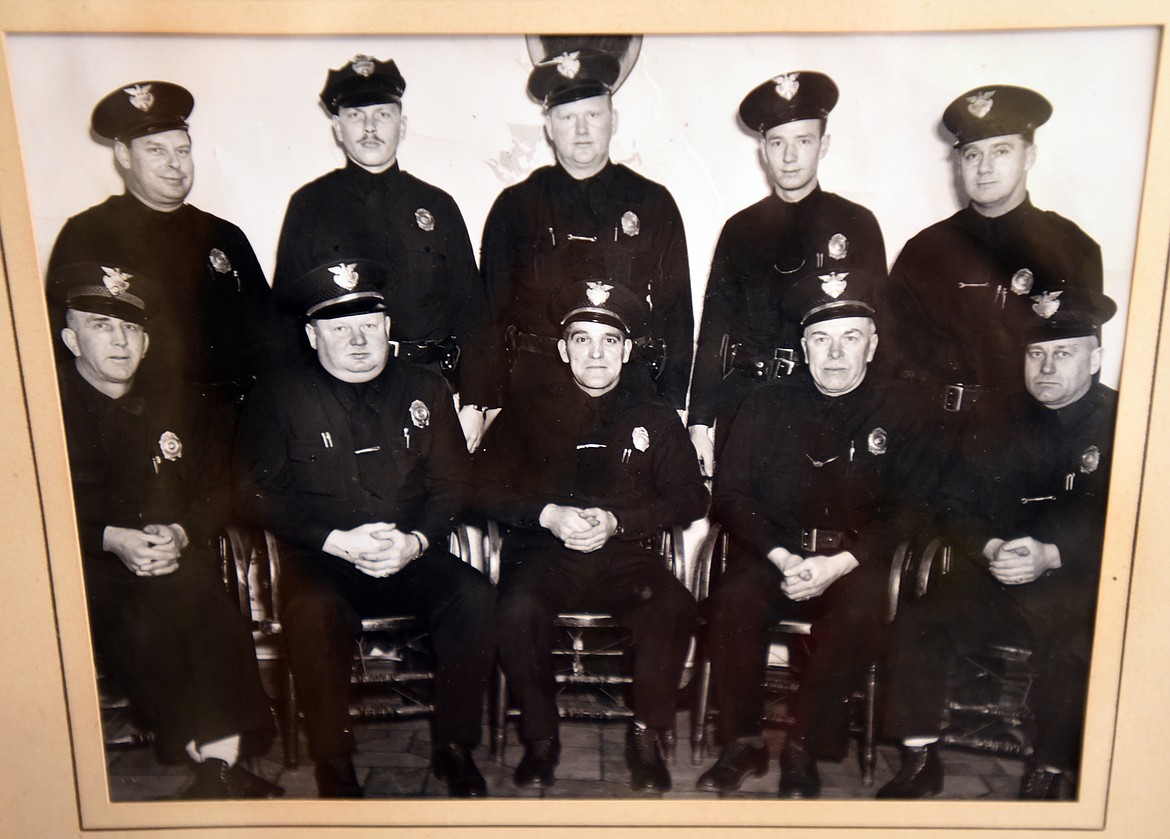 Curtis J. Snyder (top row, second from right) as a 22-year-old rookie with the Kalispell Police Department in 1950. (courtesy photo)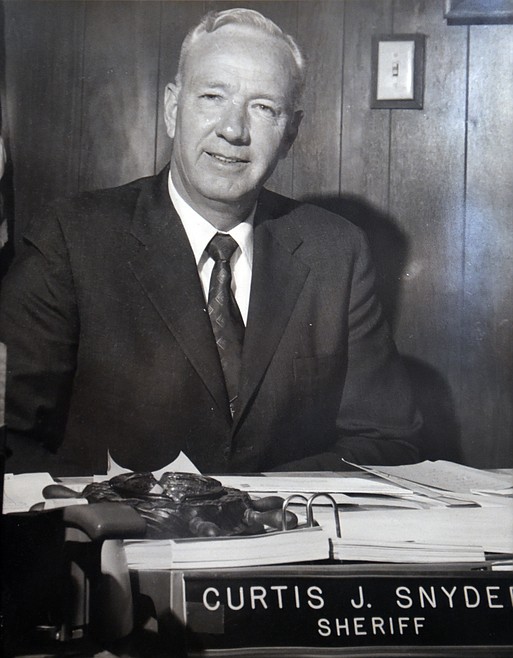 Curtis J. Snyder during his time as Flathead County Sheriff. (courtesy photo)
Previous
Next
by
JEREMY WEBER
Daily Inter Lake
|
February 22, 2021 12:00 AM
Curtis J. Snyder, 93, saw a little bit of everything during his 41 years in law enforcement.
Kalispell's oldest living ex-cop, Snyder spent 20 years with the police department before serving one four-year term as Flathead County Sheriff and later went on to form the security force at Glacier Park International Airport, serving as its first chief.
From 1950 to 1991, Snyder chased the bad guys, sometimes quite literally, on the streets of Kalispell and beyond. During his four decades on the job, Snyder helped put murderers and other criminals behind bars. He was Kalispell's first plain-clothes investigator, claims to have made the first marijuana arrest in the city's history, (helped by the county's first search and rescue helicopter for $13), met two sitting U.S. presidents and worked security for a third, and remains the only Kalispell police officer to ever catch a bank robber.
Sitting in the living room of the home where they have lived for the past 51 years, Curtis and his wife Harriet, who will celebrate their 75th wedding anniversary next month, say they have lived a simple life, but the stories they recount say otherwise.
BORN IN Missouri during the Great Depression, Curtis and his family moved to Iowa in 1936 before relocating to Montana in 1942. After spending the early years of World War II in California, the family moved back to Iowa for a short time before settling permanently in Montana in 1944.
It was in the spring of 1944 that 16-year-old Curtis met the love of his life when Harriet, then 15, asked him to show her how to skate at the Dorado Roller Rink, located above what is now the Kalispell Western Outdoor store. It didn't take long for Curtis to realize Harriet may have understated her skating ability.
"She said that she wanted me to teach her how to skate. Turns out, she wound up teaching me how to skate," he said as they both chuckled.
The couple quickly became inseparable, but the dark cloud of the war loomed over any future plans. Knowing he would likely be drafted into military service, Curtis enlisted in the Army just before his 18th birthday in 1945. He hoped that by volunteering, he would be able to come home sooner than those who were drafted. It was a plan that would backfire as the war ended sooner than Curtis expected.
"The other guys his age that were drafted were all coming home when he was leaving to go to Japan," Harriet laughed.
"Yeah, we called them tourists," Curtis added.
For his training, Curtis was sent back to Missouri where he was stationed at Camp Crowder in Neosho. When 17-year-old Harriet braved the long train ride to visit, the couple decided it was time to get married. Curtis got permission from his commanding officer and he and Harriet set out to find a chapel, but there was a slight problem. Both underage, Harriet and Curtis could not be legally married in Missouri. Undaunted, the couple made the short trip across the border to Kansas, where they were married in the town of Columbus.
CURTIS SPENT close to a year with the 1st U.S. Cavalry Division in Japan before returning to the United States, where he left the Army in 1947.
"I'll never forget that bus ride home from Salt Lake City to Kalispell. We came over the hill in Polson and there was Flathead Lake in front of us. That was the moment when I finally felt like I was back home," he said.
He picked up odd jobs, doing some hauling with his truck, delivering cord wood and even working as a powder monkey carrying dynamite to help build the spillways for the Hungry Horse Dam. There, he spent his days carrying boxes of dynamite on his shoulder with the detonators tucked away in his shirt pocket. "But that", as Curtis is fond of saying, "is a whole 'nother story."

It was during one of Curtis' firewood deliveries to Conrad Bank in downtown Kalispell that he had a short exchange that would change his life forever. As Chief of Police Meade James wandered by, he turned to Curtis and asked "When are you going to quit this lousy job and come work for me?"
Curtis was sure he was joking, but soon the chief called on Harriet to make sure she would be OK with her husband joining the police force.
After giving it some thought, Curtis decided to sit for the police exam. Three commissioners sat at City Hall and graded his test as he turned it in. When the last page was graded, they told him he had passed and that he had better go to the police station and speak with Chief James.
The chief was ready to put Curtis to work, assigning him a shift the next night and advising him to find a uniform and gun before then. Armed with a gun and belt purchased from the officer he was replacing and wearing a shirt he had borrowed from the chief, Curtis showed up for his first 8 p.m. to 4 a.m. shift, which he spent shaking doors around town to make sure they were locked. Lucky for him, they all were.
There was no real training. You were supposed to know the law," Curtis said. "They just handed me a book with all of the state codes in it and told me to start studying it. I got that and a list of the city ordinances. That was my training."
POLICE WORK was different back then and Kalispell was a much smaller town. He recalled the many times he would be the only police officer on duty in town, walking up and down the sidewalks of Main Street, always checking the sides of the buildings for the signal lights that meant there was a message waiting at the phone company.
While most days were quiet, there were some that were anything but tranquil.
Curtis said he was in a small bookstore on Second Street when he saw the signal light come on. His call to the phone company revealed that attorney Charlie Baldwin had just been shot while in his office. Realizing he was across the street from Baldwin's office, Curtis and another officer quickly made their way to the scene of the crime.
"Charlie had been shot all right, shot right between the eyes. He was very dead, but there wasn't much we had left to do about it," Curtis said. "Charlie's son, Roger, had been in the office adjacent to him and came over and disarmed the shooter, who turned out to be a disgruntled client."
Curtis was running radar on South Main on the afternoon of May 8, 1956, when he saw Sheriff Richard Walsh drive by at high speed. Sure enough, the call soon came across the radio that the Somers Bank had been robbed. Curtis and his two fellow officers got a description of the getaway car over the radio and quickly set to work. One went to assist the sheriff in Somers, another went to block Airport Road and Curtis went to block Four Corners.
Curtis was sitting in his patrol car with Deputy Louis Hill, who was unarmed, when a car that met the description came driving up.
"All I had was my little .38 revolver, but I flagged him down and for some odd reason, he actually stopped. I expected trouble, but I didn't get it," Curtis said. "When I got him out of the car, I could see his gun and the money sitting on the seat next to where he had been sitting. I took him into custody and we took him back to the Sheriff's Office."
The capture earned Curtis a letter of thanks from one of his heroes, legendary FBI Director J. Edgar Hoover. To this day, the framed letter hangs on the wall in the Snyder home.
"I always wanted to meet Hoover, but I never did. That letter was as close as I ever got."
IN 1970, Curtis retired from the police department and was elected the Flathead County Sheriff. When asked why he decided to trade in one law enforcement job for another, Curtis jokingly replied: "Pure stupidity."
Elected on a Republican ticket, Curtis said he knew he would serve only one term as Sheriff after the Watergate scandal in 1972.
After his time as Sheriff, Curtis helped create the security force at Glacier Park International Airport, where he served as the first chief of security until he retired from that position in 1991.
It was at the airport that Curtis got to meet two presidents, first as Sheriff in 1971 when Richard Nixon came to town and again in 1975 when Gerald Ford came to Montana.
Curtis also worked security in 1952 when Harry S. Truman came to dedicate the Hungry Horse Dam. Curtis did not get to see the president that time, but Harriet had an encounter with the "forehead of state" when she was invited to Truman's hotel room by the Kalispell head of the Republican Party. She proudly caught a glimpse of the top of Truman's head before being asked to leave.
WHILE CURTIS is proud of the many criminals he was able to get off the streets during his career, he said there are unsolved mysteries that still bother him, such as the two missing girls in their early teens who were never found.
While Curtis is convinced that Karl Randall "Randy" Bachman, who was convicted in 1977 for the 1973 slaying of two young girls near Marion, is responsible for the disappearances, he doubts he will ever have closure on the subject.
"In my mind, I know who did it and what happened to them. I'll just never be able to prove it," Curtis said. "I'm convinced Bachman is responsible, but I am not sure anyone has even ever talked with him about those other two girls. He's in prison, though, where he deserves to be. He can stay there until he dies as far as I am concerned."
During his 41 years in law enforcement, the goal was always the same — get the bad guys off the streets. It was a job Curtis did well. While he and Harriet say they have lived simple lives together, they never said their lives were not interesting.
Reporter Jeremy Weber may be reached at 758-4446 or jweber@dailyinterlake.com.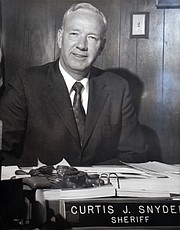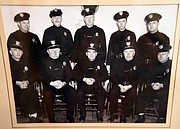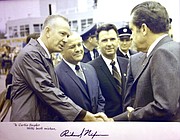 ---