Avalanche warning extended for parts of NW Montana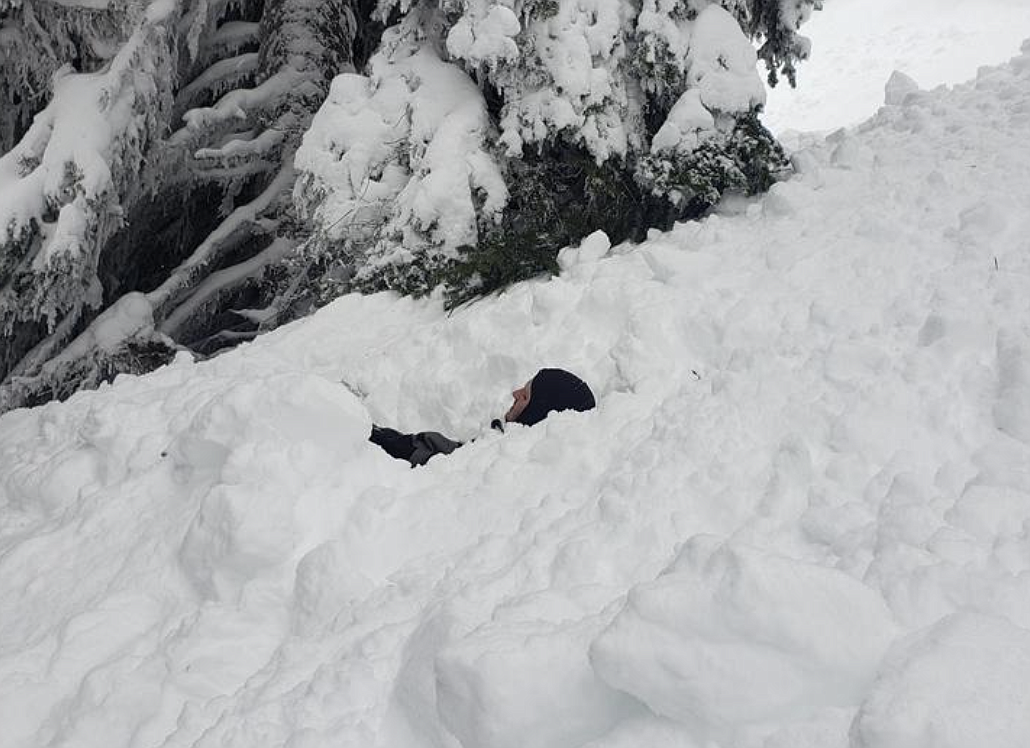 A snowmobiler is buried to his neck after getting caught in an avalanche on Doris Ridge in the Swan Mountains. (Flathead Avalanche Center)
by
MATT BALDWIN
Daily Inter Lake
|
February 23, 2021 11:00 AM
Backcountry skiers and snowmobilers were advised to stay out of avalanche terrain through Wednesday morning due to dangerous snowpack conditions across Northwest Montana.
The Flathead Avalanche Center on Tuesday extended an avalanche warning for the Flathead and Swan Ranges, and the Lake McDonald and Marias Pass areas of Glacier National Park. Monday's warm and wet storm added stress to the mountain snowpack and is overloading fragile, reactive weak layers, the Avalanche Center warned. Large and deadly avalanches could easily be triggered by a skier or snowmobiler.
"The storm took its time to arrive, but it has delivered well over an inch of water to the Swan Range, the Flathead Range, southern Glacier Park, and interior Glacier Park," the Avalanche Center noted in its Tuesday advisory.
"We recommend that you avoid all avalanche terrain today. That includes slopes underneath, or connected to avalanche terrain. If you can not identify these slopes, this is a day for you to avoid the backcountry."
There have been numerous close calls with human-triggered slides over the last week.
On Feb. 20 a snowboarder with a group of four set off an avalanche in the Dorothy's area above Canyon Creek just north of Whitefish Mountain Resort. The snowboarder was able to ride out of the avalanche unscathed, but described it as a hairy situation nonetheless.
"Just before I got to the steep terrain the snow fractured around me and I decided to point it slightly skiers left and was able to ride out of it," the snowboarded stated in a report from the Avalanche Center.
The crown of the avalanche was about 2 feet deep and 150 feet wide.
"I should note that it definitely took some riding to get out of the avalanche. It was not like I just pulled off to the side. Pretty scary stuff. I was lucky to ride out of it. The experience will lead to a little more conservative decision making."
Also on Feb. 20, a snowmobiler suffered minor injures after getting swept up in an avalanche while riding on Doris Ridge in the Swan Range. The rider was buried up to his neck with just his head and arm exposed. 
In his report to the Avalanche Center, the rider said the accident was the result of a "series a poor judgments in thicker trees on an east facing slope."
"Make good choices people; we are better than this."
Yet another close call in Canyon Creek occurred Feb. 18 when a snowmobiler was caught in a slide that carried his sled into a tree. He managed to jump off his machine as the slide broke and escaped being carried.
So far this month there have been 25 avalanche-related deaths in the U.S. There were 23 total avalanche deaths in all of 2020.
For the latest avalanche advisory, visit www.flatheadavalanche.org.
---