Zombie survival camp spotlighted in national publication
by
BRET ANNE SERBIN
Daily Inter Lake
|
February 23, 2021 12:00 AM
An outbreak in Kalispell recently drew national attention — a zombie outbreak, that is.
Parks Director Chad Fincher and Superintendent Mark Freidline put their city in the spotlight recently with an article they wrote for Parks and Rec Business (PBR) magazine about Kalispell's annual Zombie survival camp.
"Each summer in the northwest corner of Montana, a strange and horrifying occurrence repeats itself for one week — the Zombie Apocalypse," Fincher and Freidline wrote in the February issue of national monthly publication. "…And what keeps these unsuspecting residents and tourists safe during this invasion of the undead? The fearless and well-trained campers from Kalispell Parks and Recreation's Zombie Survival Camp."
Kalispell's Zombie Survival Camp debuted in 2017.
The unorthodox idea arose as a way for Kalispell Parks and Rec to address a programming gap that previously plagued the last week of summer before students went back to school in the fall.
Kalispell's traditional summer camp usually ends a week before the start of the school year, because most counselors on summer break from college go back to campus before the start of the K-12 semester.
The solution, naturally, was zombies.
Zombie Survival Camp enlists the assistance of many community volunteers to provide survival skills and an unforgettable experience for campers. Girl and Boy Scouts, high school theater programs and everyday zombie enthusiasts have all lent a hand in various roles at Zombie Survival Camp.
THE CAMP takes place in a dystopian Woodland Park beset by a mysterious illness that transforms ordinary citizens into staggering monsters with a taste for human flesh.
To evade the undead, camp participants learn emergency preparedness skills, like first aid, orienteering, fire building and wound care treatment. Though these skills are taught in the context of a supernatural invasion, Fincher and Freidline point out these lessons could be applied "if participants find themselves in an actual disaster, such as a wildfire or other emergency."
After making sure they're prepared for anything, the campers get a science lesson by investigating the cause of the zombie outbreak. The young scientists spend time in a lab trying to synthesize a cure for the disease using a procedure that draws DNA samples from strawberries.
But in case this route isn't successful, they also develop a fallback plan to fight their way past the zombies. Campers build their own bows and practice their marksmanship with the bow and Nerf guns. That way, they're ready for the human-zombie showdown that inevitably erupts on the last day of camp.
Volunteer zombies, made up in nightmarish costumes and theatrical injuries, descend upon the humans' camp. The base location changes every year to keep campers on their toes, just in case a zombie attack isn't exciting enough on its own.
Campers must use the assorted skills they developed from the rest of the camp to avoid falling into the clutches of the zombies. In their article, Fincher and Freidline call "the well-trained campers" "the city's last line of defense."
Zombie Survival Camp has been lauded as a creative way to fill a programming space. Now heading into its fourth season, the experience seems more relevant than ever.
In fact, Fincher and Freidline reported August 2020 was the busiest season for the camp so far, despite adjustments that were made to adapt a zombie attack to the COVID-19 pandemic.
"…The interest from children and parents has been incredible," the pair wrote.
More information about Zombie Survival Camp and the Kalispell Parks and Recreation Department can be found on their website at: https://www.kalispell.com/237/Parks-Recreation
Reporter Bret Anne Serbin may be reached at 758-4459 or bserbin@dailyinterlake.com.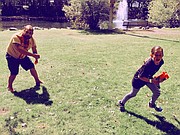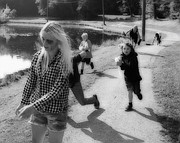 ---