Nancy Cawdrey Gallery hosts online art show
|
February 25, 2021 12:00 AM
Nancy Cawdrey Gallery in Whitefish is hosting a one-woman show by Montana artist Amanda Wilner through March 19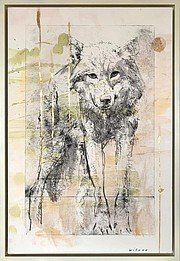 on Artsy.net.
Wilner recently joined the gallery's represented artists with her contemporary abstract oil paintings and hand-pulled limited edition monoprints. Large blocks of monotone color reveal themselves to be composed of many layers, colors and textures upon closer inspection.
"Amanda's work is refreshing in its multi-layered application, where the background is an important element of the animals she depicts. She gives them space," artist Nancy Dunlop Cawdrey said.
Wilner was born in Philadelphia, grew up in Washington, D.C., has a Bachelor of Arts in Design degree from the University of Pennsylvania, has trained at the New York Studio School and holds a Masters of Fine Arts degree from Utah State University. From 2000 to 2006, she was a lecturer of art and design at the University of Michigan among other institutions. Since moving west in 2009, her work has been shown in the Missoula Art Museum, the Yellowstone Art Museum and in galleries and art fairs across the country.
"There is a sculpture-like essence to her paintings: a singularity and a completeness. It is as if Wilner has painted the sides and the back of the piece although no one can see it," said art historian and consultant Michele Corriel.
As the Nancy Cawdrey Gallery moves to a new space, all upcoming shows will be online exclusive on Artsy.net until construction is completed at 206 Lupfer Ave. in Whitefish. They hope to open the new space in May in time for the first Whitefish Gallery Nights and in-person art shows, while including virtual viewing to expand the reach nationally and globally.

Follow Nancy Cawdrey Gallery on Instagram or Facebook for updates, or on Artsy.net/nancy-cawdrey-gallery.
---