A simple view of life: North Fork artist paints Glacier scenes from his front porch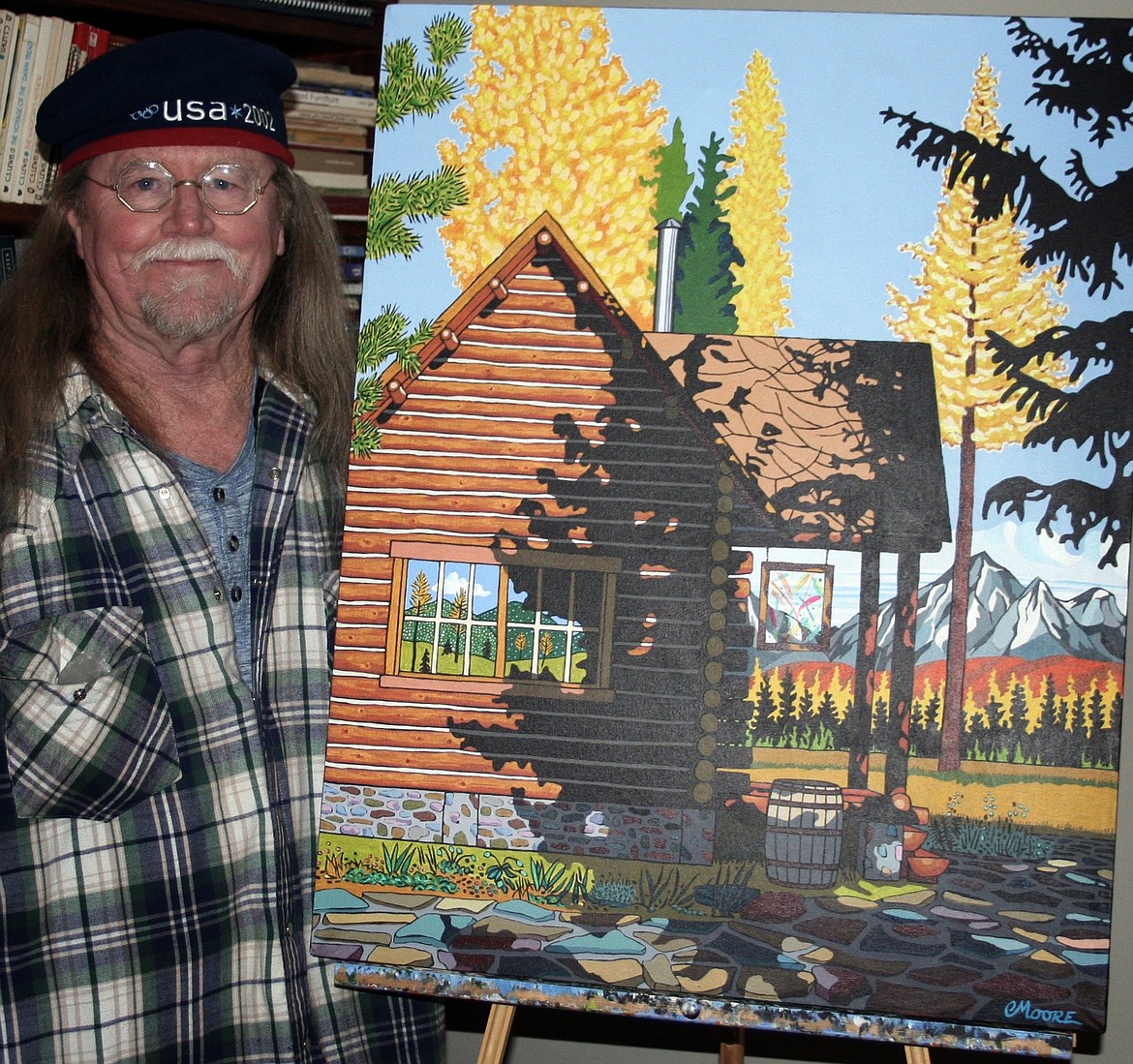 Artist Peter Moore shares one of his latest paintings, an image of his cabin in the North Fork. (photo provided)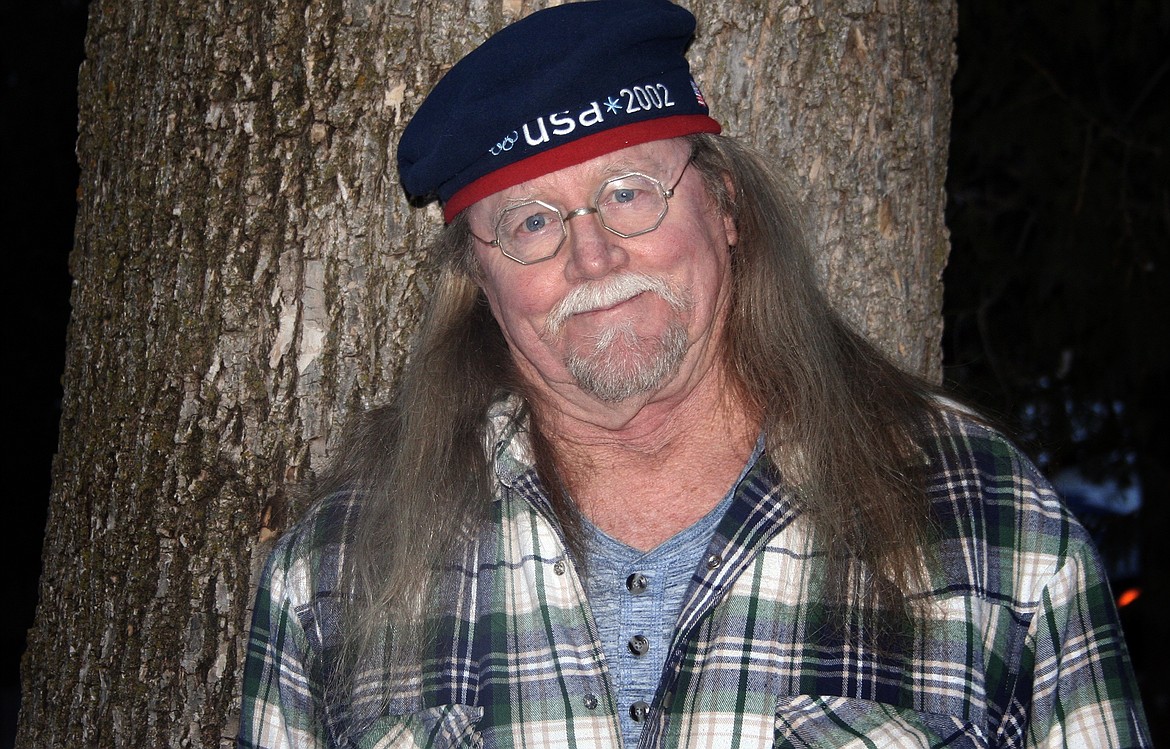 At age 72, North Fork artist Peter Moore continues to use his paintings to share his view of Glacier Park and beyond. (photo provided)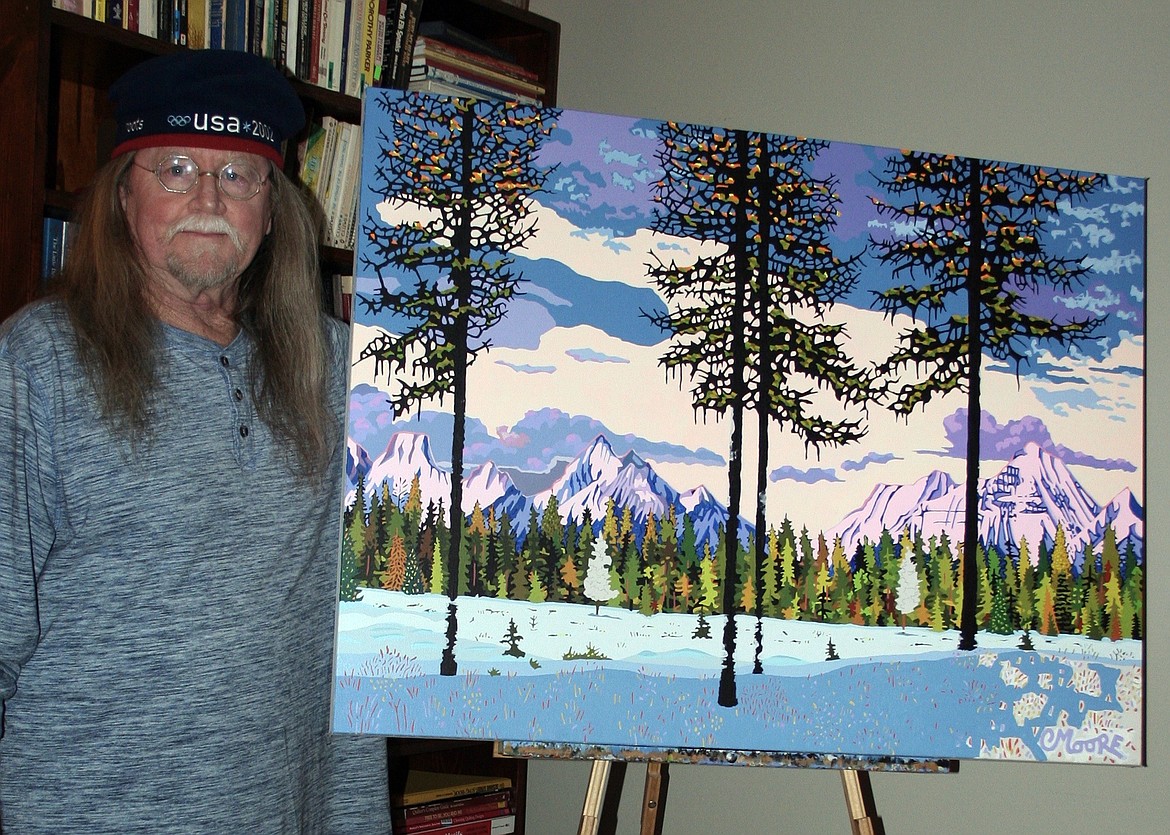 North Fork artist Peter Moore shows off some of his latest work from his winter residence in Minnesota. (photo provided)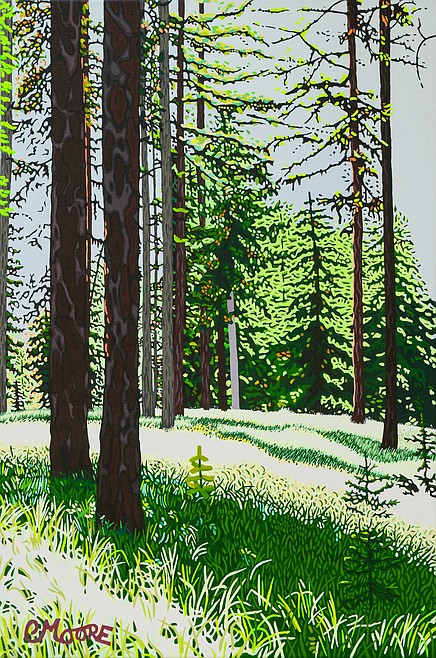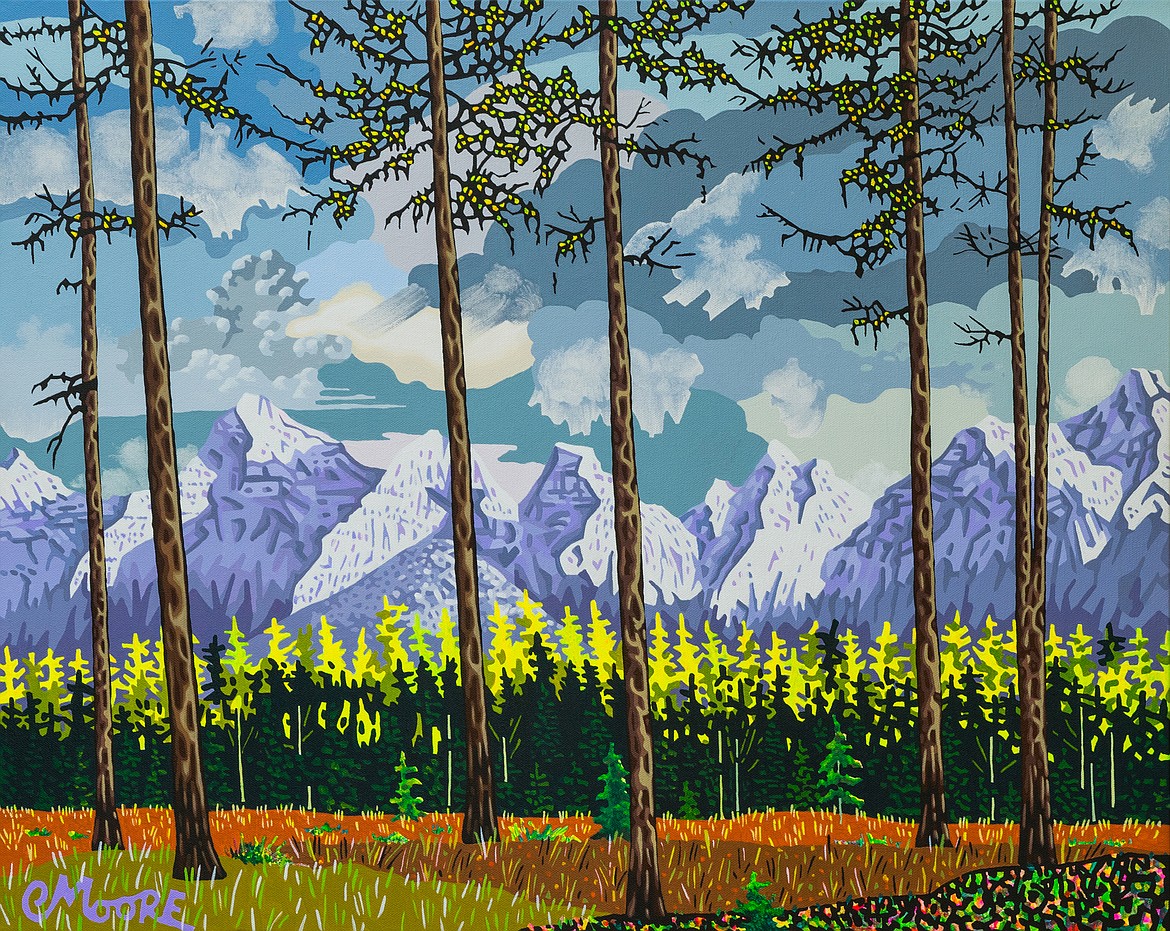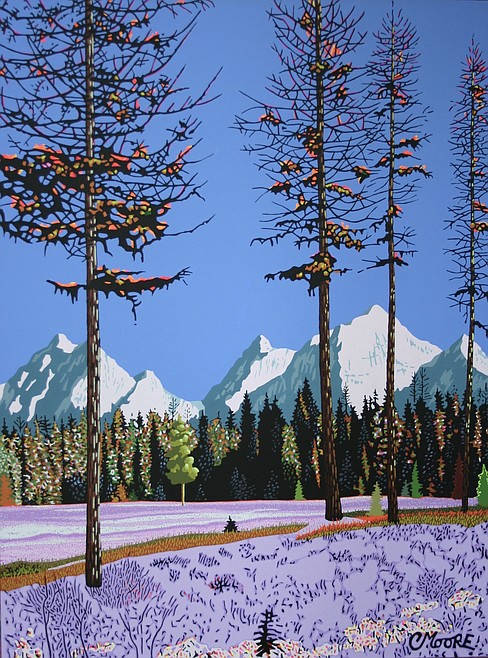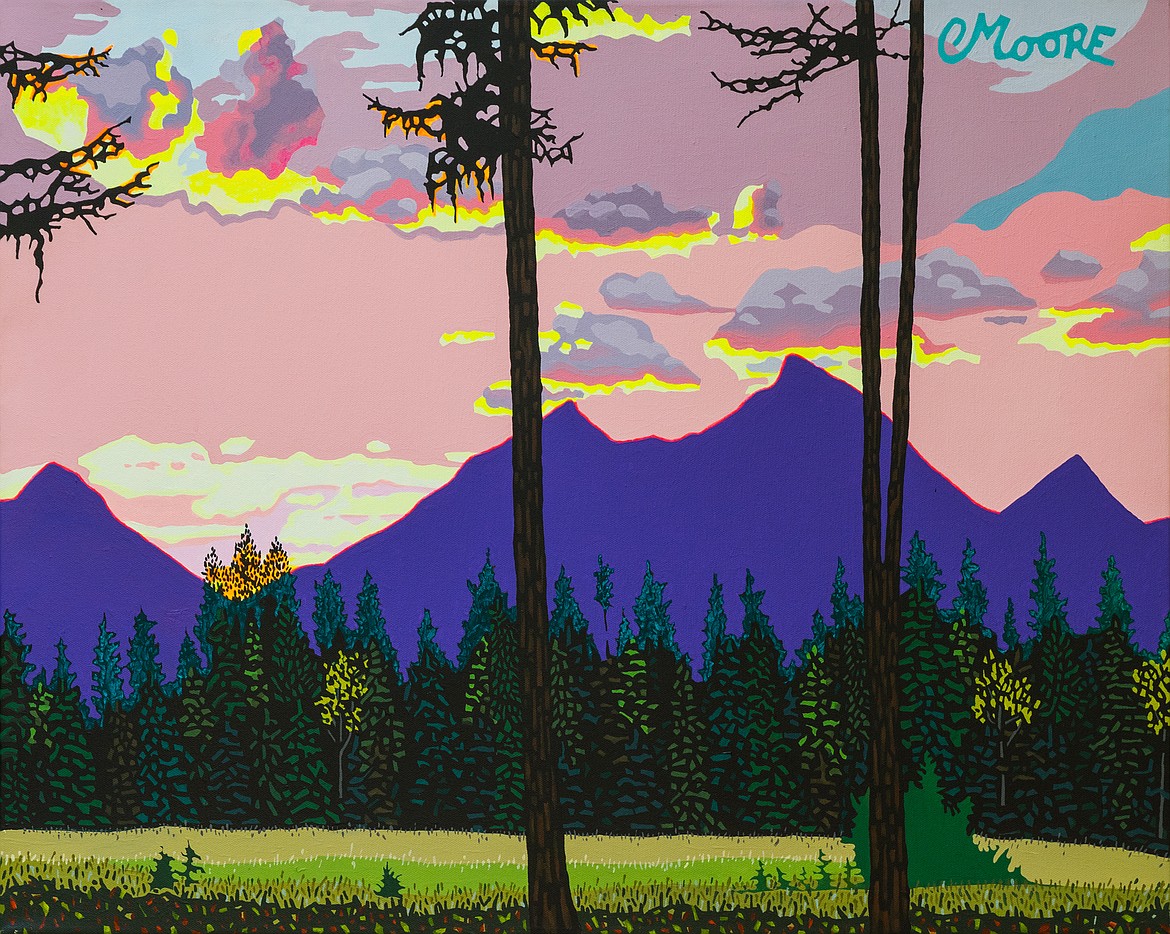 Previous
Next
by
JEREMY WEBER
Daily Inter Lake
|
January 3, 2021 12:00 AM
Painter Peter Moore has a truly unique view of the world.
For the past 42 years, Moore has called Montana his home, spending his time off the grid in the North Fork in the small, rustic cabin he built by hand in 1979. With no electricity, running water or indoor plumbing, Moore has enjoyed the simple life while focusing on what he truly loves — art.
Moore has worn many hats over the years to help pay the bills, such as spending time working on a logging crew and a few decades as the bartender of the Northern Lights Saloon in Polebridge, but he would much rather be found on his porch, paintbrush in hand, capturing the beauty that drew him to Montana in the first place.
At age 72, a pair of strokes in the past 10 years have done little to slow down Moore's keen wit and artistic vision as he continues to produce new paintings, which currently can be seen at the Whitefish Pottery and Stillwater Gallery in Whitefish.
Born and raised in Minnesota, Moore was introduced to Montana on a family trip to Glacier Park in 1962.
"When I was 13, I visited Montana and Glacier Park with my uncle and my brother and I fell in love with it," Moore said. "We spent a week hiking and camping and I told myself then that I was going to build a cabin and live in Montana someday. Seventeen years later, I made that dream come true."
MOORE EVENTUALLY made Montana his home, but it was not an easy road.
After high school, Moore attended the University of Minnesota, Twin Cities, where he studied Liberal Arts for three years. He spent much of the 1970s hitchhiking across the Western United States and doing odd jobs, but returned to the University of Minnesota to study studio arts in 1978.
"I had jobs when I was young, but never anything for more than five or six months. I moved around a lot, but the art was always the one constant," Moore said.
Oddly enough, it was the mountain pine beetle that would change Moore's life and give him the opportunity to fulfil his dream of living in Montana.
Moore's grandfather had homesteaded in the North Fork in 1918 after serving in World War I. The land remained with the family, but was still mostly untouched when the letters started coming from logging companies in the late 1970s. The letters warned of the growing danger presented by the pine beetles and urged the family to allow the timber on their land to be harvested.
With the family not sure what to do, Moore saw it as his opportunity to get to Montana and volunteered to drive out to the North Fork to assess the situation.
With a car full of camping gear and other essentials, Moore set out on his great adventure. He made it as far as North Dakota before the old car, on its last legs to begin the trip, finally gave out for good.
Undaunted, Moore walked to the nearest Chevy dealership and, not taking no for an answer, sold the car to the reluctant owner for $25.
After shipping his possessions ahead to Whitefish, Moore was prepared to hitchhike the rest of the way, but a chance meeting over a game of pool that evening led to him finding another mode of transportation.
"I ran into an engineer and brakeman on a train headed west and we hatched a plan to sneak me onto the train the following morning."
WHEN HE finally arrived, Moore purchased a pickup and a chain saw (the chain saw costing more than the truck) and headed out to find the family land in the North Fork. Moore spent that summer working as a logger, and using the chain saw to fend off grizzly bears from his campsite a few times, before finding a local who agreed to supply him with the logs he would need to build a cabin in exchange for the opportunity to do some logging on Moore's land. After a lot of hard labor, Moore finished building his cabin for just over $3,000. He was officially a Montana resident.
Able to once again concentrate on his painting, Moore spent countless hours watching the sunlight and shadows make their way across the mountain peaks and valleys of the North Fork, using his brush to capture his vision of the beauty before his eyes.
With his small brushes and acrylic paint, Moore strives to capture the world as he sees it.
"I paint what I see, and from my front porch I can see Glacier Park. Many of my paintings are the views of the mountains, clouds and trees that I see every day," he said. "Nobody paints quite like I do. I don't have a lot of schooling in the subject, so my style is unique. Painting is my life. It's what I do and I paint what I see. I don't want my paintings to look exactly like what I am looking at. My goal is to convey the essence of what I see so people can understand how I view things. My mantra is 'Keep it simple, always keep it simple.'"
AND SO it was that Moore made his dream come true, living in Montana and working on his art. The bartending job paid the bills and Moore even found time to try more adventurous endeavors, such as running for President several times — seriously. Moore, using his nephew as a running mate, used the Polebridge Fourth of July Parade to campaign for president several times over the past few decades, drawing as many as 10 write-in votes in one election, always in good fun with such memorable campaign slogans as "This Country Needs Moore and Moore" and "Moore or Less? You Decide."
Despite living off the grid, word of Moore's artistic talent has made its way across the valley, the country and beyond, leading to numerous exhibits in Whitefish and the Hockaday Museum of Art in Kalispell.
The harsh winters with their prolonged darkness have begun keeping Moore away from his cabin during the colder months, but he continues to paint, ever striving to share his view of Montana's beauty and, sometimes, sharing a nugget of wisdom to two.
"I think people can look right at something and not see it. It's human nature, I think. I want people to look at my paintings and be able to see something they have never been able to see before. Everyone sees the world differently and I am just trying to share how I see things," he said. "Do what you can and enjoy what you are doing. It's easy to worry about things and let life drag you down, but you have to make the most of the time you have. That's what's really important in life."
Reporter Jeremy Weber may be reached at 758-4446 or jweber@dailyinterlake.com.
---