Sanderson makes best of golden opportunity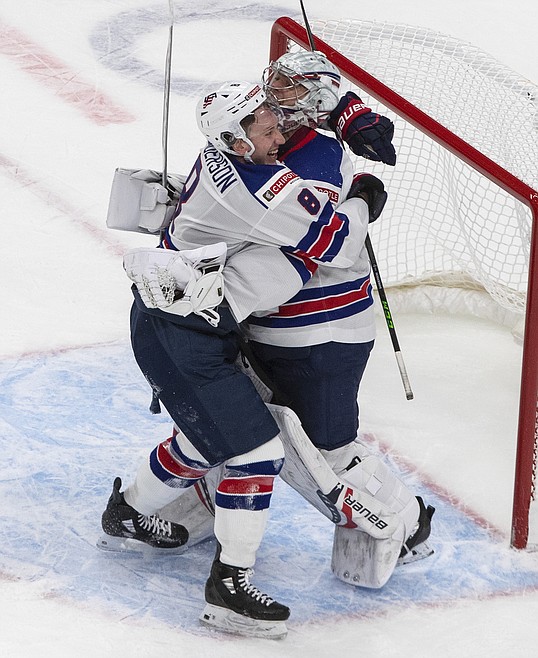 United States' Jake Sanderson (8) and goalie Spencer Knight (30) celebrate the team's win over Canada in the championship game in the IIHF World Junior Hockey Championship, Tuesday in Edmonton, Alberta. (Jason Franson/The Canadian Press via AP)
by
FRITZ NEIGHBOR
Daily Inter Lake
|
January 8, 2021 10:09 PM
In early December Jake Sanderson was taking the ice against such Division I hockey standouts as the University of Denver's Bobby Brink.
Then the Whitefish native and University of North Dakota freshman was selected to play in the IIHF World Juniors hockey championship, and there he was again.
"When we played Denver our second game, I was next to Bobby Brink," Sanderson said Friday, after returning from Team USA's win in Edmonton, Alberta. "We were jawing a little bit at the face off.
"But no, Bobby is a really good guy. I got to know him better and better at the juniors and I'm glad I did."
Sanderson, 18, was on the ice Tuesday when Team USA scored both its goals in a 2-0 win over Canada in the championship. He ended the tournament with two assists in seven games but opponents managed one goal while he was on the ice at Rogers Place. Sanderson also clocked the most time Tuesday.
"I was pretty shocked," he said, before adding: "I felt like I played more and more as the tournament went on.
"Just being in that gold medal game, having that experience – not getting assists on the goals, but being able to contribute to the play, being on the ice for those goals is pretty special."
Sanderson's hockey pedigree is unquestioned: His dad, Geoff, played 17 seasons for nine NHL teams. He pulled his next-to-last NHL shift about 15 minutes from Rogers Place at Northlands Coliseum, where the Edmonton Oilers played until 2016.
The younger Sanderson was born in Whitefish but after second grade – shout out to Muldown Elementary – his family moved to Calgary while keeping the Whitefish residence.
You can imagine where he spent more ice time: Stumptown is the one rink in Whitefish and you can't throw a rock in the air without hitting one in Stampede City. "I'd say honestly there's about 100 in Calgary," Sanderson said.
"But I loved the Whitefish rink. I always go back and skate in the summers. It's my favorite rink, honestly."
That's high praise. North Dakota plays at Ralph Englestadt Arena, a $100 million facility that when it opened in 2001 was the rival of any NHL venue. Rogers Place in Edmonton is a state of the art monstrosity.
The Fighting Hawks' coming games at Colorado College might be a step down. But Sanderson is loving life, as nomadic as it is, or as strict as day-to-day operations were in Edmonton.
"The guys joked that in Edmonton we got about five seconds of fresh air each day," he said. "Walking from the hotel to the bus.
"But the USA guys, that's a special group. And obviously winning it was pretty special."
The juniors started with a 5-3 loss to Russia in a preliminary game, and it opened eyes.
"Facing adversity early in the tournament is better," Sanderson noted. "We watched video and learned a lot about our team. We got better as the tournament went on.
"I think losing that first game was honestly pretty good for us."
They didn't lose again. Now he's rejoined the Fighting Hawks, who were 3-0 when he left for world juniors training camp in Michigan, and are now 7-2-1. It's a proud program that last won an NCAA title in 2016.
The Ottawa Senators drafted Sanderson in the 2020 NHL entry draft, and he's not definite about when he might sign a contract.
"I think Ottawa knows I'm going to finish out my year at North Dakota," he said. "I don't really have a schedule. I think after a year or two, if I'm feeling good and feeling confident and I feel it's the right time to make the jump, I'll do it. I think I'll know when that is."
Until then, he's a Fighting Hawk and a gold medal winner.
"I always kind of had my eyes on the juniors," Sanderson said. "I obviously wanted to make the team. I felt super fortunate to get a tryout and I'm super lucky and fortunate to be on that team, and have the experience to be around great players.
"And not just on that team, but great players from around the world."
---