Braves gut out OT win over Big Sky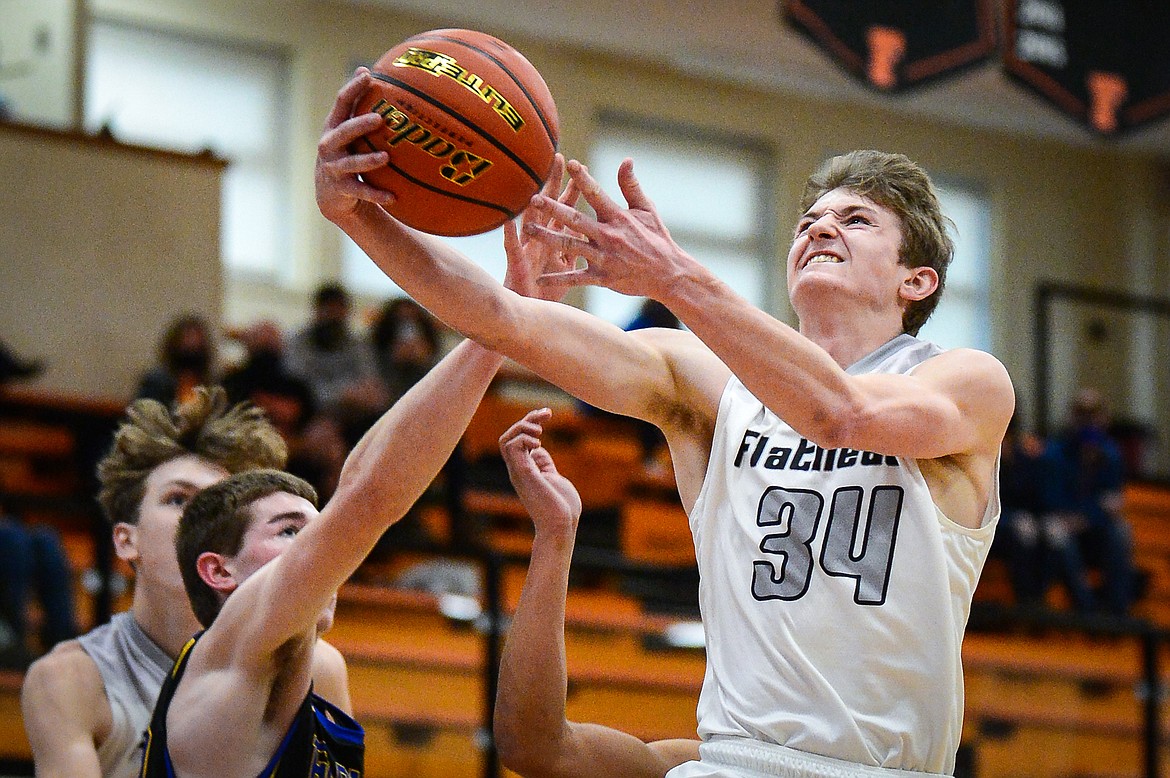 Flathead's Joston Cripe (34) heads to the hoop in the first half against Missoula Big Sky at Flathead High School on Saturday. (Casey Kreider/Daily Inter Lake)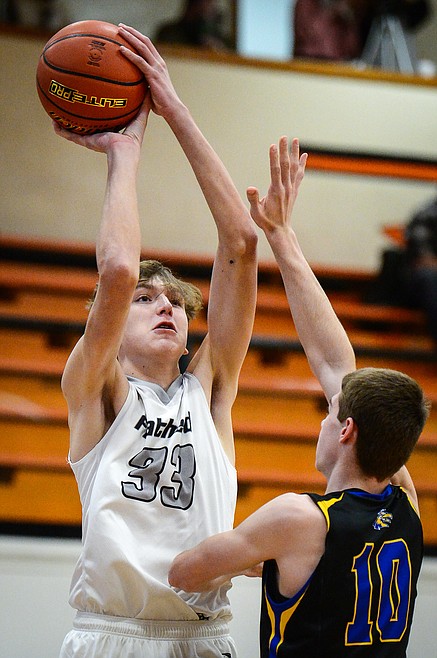 Flathead's Ezra Epperly (33) squares up to shoot in the first quarter against Missoula Big Sky at Flathead High School on Saturday. (Casey Kreider/Daily Inter Lake)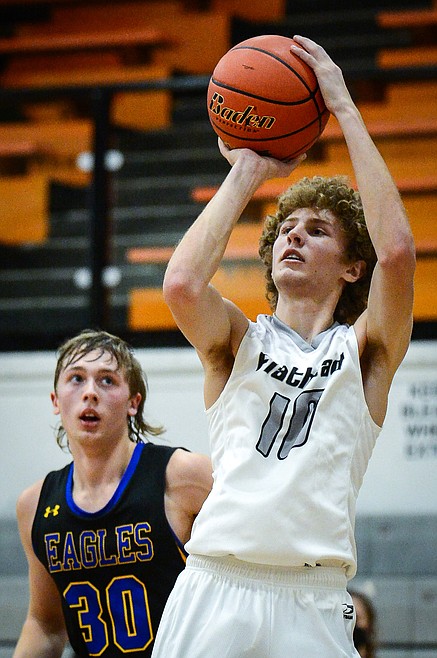 Flathead's Hunter Hickey (10) looks to shoot in the third quarter against Missoula Big Sky at Flathead High School on Saturday. (Casey Kreider/Daily Inter Lake)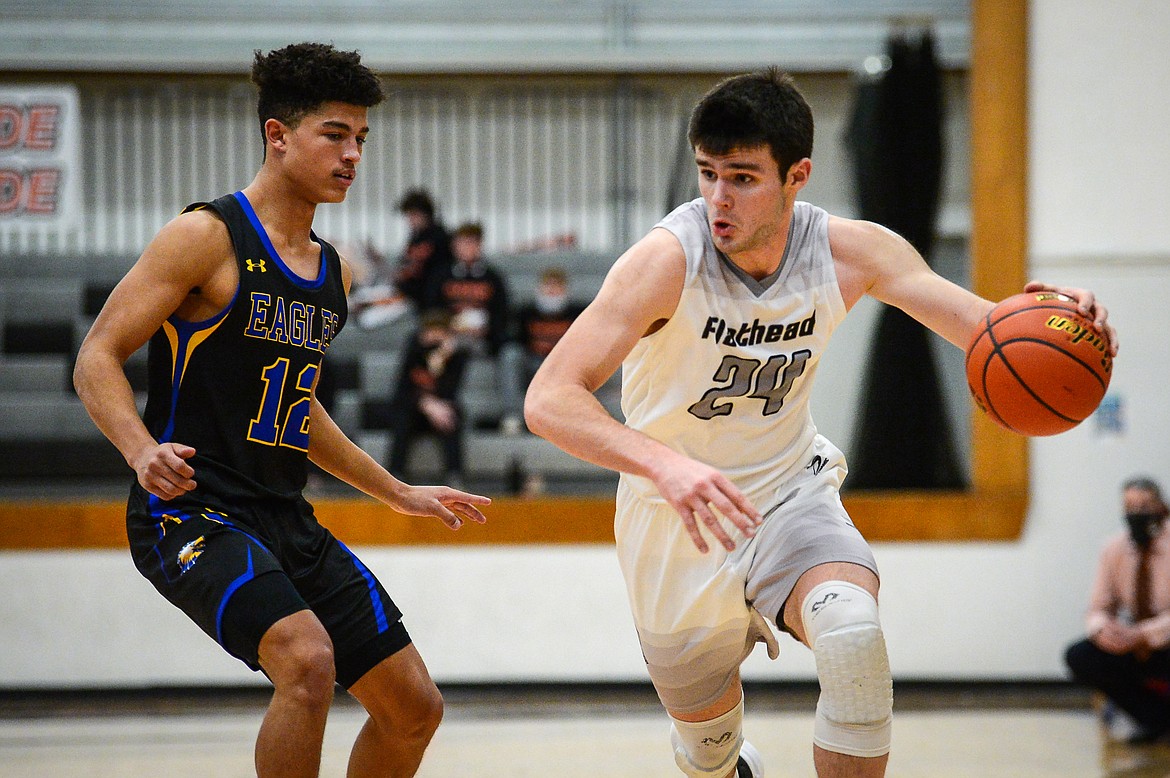 Flathead's Gabe Adams (24) tries to dribble past Missoula Big Sky's Louis Sanders (12) in the first half at Flathead High School on Saturday. (Casey Kreider/Daily Inter Lake)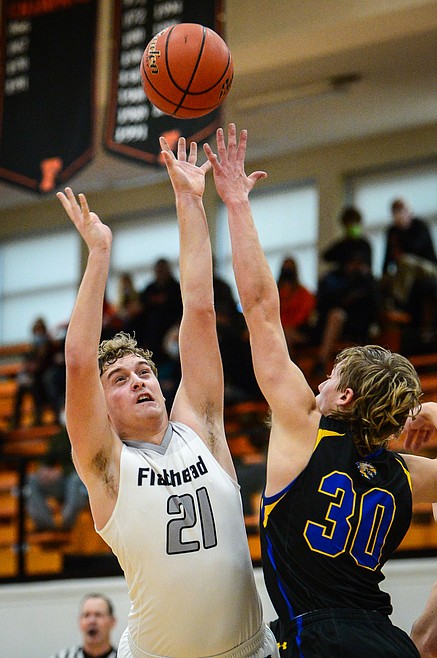 Flathead's Ethan Vandenbosch (21) looks to shoot over Missoula Big Sky's Kade Olsen (30) in the third quarter at Flathead High School on Saturday. (Casey Kreider/Daily Inter Lake)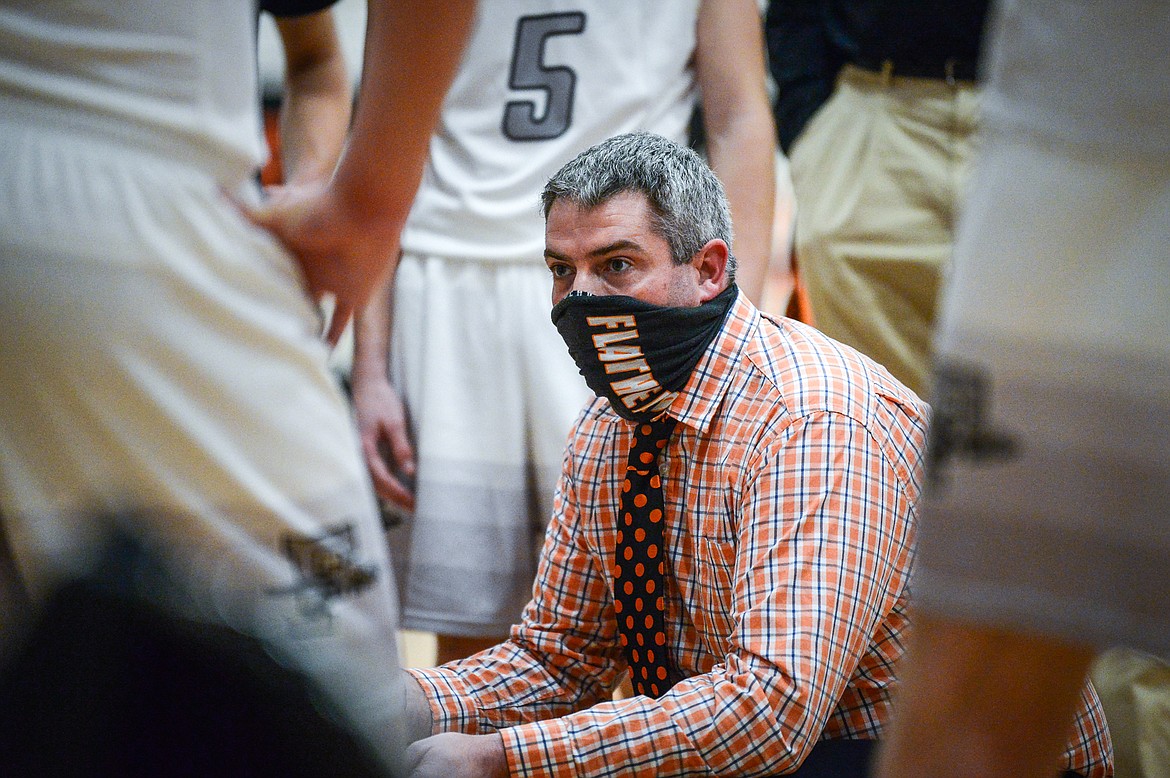 Flathead Braves head coach Dirk Johnsrud talks to his team during a timeout in the third quarter against Missoula Big Sky at Flathead High School on Saturday. (Casey Kreider/Daily Inter Lake)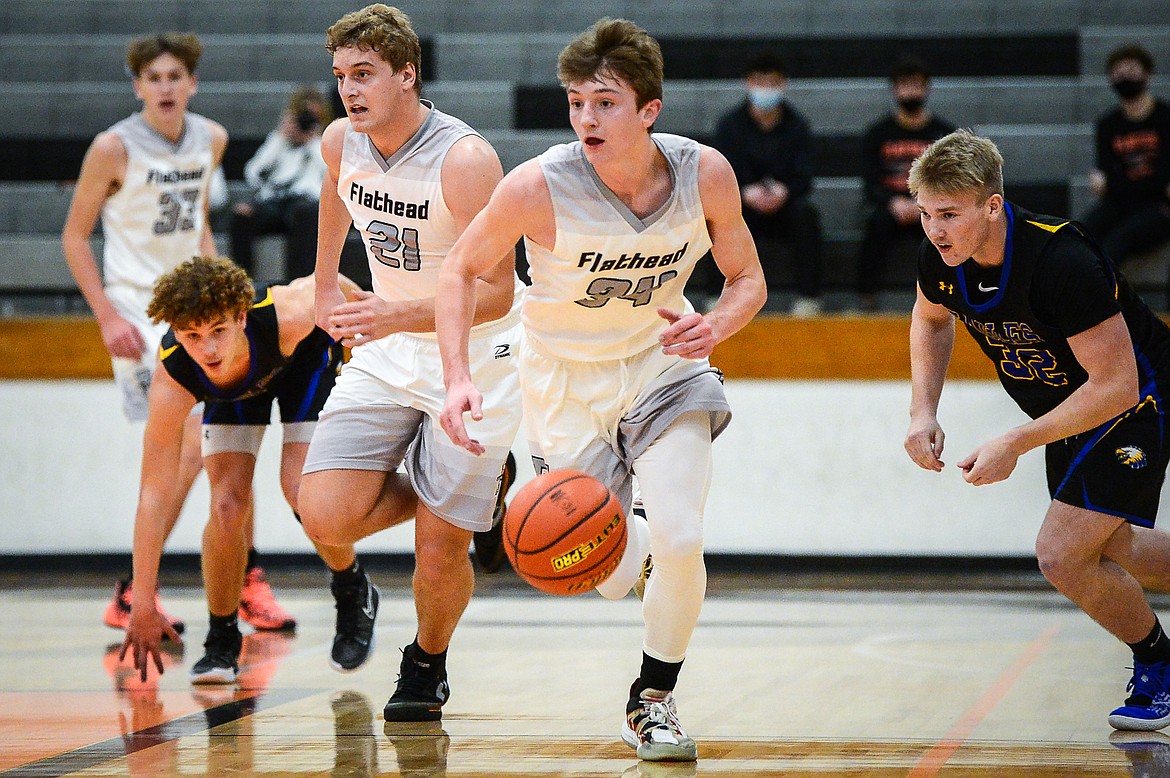 Flathead's Joston Cripe (34) scoops up a loose ball and leads a fast break in the first half against Missoula Big Sky at Flathead High School on Saturday. (Casey Kreider/Daily Inter Lake)
Previous
Next
by
FRITZ NEIGHBOR
Daily Inter Lake
|
January 9, 2021 9:25 PM
The Flathead Braves put on a clinic Saturday, finding the open man, causing turnovers and running the open floor. It was a giddy 14 minutes on their home court.
What happened next – a 12-0 surge by Missoula Big Sky to close the first half – set up a tight finish, with Ezra Epperly's put-back the difference in Flathead's 66-65 overtime win.
"We're really happy we came away with a win here," first-year Flathead coach Dirk Johnsrud said. "We have a lot of work to do. Discipline, execution, just being tougher."
"We had a bad last two and a half quarters – we didn't play like ourselves," said Epperly, a 6-foot-9 senior. "In OT we got back to the basketball we like to play."
Overtime didn't seem likely after the Braves, getting three 3-pointers from Joston Cripe and nine points from Gabe Adams, raced out to a 30-14 lead. Epperly, who had 14 points, 10 rebounds and four blocks, hit two free throws at the 1:46 mark to put his team up by 16.
The Eagles, like the Braves, now 1-1, responded with steals and drives and offensive rebounds. A 3-pointer from Kade Olsen cut the gap to 30-20; Chaz LaDue had six points in the surge, including a dunk off a steal by Louis Sanders. That narrowed it to 30-25.
Meanwhile Adams and Ethan VandenBosch were sending the Eagles to the line with their third personals. It was 30-26 at halftime.
"I was really proud of the guys and how we started, the tempo we had," first-year Flathead coach Johnsrud said. "And then it was that lull in the second quarter where we probably got selfish.
"We started dribbling too much, weren't sharing the ball, and them some turnovers happened and then we had some stupid fouls. We allowed them to come right back and we were in a dogfight the whole game after that."
Epperly scored quickly to open the second half but then Big Sky reeled off another 11 straight points. LaDue, who had 15 points and 11 boards, hit a layup to give the Eagles a 37-32 lead at 4:50 of the third.
"We just got out of our game the second part of the second quarter," Epperly said. "The guys were, 'Well, let's get this back in check.' Then we got back out, and it still wasn't in check.
"We kind of had to take a deep breath and get back in the rhythm we had when we got that big lead.
The gap was 44-37 – after a LaDue free throw with a minute left in the third – before Flathead seemed to again find its footing. VandenBosch and Cripe hit threes to cut it to 46-45.
Seven lead changes followed from the start of the fourth quarter to Epperly's put-back of a Hunter Hickey miss with 23 seconds left in overtime.
"It just came off the rim and there was nobody really around. I just went back up with it," Epperly said.
Big Sky held for a final shot, on which Tre Reed tried a drive down the left lane. The rebound was tipped back out to Sanders, who missed a pretty good look from 15 feet. LaDue flew in and tried a circus-shot put-back that missed as well, and the buzzer sounded.
Olsen had a game-high 19 points for Big Sky, and Sanders added 12. Caden Bateman, who made the bucket to force overtime, had nine.
Cripe had 18 points to lead Flathead; Hickey added 14 and VandenBosch 10, to go with 10 rebounds.
Luke Leech came in when Adams had foul trouble and snared seven rebounds. Hickey was credited with six assists and Cripe five.
"These kids are fun and exciting to watch, but when we don't do things correctly the wheels kind of fall off," said Johnsrud, whose club had 25 turnovers. "But I'm really proud that we toughed it out at home against Big Sky. They played hard; they made plays, and they were difficult."
Big Sky 9 17 20 13 6 - 65
Flathead 16 14 15 14 7 - 66
MISSOULA BIG SKY (1-1) - Caden Bateman 4-5 1-3 9, Kade Olsen 6-13 4-6 19, Chaz LaDue 6-15 3-6 15, Tre Reed 3-12 1-2 7, Louis Sanders 5-10 1-2 12, Dayne Jarrett 0-0 0-0 0, Jake Gardanier 0-0 0-4 0, Mitch Muralt 0-0 0-0 0, Kolby Jensen 0-2 3-4 3. Totals 24-57 13-28.
FLATHEAD (1-1) - Ethan VandenBopsch 3-10 2-3 10, Gabe Adams 3-8 1-1 7, Ezra Epperly 6-12 2-4 14, Joston Cripe 6-15 2-6 18, Hunter Hickey 7-18 0-0 14, Tommy Wells 0-2 0-0 0, Gavin Chouinard 1-1 0-0 3, Joe Hansen 0-0 0-0 0, Luke Leach 0-2 0-2 0. Totals 26-68 7-16 66.
3-point goals - Big Sky 4-20 (Olsen 3-8, Sanders 1-4), Flathead 7-26 (Cripe 4-10, VandenBosch 2-7, Chouinard 1-1). Rebounds - Big Sky 37 (LaDue 11), Flathead 42 (Epperly 10, VandenBosch 10). Fouls - Big sky 22, Flathead 21. Fouled out - Adams. Steals - Flathead 12 (LaDue 5), Flathead 10 (Cripe 3, Hickey 3). Blocks - Big Sky 2 (Sanders, LaDue), Flathead 5 (Epperly 4, Adams). Turnovers - Big Sky 28, Flathead 25.
---