Room to ROAM: Tiny camper trend settles into the Flathead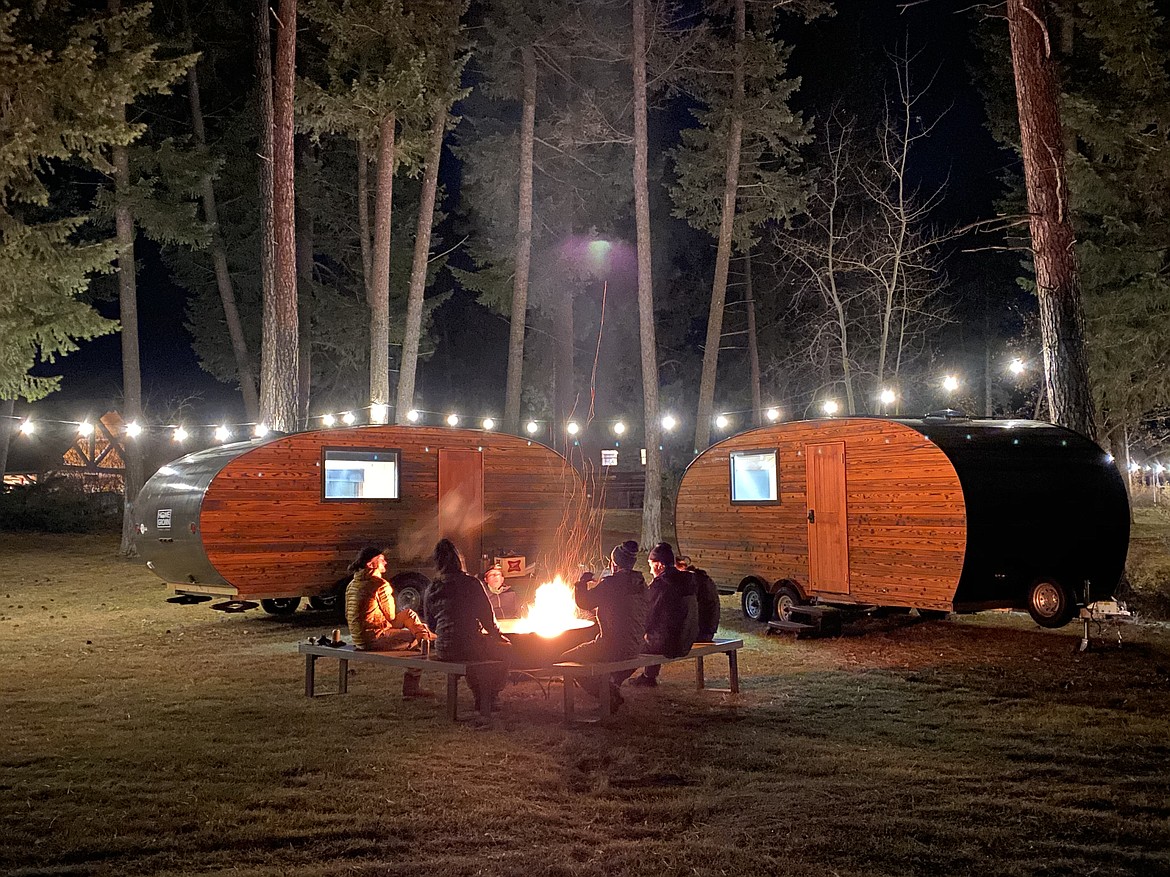 Campers gather around a campfire in between two Roam Beyond cabins in Columbia Falls (courtesy photos).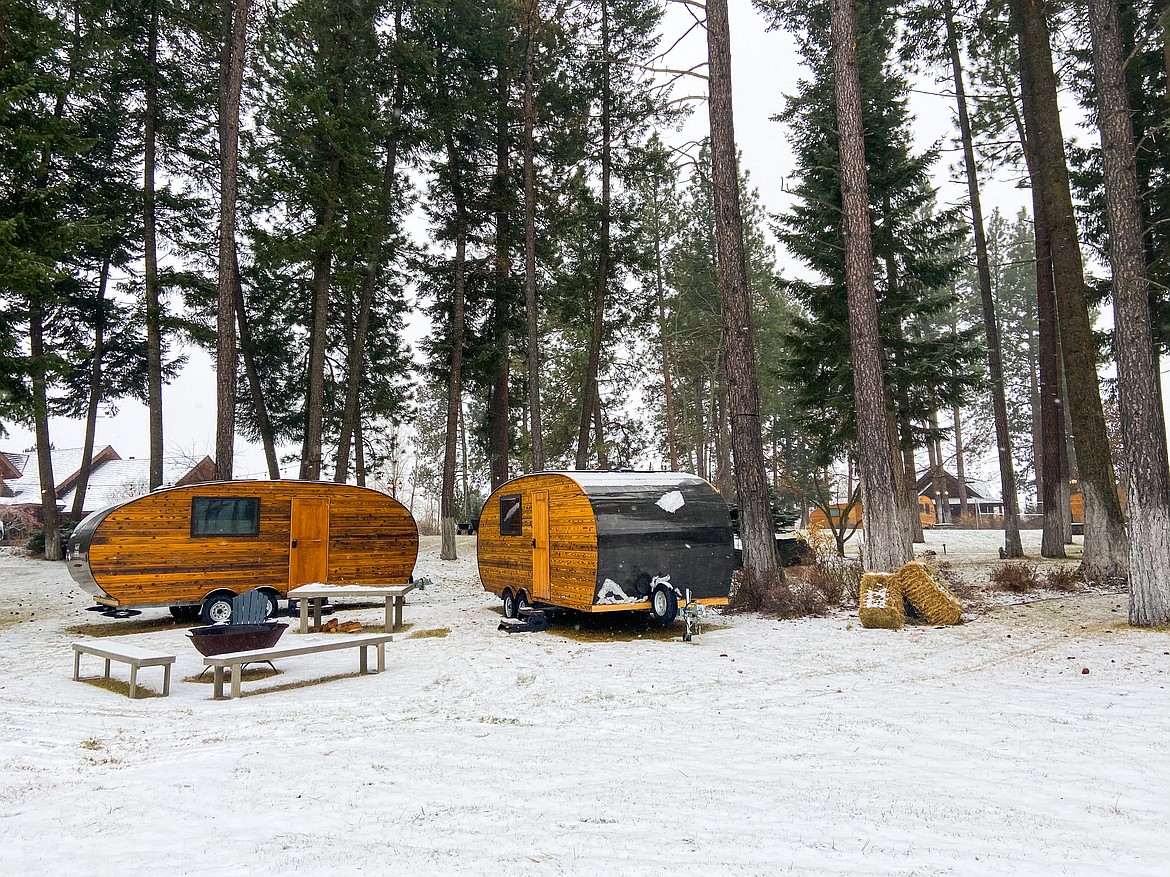 A collection of Roam Beyond cabins sit in the woods at the Columbia Falls location.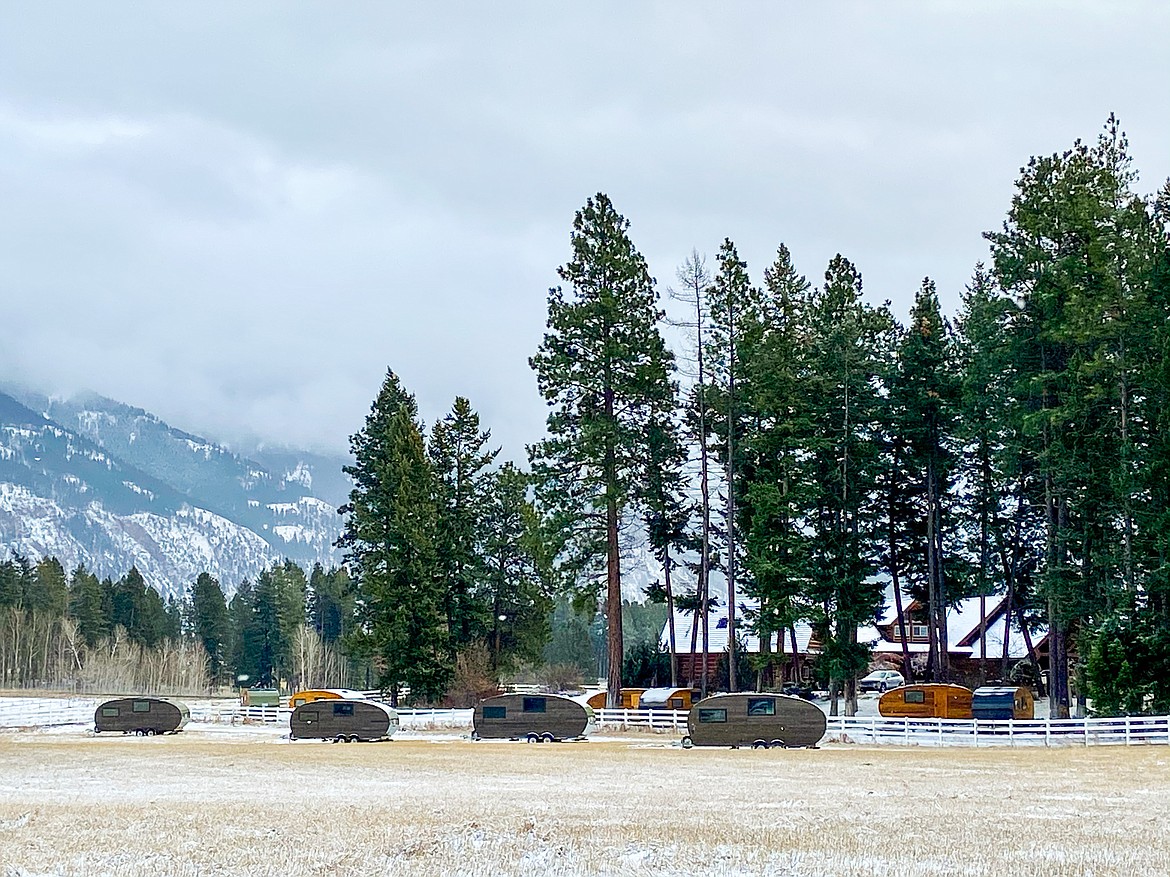 The Roam Beyond camper village in Columbia Falls.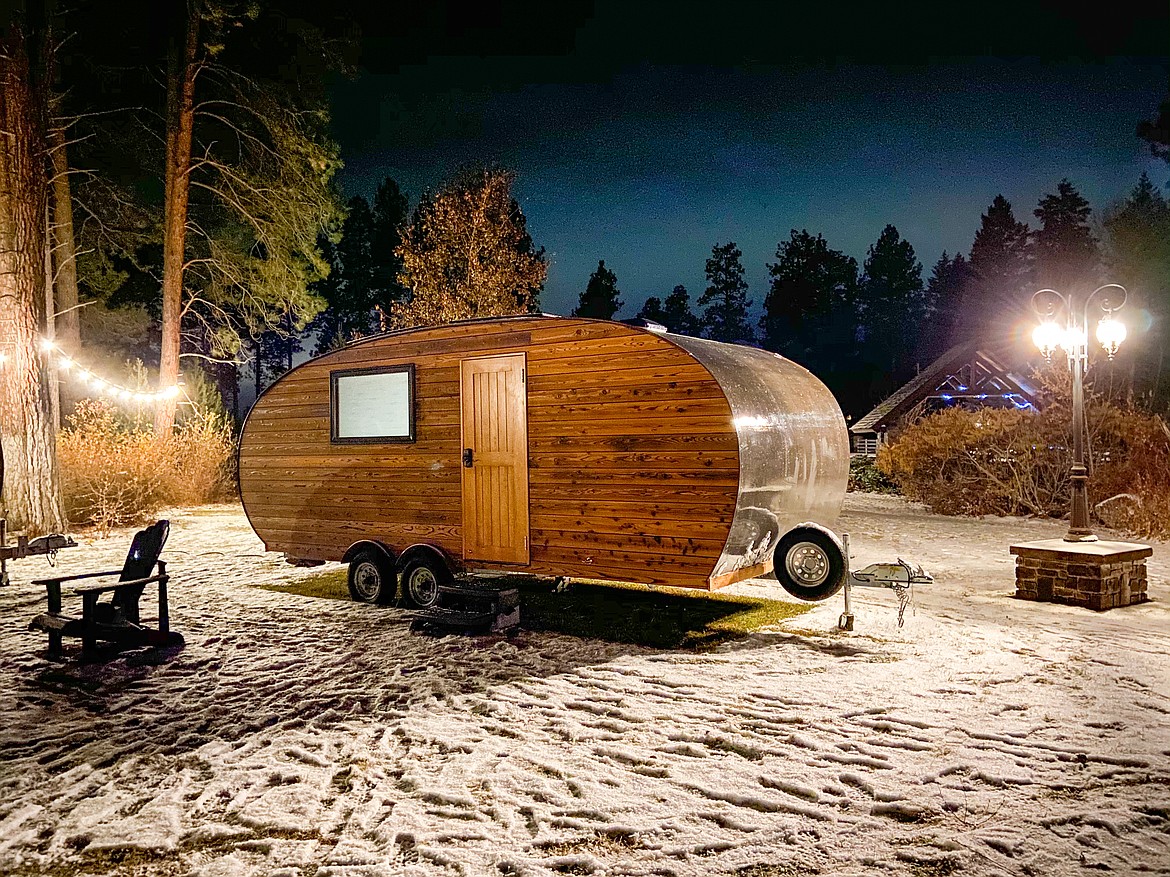 Roam Beyond intends to create an all-inclusive atmosphere with campfires, heaters and string lighting outside the campers.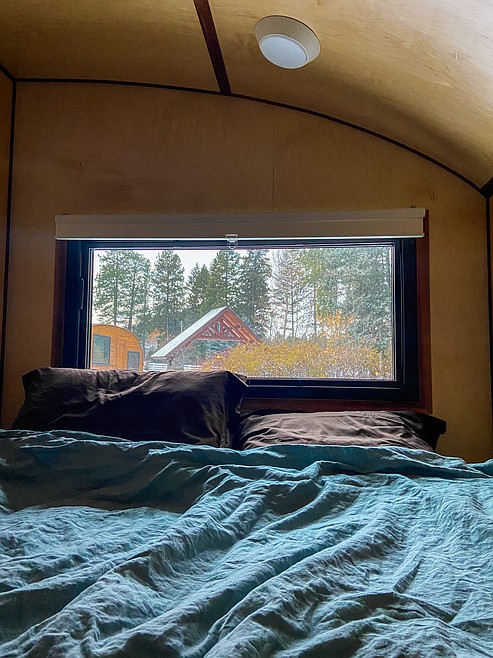 The view from one of the cozy beds inside a Roam Beyond camper.
Previous
Next
by
BRET ANNE SERBIN
Daily Inter Lake
|
January 10, 2021 12:00 AM
In late December, the only visitors at an innovative new campground in Columbia Falls were four deer who grazed through the woods around the property. But that's expected to change soon.
This month, the first human guests will get a chance to stay in the luxury campers that recently rolled into ROAM Beyond's two new Montana locations.
"There's a big movement for people who want more meaning and intention for travel," said Corey Weathers, one of the founders of ROAM Beyond.
He and his business partners saw this desire and built a one-of-a-kind getaway experience around it. ROAM Beyond's two sites, near Columbia Falls and Whitefish, feature a smattering of tiny wooden campers outfitted with cozy amenities, perfect for getting away from the hustle and bustle of daily life — and other people.
ROAM Beyond's camper villages were specifically designed to be adaptable to the COVID-19 pandemic. Weathers said their team wants to create a space where people are "physically distant but socially connected."
Units sleep three to four people, depending on the model, and each camper comes equipped with everything you could need for "glamping," including a full shower, toilet and induction stove. The campers, an original creation by Weathers and his Washington manufacturing partner, Homegrown Trailers, are intentionally made to withstand Montana winters. They're fully insulated, with cozy touches such as heated bedding.
In the spirit of creating an all-encompassing idyllic atmosphere, the ROAM Beyond sites also include fire pits and heated, covered outdoor gathering spaces.
Visitors can book multiple campers at a time as part of a "haven" experience, which guarantees a secluded space for each set of guests, complete with their own campfire.
Guests are also required to sign a pledge to maintain social distancing while at the resort and only travel with five people or fewer from outside their immediate household.
"It's been an interesting year, but that doesn't mean we can't come out and enjoy the winter," Weathers said.
If anyone knows how interesting the past year has been, it's Weathers.
ORIGINALLY FROM the Seattle area, Weathers and his family were forced to evacuate because of wildfires just a few days before Labor Day. They never went back.
His children and his wife, a teacher and Great Falls native, transitioned to online school, and they decided to go remote from Montana. The family had been visiting the Flathead Valley for about 20 years and they had plans to eventually expand their Washington camper retreats into Northwest Montana.
But the tumult of 2020 disrupted those plans. Instead of maintaining their original Washington sites in the winter and adding a Montana location for the summers, the ROAM Beyond team decided to go all-in on Montana and embrace the off-season here.
They had to abandon their original setups in Washington and adapt their campers to be weather-ready for their new homes in the Flathead. That took some adjustments, such as outfitting the solar-powered campers — designed by Weathers in 2013 while he was working for a sustainability consulting firm — with additional power sources to keep them heated.
But Weathers said they're ready to start welcoming campers as the new year gets underway, and prospective guests don't seem to be shying away from an outdoor retreat in the middle of the Montana winter.
"It's really a unique time of year to offer glamping," Weathers acknowledged. But he said bookings are quickly filling up for the 24 campers at the Columbia Falls site. They hope to bump up to 40 campers total.
WEATHERS SAID a lot of ROAM's early guests are attracted not only by the lodging itself, but also by the overall experience ROAM Beyond offers. Weathers prefers to call his business an "experience provider," rather than a lodging provider, because he's working with a lot of local partners to set guests up to enjoy everything Montana has to offer in winter.
For any given guest, that might include skiing on Big Mountain or snowshoeing in Glacier Park; ROAM will even provide itineraries and transport, through their local partners, for guests who want those all-inclusive options.
But if a visitor prefers to stay close to home in their cozy camper getaway, there's plenty to do on-site, too. The Columbia Falls location encompasses 20 acres, although they only plan to use five or six of those during the winter.
On the property, they have amenities like a pond for fishing and ice-skating, plots for growing farm-to-table, ultra-local food that guests can help farm, and an outdoor kitchen, outdoor dining area, indoor lounge and large guest lodge.
Weathers said they plan to offer special winter programs such as corporate retreats, and in the summer they hope to roll out plenty of outdoor activities, like live music and outdoor movies.
"For me, there's nothing better than having those experiences in an outdoor setting," he said.
ROAM Beyond may be starting small with their tiny campers, but Weathers certainly has big ideas to develop the business. Eventually, he hopes to use the Montana sites as ROAM's flagship locations and add more campgrounds all across the West Coast.
"We are awfully excited about where this is going," he said.
ROAM Beyond can be found online at https://www.roambeyond.travel/
Reporter Bret Anne Serbin may be reached at 758-4459 or bserbin@dailyinterlake.com.
---