Harriet Lien Hullett, 91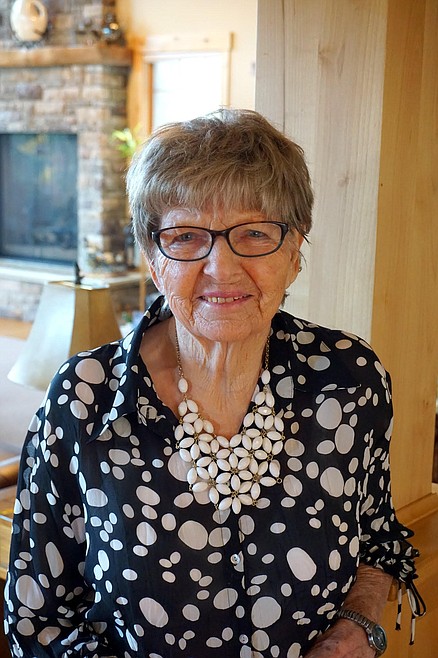 |
January 12, 2021 12:00 AM
Harriet Lien Hullett passed away on Jan. 8, 2021.
Harriet was born Oct. 22, 1929, to Nels and Clara Lien, who were proud Norwegians. She was number seven of 11 children who were all raised on the family farm in Lakota, North Dakota. Harriet graduated from Lakota High School and went on to Mayville State Teachers College. She taught school in Nelson County, North Dakota, in a one room school for two years, then to Mapes Consolidated School for three years.
Harriet married Richard "Dick" Hullett in 1951, in Grand Forks, North Dakota. To that marriage five children were born. Harriet and Dick moved to Montana in 1953 to raise their family and be close to his parents. They settled in Columbia Falls for seven years and then moved to Bigfork. Harriet was employed as a waitress at the Lake Café in downtown Bigfork for many years and then at Bigfork School District 38, as an aide in the lunchroom and classrooms until her retirement.
Harriet was a generous, kind, and caring person. She definitely had a green thumb in the garden and could knit, crochet and sew almost anything. She was an amazing baker and taught her great grandchildren the art of making lefse. She thoroughly enjoyed watching her granddaughters and then her great-grandchildren participate in sporting events. During the winter months you could usually find her attending Bigfork High School basketball games with her sidekick, June. She looked forward to bowling with her team members at Picks Bowling Center, tossing dice with her Bunco Bunch, and traveling with friends and relatives. She always had time to read her Bible and was part of the Bethany Lutheran Church family in Bigfork.
Harriet's family would like to thank the amazing staff at Rising Mountains Assisted Living in Bigfork and Immanuel Lutheran Home in Kalispell for their kindness and compassionate care she received the last four years.
Harriet was preceded in death by her parents; siblings, Obie, Rose Ann, Kermit, Frances, Norris, Harris, Dona, Dora and Merle; husband; and infant daughter Melanie.
Harriet is survived by her brother, Willie Lien; children, Rick (Susie) Hullett, Holly (Jim) Schmauch, Barry Hullett, and Michele (Randy) Brooks; grandchildren and great-grandchildren, Sara (Bret) and Audrey Childers, Stacy (Bridger) Mason and Camry Kelch, Rhonda (Brad) Cohen, Ethan, and Hudson Kastelitz, Kayla (Josh) Khierstyn, Khynzlee, Kingstyn, and Kayzen Gregory, Jenna Hullett, and Alyssa Hullett; and numerous nieces and nephews.
A memorial celebration will be held at a later date.
---