Local vaccines to be given by appointment only for now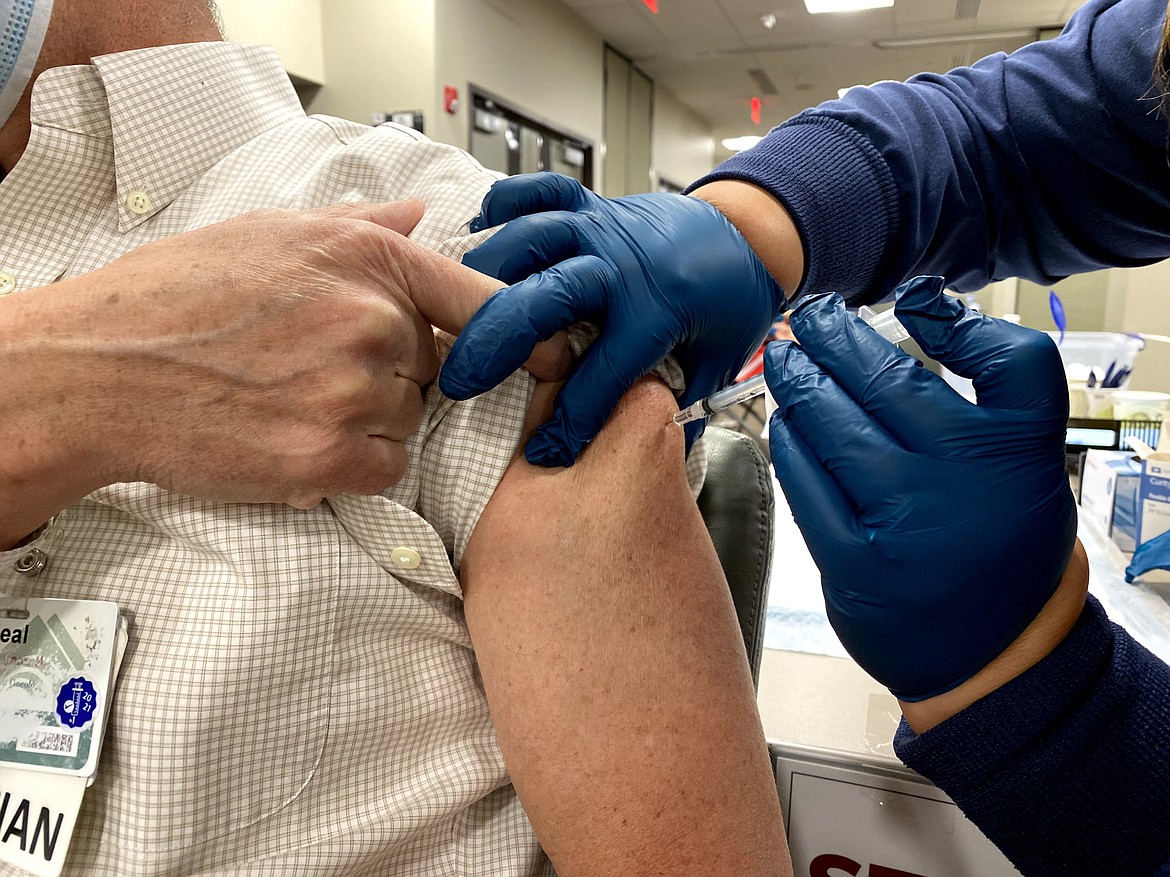 Frontline workers with Kalispell Regional Healthcare began receiving the COVID-19 vaccine on Thursday Dec. 17 (photo courtesy of Kalispell Regional)
by
KIANNA GARDNER
Daily Inter Lake
|
January 13, 2021 10:15 AM
The Flathead City-County Health Department has assembled a vaccine deployment team that will soon lead the community into its next phase of the state's COVID-19 vaccine distribution plan on an appointment-only basis.

According to a Wednesday news release, the health department is gearing up to transition from Phase 1A to Phase 1B of Gov. Greg Gianforte's statewide vaccine distribution plan, which was unveiled at the start of the month.
For the past month or so, two different COVID-19 vaccines — the one created by Pfizer and BioNTech and the one created by Moderna — have been distributed to a large pool of frontline health-care workers, other patient-facing hospital staff and employees and residents of long-term care and assisted living facilities.
The deployment team, composed of public health staff and led by Health Officer Joe Russell, started vaccinating a portion of those first-tier individuals at the Flathead County Fairgrounds in early January. Future vaccination efforts will take place at the fairgrounds as well, where those looking to be vaccinated can socially distance while they wait.
According to Russell, the health department is immunizing on an appointment-only basis for those who qualify under the state's vaccination plan. In an interview Tuesday, he said hundreds of people have phoned the health department's COVID-19 call center in recent days, eager to receive the vaccine.
"The really good news is that there are tons of people that really want to be vaccinated," Russell said. "We figured the best way to go about this for now, especially when we move into those tiers that call for vaccinating a lot of the population, is to go by appointment only."
Russell said there are two major reasons for choosing that method of distribution.
First, he said it is unclear how many vaccines Flathead County will receive next week when Gianforte's Phase 1B is expected to launch. If the shipment is smaller than expected, alternative methods such as first-come, first-served, would lead to large numbers of people waiting in line, with no guarantee of immunization.
"The allotment of COVID-19 vaccine coming to Flathead County in the coming weeks has not been finalized," the news release states. "Additionally, vaccine supply is still very limited and the vaccine may not be immediately available to all individuals who qualify."
Second, Russell said it's important to remember that even though the vaccine is here, the pandemic is still ongoing and people must still practice social distancing and other COVID-19 recommendations. An appointment-only basis ensures there are no crowds awaiting their turn.
Russell also said the health department is aiming for 5-minute time allotments, which will allow for vaccines to be distributed at a fairly rapid rate. However, he explained that freshly-immunized individuals must be monitored for at least 15 minutes afterward in the event of any adverse reactions.
"There have been a very small number of instances where people go into anaphylactic shock when they receive these vaccines, such is true for other more common vaccines," Russell said. "Our staff are fully prepared in the event that happens. We have epipens and other remedies ready to go."
THE HEALTH department is eager to vaccinate any individuals in Phase 1A that have yet to be vaccinated, before delving into Phase 1B.
"Our department and our local hospital partners have worked hard to administer vaccines to Tier1A individuals," said Russell, We have been in frequent communication with Kalispell Regional Healthcare, North Valley Hospital and DPHHS [Department of Health and Human Services] to help determine when we can make the switch to vaccinating beyond tier 1A populations."
For Phase 1B, which is tentatively expected to begin next week, Russell said an estimated 30,000 to 40,000 individuals in Flathead County will qualify for vaccinations.
According to the new statewide distribution plan, which the health department is following closely, persons ages 70 and older, American Indians and other people of color and those ages 16 to 69 with high-risk medical conditions top the list.
Qualifying medical conditions, according to the plan, are as follows: cancer, chronic kidney disease, down syndrome, heart conditions, severe obesity, sickle cell disease, chronic obstructive pulmonary disease, type 1 and type 2 diabetes and/or those in an immunocompromised state from a solid organ transplant. Additionally, the plan states "on a case-by-case basis, medical providers may include individuals with other conditions that place them at elevated risk for COVID-19-related complications."
The group is different from former Gov. Steve Bullock's distribution plan, which had prioritized persons ages 75 and older, individuals residing in congregate care and correctional facilities and a long list of frontline essential workers. Russell said he believes Gianforte's revised plan, "was a good choice," because high-risk individuals and elders should be "taken care of first and foremost."
Frontline essential workers now fall into Phase 1C of Gianforte's plan, which isn't expected to launch until early spring. Persons ages 60 and older, individuals in congregate care and correctional facilities and others ages 16 to 59 with medical conditions that were excluded from Phase 1B are also eligible to be immunized during Phase 1C. All remaining Montanans ages 16 or older hopefully will start receiving the vaccine sometime this summer, once the final leg, Phase 2, begins.
"These initial COVID-19 vaccine clinics [Phases 1A and 1B] are an important milestone in our fight against COVID-19, but we still have a long road ahead," Russell stated. "It may take several months to manufacture and distribute enough vaccines to everyone who wants to be vaccinated. Until then, individuals should continue to follow COVID-19 precautions such as wearing a mask, social distancing, and staying home when sick."
Overall, the state health department's website says more than 33,000 of the 52,000 doses that were shipped throughout the state have been administered. Those went to Phase 1A recipients.
Montana is slated to receive another 41,000 doses in the coming weeks, though it is unclear where those will be distributed.
The health department will issue another news release when the county is green-lighted to move into Phase 1B. The health department's COVID-19 call line may be reached at 406-751-8250.
Reporter Kianna Gardner can be reached at 758-4407 or kgardner@dailyinterlake.com
---