Warrant issued for missing Eureka man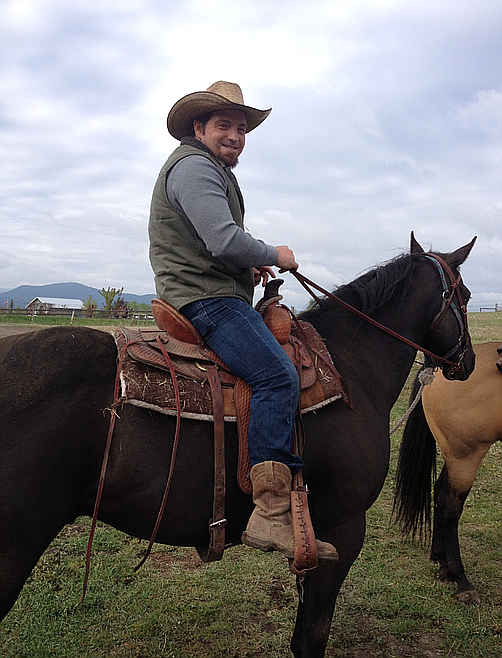 Ben Earls went missing Aug. 3, likely in the Pinkham area near Eureka. (Photo courtesy of the Earls family)
by
WILL LANGHORNE
The Western News
|
January 13, 2021 12:00 AM
A Lincoln County judge issued a felony warrant last month for a Eureka man missing since summer.
The warrant, dated Dec. 11, alleges that Benjamin Earls, 42, stole a sample of his blood taken after Eureka police officers arrested him in July for driving under the influence. In early August, Earls went missing in the woods near Pinkham Creek.
Detective Dave Hall of the Lincoln County Sheriff's Office heard of the theft while interviewing one of Earls' friends in connection with his disappearance, according to court documents. Another acquaintance told Deputy Dale White that Earls had mentioned stealing the sample.
Between these two interviews, Hall concluded that Earls likely stole vials of his blood while waiting to be released from the Eureka Law Enforcement Center.
Greg Neils, a Eureka Police officer, obtained a search warrant for Earls' blood after arresting him on driving under the influence charges on July 14. Following the blood draw, Earls posted bail and arranged for a friend to pick him up. While waiting for Earls' friend to arrive, Neils left his office. According to Hall's affidavit, Earls was caught on camera sneaking into the office and stealing the blood sample. After hiding the vials while being released, Earls allegedly disposed of the sample.
Neils later called the Montana State Crime Lab and learned that they never received a blood sample kit from him.
Out of fear of being recognized by peace officers, Earls allegedly changed his appearance when returning to Eureka. Hall learned that when in town, Earls drove a red truck belonging to the Flathead County friend who had picked him up following his DUI arrest. Earls also apparently wore a hat to evade law enforcement.
An acquaintance of Earls told Hall that Earls feared he would get 10 years in Montana State Prison for tampering with evidence. After reviewing Earls' criminal record, Hall said he understood why Earls was concerned.
The friend also said he had discussed a plan with Earls for ditching their vehicles and mobile phones were they to run afoul of law enforcement.
Matt Earls, Ben Earls' brother, objected to the way events were portrayed in the court documents. In a Facebook post, Matt Earls said Neils allegedly asked his brother to go into the office to collect his belongings.
"If my brother did take the evidence I got to ask, why was evidence left out?" he wrote.
Matt Earls also alleged that Eureka Police impounded his brother's vehicle with Ben Earls' dog still in the back seat. Had his brother not bonded out, Matt Earls said the dog would have died.
Officials with the Lincoln County Sheriff's Office and the Eureka Police Department did not return phone call requests for comment.
Just a few weeks after allegedly stealing the vials, Ben Earls went missing. Close relatives said the Aug. 3 disappearance came without warning.
"None of it makes sense," said his mother Sheri Earls last year, "just to vanish like that."
The evening before he went missing, Ben Earls spent the night on his mother's property in Rexford. The two planned for her to drive him to work the following day.
But when Sheri Earls awoke, her son was gone.
That morning she spoke with him twice over the phone. The conversations were ominous from the start. During the first call, Ben Earls told his mother he was lost in the woods and that she would never find him.
A couple hours later, Ben Earls told his mother he was waiting for her on the side of a road. She told him she would meet him there. Despite thoroughly searching the road, Sheri Earls was unable to find her son.
Matt Earls said the disappearance was highly irregular. If his brother had planned to vanish, Matt Earls was certain he would have told him. Matt Earls pointed out that Ben Earls was a father and loved his two children. He would not have abandoned them
The money in Ben Earls' bank account was low and he was planning to sign a buy-sell agreement the day after he vanished. This gave Matt Earls more reason to doubt that Ben Earls dropped off the grid intentionally.
The most probable cause of the disappearance was a medical issue, according to Matt Earls. At the time he went missing, Ben Earls was seeing a doctor. While his brother is also a recovering addict of almost 20 years, Matt Earls said deputies were still investigating whether alcohol or drugs were involved in his disappearance.
After Sheri Earls was unable to find her son, investigators with the sheriff's office tried to track his phone signal. Due to the lack of cell coverage in the area, Matt Earls said deputies were not able to get an accurate reading of his location.
Can Am Search and Rescue spent days scouring the area but scaled back the ground effort until new clues surfaced.
The charge of tampering with or fabricating physical evidence, a felony, carries a prison term not to exceed 10 years and a fine not to exceed $50,000 or both. Driving under the influence first offense, is a misdemeanor punishable by a fine not to exceed $1,000, imprisonment in the county jail for a term not less than 24 hours or longer than six months, or both.
---