Snow-bike tours a new offering for outdoor enthusiasts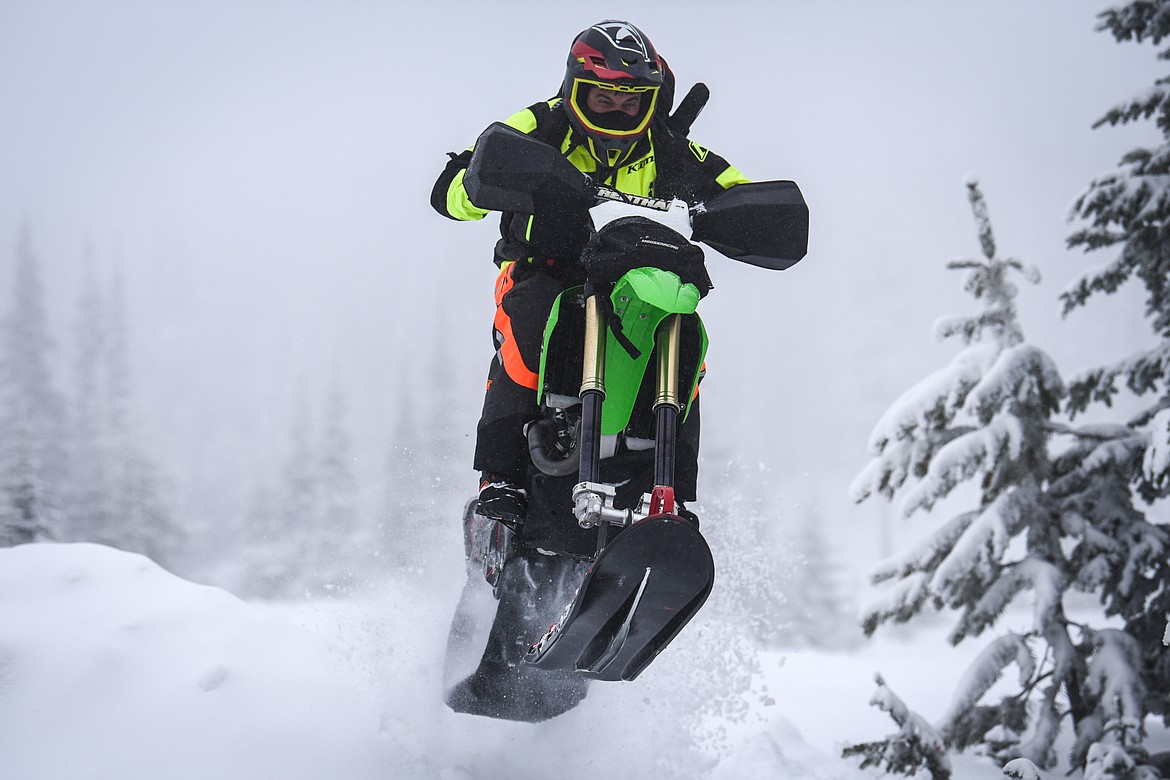 Kyle Allred, of Snow Bike Nation, catches some air near Blacktail Mountain Ski Area on Thursday, Jan. 7. (Casey Kreider/Daily Inter Lake)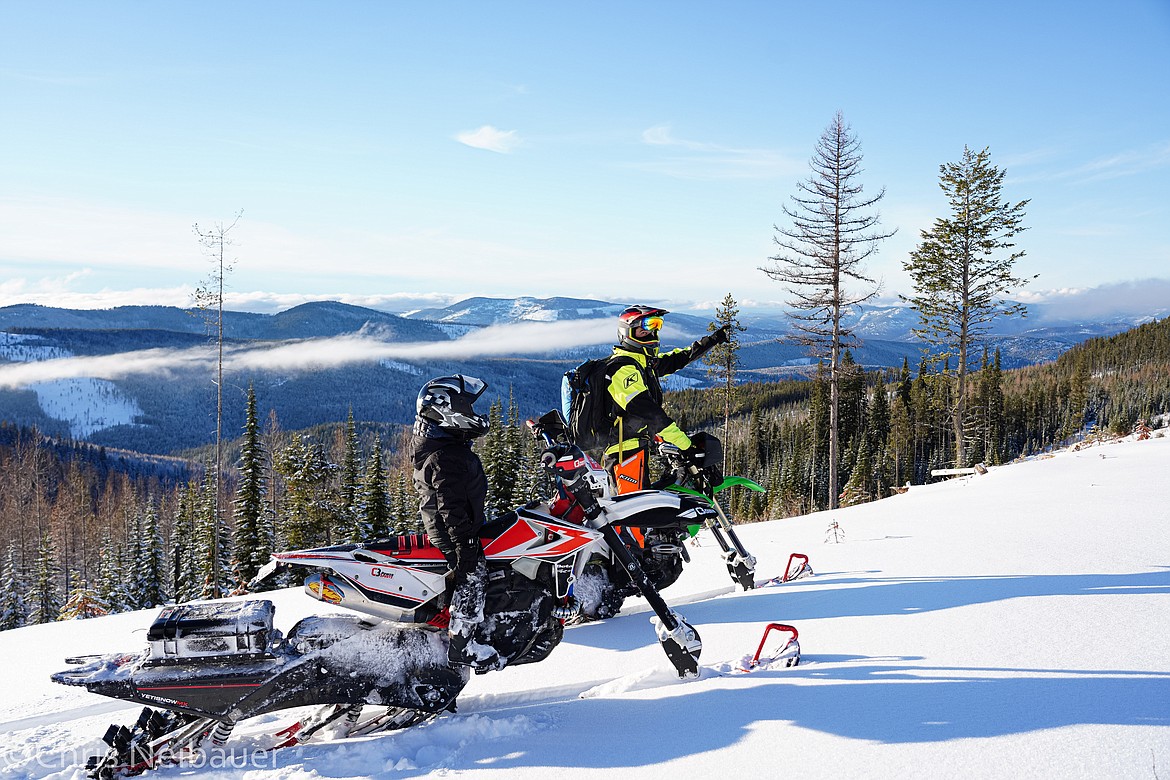 Kyle Allred pauses to look out over the valley on a backcountry snow bike ride.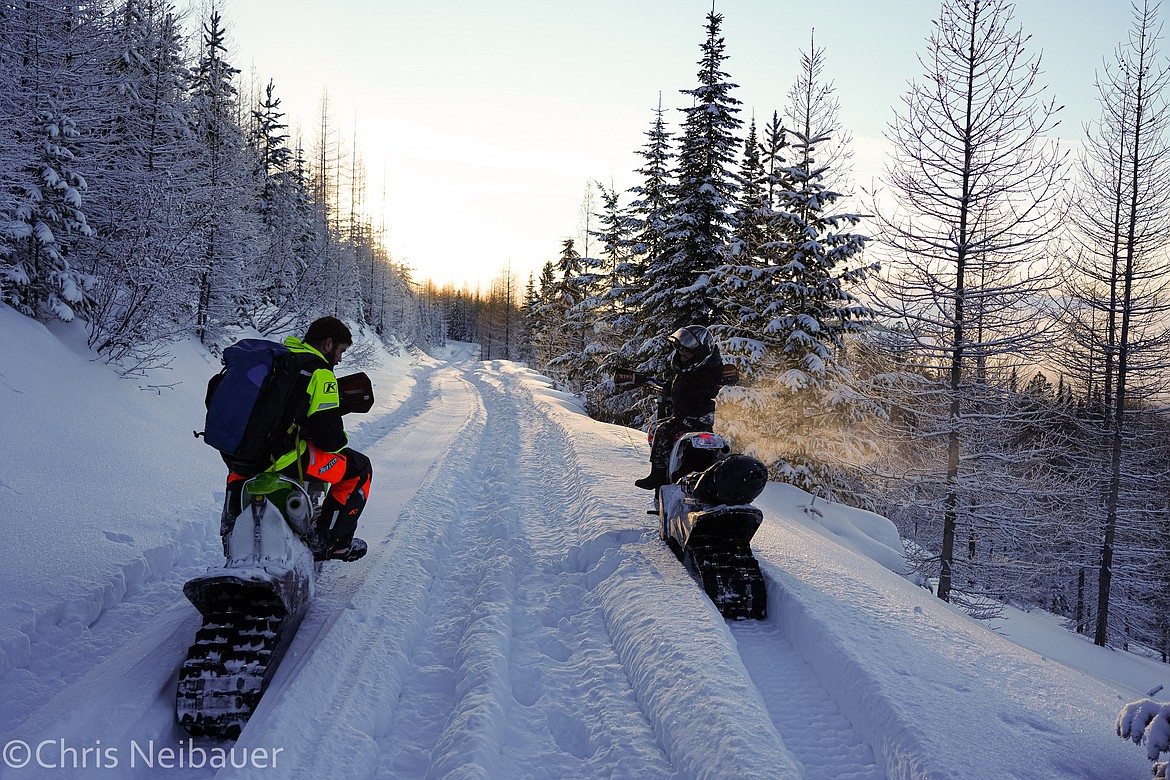 Kyle Allred makes tracks on a snow bike.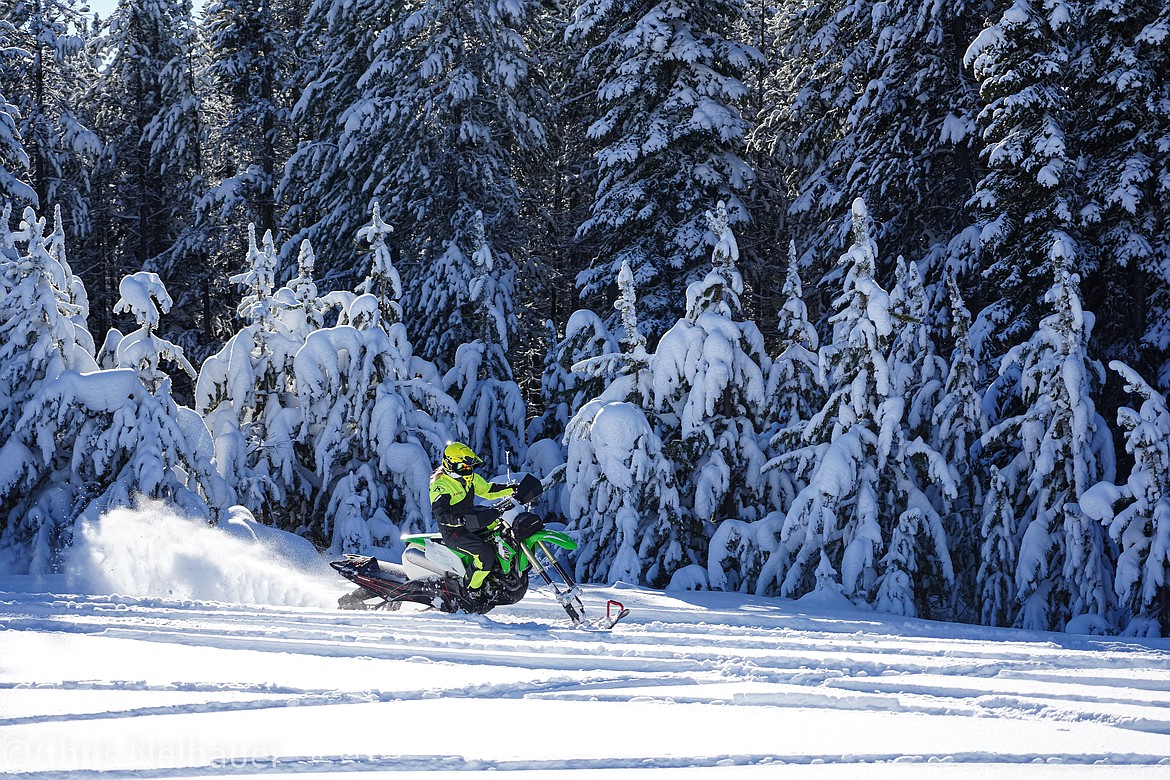 A snow bike rider coasts through an open field.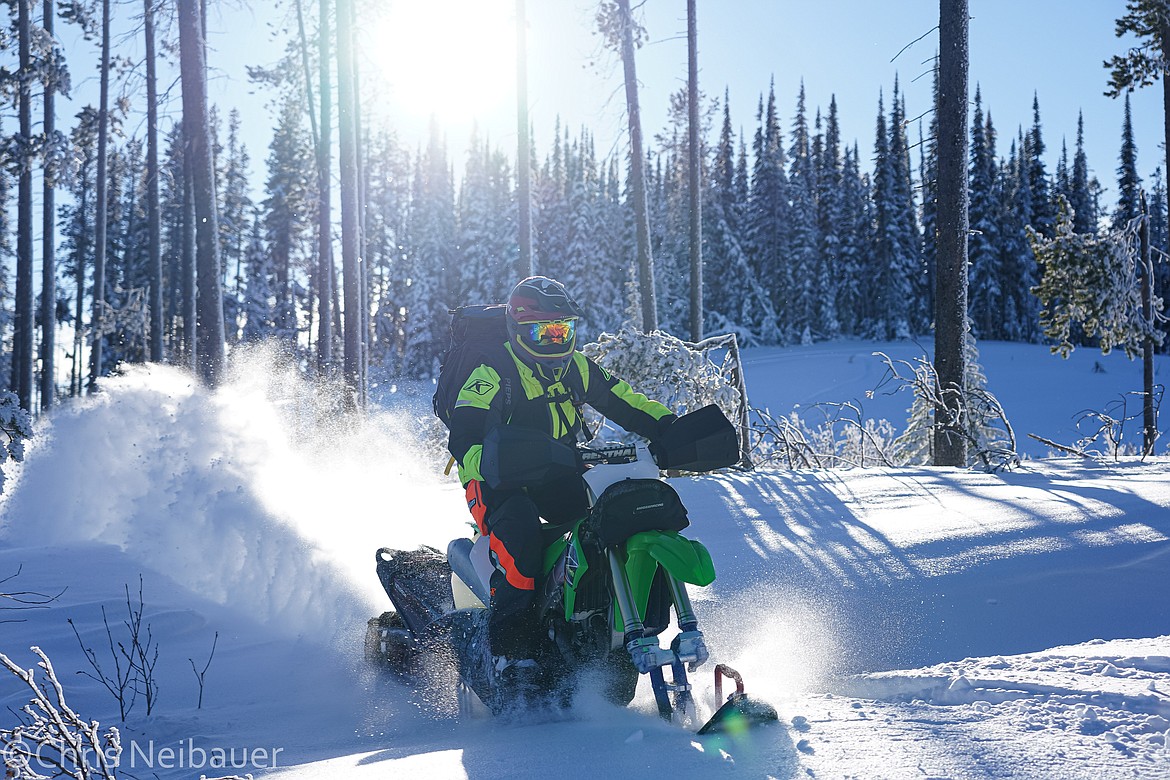 Kyle Allred plows through the snow on a snow bike (Courtesy photos).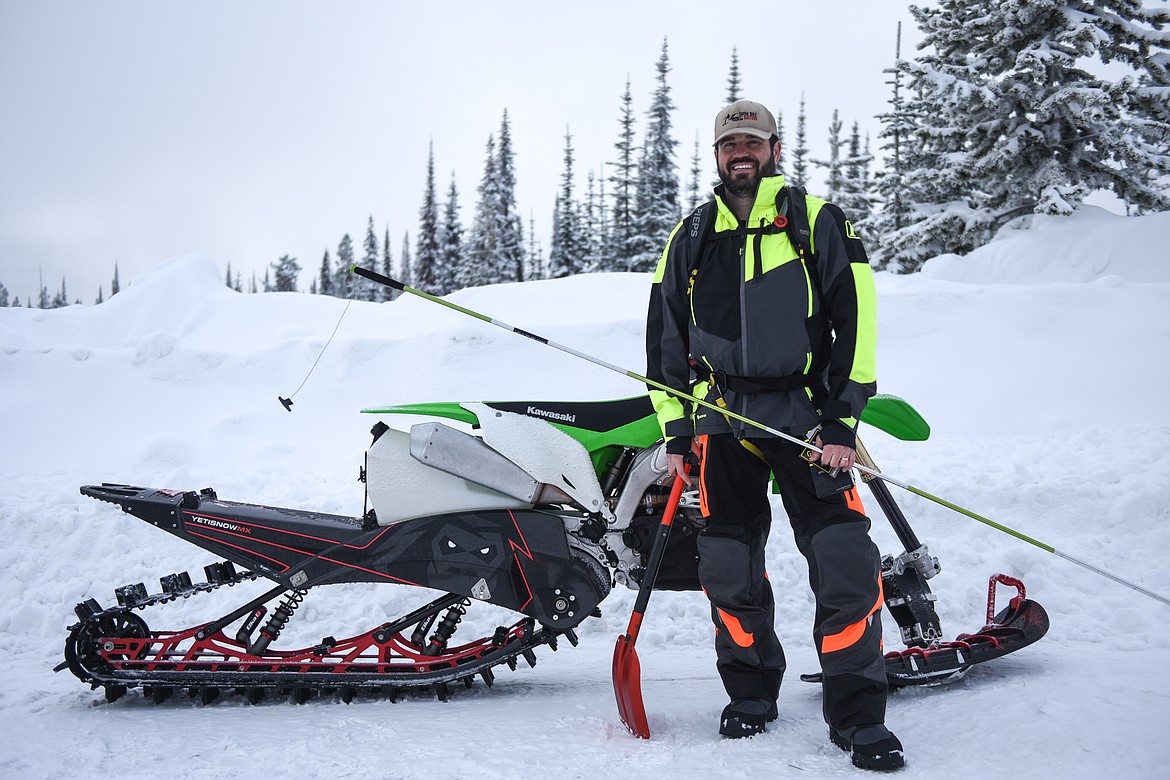 Kyle Allred, of Snow Bike Nation, at Blacktail Mountain Ski Area on Thursday, Jan. 7. (Casey Kreider/Daily Inter Lake)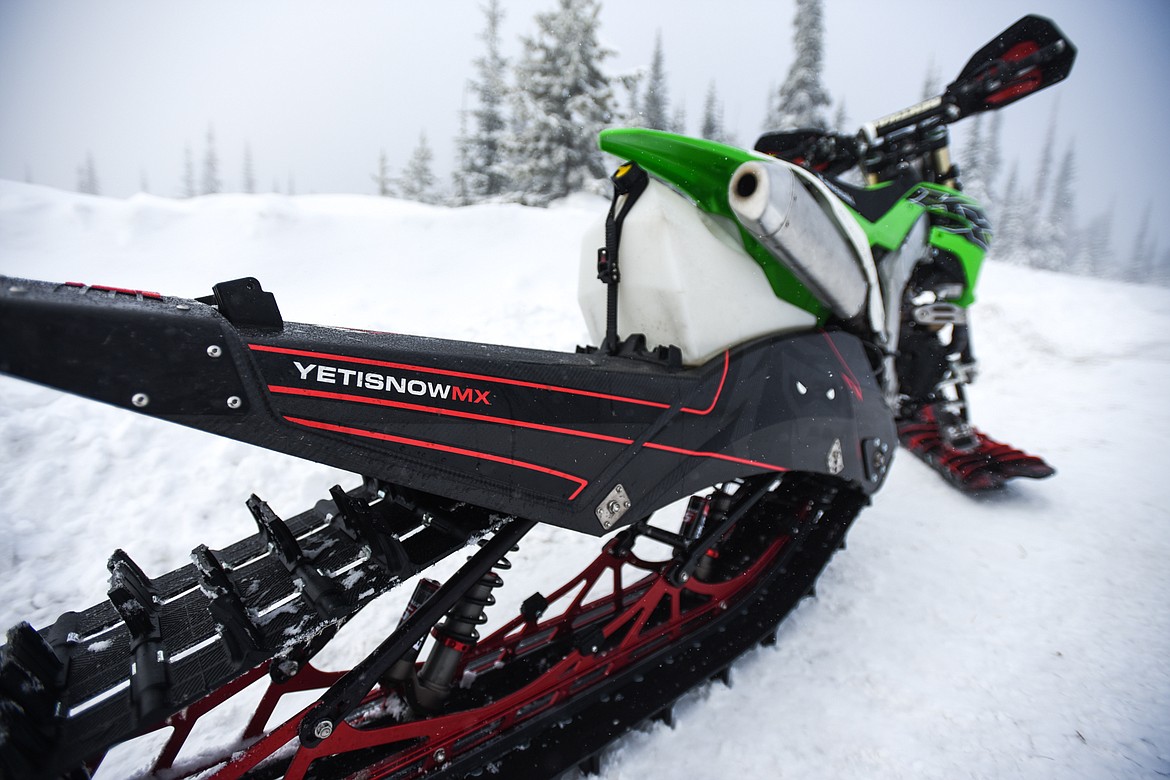 A Kawasaki KX450 with a Yeti SnowMX snow bike conversion kit. (Casey Kreider/Daily Inter Lake)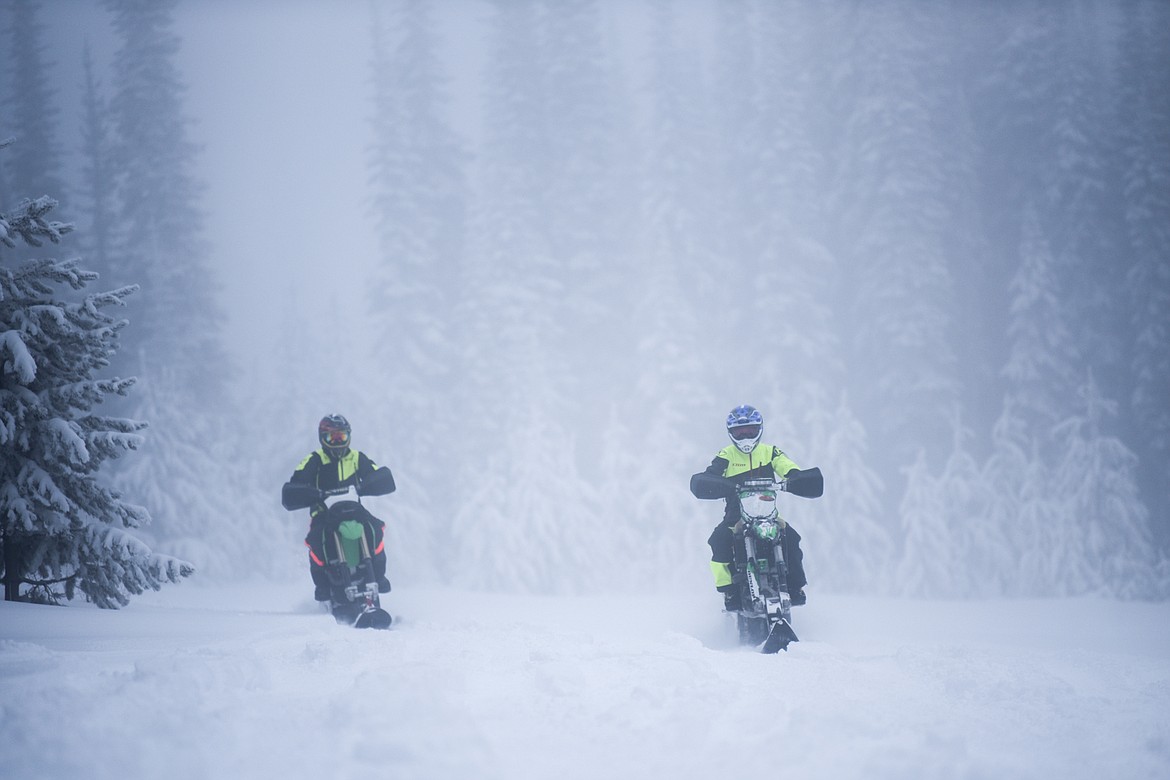 Kyle Allred, left, trails Daily Inter Lake reporter Bret Serbin while Allred teaches her the basics of riding a snow bike near Blacktail Mountain Ski Area on Thursday, Jan. 7. (Casey Kreider/Daily Inter Lake)
Previous
Next
by
BRET ANNE SERBIN
Daily Inter Lake
|
January 17, 2021 12:00 AM
Kyle Allred says the best way to master snow biking is "to make your own track." That's what he's trying to achieve with SnowBike Nation, the local guiding outfit Allred launched at the start of the year.
His goal is to introduce new enthusiasts to the burgeoning sport, so that when his snow bike tours end, the participants are just getting started on a new adventure. This way, Allred hopes to build the Flathead Valley into a hub for the under-the-radar activity.
"It's still an anomaly," Allred said.
It's easy to see why. Essentially a cross between a dirt bike and a snowmobile, snow bikes—also known as timber sleds—look unlike anything most people have ever seen.

They have the terrain-touring capabilities of a snowmobile, paired with the sleek maneuverability of a dirt bike. They can weave through tight trees and plow through deep powder, but only if you can get your hands on their heated handlebars.
Ready-made snow bikes still aren't commercially available in any shop. Would-be snow bikers have to attach snow bike kits to their own dirt bikes or arrange for a shop to put the pieces together for them.
That's where SnowBike Nation comes in.
ALLRED, AN Army veteran and lifelong adrenaline junkie, got in on the ground floor of snow biking when the sport got its start in Idaho in the mid-2010s.
"After I went, I knew it was going to blow up," he recalled. He wanted to be a part of helping the industry take off, especially in Northwest Montana.
"I'm really just looking to introduce people into the sport," Allred said. He started with a podcast and social media campaigns to spread the snow-biking bug beyond his native Idaho. But he knew the key to recruiting new snow bikers would be getting them onto the bikes and into the backcountry.
So for the past two seasons, he's been working to build an arsenal of snow bikes and a crew of experienced guides in order to offer snow-bike tours throughout the Flathead.
Although Allred grew up mountain biking in Idaho, he wanted to build his business in the outdoor activity Mecca that generations of Allreds called home. He saw it as a prime opportunity to get back to his roots and bring snow biking to a mostly untapped market.
He said the dense trees in the area are ideal for serpentine snow bike tracks, and the valley's rich tradition of outdoor tourism is a perfect fit for snow-bike guiding. He's partnered with numerous local businesses to provide transportation and lodging for new snow bikers, and he said the tours already have become popular with visitors who come for a ski trip and decide they want to try a new activity after a few days of waiting in lift lines.
"We really want to cater to the people that are adventurous…people looking for something different and unique," he said.
SNOWBIKE NATION offers partial-, full- and even multi-day guided tours with Allred and his three guiding partners. Allred provides the bikes and all of the top-of-the-line gear anyone could need for a day's ride, from suits and boots to emergency avalanche equipment.
"You could show up in your underwear," Allred joked.
Even if you did, you'd stay toasty in Allred's specialized heated trailer where participants can gear up in total comfort. The trailer and the rest of the outfit can go to virtually any outdoor destination, although Allred tends to prefer Blacktail Mountain as a spot to train beginners.
At that point, riders (ages 16 and older) follow Allred and his fellow guides out into the forest, usually on tours that range from four to six hours. Allred pointed out that snow biking is particularly beginner-friendly, since wipe-outs are usually cushioned by a few feet of untouched snow.
The bikes are small and light enough to be adaptable to a variety of riders, including women and older bikers. Allred said he has plans to teach an all-women clinic later in the season, as part of his effort to build a snow-bike nation from the valley floor on up.
"Guiding isn't the end game," he explained. "Content is the end game, popularizing the industry."
He hopes that making snow biking more accessible will take snow bikes out of the backcountry and into the mainstream, and he's making tracks to bring that day closer.
SnowBike Nation can be found online at https://www.snowbikenation.com.
Reporter Bret Anne Serbin may be reached at 758-4459 or bserbin@dailyinterlake.com.
---