Local men putting Montana on the map in sport of steinholding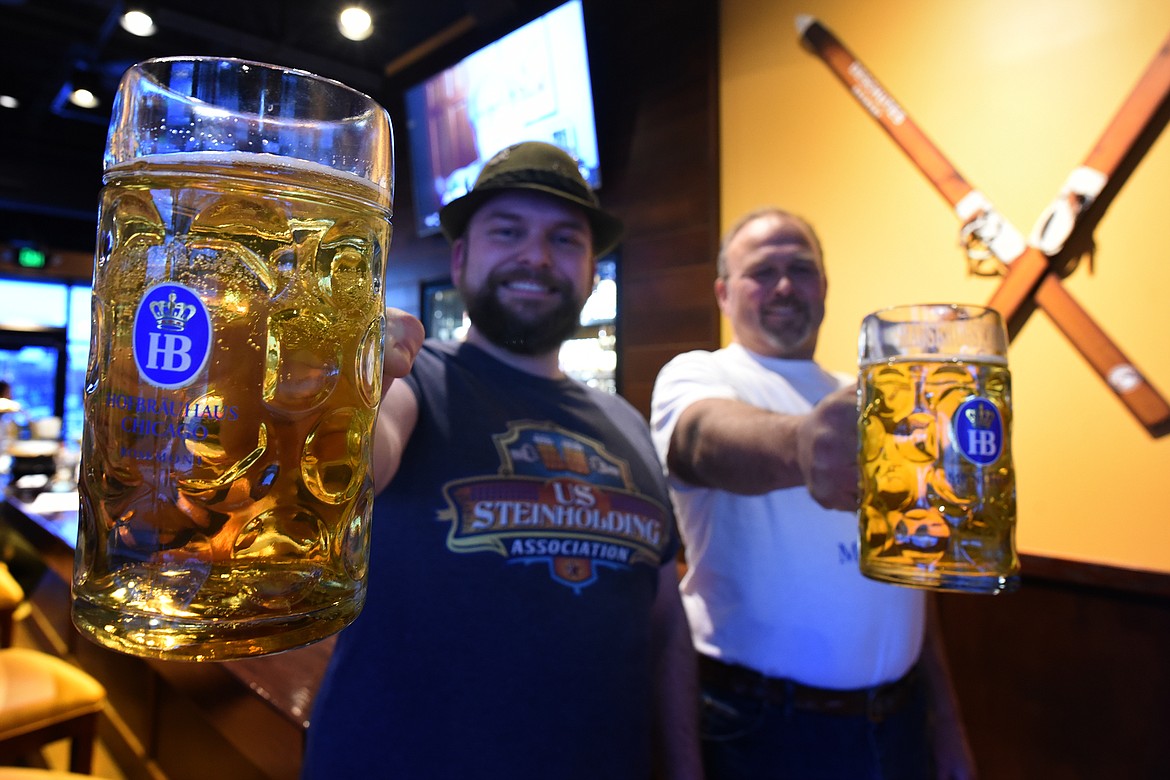 2020 U.S. Steinholding Association national champion David Sturzen, left, and long-time Northwest Montana Oktoberfest champion Kevin Collom aim compete in the 2021 national championship in New York this September. (Jeremy Weber/Daily Inter Lake)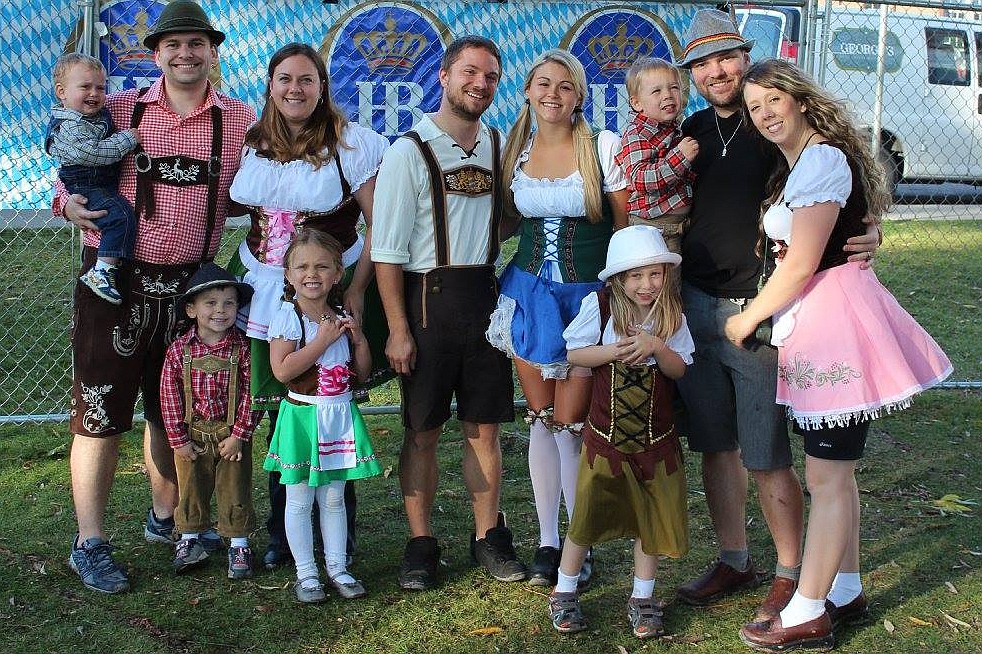 David Sturzen and his family take great pride in their German heritage, dressing up and attending the Great Northwest Oktoberfest each year. (photo provided)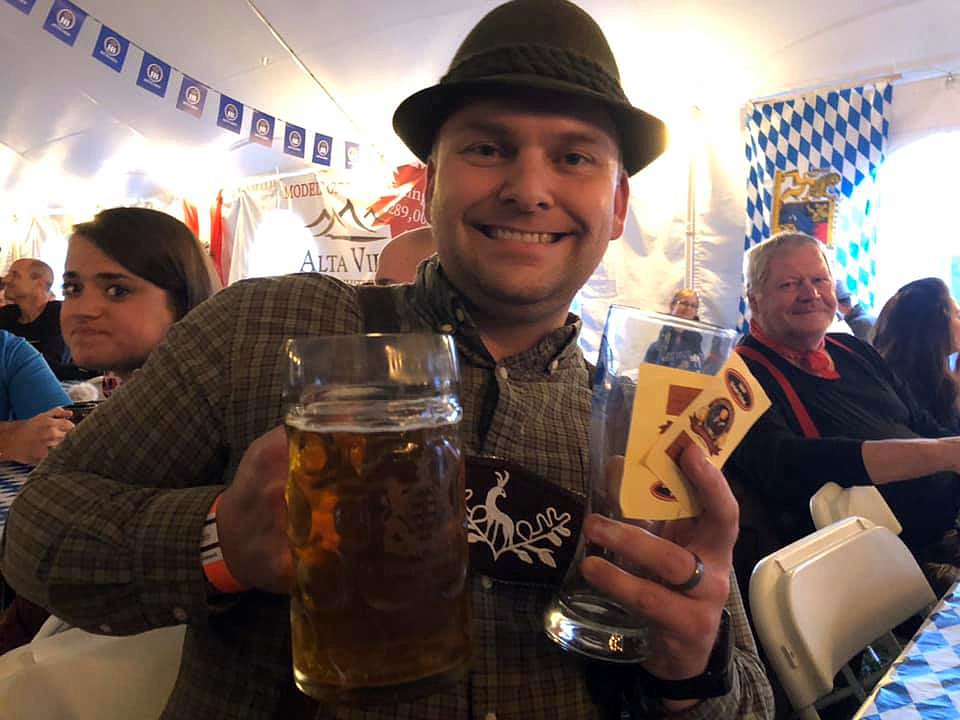 David Sturzen celebrates his 2019 steinholding win at the Great Northwest Oktoberfest. (photo provided)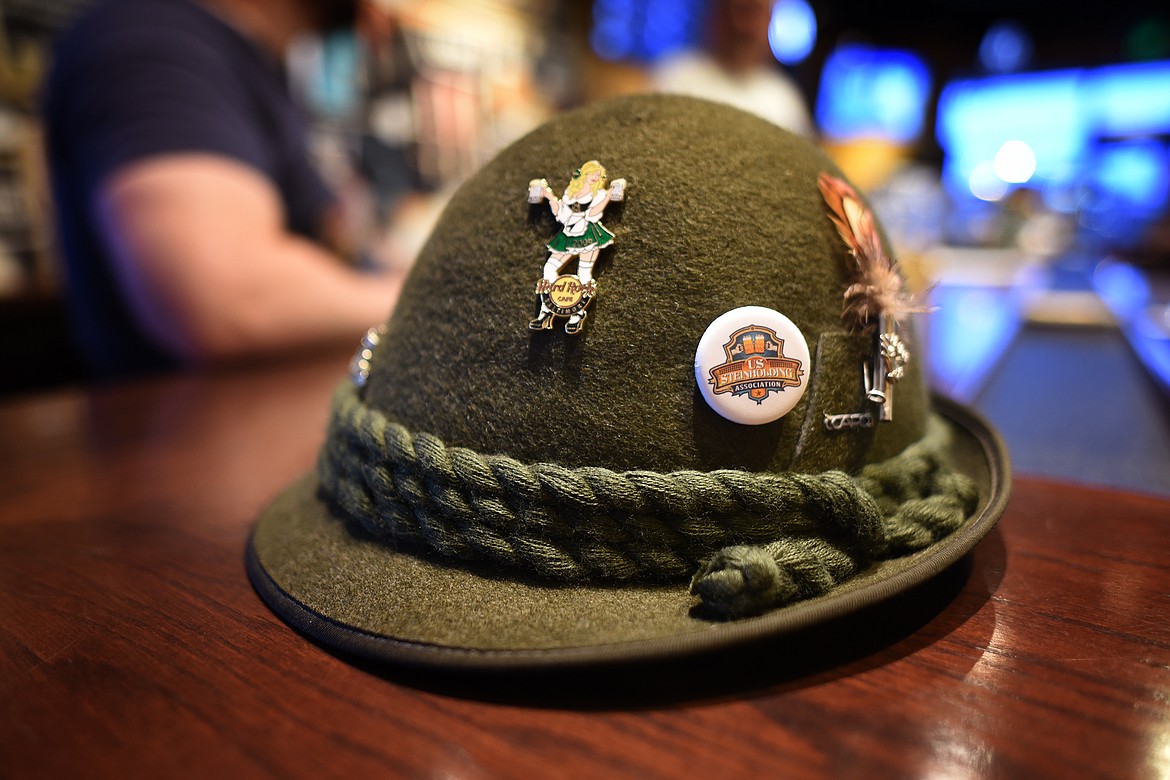 David Sturzen's steinholding outfit is not complete without his lucky hat, which belonged to his father and grandfather. (Jeremy Weber/Daily Inter Lake)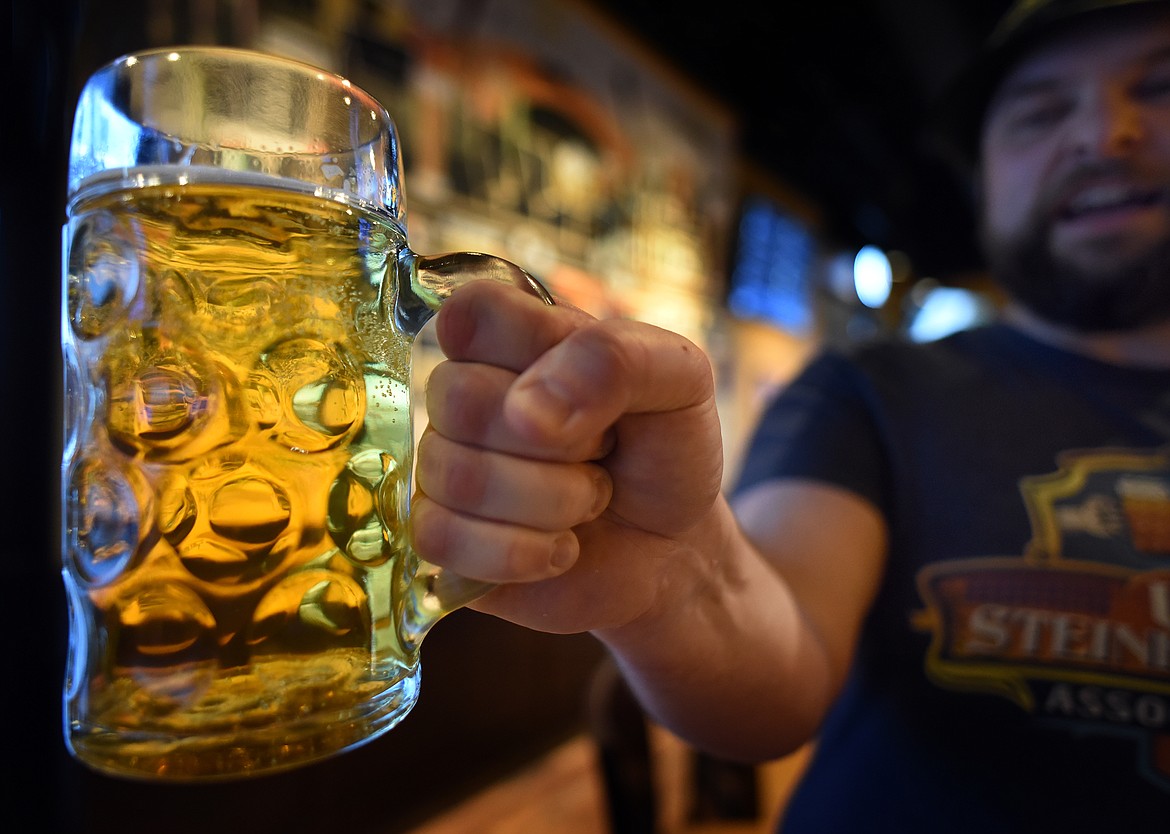 National steinholding champion David Sturzen demonstrates the proper hold allowed in competitions. (Jeremy Weber/Daily Inter Lake)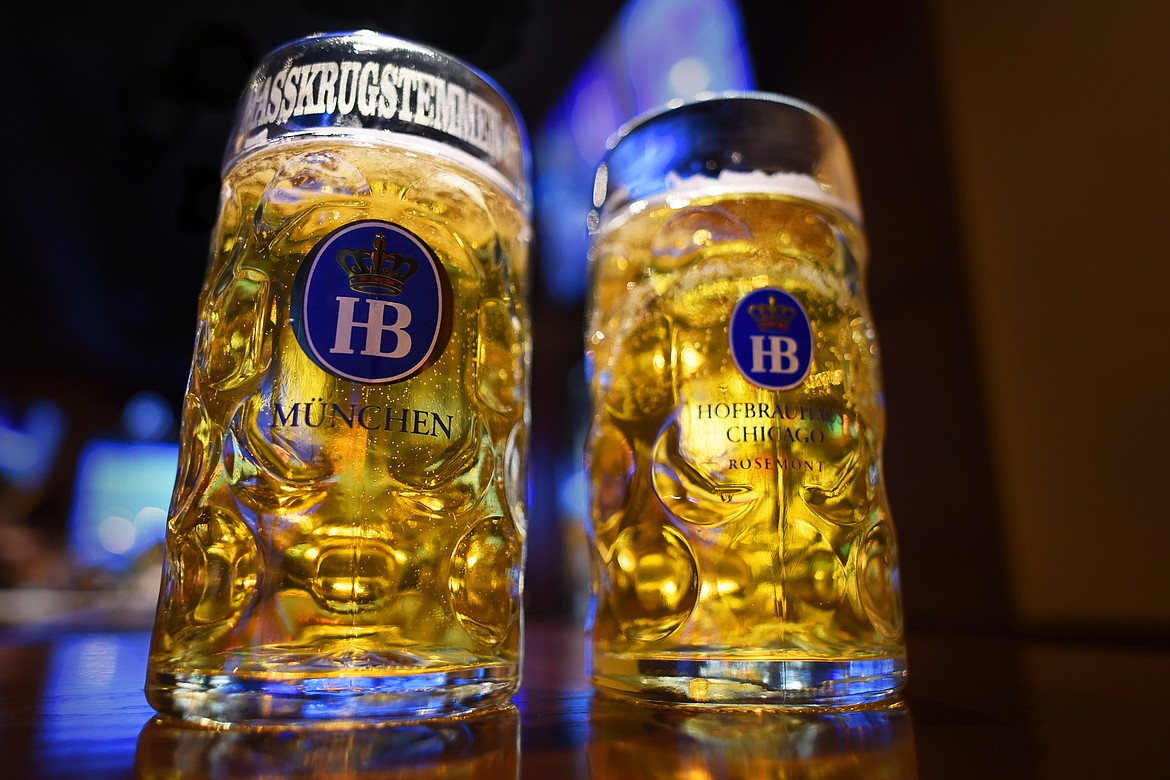 Competitors for the U.S. Steinholding Association's national championship must compete with the official glass Hofbräu brewery stein, which weighs 5.5 pounds when filled with one liter of beer. (Jeremy Weber/Daily Inter Lake)
Previous
Next
by
JEREMY WEBER
Daily Inter Lake
|
January 31, 2021 12:00 AM
David Sturzen and Kevin Collom are putting Northwest Montana on the map in the unique, quirky sport of Masskrugstemmen.
Mass-a-kru-what?
Masskrugstemmen, or steinholding as it is more commonly known, is a Bavarian feat of strength and endurance that pits contestants against one another in a competition to see who can hold a 1-liter stein of beer (weighing around 5.5 pounds) aloft the longest.
Masskrugstemmen is a mashup of two German words, "masskrug," meaning a one-liter stein of beer, and "stemmen," meaning "lift." Put the two words together and you've pretty much got the jist of the sport.
While the official U.S. Steinholding Association has a lengthy list of 15 rules, the basics are simple: no beer can be spilled, no elbows can be bent and extended arms must be kept parallel to the ground. The winner is the person who can hold up their stein the longest.
For Sturzen and Collom, that can be 20 minutes or longer.
While Sturzen is relatively new to the sport, Collom is as close to a legend as Montana has in the sport. Basketball has Michael Jordan and Bill Russell, hockey has Wayne Gretzky and the Great Northwest Oktoberfest has Kevin Collom. Until 2019, Collom had won every steinholding competition in the history of the festival. That was before the pair of torn rotator cuffs he had been ignoring for seven years (he refused to have surgery until he lost a competition), and Sturzen got the best of him.
"When that drop of beer hit the ground and they called me out in Whitefish, I put my stein down, came over to cheer David and I thanked him for beating me so I could finally get my shoulders fixed," Collom said with a laugh.
FOR STURZEN, the win was something he never expected. Proud of his German heritage (his family shortened their name from Stürzenhofäcker when they immigrated to America) Sturzen and his family had been attending the Great Northwest Oktoberfest since 2011. His full traditional outfit (lederhosen included) caught the attention of Fritz Baake and John Wamniomini Waniyetu, who invited him to join their stammtisch, or meeting group. It was from their table, year after year, that Sturzen watched Collom successfully defend his steinholding title. Sturzen would compete in the daily competitions each year, but never stayed for the finals, feeling he had no chance against Collom. That was until his family talked him into giving it a go in 2019.
While his true "David vs. Goliath" victory was a big moment for Sturzen, it meant the real work was about to begin. If he wanted to truly compete at the regional and national levels, he would have to train and learn the real ins and outs of the sport. The 36-year-old X-ray technician (who ironically enough worked with the surgeon who would repair Collom's shoulders) found the perfect trainer and mentor in the man whose throne he had just taken.
Together, the two went to work with their eyes set on the ultimate steinholding prize — the Hofbräu National Masskrugstemmen Championships in New York's Central Park. Sponsored by the Munich-based Hofbräu Brewery, the winner of the competition earns an elaborate championship belt, a commemorative stein trophy and a trip for two to Germany for Oktoberfest.
There was just one more step along the way: the Regional Championship in Las Vegas.
Thus, training began.
COLLOM, WHO does his training with steins full of random nuts and bolts with a splash of motor oil for extra weight, began helping Sturzen with his form and, little by little, his endurance increased.
"When I started, I could do like nine or 10 minutes. With Kevin's help, that number just kept going up and up," Sturzen said. "It took months; just now I am past the 22-minute mark. I never thought I would get there, but Kevin kept me training until I did."
According to Collom, his new protege is a natural, but Collom took his training duties seriously.
"Training is boring and it's painful," Collom said. "There's not really a lot of incentive for people to go out and train for streinholding. It takes a special, weird kind of person to do it and David fit the bill.
"Everyone from here that competes in Las Vegas or New York is representing our little town," Collom continued. "As a judge and a mentor, I am going to make sure that everyone here is doing it right. I don't want someone from here making it to New York only to be disqualified because of an improper hold."
According to both men, the real trick to steinholding is learning to ignore the pain.
"You start really feeling it at about two and a half minutes and then it starts to get progressively worse. The pain level really maxes out at about four to five minutes. From then on, it gets a little bit worse until your muscles fail. If you can block out the pain, then it is just up to your muscles to do the work," Collom said. "Most guys just don't fight their way through the pain. I've watched hundreds of competitors with beautiful form give up as soon as they hit the pain."
Collom, whose trick is to find a spot in the audience to focus on during competitions, said it takes the right kind of strength and physique to excel at steinholding.
"I've gone up against body builders, which can be intimidating. I'll look at the guy next to me, who has huge arm muscles, but that also means he has to hold up the weight of those muscles on top of the 5.5 pounds," he said. "Body type can also be important. Holding a stein up at the end of long, lanky arms is incredibly tough. Shorter and stronger arms dominate this competition. T-Rex would be the ultimate steinholder," Collum joked.
WITH MOST live competitions shut down due to COVID-19, Sturzen began scouring the internet for virtual meets to hone his skills. His first chance to compete came against the best steinholders Pennsylvania had to offer. There was just one small problem, Sturzen needed an officially sanctioned U.S. Steinholding Association competition stein.
Overnight shipping came to the rescue.
"I was literally still in my scrubs from the hospital and I ran home, threw on my lucky hat, pulled the stein from its package in my mailbox and took on the undefeated champion of Pennsylvania," Sturzen said.
Sturzen won.
He continued to pile up the wins as Las Vegas and the regional competition approached, but then bad news. The regional was canceled due to COVID-19.
Undaunted, Sturzen contacted the U.S. Steinholding Association and got the go-ahead to advance to the national championship in New York, but that, too, was canceled.
When Sturzen found out the U.S. Steinholding Association had decided to host the competition remotely online, he gritted his teeth, filled his stein and filmed his best effort.
The video of Sturzen's impressive 18-minute hold was posted on the association's Facebook page Nov. 14, at which time he was declared the 2020 national champion.
While Sturzen was elated with the win, he was saddened to have missed out on getting to earn it in front of the more than 10,000 who usually attend the event in New York.
WITH COLLOM'S shoulders healing and an eventual showdown lurking, Sturzen said he has adopted new goals moving forward, including breaking the U.S. steinholding record of 21 minutes and 17 seconds, set in 2018, something he has already accomplished in practice.
For Collom, who won four straight regional titles in Las Vegas and twice finished as high as third in New York, his goal remains earning that elusive national title while also finding a sponsor to help send a female champion from Northwest Montana to the event as well.
"The women compete at the championship in New York, but we have no way in Whitefish right now to get a woman there. That is something I am trying to see changed," Collom said. "We just need a local sponsor willing to put up the money."
Both men are intent on making Montana a true powerhouse in the sport.
"My goal is to make it back to the New York competition and actually get to go there and compete on stage," Sturzen said. "I would like to win it for Montana or, better yet, have both Kevin and I each win one for Montana over the next couple of years."
Reporter Jeremy Weber may be reached at 758-4446 or jweber@dailyinterlake.com.
---