Forest projects planned in Lone Pine State Park, Troy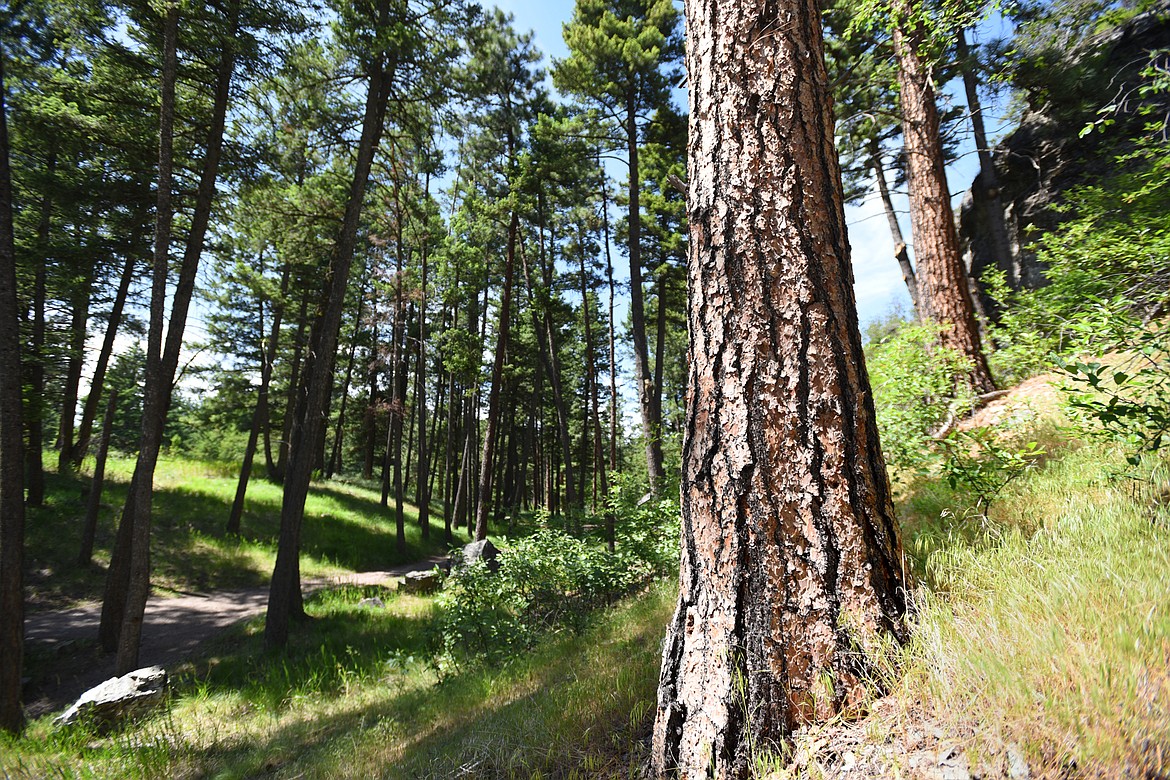 Ponderosa pines stand along the White Memorial Loop in Lone Pine State Park in this June 18, 2019, file photo. (Casey Kreider/Daily Inter Lake)
by
CHAD SOKOL
Daily Inter Lake
|
July 31, 2021 12:00 AM
Crews will harvest Douglas fir logs, plant western larches and ponderosa pines, and use prescribed burns to revitalize native bunchgrass prairie in Lone Pine State Park.
The $86,000 project will involve both commercial and noncommercial tree-thinning efforts. It's one of 14 forest management projects across Montana that Gov. Greg Gianforte's office announced on Wednesday.
The state Department of Natural Resources and Conservation will find contractors to carry out the projects with $4.5 million from the state's fire suppression account and another $500,000 from the U.S. Forest Service.
"This fire season has proven to all Montanans the importance of active forest management to reduce wildfire risk," Gianforte said in a statement, adding the projects "will create more resilient forests, improve wildlife habitat, increase recreational opportunities, and support local economies with good-paying jobs in the forest products industry."
Another project on the list, the Rabbit Tracks Project near Troy, will involve thinning, logging, prescribed burning, weed treatments and the planting of native trees, shrubs and grasses. Gianforte's office said the $486,000 project aims to "improve forest resilience to fire, insects and disease; maintain old growth characteristics; reduce fuels; improve water quality; provide forage and security for wildlife; and support the wood products industry."
The entire project is located in "wildland-urban interface," an area where wildfires can quickly jump to homes and other structures.
Other projects on the list will be carried out in Helena, Hamilton, Bozeman, Miles City, Red Lodge, Frenchtown, Beaverhead County, Valley County, Missoula County, Ravalli County and the Bitterroot National Forest, and the Fort Belknap Indian Reservation.
Additionally, state officials committed $199,500 to launch an urban forestry program, which will help about eight to 12 cities "remove unhealthy or undesirable trees and replace them with desirable species."
Gianforte's office said the projects were selected in accordance with the Montana Forest Action Plan, which was drafted in collaboration with industry stakeholders, conservationists and tribal nations. Former Gov. Steve Bullock finalized the plan shortly before leaving office in January.
"Just like fire, forest health problems don't stop at fence lines," Gianforte said. "It's critical that we continue to work together and partner across ownership boundaries to manage our forests so we can help protect our communities, infrastructure and natural resources."
Assistant editor Chad Sokol may be reached at 406-758-4439 or csokol@dailyinterlake.com.
---