Area students win big in Montana fish art contests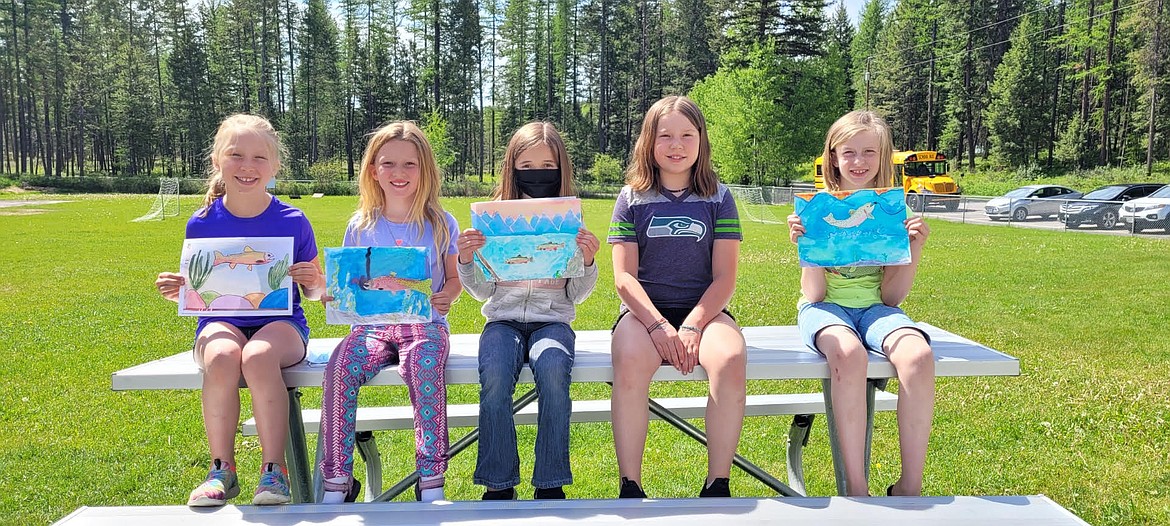 Students from the Flathead Valley, particularly at Olney-Bissell Elementary School, did very well in the Montana Fish Art contest. From left, are Mackenzie Gates (first place in second grade), Vella Rose (third place in second grade), Luda Khrupin (first place in fourth grade), Kaylynn Gates (second place in fourth grade) and Madisyn Mailman (third place in fourth grade).
by
SCOTT SHINDLEDECKER
Hagadone News Network
|
June 3, 2021 12:00 AM
Students from Northwest Montana were well-represented in the Montana Fish Art contest.
Seven young people, including five from Olney-Bissell School and two from Kalispell, were top three finishers in the Montana cutthroat trout and Wildlife Forever Fish Art Montana contests.
According to Jim Vashro, formerly with Montana Fish, Wildlife & Parks and now with Flathead Wildlife, Wildlife Forever created the national Fish Art competition to create appreciation and knowledge of fish and aquatic conservation. Vashro has run the Montana contest for more than a decade.
Vashro said entries came from all over the state, including Fromberg, Havre, Helena, Kalispell, Missoula, Olney, Polson, Roy and Whitefish.
Olney-Bissell School used the contest as a class project and was led by teachers Shianne Schmidt and Chris Huch.
Olney-Bissell second grader Mackenzie Gates placed first in the state and Wildlife Forever contests. Fellow second grader Vella Rose Hafen was third in both contests.
Whitefish fourth-grade students swept the cutthroat trout and Wildlife Forever awards. Luda Khrupin was first in both while Kaylynn Gates was second in both and Madisyn Mailman was third in both.
Kalispell seventh grader Abigail Haley was second in the Wildlife Forever contest and fellow seventh grade student Tyler Jorgenson was third.
"The contest originally started as a State-Fish Art Contest to encourage students to learn more about their state fish," Vashro said. "Montana's State Fish is the Cutthroat Trout. Wildlife Forever loosened the contest rules to allow students to draw any fish, a group of local and state conservation organizations wanted to concentrate on the Montana State Fish so we created the Montana Cutthroat Trout Award Contest. We worked with the Hockaday Museum of Art Youth Education Program for submissions."
The Montana Fish Art Contest is sponsored by Flathead Wildlife, Inc., Glacier Country Fly Fishers, Flathead Valley Chapter of Trout Unlimited, Montana Trout Unlimited and the Montana Wildlife Federation. The free contest was open to all students kindergarten through 12th grade.
Artists had to create an original illustration of their chosen fish from the official fish list. Students in fourth grade and above also had to submit a one-page essay on conservation.
The Montana State Fish is the cutthroat trout. Cutthroat are known for the orange colored slash under their jaw and were first described by the Lewis and Clark expedition in 1805. Cutthroat have declined due to habitat loss, competition with non-native fish and overharvest but their range is expanding again due to diligent conservation projects.
Students who entered a Westslope or Yellowstone cutthroat in the Montana contest were eligible for the Montana Cutthroat Award which will offer cash prizes of $75, $50 and $25 for first, second and third places in grades K-3, 4-6, 7-9 and 10-12. Cutthroat entries were also eligible for the Western Native Trout Award and all students who entered were eligible for national recognition.
The Fish Art Program also offered an Educators Corner to integrate science and art.
For more information on the Montana Fish Art Contest, contact Jim Vashro at jsjvash@montanasky.us or (406) 270-9914.
Recent Headlines
---