Senior Spotlight: C-Falls senior dancing to embrace life's music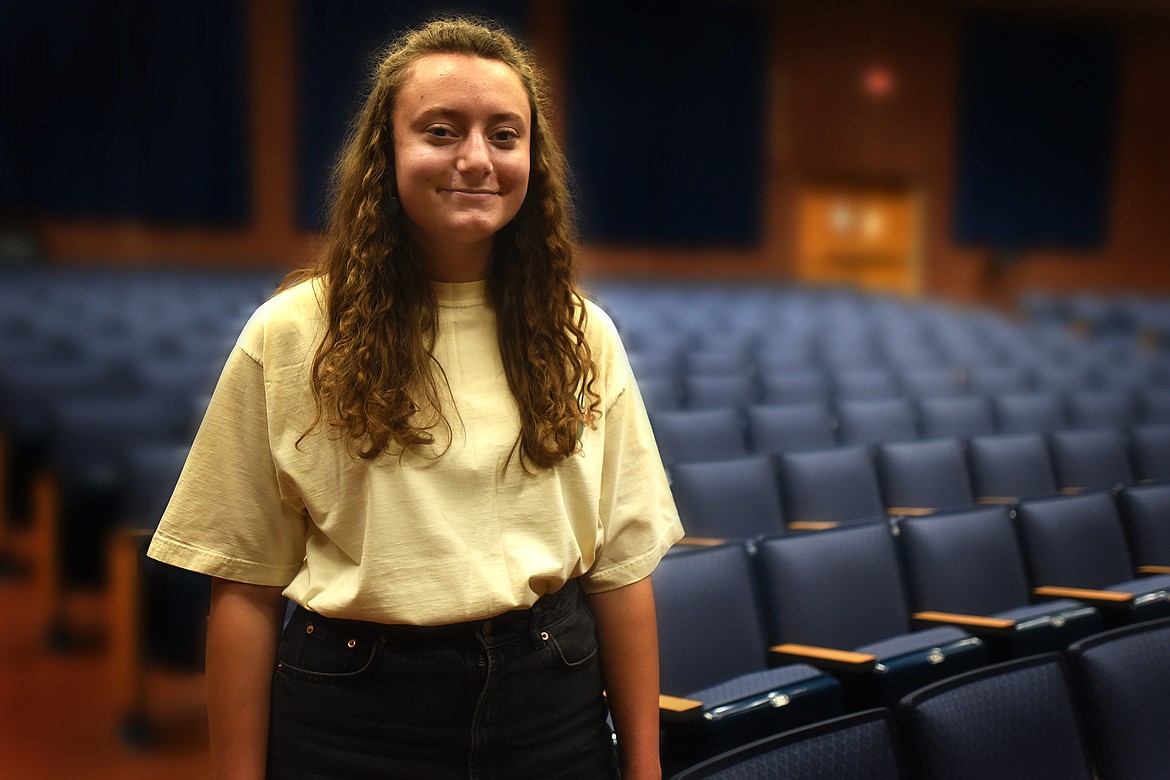 Columbia Falls High School senior Jesse Rusche plans to study music and physics at Brown University this fall. (Jeremy Weber/Daily Inter Lake)
by
JEREMY WEBER
Daily Inter Lake
|
June 4, 2021 12:00 AM
Dancer, actor, musician, singer, black belt, mathematician — many words can be used to describe Columbia Falls High School senior Jesse Rusche.
For four years, she has shared her unique view of life in the school's classrooms, hallways and on its stage, always with a dance in her step. Soon, she will be taking that dancing spirit with her to Rhode Island, where she plans to study music and physics at Brown University in the fall.
"I just love to be dancing all the time. I love to get a large group of people dancing," she said. "Dancing just makes life more fun."
Rusche said she has been dancing to the tunes of Fleetwood Mac exclusively for the past five months but also expressed a love for Billie Holiday, Etta James, Joni Mitchell and Lady Gaga, among others.
Music has surrounded and shaped Rusche's life since she was born.
A violin player since the age of 4, Rusche began singing in a choir at an early age and was known to lend her voice to her father's band at Doc Z's Bar in her hometown of Wolf Point.
She still sings with her father and brother in their family band, GOC, but Rusche more commonly can be found on a different stage these days.
"I live for the theater. My one true love is being on a stage," she said. "I love theater and I love the feeling of bringing an audience into the story."
After participating in the annual production of the Lewis and Clark Story in elementary school, Rusche found she had a knack for acting and soon landed the lead role in a local production of "Alice in Wonderland" before going on to roles in "Xanadu," "The Neverending Story," "12 Angry Men," "The Wizard of Oz" and "Beauty and the Beast."
AFTER SPENDING the early years of her life in Wolf Point, Rusche and her family moved to Columbia Falls when she was 8 years old. Every day, she and her family would drive by the American Karate Academy and at age 9, she decided to follow her dream of training to become a "Power Ranger."
She may not have achieved the rank of Master Morpher, but after countless hours of training and dedication, Rusche received the rank of black belt on May 4, 2019.
"I think karate has helped me see life through a lens that is more balanced. It helps me to be content and also aware of everything that is happening around me," she said. "Yes, there are a lot of physical aspects to it, but I think the mental lessons of karate have helped me most."
The lessons learned on her way to achieving her black belt also helped Rusche cope as she battled against depression and anxiety in high school in what she said was mostly a struggle to live up to the high expectations she had for herself.
"It has been a long and hard process for me and I am sure there are many others fighting that battle that don't even know what it is they are dealing with," Rusche said. "I've been lucky enough to have a very strong support system so I had a chance to find that equilibrium. Life doesn't have to be stressful. You just have to find balance."
Rusche has used the lessons learned from her struggle to help her find balance as she took part in a number of different activities and helped lead several student-based organizations while in high school.
As a freshman, Rusche was the co-founder of the Columbia Falls Conservation Crew, an organization that promotes sustainability in both the high school and the community. During her time there, the organization started a plastic and aluminum recycling program at the school, helped the school cafeteria to stop using styrofoam trays and started a compost project.
Rusche also serves as the president of the Gender Sexuality Alliance at the school and was a co-founder of the county-wide Flathead LGBT+ Youth organization.
Rusche said she is proud of the changes she has seen during her four years at Columbia Falls High School.
"I've watched it become a really beautiful safe space for a lot of people where people come to feel accepted or help others to feel accepted. It's a great place to come together to celebrate diversity and inclusivity," she said. "During my time here, I have seen the high school become much more inclusive. I think we are making a lot of strides towards making this a better place for everyone, which is really amazing. We are seeing more people being interested in the arts and celebrating them. People are being able to express themselves more and be supported while doing so. I think that is a beautiful thing."
While Rusche will miss the small-town charm of Columbia Falls as she makes the move to Providence (a city of 180,000) she is ready for her life's next great adventure and leaves her fellow students with one piece of advice.
"If you want to dance, you should dance. If you want to sing, you should sing. If you want to just sit and read a book, then do that," she said. "We all want to be able to do the things we want to do. If you are feeling self-conscious about it, remember that everyone else is feeling that way, too. Why not be the person to help other people let go of that insecurity?"
Reporter Jeremy Weber may be reached at 758-4446 or jweber@dailyinterlake.com
Recent Headlines
---