Two coworking businesses opening in Kalispell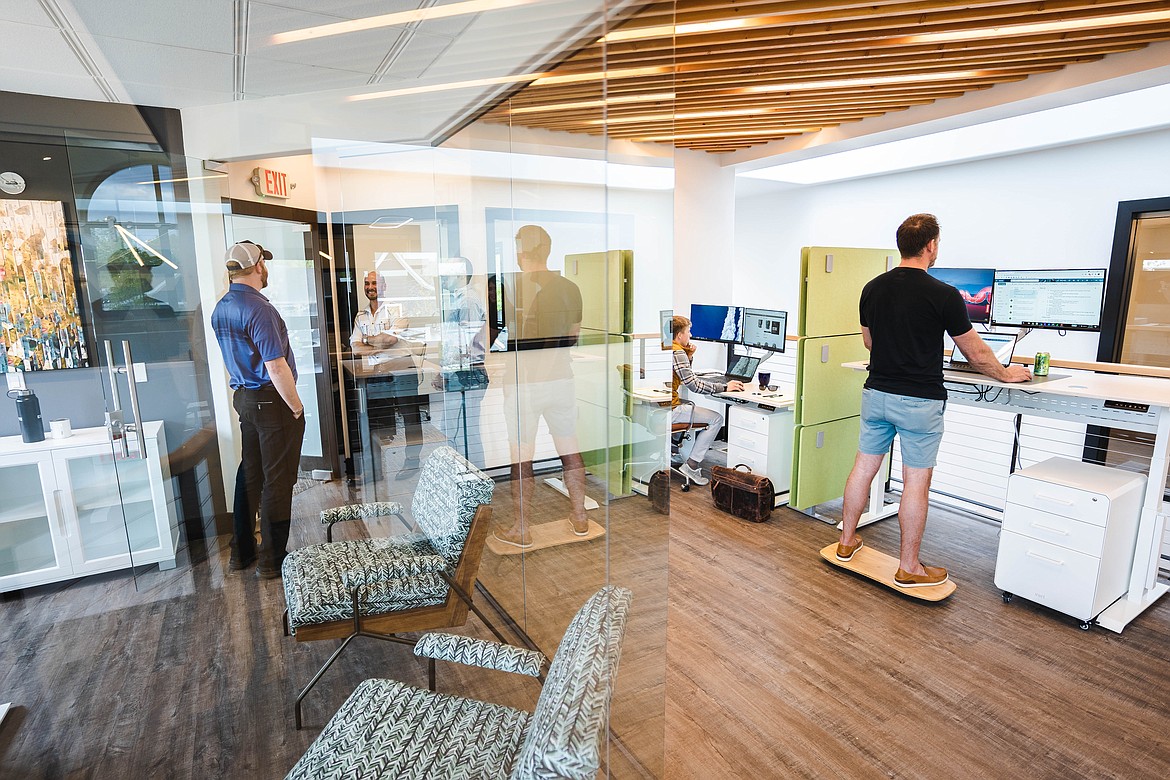 Different office options are offered at Atrium Cowork.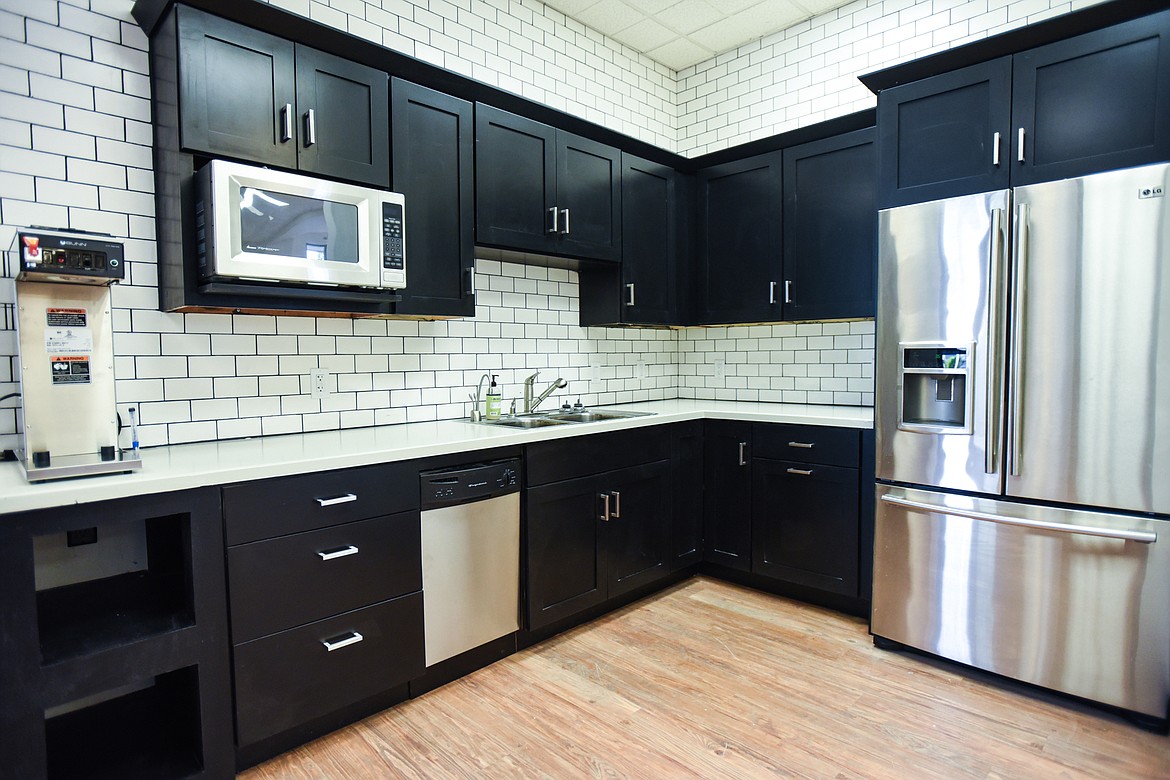 Shared kitchen area for members at CoDesk in Kalispell on Tuesday, June 1. (Casey Kreider/Daily Inter Lake)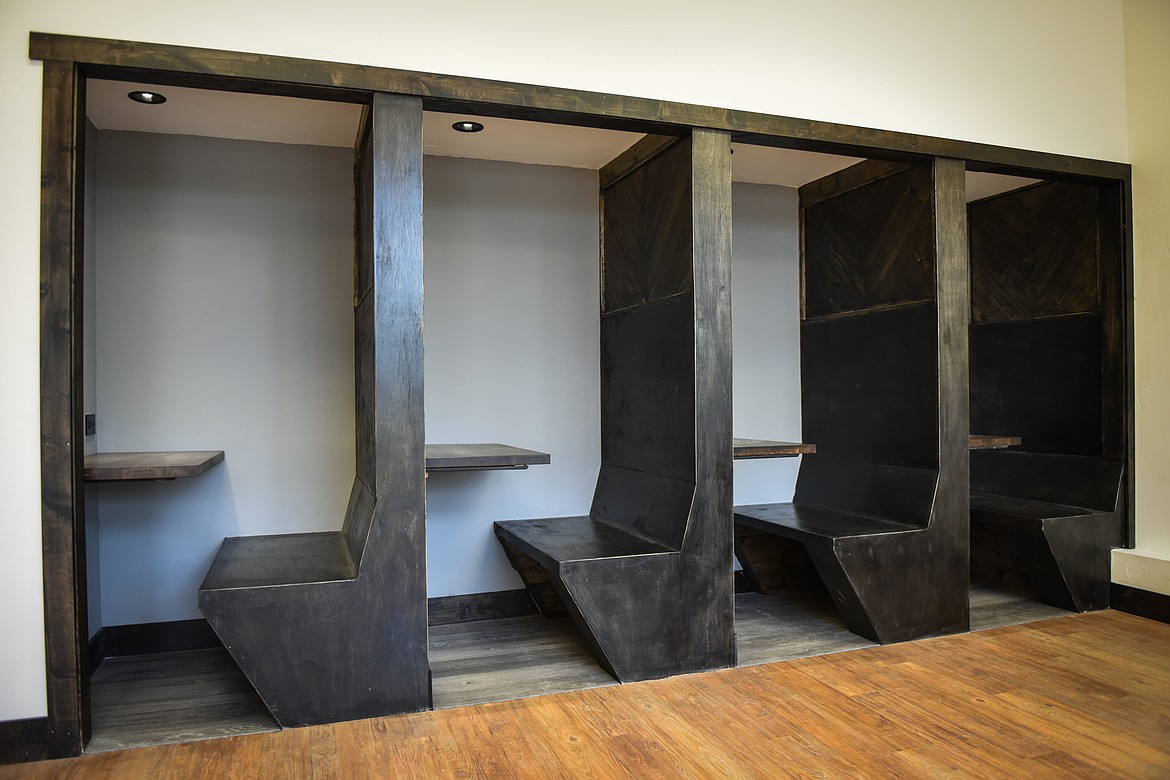 Work spaces are shown at CoDesk in Kalispell on Tuesday, June 1. (Casey Kreider/Daily Inter Lake)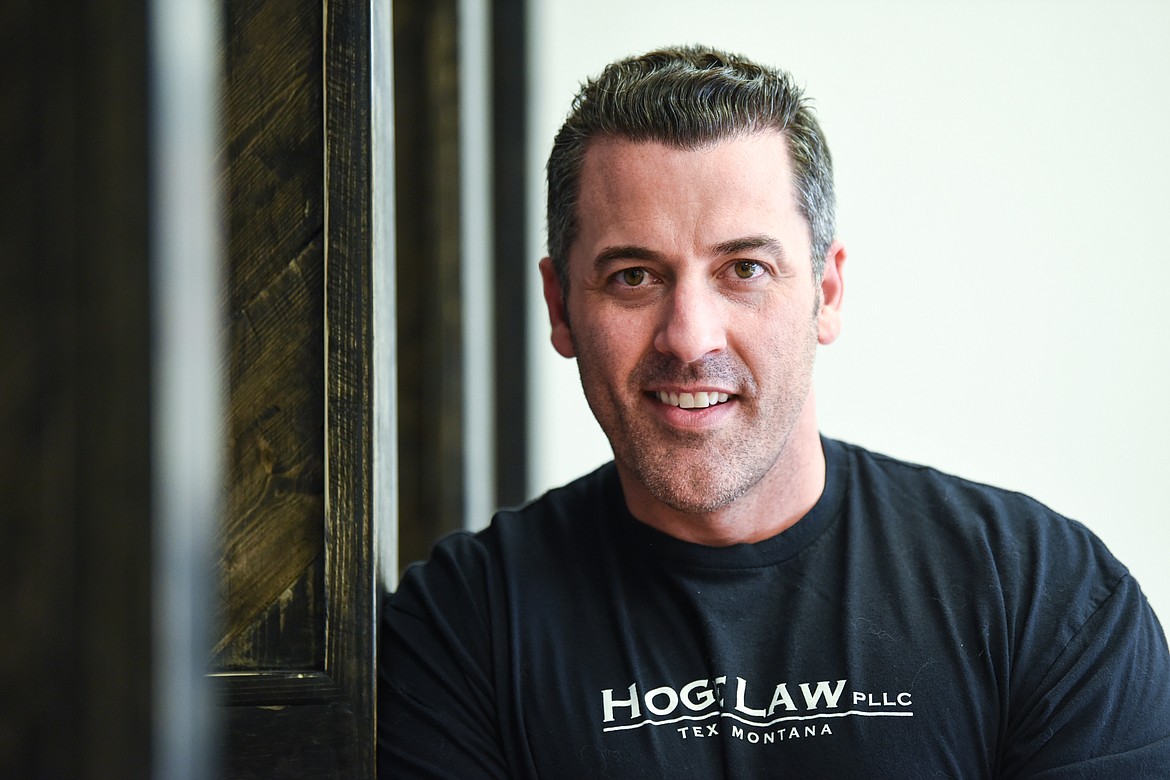 Chris Hogue at CoDesk in Kalispell on Tuesday, June 1. (Casey Kreider/Daily Inter Lake)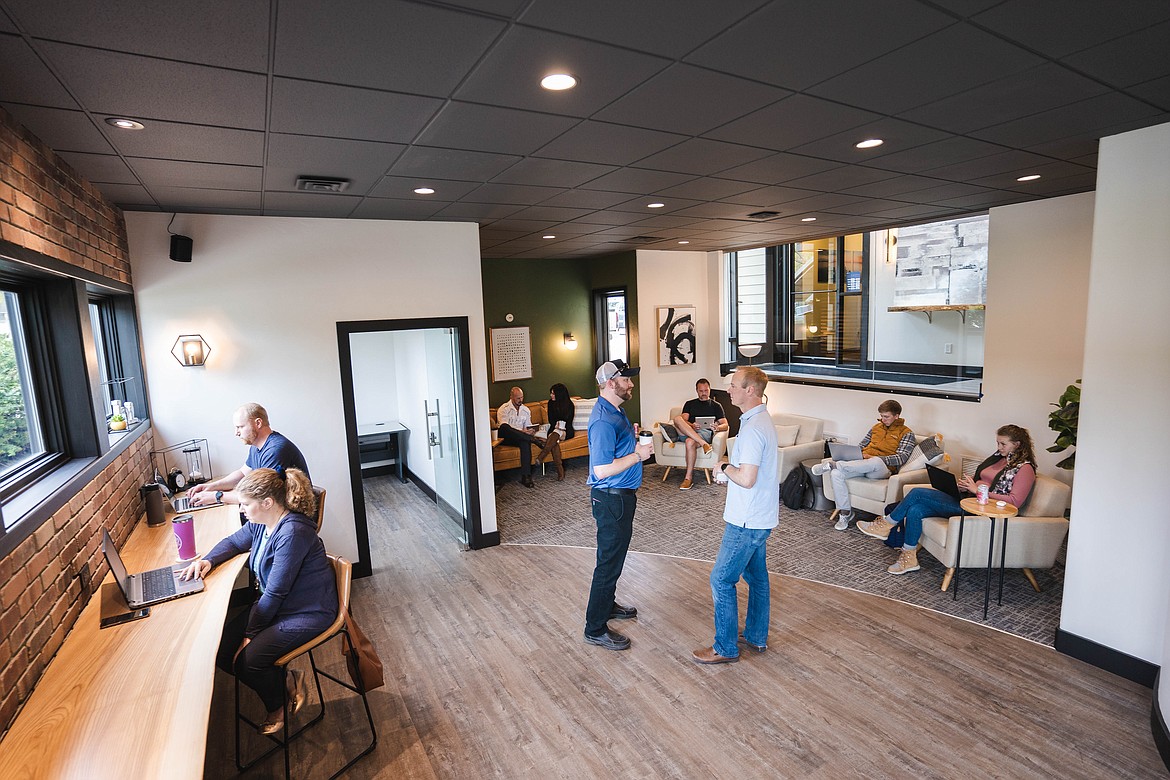 The downstairs lounge area is pictured at Atrium Cowork in Kalispell (courtesy photos).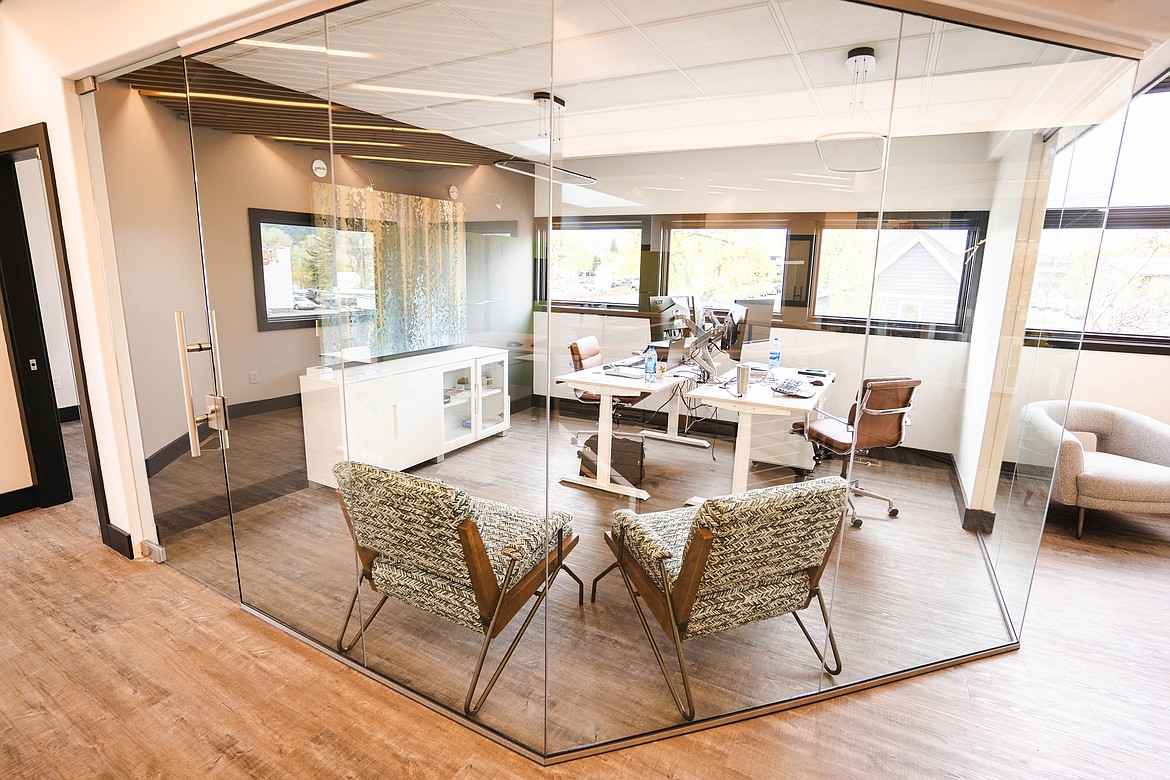 A glass-encased private office is pictured at Atrium Cowork.
Previous
Next
by
BRET ANNE SERBIN
Daily Inter Lake
|
June 6, 2021 12:00 AM
It's finally time for most workers to return to the office after months of working from home. The rise of new coworking spaces in the valley is reimagining what it looks like to head into the office.
"We want to take the model and adapt," said Chris Hogue, co-owner of Codesk, one of two new coworking offices opening in Kalispell this month.
The model has become trendy in larger metropolitan areas such as Hogue's former home of Dallas, Texas.
Most coworking spaces provide an office that functions much like a gym: members pay for a monthly subscription to access the facility and its features, which usually include desks, conference rooms, kitchens and other office essentials.
Coworking offers remote workers a professional setting where they can connect to other businesspeople without maintaining a traditional office.
"They're really fun to work in," said Mark Kenney with Atrium Cowork in South Kalispell.
Though the trend started creeping into Northwest Montana years ago, with BaseCamp Coworking in Whitefish and Camp CoWork in Bigfork, coworking is taking off this summer.
Kenney and his partner Aaron McPherson celebrated the grand opening of Atrium Cowork on Friday.
Located at 1205 S. Main St., just south of the Flathead County courthouse, Atrium Cowork is a three-level open-concept office with lounge spaces, phone booths and private offices.
Members can reserve their own designated desk and get access to a rentable conference room. Short-term visitors can buy a day pass to use the ample lounge area and internet service.
Since the founders remodeled the office building and opened Atrium at the beginning of May, the founders said they've already received reservations from 15 subscribers.
Most of the initial guests in the space are out-of-town workers looking for a place to get some work done during a trip to the area.
"They apparently want to do more than just vacation," McPherson observed.
COWORKING IS attractive to travelers as well as locals searching for office resources while working from home.
Hogue and his wife Lindsey got the idea for Codesk when they relocated from Dallas to the West Valley in 2017. Internet access at home wasn't reliable enough for Hogue's technology law practice, and he couldn't find a small office space or suitable public place in town, either.

The Hogues purchased the former home of Marquardt & Marquardt Surveying at 201 Third Ave. W., and plan to open on June 18.

They did some modest aesthetic renovations to modernize the old surveyor's office, such as transforming a closet into a set of five cubby desks. But Hogue said the benefits of Codesk go beyond the physical space.
Members get access to virtual mailing at Codesk, so they can send and receive packages at the office and register the site as their official business address. Lindsey Hogue, who will manage the business, is going to offer a suite of back-office services such as marketing, invoicing and help with Microsoft SharePoint software. A Codesk membership also comes with a complementary professional headshot and digital networking with other Codesk users.
Codesk and Atrium don't appear to have a lot in common design-wise, between Codesk's black-and-white single-story layout and the glass-heavy triple-tiered design at Atrium. But the founders of both businesses agree the interest in their offices is only going to grow.
With the population growth in the valley, the transition to remote-friendly operations and the ever-increasing visitation to the area, coworking in Kalispell is poised to become more than just a passing trend.

"I think the market's here to stay," Hogue predicted.
Reporter Bret Anne Serbin may be reached at 406-758-4459 or bserbin@dailyinterlake.com
---