Many priced out of homes in Flathead Valley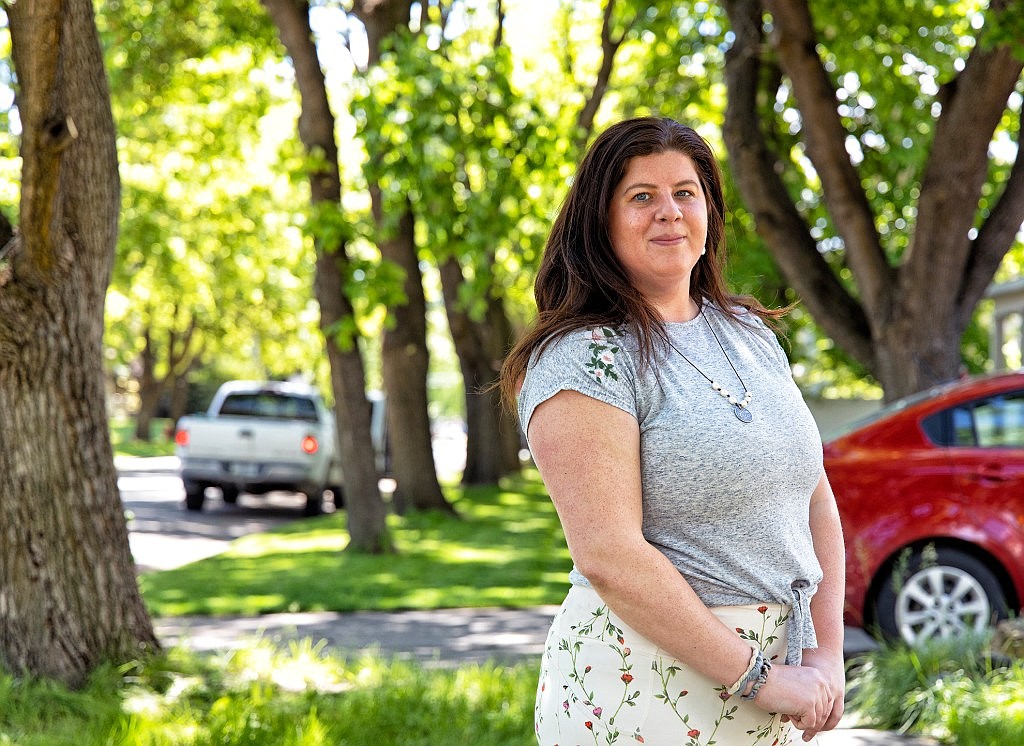 Amber Hogan lost her rental in Kalispell after the owner decided to sell. "I didn't think I would be able to find a place on my salary," she said. "I sort of took it as a sign that it was just time to move on from Kalispell." (Justin Franz/Montana Free Press)
by
JUSTIN FRANZ Montana Free Press
|
June 8, 2021 12:00 AM
KALISPELL — On a sunny Saturday morning before Memorial Day, when many residents of the Flathead Valley were headed for the lake or hitting the trails, Amber Hogan was packing.
Hogan is originally from the Midwest and first came to the Flathead Valley in 2018. Like so many others who came here before, she fell in love with the area and put down roots. She got her "dream job" doing marketing for a local brewery and joined the board of directors for the Kalispell Downtown Association.
But now she's leaving after her landlord told her she was putting her house up for sale. Hogan looked for another place this spring but quickly realized she was going to have to pay a lot more than the $750 per month she was paying before, so she decided to pack her bags and head back east.
"I didn't think I would be able to find a place on my salary," she said. "I sort of took it as a sign that it was just time to move on from Kalispell."
Hogan's story isn't unique in the Flathead Valley. While housing prices have been rising in the area over the last decade, the pandemic has fueled what some have called a "land grab." That inflated demand is now starting to push renters out of the market as property owners cash in, either by selling or by turning their property into lucrative short-term rentals to house the hordes of tourists expected to arrive this summer.
The fact that more and more people are relocating to or visiting the Flathead isn't surprising, Hogan said, considering the area's scenic beauty and proximity to Glacier National Park. But the speed with which she got pushed out of the market is.
"I thought this might happen in 10 years or something, but it really just sped up once COVID hit," she said.
THAT'S AN analysis backed up by data from the Montana Regional MLS, which tracks real estate prices in western Montana. In May 2020, the average sale price for a home in Flathead County was $447,387 — a year later it had increased to $638,992. The average number of days a property stayed on the market has been cut almost in half, from 77 days in May 2020 to 41 days in May 2021.
Whitefish real estate agent Angie Friedner said that while demand for housing in the Flathead Valley has skyrocketed in the last year, supply isn't keeping up. She said that people who do own a home and might be interested in selling are hesitant because they might not be able to compete for a new one with so many cash and over-asking-price offers competing for properties. On the other hand, someone who owns a second home and rents it out might be more willing to sell the property while the market is so hot, which is what happened to Hogan and others.
Arin Peters inherited a property in Kalispell from his dad and rents it out because the home (which he was born in) is "too near and dear to my heart" to sell, even though he doesn't live in the area anymore. In years past he's never had trouble finding renters, but he said he was blown away this spring when his most recent tenants moved out and he placed an ad on Facebook Marketplace: He got 48 inquiries in the first two hours.
"It was overwhelming. It was insane," he said. "Most of the people I talked to were pretty desperate to find a place to live. Some of them were about to be displaced because their previous landlord was putting their home on the market, and others had already been displaced and were living in campers or hotels."
IN WHITEFISH, city officials have worried about adequate workforce housing for years, and created inclusionary zoning ordinances that required a certain amount of new construction to meet affordability criteria. But that program was torpedoed by the Legislature and Gov. Greg Gianforte this spring, much to the dismay of Mayor John Muhlfeld, who said it was one of the only tools the community had to deal with the issue.
Muhlfeld said the lack of affordable housing is also contributing to a workforce shortage in the area. Last Sunday, the night before Memorial Day, multiple restaurants in downtown Whitefish had to close early because they didn't have enough staff to stay open, Muhlfeld said. This week, Whitefish Mountain Resort announced it will scale back operations to five days a week due to a staffing shortage.
Muhlfeld said the city is also seeing an increase in permit applications for short-term rentals by people who want to list their properties on sites like Airbnb and Vrbo. Last month, Airbnb reported that Whitefish is the most popular destination on its site this summer. That isn't welcome news to Muhlfeld, who has to consider the long-term impacts to his community.
"Being listed as the No. 1 Airbnb destination in the United States isn't exactly ideal," he said.
Recent Headlines
---