Skier recounts 20,000-foot ski day at DREAM fundraiser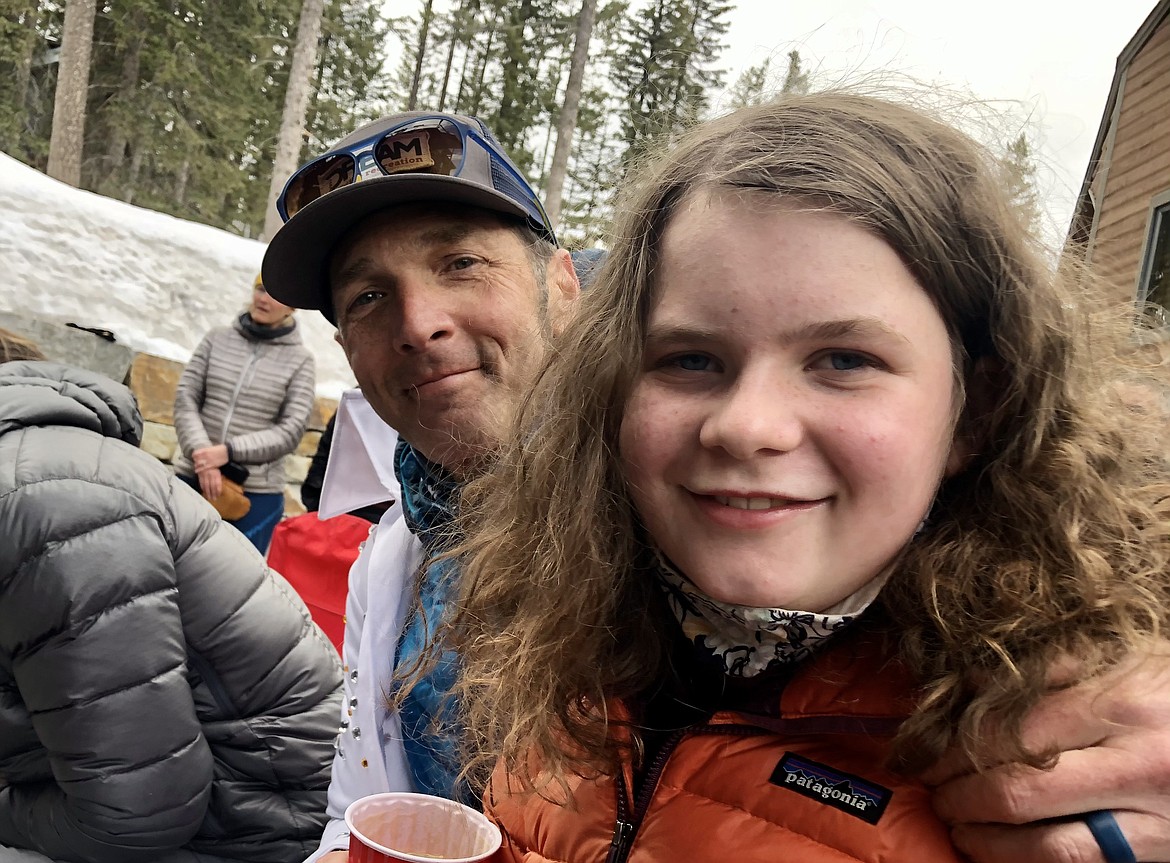 Chance Cooke and his 11-year-old daughter, Kate, after Shred-A-Thon on March 27 (courtesy photos).
by
BRET ANNE SERBIN
Daily Inter Lake
|
June 9, 2021 12:00 AM
With temperatures in the valley climbing to 90 degrees, the ski season already feels like a distant memory.
Except, that is, for Chance Cooke, who still can vividly recall the massive day he spent on Big Mountain at the end of March, fundraising for DREAM Adaptive Recreation.
Using uphill ski touring gear, Cooke climbed 20,651 vertical feet and raised $8,305 at the 2021 Shred-A-Thon. Even though his sore muscles have recovered, it's unlikely his memory of the big day will fade anytime soon.
"We're going to do something that's so big and out of the box…it inspires people to do more," Cooke said of the monumental undertaking.
It's hard to grasp just how big of a venture Cooke and the rest of Team Kate — named for his 11-year-old daughter — took on in a single day.
Cooke climbed the slopes at Whitefish Mountain Resort from 6 a.m. to 4 p.m. on March 27, completing 10 unassisted laps up and down Big Mountain. His total vertical footage surpassed the height of Denali, the tallest peak in North America, by 341 feet.
And he did it all in a Las Vegas-style Elvis costume.
"As the first formal year for the event as an uphill event, it was important to make a loud bang, to pound your fist on the table, to get people's attention," Cooke explained. "And we did that.
"The Elvis suit helped," he added.
Shred-A-Thon was designed to raise money and awareness for DREAM Adaptive Recreation. The nonprofit provides opportunities for people with disabilities to participate in outdoor activities like skiing.
Cooke's daughter Kate, who lives with physical handicaps from epilepsy, is a dedicated DREAM participant.
Cooke decided to lap Big Mountain in style to bring attention to the program that has played an instrumental role in Kate's development.
Prior to this spring, Shred-A-Thon consisted of lift-assisted laps. But Cooke and his three teammates saw this year as a new opportunity to attract the uphill ski crowd.
"I think this is a good way of capturing a new audience for fundraising for DREAM that isn't currently engaged," Cooke said. "This is a whole crowd of super-motivated folks that aren't going to come and ride lifts all day. It just doesn't interest them as much."
Cooke's goal, in addition to doing double-digit ski laps, was to formalize an uphill component of the competition in the most visible way possible. He's hopeful his eye-catching endeavor will bring in a new group of athletes for the next Shred-A-Thon.
It's important to Cooke and his family to support DREAM because of the impact it has had throughout Kate's life.
Cooke said Kate's robust schedule of activities, including 100% attendance at school, skiing in the wintertime and equestrian therapy in the summer, "all has its foundation in DREAM."
He credited Executive Director Julie Tickle with putting together a cohesive program that gives continual support to adaptive athletes like Kate.
Tickle also was responsible for first concocting the idea of Shred-A-Thon.
In Cooke's view, Shred-A-Thon serves a dual purpose for his daughter and the rest of the disabled athlete community in Northwest Montana.
On the one hand, the fundraiser brings in money to pay the costs of adaptive equipment and other expenses.
But the ambitious event also celebrates the spirit of DREAM, as participants stretch their physical and mental limits, like Cooke, who pushed his daily lap total from six up to 10 during Shred-A-Thon.
For Kate and others with disabilities, "DREAM shows them what they're capable of, to make the most of what their body can do."
To support DREAM Adaptive Recreation, go to https://www.dreamadaptive.org.
Reporter Bret Anne Serbin may be reached at 406-758-4459 or bserbin@dailyinterlake.com.
Recent Headlines
---